Afternoon tea with: Colin Turkington
Despite a career spent fighting the odds, he's lifted four BTCC titles and become the series' benchmark driver
Did we hear that correctly? Colin Turkington has just phoned in his apologies. He is running slightly late because he is bringing a car on a trailer and loading it took longer than expected.
No big deal, on the surface, but we have arranged to meet by the River Darent, in the charming Kentish village of Eynsford. The access roads are narrow and, very specifically, there is a tight, single-track bridge to negotiate. Parking spaces are at a premium, too, even for those who arrive with just the one car, never mind a trailer. It's a few days before Britain commences its post-lockdown reopening and we manage to massage a deal for Colin to leave his pick-up and trailer (he clears the bridge with no more than a couple of inches to spare) in the otherwise deserted car park at The Plough Inn, before finding a socially distanced perch close to the water's edge. Motor Sport plumps for a coffee from the adjacent Riverside Tea Room, while photographer Matt adds a slab of salted caramel cake. Our guest, though, ploughs a path of abstemiousness.
Now a trim 38, Turkington has arrived with a BMW Compact Cup racer that he's borrowed to use in an evening track session, a few miles down the road at Brands Hatch. "With the season starting so late," he says, "we won't have much time to test the BTCC car, so I've been doing some track days to keep myself sharp."
Last season he became the first driver apart from Andy Rouse to win the UK's premier tin-top title for a fourth time, all of them conquered in BMWs prepared by West Surrey Racing, and a few months from now he could conceivably become the only one to secure a fifth. Numbers and stats are but a potential distraction, however, and do not bother him unduly.
"The thing with the BTCC," he says, "is that there are so many elements outside your control. All I can do is maximise my own performance, but every year the competition ramps up, then we have reverse grids, success ballast, different tyre compounds, 30 drivers lapping at more or less the same speed… The trick is to get yourself into the final weekend with a realistic mathematical chance of taking the title and then hope the cards fall your way. "All I can do is try to be a little bit better than I was last year. If I get to the end of the season and finish last, I'd still be content if I knew I'd done my best."
Turkington grew up in Portadown, County Armagh, as the second of three brothers who would go on to race. He could see part of the Shamrock Park oval from his bedroom window, and would attend stock car races there on Saturday evenings, but this was also the Northern Irish road-racing heartland. "My grandfather started sponsoring bike racing through his business, Turkington Windows & Conservatories, and my dad later did the same. There were a lot of quick riders around Portadown, Phillip McCallen foremost among them, and he was the main guy my dad sponsored. I was brought up surrounded by the road-racing scene, going to all the events – the Ulster GP, North-West 200, Tandragee, Cookstown… We even got a week off school every year to attend the Isle of Man TT with Phillip. I used to hold out his pit board – I can only have been nine or 10, but that was my introduction to motor sport."
Sponsorship was one thing, and extended to the Honda Britain team, whose riders included dual legends Joey Dunlop and Steve Hislop, but participation? "My parents were acutely aware of the dangers and steered us away from bikes," he says. "There were fatalities on the Isle of Man every year we went. Phillip was absolutely fearless, rode to win and had some really big accidents – we frequently visited him in hospital. My father also sponsored Mark Farmer, who sadly lost his life in the TT, so we were actively encouraged onto four wheels when we wanted to start racing.
"My older brother Gary and I went to the same primary school as [future British F3 and GP2 race winner] Adam Carroll, who had started to race karts. We then had a go, too, at Nutts Corner, our local track. I wasn't really bothered about being competitive at first – my motivation for going was a sausage-and-egg butty at 10 o'clock. I wasn't there to push myself or challenge for victory, but to have a good time. But the more I competed, the better I wanted to do – I became more driven as time went on.
"After a couple of years, though, I became frustrated with the lack of reliability. We had good mechanics, but karts are inherently unreliable – or were back then. It would sing all day Saturday, then you'd stick it in the truck, not touch anything and it wouldn't start the next morning. I lost my way with it a little bit, the passion went and at that age I wanted to try loads of different things, so I picked up a set of golf clubs… but that proved to be equally frustrating!
"Even when I was trying golf in the mid-1990s, motor sport was still bubbling away in the background and I always followed F1 and the BTCC on TV. A friend of mine had by then started competing in autograss, with a club just outside Portadown. I knew nothing about it, so he invited me to have a run in his Class One Mini and I fell in love straight away. It was all very simple – no set-up work at all, just fill it with fuel and check the tyre pressures. That was it.
"It was an important step – I don't think we ever got out of second gear, but the thing was always sliding around, on the loose, so it was a great way to learn about car control. I did that for two years and finished second in the championship both times. I could have carried on doing the same thing, but I didn't think I could learn much more and wanted to move on. Gary was about to start racing in the Irish Formula Ford series and there was a Metro championship on the bill, so I thought I might as well have a crack at that if I was going to be there anyway.
"My first Metro mimicked the WSR Honda livery from the BTCC – though at that stage I knew nothing about WSR – but it was pretty badly smashed up at my first or second meeting. The repaired version was rebranded as Rickard Rydell's Volvo S40 and brought me a lot more success [he clinched the title at the final round], but I had no aspirations of any kind of career. I was racing for fun."
In 1999 the older Turkington secured a deal to race in Formula Vauxhall Junior on the UK mainland and his younger sibling tagged along once more, this time to race in the Ford Fiesta Zetec S Championship. "They were great days," he says. "We'd fly to the UK together, he'd hire a car and drive to the circuits – a real adventure. I was still at school, so missed plenty of lessons, but it was a rugby school and produced a lot of good players, including [future Ireland captain] Rory Best, so taking a few days off in pursuit of sport wasn't such a problem."
It was, though, still just a hobby. He would continue racing Fiestas for the next couple of years, commuting slightly simplified by the fact he was by now studying for a business degree at Stirling University ("A way of avoiding the real world for another three years, because I still didn't know what I wanted to do with my life"), and lifted the title in 2001.
"It was probably only then," he says, "that I started to think about the BTCC. Gary had signed to race a Van Diemen with Jonathan Lewis in the UK Formula Ford Championship. My dad asked Jonathan what he thought I should do and he organised an introductory meeting with WSR boss Dick Bennetts, who had just landed a contract to run the works MGs. We went to WSR for a chat one Saturday and Dick explained that he'd be running a satellite team, alongside the main works cars for Warren Hughes and Anthony Reid – he didn't mention the sponsor, but they were looking for two young drivers and I fitted the bill. I did a test day with them at Pembrey, where I was reasonably close to the pace – and Dick knew I was starting from scratch, so I think he could see some potential." The mystery backer turned out to be none other than Liverpool pop trio Atomic Kitten, a headline act at the time…
"I was both surprised and nervous," Turkington says. "I was a shy 19-year-old student and suddenly I was thrown into the limelight on the BTCC grid. It was a whole new world and the fact anybody wanted to speak to me was a surprise."
The cars weren't ready for the opening event at Brands Hatch, but Turkington qualified a respectable eighth for his first feature race at Oulton Park and notched up his maiden podium finish during the sixth meeting of the campaign, at Croft. "My confidence grew once I started to get a few results," he says, "but I also made a lot of mistakes that year. It was a strong field and I got involved in too many accidents, but you learn from those errors."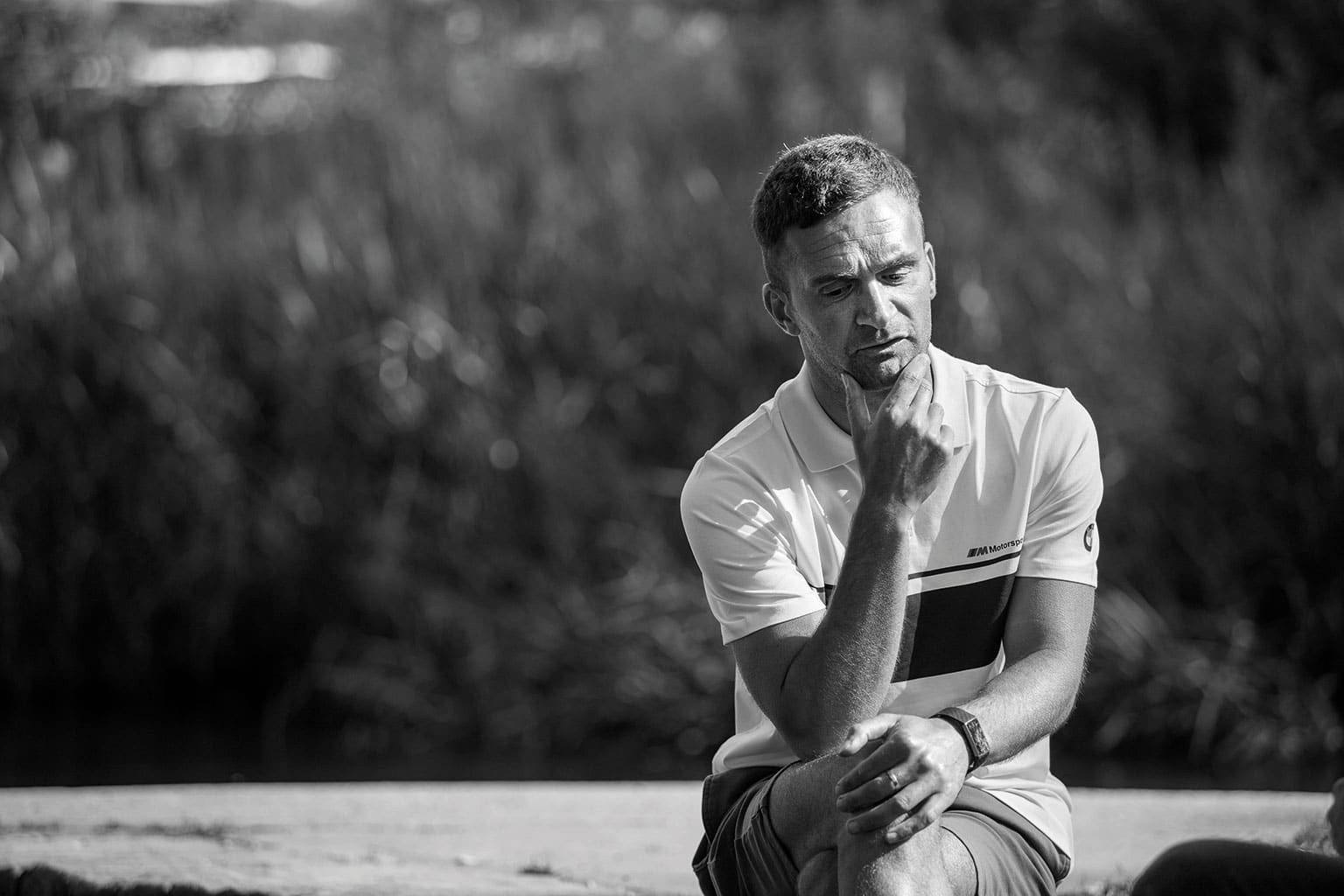 The racing didn't detract too much from his studies – he graduated with a 2:1 – and the following year he was drafted into the full factory MG team alongside Hughes and Reid, securing his maiden BTCC victory at Brands Hatch in August. "The MG ZS wasn't the quickest car," he says, "with a V6 and lots of weight over the front axle, but it always went well at Brands. I qualified third, finished second in the first race and was hunting down Yvan Muller in the second. We had pit stops in those days and I rejoined not too far behind him. There was a safety car towards the end and Yvan didn't put enough heat into his brakes while the race was neutralised, so he locked a rear and ran slightly wide after the restart, which allowed me through. When I crossed the line I still thought there was another lap to do, but there were WSR mechanics hanging over the pit wall and I just caught sight of the flag. My first thought was about my Mum and Dad, and how happy they must be, then it felt almost as though I was struggling to breathe and I started to cry a little – it's a very vivid memory."
MG withdrew at the year's end and Turkington continued with WSR as a privateer, the ZS now fitted with a four-cylinder engine, and he scored a win at Mondello Park en route to sixth in the championship. The following season, Vauxhall came calling. "That was my first year as a paid professional," he says, "but the new Astra Sports Hatch was a difficult car. I was alongside Yvan and he found it tricky, too. I qualified on pole for the first weekend at Donington and had a couple of wins, but it wasn't as successful a year as we'd hoped it would be. My career had always been on the up prior to that, but I think having a tough season helped make me stronger.
"I had only a one-year contract and [team boss] Ian Harrison had other options for 2006, though he often said to my Dad in later years that he wished he'd kept me. He's never said that to me, but there were no bad feelings and it lit the fire within to prove myself again, so there were positives."
Back with WSR, its MG now resplendent in RAC orange, Turkington had his best year yet in 2006, a clutch of podium finishes keeping him in the title hunt until the campaign's end, though he eventually finished third behind Matt Neal and Jason Plato. He remained a front-runner over the following two seasons, when the BTCC fully embraced FIA Super 2000 regulations and WSR switched to the BMW 320si – Turkington's first experience of rear-wheel drive since his karting days. "I kept telling myself that it was only a car with four wheels, so it couldn't be that hard," he says, "but I did wonder. I got up to speed pretty quickly, but it took me the whole season to understand the car properly. The technique was different, so it wasn't immediately a natural fit."
Even so, he won several races and collected back-to-back Independents Trophy titles. "They were good seasons," he says, "but I was very aware that I hadn't won the BTCC. It's probably a bit like winning the Championship in football terms, but I felt it was an important mental step, something I needed to do before I had any right to win the overall title."
Coronation, though, turned out to be just around the corner. "I raised my own level in 2009," he says. "By mid-season I was leading the championship and had what by BTCC standards was a fairly good buffer, about 30 points. But over the second part of the campaign a bit of my advantage would be erased every weekend. I was massively under pressure, because for a long time all I'd wanted was to win the BTCC and I didn't know whether this would be the only chance I'd get. It wasn't that I stopped getting strong results, but my main rivals were Fabrizio Giovanardi and Jason Plato – both absolutely top-class drivers. They were relentless, chipping away every weekend. We didn't exactly fall off a cliff, but my lead was down to about 12 points ahead of that final weekend on the Brands Hatch Grand Prix Circuit.
"I lost a bit more ground to both of them in the first two races, so it was a winner-takes-all finale. Matt Neal was Fabrizio's Vauxhall team-mate and was running ahead of me, busily trying to back me into the pack. Fabrizio was two cars back, behind Tom Chilton, and we were lapping about 1.5sec more slowly than we should have been. Matt was doing the team job – and if Fabrizio got ahead of me and stayed there, that would have been it – he was champion. It was good in a way that I knew that, but I was so fired up that I was prepared to do anything not to let him through. Once I saw that Fabrizio had moved ahead of Tom, and was now behind me, I had to get past Matt. We had a bit of a ding-dong up at Druids – I ran into the back of him, after which he made contact with my left rear in the middle of the corner. I sensed I was in trouble straight away because my steering was completely off-centre. I didn't know what was going to happen when I got to Graham Hill Bend – and when I tried to turn I realised I'd need much more lock than usual. It was the same at Surtees, it just didn't want to turn left, but it was mint through right-handers – I'd barely touch the steering and the car would be into the corner. The following day the guys found I had 14mm toe-in on the left rear, so it was amazing that I finished at all, but I was second to Jason and ahead of Fabrizio, which was enough. I still can't explain why the car remained so quick.
"Compared with the feelings I'd had after my first win, this was on a different level. I broke down in tears as soon as I crossed the line. It had already been a tough year – my eldest boy Lewis had been born during the summer break, so there had been lots of sleepless nights, but I think that also helped. Henceforth I had to make sure I would be able to put baby formula on the table."
It was, though, the final year of WSR's sponsorship arrangement with the RAC. "I was naive," he says, "in thinking that if I won the title it would open doors and the phone wouldn't stop ringing, but it didn't. It probably wasn't until about February that I thought, 'Hang on, this might not happen'." Nor did it. He would spend the next three seasons away from the championship in which he'd forged his reputation, contesting occasional WTCC events (he scored a victory at Okayama in 2010) and running a full Scandinavian Touring Car Championship campaign in 2011.
"I really didn't know whether I'd get back into the BTCC," he says, "so it was a bit of a lean time – though I had some good results when I did race. In the meantime, WSR had picked up some backing from eBay Motors, which had been increasing gradually, and for 2013 they were able to provide partial funding for my return. They tipped half the coins in and I had to find the rest – that was probably the first time it really dawned that I was no longer a racing driver but also had to become a marketeer. All the sponsorship I found went into funding my racing and to support the family I set up my own landscaping business. So I was racing at the weekends and cutting lawns to feed the family. I desperately wanted to be back in the BTCC and that was the only way I could make it happen."
He won his sixth race back, at Donington Park, finished fifth in the championship and then guided WSR's BMW 125i to his second title the following season. Is it fair to say the 2014 BTCC was won by a landscape gardener? "Yes," he says, "and you're probably the first person I've told. I'm not sure many people knew about it at the time, but by the end of 2014 I was physically exhausted. I was racing, training three times a week with an athletics club, now helping to look after two kids and doing the landscaping…
"I was fit and working hard, and you think you're indestructible, but my body just went 'bang' at the end of that season."
And, once again, his future with WSR was thrown into doubt when eBay pulled out at the season's end. For the second time, he wouldn't be in a position to defend his crown with the team he'd come to regard as extended family – but there was at least the offer of a paid drive with Warren Scott's BMR team, in a Volkswagen CC.
"At first I wasn't that interested," he says. "I didn't want to go back to front-wheel drive… and I wasn't that keen on partnering Jason Plato. He'd been an arch-rival and we're very different people, so I didn't think we'd be compatible, so initially I turned the deal down. But Warren was trying to put together a superteam. He'd taken my engineer Kevin Berry from WSR, he'd signed Jason and his engineer from Triple Eight, and as time went on I started to wonder whether I wanted to carry on in the BTCC or return to landscape gardening. Those were basically my options and I told myself that I'd rather have a go at the BMR thing and fail than not do it and face the possibility of my racing career being over. In the end I really enjoyed it. I liked working with Jason and learned a lot – good and bad!
"I had a bit of relearning to do with the VW and finished behind Jason in the championship, but as soon as I heard we were switching to the rear-drive Subaru for 2016 I thought, 'Right, game on – this is for me.' Warren called to tell me Subaru was coming on board and that the deal was almost over the line, but money would still be tight so could I take a pay cut? I barely gave it a second thought before agreeing, because it seemed like a golden chance. "The first time I sat in the car was the Friday evening before the opening meeting at Brands Hatch, which basically became a shakedown event. We had a few teething problems – not least that the high-pressure fuel line kept blowing off and causing the car to ignite – enough of a problem to trigger our withdrawal from the third meeting, at Thruxton.
"After a slow start, though, we quickly picked up the pace. I started to win a few races and the car soon became a threat. I got myself back into contention, qualified on pole ahead of the final races on the Brands Hatch GP Circuit and won the first two, so out of nowhere I was suddenly in contention, though Gordon Shedden ended up winning the title.
"Warren then asked me to take another pay cut, but I couldn't do that again. I'd also kept in touch with Dick at WSR and had heard rumours that BMW might be coming back with manufacturer support for the first time in about 20 years. Dick had faith that I could do the job for him again, given our past relationship, so it was a dream to return to 'my' team in such circumstances."
He was second to Subaru driver Ash Sutton in 2017, but titles three and four followed in brisk succession.
"The 2018 season was remarkable," he says, "because the BMW 1 Series wasn't the fastest car, and I took the championship purely through consistency. I won only one race all season, but was frequently on the podium and that was the strategy – stay out of trouble, carry on racking up the points and play to our strengths. "It was also tough because I'd lost my Mum in the first half of the year. I decided the best thing I could do was to try to win it for her. I didn't celebrate after winning that time – as soon as it was over, it wasn't like the others when I was jumping around. I got out of the car, hugged my wife Louise and didn't go out to celebrate with the team. We turned left out of Brands, went to the Ming Chinese restaurant in Wrotham Heath and flew to Northern Ireland the next day. "Last year was probably the most satisfying of my title-winning seasons because there was massive internal competition with my team-mate, Andrew Jordan. We had a new car [the new 330i M Sport] and didn't initially appreciate just how quick it was. It was an evolution of everything we'd learned with the 1 Series – and when we stuck the engine from that in the latest 3 Series chassis we ended up with an absolute rocket, but things were neck and neck with Andrew and [Honda driver] Dan Cammish.
"The final day at Brands Hatch was a real rollercoaster. After the second race I thought I was out of it – I was facing the wrong way at Graham Hill Bend on the opening lap [following contact with Matt Neal]. It was such a mirror image of 2009, fighting for the title and Matt once again getting involved. By the third race I was the rank outsider. My engineer Dan Millard kept the belief – he'd seen me drive from the back of the grid before, but instinct told me it wasn't going to be my year. Once the lights go out, though, you forget any negative thoughts and get on with it."
With a lap and a half of the season to go, Cammish seemed to be on course for the crown when brake failure sent him plunging off the road at Hawthorn. "I wasn't aware initially," Turkington says. "I'm disciplined about stuff like that. If I see a car off the road, I make a point of not looking at it because I don't want the distraction in such a high-pressure environment. But I was aware that it was painted black – and there aren't too many of those in the BTCC. Then my engineer radioed in and told me I was back in the championship lead – if you look at the in-car footage you can see my eyes open up suddenly, because a shock wave went through my body. I couldn't compute that. I knew Andrew was up the road ahead of me somewhere – and if he'd passed one more car the title would have been his, though I wasn't aware of that.
"When I won for the first time in 2009, I said it was off the scale compared with my emotions after the first race win – but this was something else altogether. When you think you've lost it – and everybody else thinks that, too – it makes it all the more special when you get it back. I was pretty much out of control on the cooling-off lap. I was trying to thump the roof, but couldn't reach it because I was strapped in so tightly. When I got out, I jumped on the roof – something I'd never done before.
"Whatever happens through the rest of my career, those were moments I'll probably never experience again."
CV: Colin Turkington
Born: 21/3/82, Portadown, Northern Ireland
1992-94 Local karting
1995 Takes up golf instead
1996-97 Autograss
1998 Northern Irish Metro champion
1999-2001 UK Ford Fiesta Championship, winning title in his final season
2002 BTCC in Atomic Kitten MG ZS; 3rd at Croft
2003 First BTCC victory, Brands Hatch
2005 Works Vauxhall Astra in BTCC, two wins
2006 WSR MG ZS, 3rd in BTCC
2007-08 BTCC Independent champion, WSR BMW 320si l 2009 first BTCC title, WSR BMW 320si
2010-12 selected WTCC outings (one win at Okayama); 5th in 2011 Scandinavian Touring Car Championship, Flash Engineering BMW 320si
2013 Returns to BTCC in WSR BMW 125i; works as landscape gardener to support his racing
2014 Secures his second BTCC title
2015-16 Switches to BMR to race VW CC and later the Subaru Levorg
2017 Returns to WSR; 2nd in BTCC l 2018-19 Back-to-back BTCC titles with WSR BMW 125i & 330i respectively
2020 Continues in BTCC with WSR; 51 career wins so far
---
Making the virtual a reality
While Turkington is a tin-top devotee, he does dabble with digital alternatives
Since graduating to touring cars in 2002, Colin Turkington has raced little else. There have been demonstration runs at the Goodwood Festival of Speed, a few appearances in historic events and he shared a Ginetta G55 that failed to finish the 2011 Silverstone 24 Hours, but he has otherwise had a very singular focus.
"I am interested in racing other things," he says, "but I feel it would be impossible to run a dual campaign. If you are doing the BTCC you have to give it 100 per cent. You can't chase two rabbits. Modern touring cars aren't like anything else and they are not easy to drive – I don't think I could get out of a BMW M6 GT3, for instance, and readapt instantly to the 3 Series. You need to find every last half-tenth in the BTCC and have to remain focused on your driving all the time."
But he would like to broaden his horizons in the longer term – and the recent lockdown has played its part in that.
"I'll only stop racing in the BTCC when somebody tells me to," he says. "While I'm still in one of the box seats in touring cars, I really want to maximise that opportunity. Nobody knows what's around the corner, though, and when the BTCC chapter closes I'll look to do something else. During the COVID-19 lockdown I've been doing a lot of esports. It's not like the real thing, because you don't get the same feedback, but I have spent time lapping Sebring, Le Mans and elsewhere, which has whetted my appetite. They are definitely things I hope to do in the future."