Heavenly Max and the patience of a Sainz: F1 in Canada, Britain & Austria
Ferrari back on form with two wins at the British and Austrian Grands Prix, but engine issues persist – as does Verstappen. Mark Hughes analyses the action
🇨🇦 2022 Canadian Grand Prix
🇬🇧 2022 British Prix
🇦🇹 2022 Austrian Grand Prix
Three grands prix packed into four weekends in this quick-fire championship gave three different winners, one of them for the first time. The victories of Red Bull's Max Verstappen (in Canada) and Ferrari's Charles Leclerc (in Austria) bookended Carlos Sainz's breakthrough win at the British Grand Prix. Sainz had been Ferrari's main chance two weeks earlier, in Canada, where he fought with Verstappen for the win, pressuring the Red Bull all the way to the flag. On that occasion Leclerc had started from the back row as penalty for taking his fourth power unit of the season, placing Sainz in the team's lead role for the weekend. But before he could take the race to Verstappen, Sainz had to find a way around the Alpine of a starring Fernando Alonso, who in wet qualifying the previous day made himself the first driver in his forties to reach the front row since Nigel Mansell in 1994, though his deficit to pole-sitting Verstappen was 0.65sec. Sergio Pérez crashed his Red Bull out of Q2 on the tricky surface, Mercedes' George Russell tried for slicks right at the end of Q3, taking a gamble for pole, but spun at the hairpin. Leaving the second row as Carlos Sainz from the Mercedes of Lewis Hamilton.
Alonso's Alpine couldn't maintain its qualifying form in the dry of race day and Sainz was past it by lap three and into his chase of Verstappen. The dynamics of the race were defined by two early VSCs and a later safety car and the random way those favours were distributed among everyone. The first VSC was for Pérez's broken-down Red Bull and at this point race leader Verstappen put himself unambiguously on a two-stop strategy by pitting and Sainz, in choosing to stay out in response, was able to stay on the theoretically faster one-stop.
"It was a masterful drive from Verstappen, who scored a sixth win"
The second VSC (for Mick Schumacher's failed Haas) allowed Sainz to get the same time-cheap stop Verstappen had already enjoyed first time, but late enough that he could still stay on the one-stop. Sainz assumed the lead as Verstappen made his second stop and it was all shaping into a race of the fresher-tyred Verstappen chasing down Sainz and whether he could find a way by before the end. But a safety car (Yuki Tsunoda had buried his AlphaTauri in the Turn 2 barriers as he exited the pits) changed all that. It obliged Ferrari to surrender Sainz's lead, bringing him in for new tyres so as not to be a sitting duck to Verstappen at the restart. This way, it would be Sainz on newer tyres attacking a defensive Verstappen – and that's how it played out for the last 16 laps, with Verstappen skilfully maximising his car through Turns 8 and 9 and the hairpin to pull out a gap over Sainz each time, obliging the Ferrari driver to use up his battery just to catch back up on the straight rather than pass. It was a masterful performance from Verstappen and resulted in his sixth win from nine races. Hamilton was a distant third ahead of team-mate Russell and the recovering Leclerc.
Canada's Verstappen-Sainz duel was continued into qualifying for the British Grand Prix where, in wet conditions, Sainz secured his first career pole. He was aided immeasurably by team-mate Leclerc spinning on the standing water at Chapel on his final lap, creating yellow flags for which Verstappen had to lift. The Leclerc incident thereby took both Sainz's biggest rivals out of the pole battle. Hamilton, in a further developed Mercedes W13, was in contention too but didn't get the ultimate synching of battery power with the drying track. Verstappen shared the front row with Sainz ahead of Leclerc, Pérez, Hamilton and Lando Norris, as ever quick in the wet for McLaren.
Verstappen, on soft tyres, beat the medium-tyred Sainz off the line for the first start. But this was rendered null and void by an almost immediate red flag for the Zhou Guanyou incident (see Talking Point). For the restart an hour later, Verstappen had chosen the same medium-compound tyres as Sainz and this time they were much more closely matched in acceleration, with Sainz pinning the Red Bull against the pitwall and then passing it around the outside of Abbey to take the lead. But the Ferrari could not maintain the pace Verstappen was forcing upon it without graining its front-left tyre. This played its part in a big Sainz moment at the right-handed part of Becketts, forcing him onto the run-off there, and allowing Verstappen to sweep into the lead onto the Hangar Straight.
But just a few corners later Verstappen ran over debris at Turn 5 left there a few seconds earlier by the colliding AlphaTauris of Tsunoda and Pierre Gasly. An AlphaTauri front-wing endplate became lodged in the Red Bull's floor and such was the catastrophic loss of downforce Verstappen believed he had a puncture and pitted. He'd soldier on to an eventual seventh place finish, but for now the Ferraris were running 1-2. But there was a complication for the Ferrari pitwall to ponder. They were being steadily caught by Hamilton in a Mercedes much happier around the fast sweeps of this place than at previous venues. Leclerc was very much aware of this and urging the team to move Sainz aside, as he felt certain he was quicker.
Unbeknown to the outside world, Sainz had a small issue with his fuel pump which was compromising his power unit performance (and increasing its fuel consumption). When he was unable to do the target lap times set by the team, he was moved aside. Leclerc now led the race as Hamilton continued to catch Sainz, who was being instructed to fuel save.
At just this moment Esteban Ocon's Alpine suddenly lost power as he was accelerating out of Luffield. He brought it to a halt adjacent to the old pitwall – and the race was put under a safety car. This happened just as Leclerc was rounding Stowe corner, thereby giving Ferrari about 6-7sec to make a decision about whether to pit him or leave him out.
"Leclerc was furious at the pitwall call, and was emotionally charged"
Fatefully, they left him out and pitted Sainz for new softs. The safety car came at the perfect time for Pérez, giving him his first stop for free and allowing him to join the queue in fourth place just behind Hamilton. The old-tyred Leclerc headed that queue with the new-tyred Sainz, Hamilton and Pérez right behind. Ferrari had figured it could use Sainz to fend off the aggressors, allowing Leclerc to escape. Both Leclerc and Sainz were extremely dubious about the prospects of that working.
After being told to back the others off and give Leclerc a gap in front, Sainz responded by pointing out a far more certain route to a team victory was to allow him to use his new tyres to pass Leclerc immediately, leaving Charles to fend off the others. The team acquiesced – and that's how it played out, with Sainz taking his first win on his 150th start. Pérez, in a Red Bull which gets its tyres up to temperature way faster than the Mercedes, picked off Hamilton immediately and subsequently Leclerc too (albeit by missing a part of the Vale chicane out). Hamilton and Leclerc then passed and repassed – including a superb Leclerc move around the outside of Copse – but ultimately Hamilton prevailed to take third. Leclerc was uncomprehending of the pitwall call and was afterwards in an obviously emotionally charged conversation with team boss Mattia Binotto.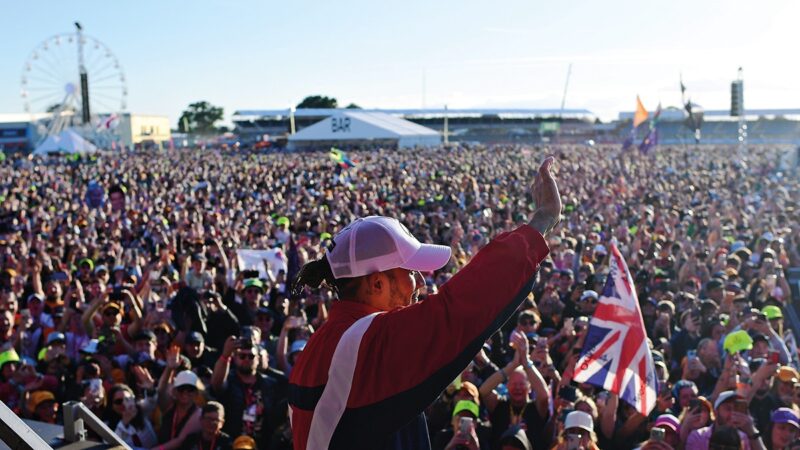 Austria was one of the three sprint-format events on the calendar and on the Saturday sprint race Verstappen was dominant from pole. Leclerc and Sainz finished directly behind, having squabbled with each other for the first few laps. Both Russell and Hamilton had crashed their tricky Mercs out of Q3 and would start the main race from fourth and eighth respectively.
Verstappen took an immediate lead from Leclerc and Sainz, and initially it looked like a repeat of the sprint race. But by the third lap Leclerc was pushing and probing the Red Bull and it became increasingly clear that the Ferrari was faster. "I cannot hold this much longer," said Verstappen after eight laps, in reference to how he was losing rear grip while the Ferrari remained planted. On the 12th lap he simply didn't have the traction out of Turn 3 to defend himself into Turn 4 and Leclerc sliced down the inside for the lead. Red Bull pitted Verstappen on the next lap, switching him to a two-stop strategy. But his tyre deg was just as bad on the hard tyres of his second stint. The Ferraris ran a first stint twice as long then switched to matching Red Bull's two-stop strategy, Leclerc overtaking Verstappen for a second time shortly after his first stop.
As they moved in and out of sequence, Verstappen would occasionally lead, but Leclerc was always able to overtake – which he did a total of three times. Sainz was just on the verge of doing the same when his engine exploded spectacularly. He pulled off with the rear of the car ablaze and it made for an uneasy situation as he simultaneously tried to get out and prevent the blazing car from rolling down the hill. This brought a Virtual Safety Car, allowing both Leclerc and Verstappen a free pitstop onto new tyres for the last few laps of showdown.
To his deep concern, Leclerc discovered he had a throttle problem as the race got back underway. It was not coming up cleanly as he lifted, but instead staying on at between 15-20%. This was having an effect on the downshifting, too.
He was forced to adapt his driving while Verstappen was coming back at him for the last eight laps, slicing what had been a 3.6sec deficit down to almost nothing. But Leclerc held on, the feeling of relief as he took the flag was palpable. Hamilton took another podium finish ahead of team-mate Russell – whose race was compromised by first lap contact with Pérez's Red Bull, which spun into the gravel and later retired from the damage.
Red Bull was puzzled afterwards about why its tyre deg had been so much worse on Sunday than Saturday. The track had been washed by Sunday morning rain and the surface was around 3°C cooler. The working theory was that this had changed the dominant degradation mechanism of the rear tyres from thermal to simple wear. There was something about either the Red Bull's traits or set up which did not react well to that change.
It may have been a great win for Leclerc, but it was a worrying race for Ferrari. Sainz's PU failure was very like that of Leclerc's in Baku and as yet there was still no full understanding of the problem, let alone a cure for it.