5 races, 5 winners: British GT and BTCC opening weekend round-up
- Last updated: June 3rd 2021
Top-level national racing returned in 2020 with the opening BTCC and British GT rounds which delivered close competition & the promise of a tightly-fought season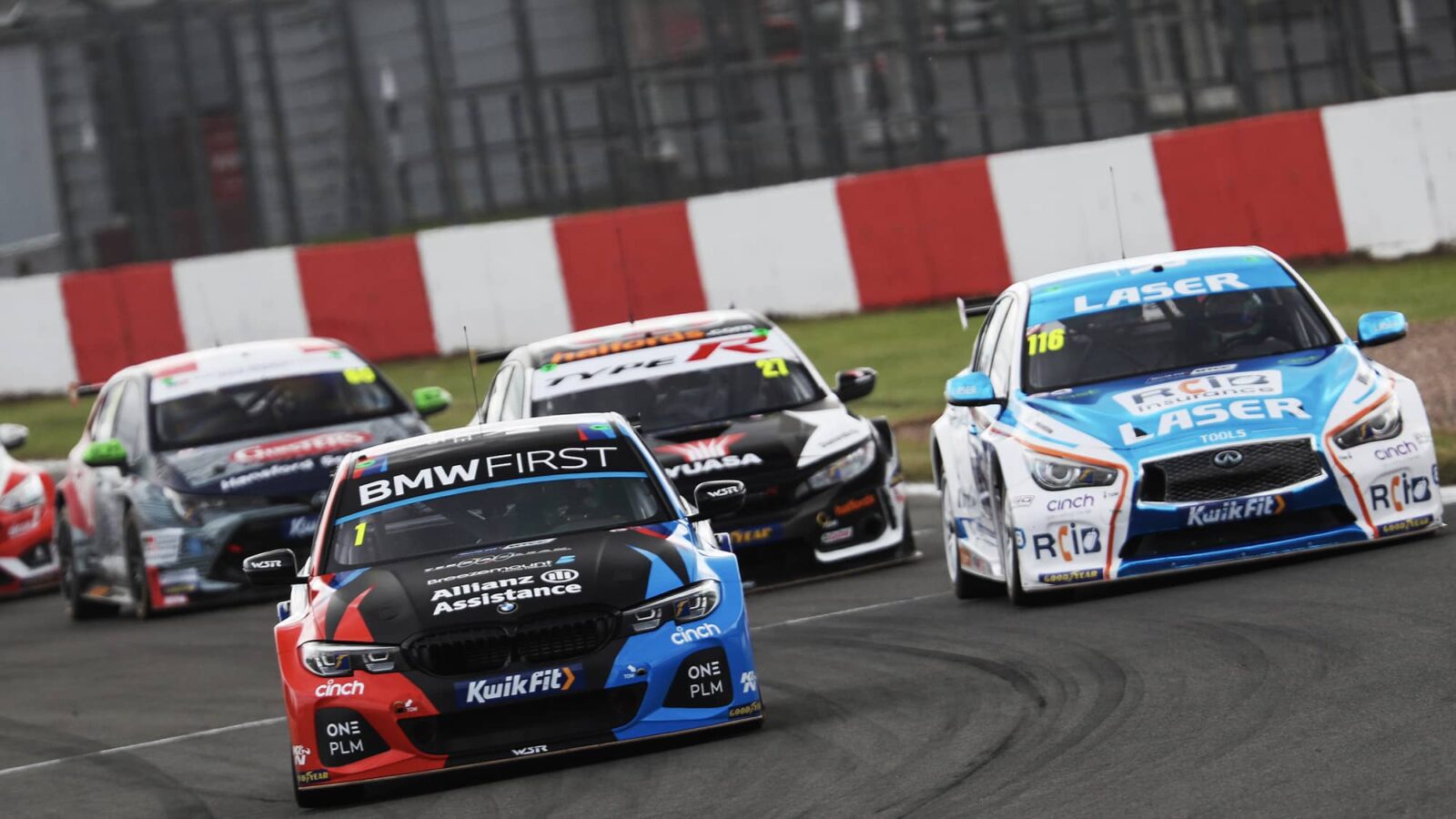 The turn of August brought the return of top-flight British motor racing, with both the British Touring Car Championship and British GT roaring back into life with five races between them, held to varying degrees of normality.
The BTCC produced three different race winners at Donington Park, with both of last year's title rivals, Dan Cammish and Colin Turkington, scoring big, but Ash Sutton arguably made the biggest statement of all by pulling off a stunning salvage job to end his weekend on a high.
However, the weekend was marred by the UK government's decision to deny spectator access to the event by giving the BTCC perhaps the ultimate back-handed compliment of deeming it an elite sport, and therefore banning gatherings of spectators. Donington had worked hard and had been set to accommodate a limited 5,000 capacity before the call left both circuit operator MotorSport Vision, and the BTCC organisers, powerless to resist.
Elsewhere, fans could, and did, attend Oulton Park to watch the no-less glamorous British GT Championship, where two hour-long races produced wins for both McLaren and Lamborghini machinery.
The BTCC is back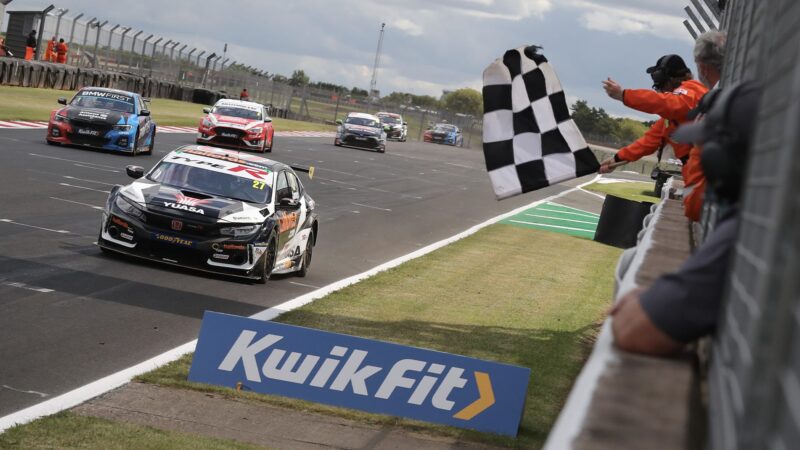 "There's an old saying, you're only as good as your last race… and mine's been dragging on a fair bit now," said Dan Cammish ahead of the opening BTCC event at Donington, remembering back to that traumatic title-costing brake failure at Brands Hatch fully 296 days ago.
Just 19 laps of Donington's National Circuit later, and Cammish proved his title credentials once again, coming out on top of a frantic season opener in his Halfords Yuasa Racing Honda Civic. "I think that's' what you call a bounce-back," he smiled into the camera. Well, at least we guess he was smiling beneath the mask…
It hadn't been an easy ride for Cammish, whose team was forced to fit a fresh differential to his Civic after an issue during final practice on Saturday. The job was completed just before qualifying, allowing Cammish to reward the crew with a front-row start, just behind old rival Colin Turkington.
The signs were ominous when Turkington put the beautifully liveried black, red and blue BMW 330i M Sport top of the time sheets in both practice sessions and then topped qualifying, too. But single-lap pace is different to race pace, as it would prove when the lights went out for the opener.
Rear-wheel-drive traction helped Turkington stave off Cammish into Redgate, as the fast-starting Ash Sutton got the jump into second in his Laser Tools Racing Infiniti. The cooler track temperatures posed a problem for Turkington in the early laps, with the BMW struggling to heat its front tyres. This opened the door for Sutton to attack and he pulled off a stunning around-the-outside move at Schwantz to briefly nip inside Turkington at McLeans. But then things went wrong. There was slight contact as both cars attempted to make the right-hander, which opened the door for Cammish to dive through the gap as the two slewed wide. Both Sutton and Turkington kept momentum and the lead pack attempted to run together through Coppice, but three into one was never going to work, leading Sutton to be spat out amid contact in the pack.
That left Cammish leading Turkington. And, with greater tyre heat, he forged a one-second lead and then simply had to endure a short safety car period caused by Nicholas Hamilton beaching at the chicane, before taking the win that went a long way to laying to bed the ghosts of last October.
"I so nearly screwed it up, too," Cammish said. "I had a wild moment at the Old Hairpin and was quite angry at myself for it. But I gathered it up in time, so no damage done."
Rory Butcher completed the podium in the brand new Motorbase Ford Focus ST, with Tom Ingram's Toyota and Matt Neal's other Halfords Civic close behind.
Sutton would recover to finish back in 14th, but wasn't overly pleased with the collision that put him off. "It was probably a racing incident, but it could definitely have been avoided, I think Colin got a shove from behind, which put him into me, and I got the short end of the stick…"
Ironically that result would tee Sutton up to become the star of race two as he put on a truly stunning attacking display to cement his reputation as one of the best overtakers in touring car racing… anytime, anywhere.
Starting in P14, and crucially with no success ballast on his Infiniti, Sutton was up to eighth by lap eight, and then somehow came out on top of a three-wide run into the final chicane with Josh Cook's Civic and Stephen Jelley's BMW. Sutton was on the outside, naturally, yet still somehow made it work.
He then lapped a full second faster than the leaders to only just miss out on fourth at the flag.
Up front, things were calmer, and decided almost when the lights went out. Turkington's WSR team has always been ahead of the curve when it comes to managing the success ballast of the BTCC, and a lot of testing was done with weight on-board to ensure the BMW coped when running heavy.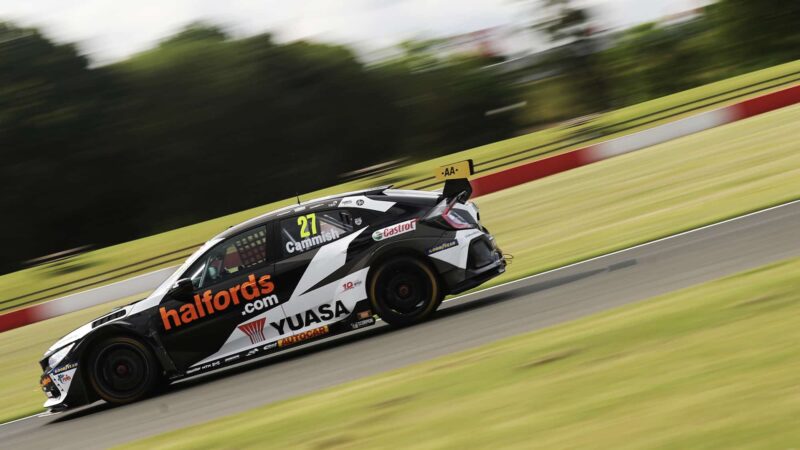 Turkington got the power down better off the line to breeze into the lead at Redgate, and then simply only looked back to watch Cammish's Civic getting swamped as it struggled to lug the extra 60kg of lead earned from race one around.
Butcher vaulted Cammish before the Craner Curves, and that began a slow decline back to sixth for the race-one winner.
Turkington's only worry came when Hamilton threw himself into the gravel again – this time at Coppice – to summon the safety car. But, regardless of the pressure Butcher could put on at the restart, he couldn't worry the reigning champ.
"The race was won at the start, really," said Turkington. "We've worked so hard to make sure the car runs well with weight. Having the 54kg on actually helped to settle things down and made it so stable. I had amazing pace from that point, and it's credit to the work of the team."
Tom Oliphant claimed third to make it a WSR one-three – a nice way to celebrate the team's 25th anniversary in the BTCC – with Ingram taking fourth after just doing enough to hold off the rampant Sutton.
If Sutton's race two drive was anything to go by, he meant business for race three, and produced a flawless drive from eighth on the grid to take his 15th career BTCC victory, and the first for the Infiniti Q50, which is increasingly looking like a potent weapon in Sutton's hands.
Chris Smiley inherited pole for the reversed grid, putting the impressive new EXCELR8 Motorsport Hyundai i30 N up front for the first time. And, after acquitting himself well in the first two races by scoring solid points, the Northern Irishman came so close to giving it the dream debut weekend with a win.
Smiley defended well off the line to deny Jelley's fast-starting BMW behind, but that allowed Ollie Jackson's Motorbase Ford into an early lead. However, Smiley pulled off a great lunge at the Old Hairpin on lap seven to grab top spot back, the move slowing Jackson and allowing the chasing pack to swamp the Ford back to fifth.
Sutton, meanwhile, had been making swift progress, and deposed Adam Morgan's Mercedes to run third as Josh Cook piled the pressure on Smiley up front. Smiley had the measure of Cook, but neither of them could do anything about Sutton, who was revelling in the traction and balance of the Infiniti, breezing past Cook into the chicane on lap eight before pulling a tidy undercut on Smiley out of Coppice to lead. Once ahead, nobody could touch him.
"It feels so good to get the result that we truly deserved from this weekend," said the 2017 champion. "I won't sit and point fingers for the race one incident, because I'm not sure there were any to point, but to come back from it and get the win at the end feels amazing.
"This is the best I've ever felt in a car. It's on rails and just gives me the confidence to pull these moves off. It's amazing the work that the team has done, and if we can keep this momentum up, we can certainly do some good things in this championship."
Smiley was elated with second – scoring both Hyundai and EXCELR8's first BTCC podium – with Cook in third ahead of Morgan and Jackson. Cammish could only muster seventh, while Turkington spent his entire race mired in traffic down in 10th. It was enough to ensure the four-time champion leaves with the points lead, but he'll be more than a little concerned about Sutton's abilities, especially on a weekend where his rival looked quite capable of fighting for all three wins.
2020 BTCC Championship points after round three
| | | | |
| --- | --- | --- | --- |
| Position | Driver | Team | Points |
| 1 | Colin Turkington | Team BMW UK 330i M Sport | 46 |
| 2 | Dan Cammish | Halford Yuasa Racing Honda Civic | 40 |
| =3 | Ash Sutton | Laser Tools Racing Infiniti Q50 | 37 |
| =3 | Rory Butcher | Motorbase Performance Ford Focus | 37 |
| 5 | Tom Ingram | Team Toyota UK Avensis | 36 |
| 6 | Tom Oliphant | Team BMW UK 330i M Sport | 32 |
British GT puts on a show
You have to go back a long way to find the last British GT round without a front-line Aston Martin entry. Pretty much a decade, in fact – Silverstone, 2011 – aside from that one event, there's been a Vantage GT3 at the sharp end of the field in every round since. Except Oulton Park, 2020.
The withdrawal of the TF Sport team due to multiple clashes with its European and world GT commitments has stripped Britain's top sports car series of its Aston contingent, and opened the door for a new marque to shine. Step forward McLaren, at least for race one.
The Woking firm's new 720S GT3 – the first GT3 offering developed in-house by McLaren itself, as opposed to a third-party tuner – dominated the season opener, with a clean sweep of the podium being led by the Jenson Button Team Rocket RJN car crewed by World's Fastest Gamer winner James Baldwin and Michael O'Brien.
While fans could attend the BGT opener, numbers were still strictly limited giving the circuit an unfamiliar feel compared to the series' usually healthy pull at Oulton. However, the onlookers were treated to an entertaining scrap, which rapidly went wrong for both of the front-row starters.
The Optimum Motorsport 720S crew of Lewis Proctor/Ollie Wilkinson had pipped the 2 Seas entry of Jordan Witt/Jack Mitchell by just 0.001sec to pole in a session dominated by the semi-pro drivers – the result setting a championship record for the closest qualifying ever.
Proctor duly led when the lights went out, but with Witt in close attendance and Baldwin shadowing in third. Witt snuck ahead via an undercut pit strategy, but things went wrong for the car soon after the stops when it was handed a 10-second stop-go penalty for a pit-lane infringement. That dropped Mitchell down to 10th, and things were compounded further when he then broke the 50kph speed limit when serving the censure, earning him another worth 18sec.
With that car out of the running, it boiled down to a straight fight between the Optimum car and the Jenson RJN entry. Wilkinson took over the orange Optimum McLaren, but rejoined into traffic and lost significant time working his way through, and then clouted one of the kerbs at the Britten's chicane, opening the door for the Jenson RJN car to sneak by and grab a lead it wouldn't relinquish.
"I can't believe it – winning certainly wasn't in the script for us when we arrived here this weekend," said Baldwin. "Michael and I are both so new to the car and GT3 racing – we have a combined experience of 25 laps in it, which must be some sort of record!"
Wilkinson secured second just a few lengths back, ahead of the second 2 Seas 720S of Angus Fender/Dean MacDonald, which had valiantly kept the leading Barwell Lamborghini of Rob Collard/Sandy Mitchell behind.
With its absence from the top class, it was fitting that an Aston did dominate the GT4 proceedings, with Connor O'Brien and Patrick Kibble being runaway winners in the TF Sport Vantage GT4. O'Brien's superb first stint put the car clear of Speedworks Motorsport's new Toyota Supra GT4, and the gap then grew after the stops when the Supra was slapped with a stop-go penalty for shaving 0.3sec off its stop time. That left the HHC McLaren 570S of Patrick Matthiesen/Jordan Collard and TF's second Vantage crewed by Daniel Vaughan/Jamie Caroline to complete the podium after Matt Cowley spun the Academy Motorsport Mustang out of a sure third place at Island Bend, summoning a late safety car.
If the opener was a McLaren benefit, the momentum swung firmly toward Lamborghini for the second, with the Barwell Motorsport team taking a dominant one-two in a race that was neutralised for almost the entire second half due to a three-car accident.
With the professional drivers setting the grid for race two, the Pro-Am entries came to the fore, with series veteran Phil Keen annexing pole with the impressive Sandy Mitchell locking out the front row for the Barwell Lambos.
When racing got underway, the two Barwell cars streaked off as Marcus Clutton made a stellar getaway from fifth on the grid in the similar JMH Auto Huracan, pulling off a stunning run around the outside of Cascades to grab third.
As Clutton formed the cork in the bottle, it allowed Keen and Mitchell to scamper away, with the pair sitting a full 15secs clear by the time RAM Racing Mercedes driver Yelmer Buurman finally managed to break Clutton's defence to breach the Lambo stranglehold.
Mitchell was one of the last to make his mandatory stop, switching for Collard, as Keen made it round to the pits with just three seconds of the window remaining to switch for Adam Balon, who duly rejoined with Collard in formation behind him.
Things looked good for Collard and the rest of the higher-graded, faster drivers, who were set to pile the pressure on the leader over the final 20 minutes, but the race was soon neutralised by a lengthy safety car when three cars came to grief at Cascades.
Nick Jones' Team Parker Racing Bentley Continental GT3 and race-one GT4 winner Connor O'Brien's Aston collided at Denton's, sending the Aston slewing across the grass down toward Cascades and forcing it to shed a wheel, which promptly struck the rear-right of Angus Fender's innocent 2 Seas McLaren GT3. All three cars were out in moments.
With only limited recovery vehicles available, and cars stopped at various parts around the track, it meant a lengthy safety car to the finish as Balon cruised to the flag ahead of Collard, with the RAM Mercedes of Patrick Kujala/Sam de Haan inheriting third after the sister AMG GT of Buurman/Ian Loggie was hit with a time penalty for a short pit stop.
McLaren did take solace in capturing the GT4 win with Euan Hankey/Mia Flewitt ironically benefiting from the long safety car removing any pressure from the silver drivers queueing up behind Flewitt, allowing her to lead Vaughan/Caroline's TF Aston and Matthiesen/Collard's HHC McLaren home