Ingram stakes his claim as Sutton deposes Turkington: 2020 BTCC Rounds 13-15
- Last updated: December 9th 2020
Just when you thought it was all a bit predictable, the British Touring Car Championship throws up another surprise, with Colin Turkington suffering a dire weekend and blowing the title chase wide open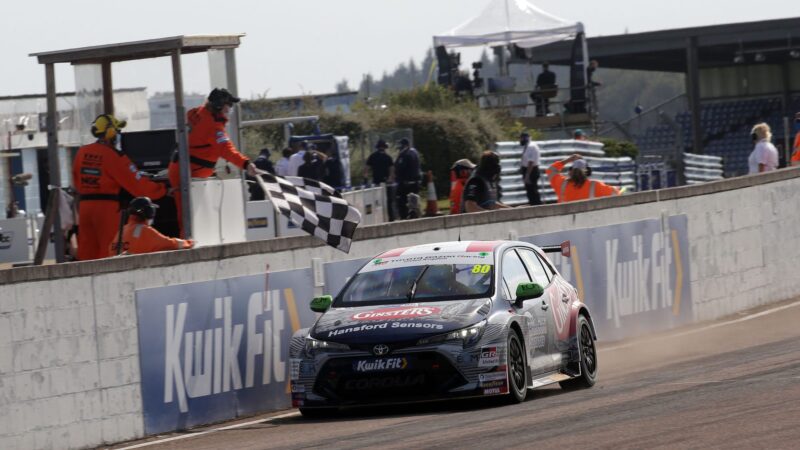 So far this year Colin Turkington has looked on another level to his competitors, stringing together strong result after strong result, with rarely an incident to speak of… And then came Thruxton. The place where 2020 well and truly stung the runaway leader.
A misfire in the first race condemned the championship leader to his first non-score of the season, and that was compounded by two further difficult drives up the order that left him with eighth as his best, and a shed load of points shipped to his rivals.
That opened the door for others to eat into Turkington's once-quite comfortable points gap, but even chief adversary Ash Sutton couldn't take full advantage. Thruxton has traditionally been well suited to front-wheel-drive machinery – having a settled front end is a handy advantage around the incredibly fast sweeps of the Hampshire venue –and that reflected in the results. Not a single rear-driven car appeared on the podium, with Toyota and Honda instead coming to the fore.
Tom Ingram netted a brace of wins for the Speedworks-run Team Toyota GB Corolla squad, while Josh Cook finally got the win he has so deserved this year in the finale.
The drama happened early this time around. Turkington had dragged his maximum-ballasted BMW 3 Series to eighth on the grid as Hondas and the Toyota locked out the front grid slots.
All seemed well, with Turkington keen to work his way forward early, but then it all went wrong. A misfire developed on his engine and sent the BMW tumbling down the order before he was eventually forced to pit for repairs. Any hope of a decent result in this one was gone all too soon.
Knowing Turkington was in trouble, the fight at the front played out between two men desperately needing to close the gap in the championship. Dan Cammish had stuck his Honda Civic on pole, with Ingram's Toyota alongside. But when the lights went out Ingram dragged ahead and managed to fend off race-long pressure from the Civic to take a popular first win of the year.
After a disappointing start to the campaign, BTCC veteran Matt Neal held third – continuing his incredible record of standing on the podium at Thruxton at least once every season since 2002 – ahead of Adam Morgan's Mercedes.
Sutton struggled in qualifying again as the Laser Tools team worked through set-ups on the rear-driven Infiniti. He started back in 11th, but put on his usual fine display of racecraft to rise to fifth at the flag to drastically close the championship chase.
All eyes were on Turkington for the second outing. Starting way back in 24th, he had it all to do to limit the damage in the points. He would make some decent progress, but ultimately could only manage 13th at the flag, clawing back a scant three points.
This again opened the door for his pursuers, and Ingram barged straight through it. Even with the full 60kg of lead onboard, the Toyota still got the jump on Cammish off the line to hold the lead, and Ingram again proved impossible to pass for the Honda man, fending off the Civic at each opportunity from lights-to-flag to secure his second win of the day.
"I'm well chuffed, if I'm honest, I didn't expect to get two wins here this weekend," he said. "I wanted a podium and to be up there, but full credit to the team, we've put together one hell of a package and it feels really exciting. It's been one hell of a day."
In a mirror image of the first outing, Neal again held third, beating Sutton and Rory Butcher's Motorbase Ford to the final step on the rostrum.
Turkington's target for race two had been to work his way into 12th in the hope of lucking in on the reversed-grid draw, but 13th just didn't cut it. Not that it would have mattered anyway when Ingram drew number eight to promote BTC Racing's Josh Cook to pole, with Turkington still mired in the pack back on row seven.
The Northern Irishman again drove his heart out, but could only do as well as eighth at the flag. He'll remember this weekend for all the wrong reasons.
Up front, Cook made no errors, leading BTC team-mate Tom Chilton to the flag without issue. It kept Cook's fantastic record of scoring at least one win at Thruxton over each of the last four years going, and also went some way to making up for that heart-breaking victory lost at Oulton Park when his Civic failed the post-race ride-height check.
Butcher followed the Civics home to rack up yet another podium in the new Ford Focus, as Sutton rounded out his consistent weekend in fourth. His trio of top-five finishes doing more than enough to depose Turkington from the top of the standings. He now heads the table by 16 points from the four-time champion, with double winner Ingram moving up to third, just 16 further back.
Sutton said: "It's never really how you want to see your main championship rival go out, in terms of him having some bad luck. But we've nicked the championship lead away, so we're going to take it. We had our bad luck at places like Donington earlier in the year and this counteracts that to some extent. I'm in a very good position, but we all know touring cars, you know how quickly it can all change. One minute it's going swimmingly and the next you're getting tagged or having a mechanical issue."
The short, sharp Silverstone National Circuit is up next this weekend, and it's anybody's guess which way the tables will turn for that one.
BTCC Championship points
| | | | |
| --- | --- | --- | --- |
| 1 | Ash Sutton | Laser Tools Racing Infiniti Q50 | 209 |
| 2 | Colin Turkington | Team BMW 330I M Sport | 193 |
| 3 | Tom Ingram | Team Toyota GB Corolla | 177 |
| 4 | Rory Butcher | Motorbase Ford Focus | 175 |
| 5 | Dan Cammish | Halfords Yuasa Racing Honda Civic | 167 |
| 6 | Tom Oliphant | Team BMW 330i M Sport | 158 |