On the road, July 2021: brawn from the USA
- Last updated: November 14th 2022
Muscle cars, missiles, an alternative to the British Grand Prix… and plenty more besides
Another month, another seven days worshipping at the altar of competition.
American SpeedFest 8
Brands Hatch, July 3
Silverstone hosts most of Britain's headline motorsport events, but celebrity alone does not necessarily make them the best. And the American SpeedFest is a case in point, a fixture like no other within the oft-homogenised calendar that engulfs us. Unless Rockingham reopens (unlikely) and somehow manages to persuade the NASCAR Cup that there is life beyond North America (even less likely), the SpeedFest will continue to occupy a plinth all its own.
The names might not have global reach (regular racer Jacques Villeneuve opted not to travel), but such as Loris Hezemans, Alon Day and Marc Goossens (1991 Formula Ford Festival winner at Brands) are immensely capable, experienced drivers – and to be honest it doesn't really matter who is at the helm, so good to watch are cars in the NASCAR Whelen Euro Series: lots of noise, commensurate power, not much grip… They are better suited to Brands Hatch's compact contours than that description might suggest, despite the circuit being cloaked in cool humidity – and the threat of additional thunder from above.
The supporting cast was strong, too. The Bernie's Sports Racing & V8s series (basic rules: eight cylinders, no whingers) continues to attract fields of bewildering diversity – including, on this occasion, a Buick Regal, a Plymouth Cuda, many an MGB and, obviously, a Talbot Sunbeam. There is no such thing as a bad Legends race, as I might have mentioned several times before, the F5000 cars sounded the part, even though there weren't many of them for Saturday practice (and a couple were too slow to have any business being out there), and the Intermarque Silhouettes generate terrific racing, even if their provenance is more Wimbledon Stadium (RIP) than Wisconsin.
A good event, then, topped off with sumptuous classic car displays and numerous other family-friendly distractions. Talking of families, Euro NASCAR front-runner Sebastiaan Bleekemolen admitted he was trying to hard to concentrate on two things at once. "My 11-year-old daughter has a kart race at home in Holland this weekend," he said. "She didn't really used to like racing," he said, "but she got the bug a couple of years ago, after coming to watch this event."
Historic Racing Drivers Club
Lydden Hill, July 4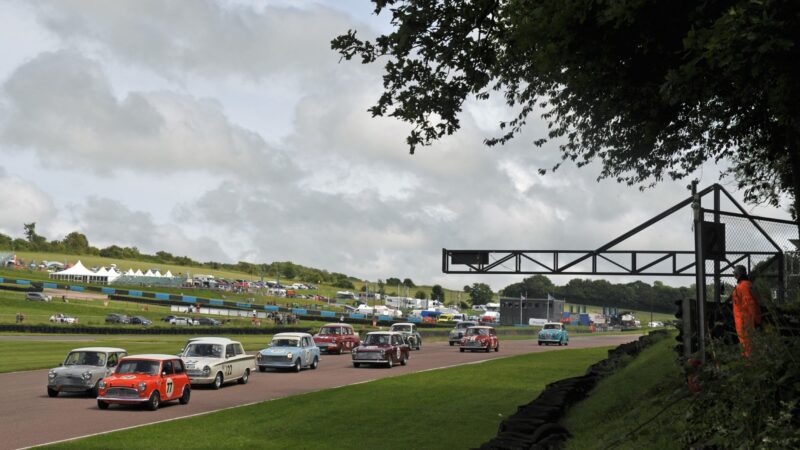 Rarely have my loyalties been so divided. Should I head back to Brands for American SpeedFest episode two – on Independence Day, to boot – or proceed an extra hour and a bit towards France, for an event of lower profile but parallel appeal? In the interests of balance, I continued along the A20…
The HRDC describes its evolving Historics on the Hill event as "a celebration of proper historic motor sport" – and it wasn't only the cars that harked back to a bygone era of suspension movement, respect and a splash of Brylcreem. The same was true of the schedule, thanks to Lydden's sawn-off operational window on Sundays: three sets of cars, each of which had practice and qualifying sessions, plus two races, starting at 10.30pm and ending little more than five-and-a-half hours later, which still left scope for a chips-and-mayo lunch break.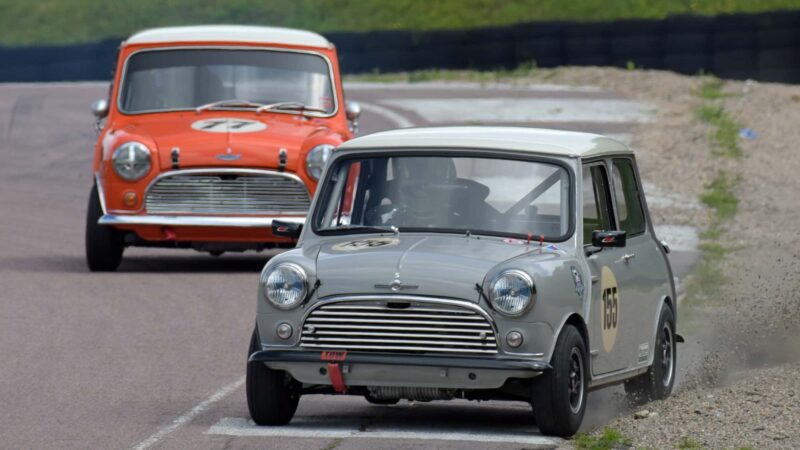 There was also ample time for a leisurely morning stroll, during the course of which I received a tap on the shoulder. "Hello," said Richard Postins. "We haven't spoken for a very long time, but I just wanted to say a belated 'thanks' for the help you gave me when I did some work experience with Motoring News." I pointed out that he'd thanked us all at the time, too, but he just wanted to do so again – 35 years after the event. He never secured what he'd thought was his dream job as a motor sport writer, but now runs respected communications & PR consultancy Prova and races an Austin A40 that he owns for a second time.
It's easy to drift away from former contacts in this business, but in reality we're rarely too far apart.
Race of the day was the second Jack Sears Trophy heat, for saloons built between 1958 and 1966. Former rallycrosser Nathan Heathcote won the first relatively easily in a car freshly built by serial Mini champion Bill Sollis, but was under fierce pressure all the way from Andrew Jordan in part two, the pair rarely more than a couple of Minis apart and absolutely on the limit. Heathcote eventually won again to secure aggregate victory, but it had been a clean, hard fight all the way.
A celebration of proper historic motor sport, indeed.
Historic Sports Car Club Superprix
Brands Hatch, July 9 & 11
You wait ages for a race meeting on a Friday – and then another comes along just weeks after a similar BMCRC venture at Oulton Park.
I'd assumed the opening day of the Legends of Brands Hatch Superprix would be reserved for testing, but no. It was the first element of two meetings in one – a morning of testing followed by a short, sharp race meeting – including two FF2000 heats plus final – on the Indy circuit, prior to two days of leg-stretching around the Grand Prix loop.
The day's low-key nature was echoed by the relative shortage of marshals on duty, a weekend-long theme not helped by a clash with the Goodwood Festival of Speed. You had to feel for them, too, especially when an oil slick was laid around much of the lap; such things take a while to sort at the best of times, and rather longer when there are but a couple of volunteers per post. In contrast, the racing was suitably intense – not least in the opening FF2000 heat, led initially by promising youngster Adrian Reynard, aged 70. Likely challenger Ian Pearson pulled a robust move on Graham Ridgway to take second, then spun at Druids while poised to challenge for the lead. He eventually recovered to work his way into the lead, at which point Reynard launched his own fightback until he, too, spun at Druids. Despite everything they finished first and second, though both would be beaten by Graham Fennymore in the final. Molly Dodd won the second heat on the road, but a penalty for a transponder infringement dropped her to fifth.
One of the prettiest cars on view was the Mallock Mk6B of Scott Goodfellow, sadly the only entry in the Classic Clubmans division for pre-1972 cars; Brands must seem a particularly long way from Falkirk when you're running around alone at the back.
There was some equally lovely machinery in action during the meeting's final denouement, particularly in the Aurora Trophy – effectively Formula Libre, for those who recall such weekly staples. Some entries were bewilderingly slender, though; the Historic Touring Car Championship race attracted just 17 cars, 22 fewer than there were at the same meeting a year earlier. Even in a sport as cyclical as this, that's quite a dramatic shift.
It's a truth that has long been obvious, but some of the HSCC's highest-profile events – this for one, the Oulton Park Gold Cup for another – remain in need of a signature race. For the moment they remain glorified clubbies – and while there is nothing wrong with that, they merit a little more oomph.
Dragstalgia
Santa Pod, July 10
After 90 miles of pleasant, al fresco driving, it was perhaps inevitable that there would be a little drizzle in the atmosphere within moments of parking up at Santa Pod; drag racing and water don't mix. On a day when much the country was battered by the elements, however, the Podington microclimate came into its own and the day ran largely without interruption. Except in mid-morning, when there was an alarming bang from the area behind the start line…
The Fiat Topolino-bodied Jaguar V12 of Andy Stones veered right while making its way from the assembly line to the warm-up area – and submarined beneath a shuttered garage door. Paramedics were swiftly on the scene and Stones was not badly hurt; after a hospital check-up, he was back at the strip in the afternoon.
You expect to see the unexpected at Dragstalgia, but not in that manner.
As the name implies, this is basically a linear version of an HSCC or Masters Historic meeting – a throwback to an age when racing was less sophisticated than it has since become, but no less spectacular. Nothing else in motor sport attacks your senses in quite the same manner as the drag arena.
This might not have quite the punch of Santa Pod's biannual FIA meetings – the last three of which have been canned, while there is no formal word as yet on the meeting scheduled for September – but in many ways it's a more engaging event, thanks in no small part to the (often home-spun) engineering of a kind that you simply don't see elsewhere. Who doesn't love a 7.7-litre Vauxhall Ventora in British Racing Lime Green?
Proceedings included a touching tribute to late UK drag icon Dennis Priddle, who died earlier this year; the solemnity of a minute's silence was amplified by the sonic overload on either side.
Dignity, then, as well as noise.
British Motorcycle Racing Club
Brands Hatch, July 17
It is six years since last I attended the British Grand Prix. I had access to everything back then, but not much in the way of an outlet for any of it. It felt as though my seat in the media centre (or press office, as I still prefer to call it) could more usefully be occupied by somebody else, so I decided henceforth to find a suitable alternative each time the race came around. Besides, it's not as though I hadn't already covered more than my fair share of Formula 1 races (no idea how many and never bothered to count – I just consider it an irreversible privilege).
So what better than a visit to one of the British Grand Prix's former homes, a venue that has been tidied up significantly since F1's last visit in 1986 but whose asphalt essence remains largely unchanged.
A pity that no sidecar races were scheduled, and it took a while for the meeting to get into its stride because the opening race had twice to be red-flagged, but thereafter this was a cross-section of some of the very best in motorcycle club racing, with packed grids, close competition and slick organisation in fierce heat.
It's hard to find shade when standing trackside – and factor 30 stings like hell when it drips down your forehead and into your eyes. When a 600cc armada passes by a few metres away, however, you tend not to notice such trivial discomforts.
MotorSport Vision Racing
Oulton Park, July 24
On paper this looked irresistible, with fantastic fields for everything bar the F3 Cup; five entries for a race around the longest version of Oulton Park do not a great spectacle make. Word in the paddock is that it has become simply too expensive for its target audience, those with vans and trailers having been driven away by the arrival of professional teams and increased levels of testing.
It was reminiscent of the very first F3 race of the 2.0-litre era, at Oulton in March 1974, when seven cars turned up, five started, three finished and the field was bolstered by a bunch of Formula Ford cars.
That apart, the paddock reflected a sport in rude health at national level. Monoposto provides a home for many long-lost friends – Ralt RT3, Anson SA4, Reynard 883 and suchlike – and the Clubmans Sports-Prototype Championship regularly attracts grids of 30 or more, a better state than it was in during the 1970s and 1980s, when it was known simply as 'Clubmans'. Many of the cars were racing in the series back then, ditto quite a few of the drivers…
For me this was a first chance to savour the colourfully close competition of the Focus Cup – and yet another to relish the MINI Challenge. At Brands Hatch in June, I'd been present when Matt Hammond won the opening race of the weekend before being launched into a roll during the second. Here, in a refettled car, he once again won the first before being tipped heavily into the tyre wall at the exit of Druids during race two. The impact demolished a significant chunk of Cheshire and ultimately led to the meeting's abandonment with a race and half remaining. Hammond was airlifted to hospital for checks but was not seriously hurt.
Seldom can any driver have experienced such highs and lows during the course of consecutive race meetings.