On the road, June 2021: the hills are alive
- Last updated: November 14th 2022
Oulton Park might be one of the best bits of northern England, but there are parallel attractions…
From fast lorries to an engaging new event that is breathtaking in terms of both machinery and surrounding landscape
British Automobile Racing Club
Brands Hatch, June 5-6
One week earlier the extended version of Brands had resonated to the rasp of Lola T70s and Chevron B19s, so the contrast could hardly have been greater. For all that the British Truck Racing Championship might be anathema to the average purist, its cartoonish nature makes it an excellent trigger to capture the imagination of youngsters who might become the paying spectators of tomorrow.
And we need a few of those.
Environmental filters ensure that trucks no longer belch as much smoke as once they did – leastways from their engines, though tyres seem to be in an almost permanent state of meltdown – but they remain brusque and brisk in equal measure and create a spectacle unlike any other.
The racing is usually close, too, the main downside of which is that it takes rather longer to extract a cab from a gravel trap than it would a Caterham Seven. Between the occasional delays, though, they are a refreshing alternative to some of the homogeneity that prevails in modern sport.
In this instance there was also a fine support cast, including the reliable ferocity of Pickup Truck racing, the lethargic elegance of 2CVs sashaying through Paddock, an MG Owners Club race featuring a solitary Maestro – among other things – and a 30-plus MINI Challenge field in which the top 23 cars were covered by less than nine-tenths.
A strong platform, that, and as an added bonus…
I'm not sure there is such a thing as a dull Legends race, but I've certainly never seen one and as a competitive concept it has few peers. Practice times count for nothing as the grid for the first heat is drawn by ballot, then reversed for the second. And the more successful you are in the two qualifying races, the farther back you line up in the final; small wonder that there are often more passing manoeuvres per corner than some series will generate in a season.
There was also a touching tribute to long-standing Legends racer Gerard McCosh, who died earlier this year. The popular 67-year-old used to race with a stuffed piglet in his rear window, so in his honour every driver did likewise. There was also a dignified tribute in the form of a two-lap parade led by McCosh's old car; ours can be a single-minded and selfish business, but there is also a wonderful sense of community if you look in the right places.
British Automobile Racing Club
Oulton Park, June 12
I probably should have worked this out of my system by now, given that my age begins with a '6', but still I feel a frisson of anticipation every time I pass a boundary signpost featuring the word 'Cheshire'. In this instance, it happened on the A49 following an early-morning detour for an essential family errand – and it meant Oulton Park was just beyond the horizon.
The positive feeling dulled slightly upon arrival, because attendees were handed a leaflet warning that thieves have been active at the venue – a corollary of undesirable behaviour at a single-venue stage rally the previous weekend. At motor sport events one usually has the sense that everybody is pulling in the same direction thanks to a common passion; usually, but clearly not always…
There was some fresh barrier vandalism at Cascades, too, though this seemed to have been caused by loss of control – either during the rally or on a track day – rather than lack of decency. If you own a wrinkled, 06-plate Honda, its front number plate is on a bank by the lake's edge.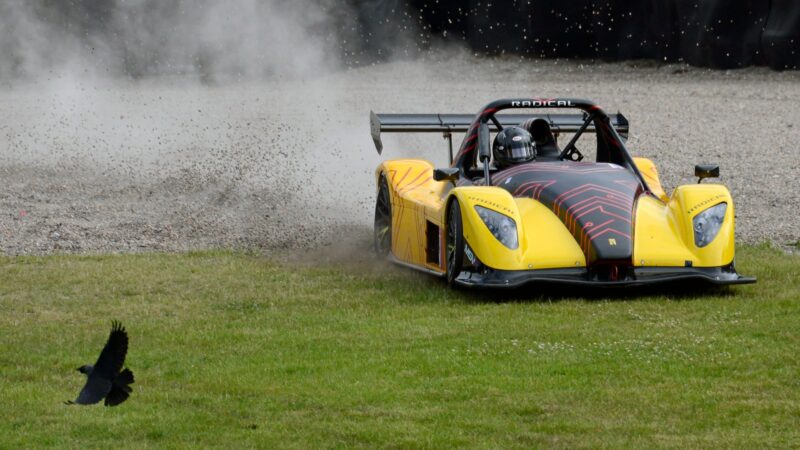 The Britcar series has been through some lean times in the past, but its quirky cocktail – embracing GTs, TCR tin-tops and a healthy sprinkling of cars from progressive Czech manufacturer Praga – nowadays produces reliably healthy entries. Yes, there is a significant performance difference between a Praga (the R1T of Jay Morton and Angus Fender won both races) and a Seat Cupra, but there is sufficient parity through the field to keep things interesting – and the mini-enduro format provides opportunities a) to watch from a variety of different locations and b) to appreciate Oulton's abundant wildlife en route. On this occasion, that included assorted dragon and damselflies, reed buntings, Comma butterflies and an omnipresent buzzard that seems to have its own season ticket.
I know I'm biased, for which you can blame an adolescence spent largely at Lodge Corner, Old Hall and Knickerbrook, but Oulton's magic is unlikely ever to fade.
Vintage Sports-Car Club
Cadwell Park, June 19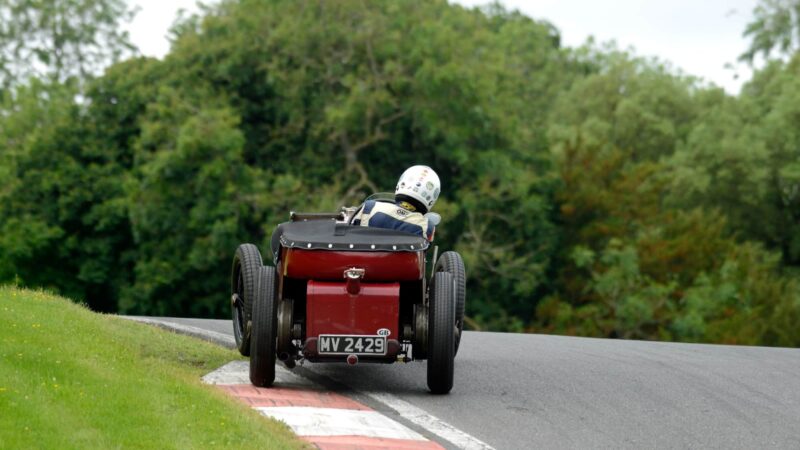 A week of balmy sunshine finally subsided, leaving in its wake a cocktail of cool drizzle… and dreadful lane discipline on the M11, even when it is all but empty. The latter soon becomes a distant memory, though, as you reach a sequence of delightful A- and B-roads leading through hamlets and villages whose names could exist only in Lincolnshire.
VSCC paddocks have a tendency to look underpopulated, not because entries are poor but because the cars tend to be fairly slender, a fair few are driven to the meeting by road and the most lavish means of transportation is generally a trailer. It seemed an appropriate moment to play around with a Leica M4-2 camera recently handed down by my dad – the first time in many a year that I've used anything non-digital; it's funny how you forget the simple things, such as winding on the film (and then having to pay somebody to process it afterwards). The results remain undeveloped at the time of writing.
No matter how familiar you might be with vintage cars, the sense of delight remains as you hear them gently being primed first thing in the morning, while Longstone Tyres strikes up a tune with wrenches and hammers as drivers line up patiently at its on-site fitting service. Meanwhile, Christopher Mann's Alfa Romeo Monza circulates the paddock on a tow rope, behind a 159 estate, as he attempts to coax it into life.
Such sights and sounds are the VSCC's exclusive preserve.
And while I have no data to prove this one way or another, I strongly suspect you see more deckchairs and picnic hampers per square metre at VSCC events than you do anywhere else (with the possible exception of Glyndebourne).
The racing is spectacular, too – a fusion of close combat conducted with a smile and absolute respect. If you haven't yet witnessed the manner in which youngsters such as Eddie Williams and Tom Waterfield extract the most from a Frazer Nash, it's high time you did.
Yorkshire Motorsport Festival
Wolfstones, June 26
It was circa 1978 when my French teacher, Mr Timm, leaned over my shoulder as I was filling in university application forms. "Arron, I see you have Canterbury on your list – I hope that's not because it's fairly close to Brands Hatch. If you are going to read modern languages, might I suggest Sheffield? And besides, it's not too far from Donington Park…" I wasn't sure whether to be impressed that he knew Donington had reopened – or perhaps he was unaware it had ever closed. Either way, I heeded his advice and harbour no regrets.
I'm not sure there has ever been – or will ever be – another academic conversation quite like that, but there is now a fresh motor sport attraction within striking distance of Sheffield. Set on closed public roads above Holmfirth, the Wolfstones hillclimb was due to be inaugurated last season but had to be postponed for reasons that won't require explanation.
The delay might have been an irritant, but the wait was worthwhile.
Designed for pre-1986 sports and saloon cars, the event attracted an interesting and diverse entry, from an Austin Seven all the way to the freshly restored John Pope Special, an Aston Martin-engined Vauxhall Magnum that teetered around UK circuits from 1973. Now owned by Geoff Harris, the car was having a shakedown run – believed to be its first outing for the best part of 40 years – and will hopefully appear later this season in selected Classic & Sports Car Club special saloon races. "We've tried to keep it exactly as it was in period," said Harris. "We didn't want it to look too smart."
The biggest problem? It was too low to get into the meadow that served as a paddock, so had to be parked outside, on the road adjacent to the main gate.
Views from the hill's summit were spectacular, security staff were friendly and helpful (an object lesson here for certain other venues) and the classic car display and catering areas were populous, despite ticket sales being restricted to 4000 per day. All visitors were required to provide proof of a negative Covid test no more than 48 hours beforehand, but pandemic requirements didn't cause obvious disruption. Local papers reported pockets of pre-event dissent – it's not just cats that dislike change – but the competitive element ran smoothly, so much so that it certainly didn't feel like a new fixture. It had the same vibrant ambience as early Pageants of Power at Cholmondeley – an event that should have prospered, but withered following a change of management and subsequent loss of impetus.
It wasn't always easy to get a good view of cars from the spectator areas – and some sections were out of bounds to all, due to adjacent farmland – but overall the foundations look every bit as solid as the dry-stone walls that line the route.
Long may it flourish.