On the road, October 2021: the best racing saved to last
- Last updated: November 14th 2022
The 50th running of the Formula Ford Festival, an unseasonable Goodwood Members' Meeting, plus season finales on the BTCC card: it was a memorable, if wet, October on the road for Simon Arron
This year's regular October fixtures were joined by a one-off autumn staging of the Goodwood Members' Meeting to add even more sparkle to the monthly schedule, that no amount of rain could extinguish…
British Motorcycle Racing Club
Brands Hatch, October 2
The autumnal chill had started to take full effect and thermal base layers were excavated for imminent use, but would it be possible to complete the 16-mile flit between Beckenham and Brands Hatch?
The problem owed nothing to the weather, or protesters gluing themselves to the M25, but to Britain's capacity to panic. Most fuel stations had stock, which implied recent supply problems were winding down, but this generated huge queues, suburban gridlock at breakfast o'clock and obliged me to pursue a hitherto undriven route along mostly residential streets. Patient plotting was worthwhile, though, for BMRMC events guarantee packed grids, fine racing and a chance to appreciate the balletic gifts of riders a long way south of becoming household names.
Triathletes and decathletes receive rightful acclaim for their sporting prowess, but sidecar passengers must be among the fittest of all unsung heroes, their gymnastic routine conducted within a vortex of gravitational forces – and often with their backsides grazing the asphalt.
The forecast for the day hadn't been great (heavy rain, more petrol queues) and by late morning the circuit was awash. Track inspections became increasingly frequent and eventually racing had to be abandoned for the day.
It had, though, been a treat while it lasted.
78th Members' Meeting
Goodwood, October 16-17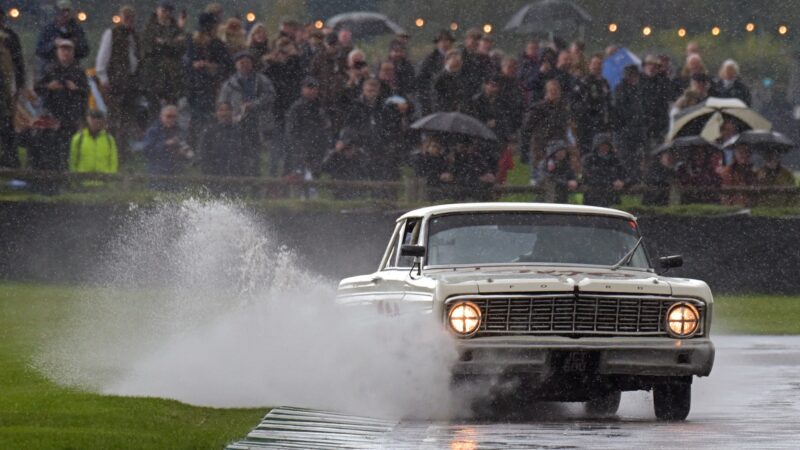 At 7am, half an hour before the gates opened on Saturday morning, the Sussex lanes were a hive of activity. At other Goodwood events, one sometimes gets a sense that people are there not so much because of the racing, but because it's part of their annual social schedule. At the Members' Meeting, with its reduced ticket allocation, you always feel you are surrounded by enthusiasts of long standing.
And there is always much about which to enthuse – even when the BBC weather app insists it won't rain, which turned out to be even less accurate than Tottenham Hotspur's forward line. It mattered not: a drenching is always worthwhile if you happen to be watching Edwardian cars chucking up tall rooster tails from their almost bicycle-thin wheels.
It's a pity the meeting clashed with the Historic Sports Car Club's traditional Silverstone finale – for purely selfish reasons, I'd like to have watched both – but such conflicts are as much a part of modern racing as track limits penalties and safety car periods.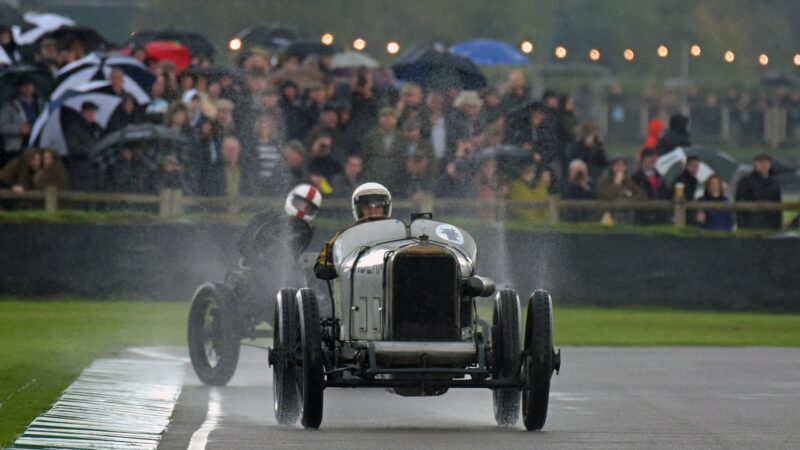 Such was the entry for the Gerry Marshall Trophy that it required two heats – one for Capris and Camaros, the other for cars of smaller capacity (or else that were simply slower). Admitting the top 15 from each to the final was logical, lining them up Camaro-Golf-Capri-Mini etc was less so. Machinery of this era rarely disappoints, though. While some of them might have been flawed as road cars, their body language on a racetrack is anything but. It was also nice to see Jim Morris take the opening heat in his father John's old VW Golf – the car's first outright victory since the opening round of the British Saloon Car Championship at Mallory Park, in March 1981.
One of the weekend's highlights came on Sunday morning, in the Arundell Cup for Formula Junior cars. Michael Hibberd had been due to drive the Lotus 22 his son Andrew restored (Motor Sport, April 2020), but complained of back pains after Saturday qualifying. The car was thus conferred to Andrew, who started at the tail of the grid and charged through the pack towards a fierce lead battle between Peter de la Roche (Lola Mk3), Simon Diffey (Lotus 20/22) and Pete Morton (Lightning-Envoyette). Leader de la Roche dropped out when his rear suspension collapsed on the approach to Woodcote for the ninth time – and Hibberd swept through to lead on the final lap.
The Ronnie Hoare Trophy scrap between the MGBs of Josh Barnett and Ed Foster was also memorable, largely because neither car ever seemed to have four wheels on the ground (or, sometimes, the circuit). It was for 11th place, rather than the lead, but this was racing at its most enjoyable for drivers and spectators alike.
There were a few setbacks, not least at the start of the 500cc F3 race. It took so long to organise the grid that several cars overheated – as they are wont to do.
The bigger frustration, perhaps, was seeing so many of the crowd enjoying a cooling pint as the sun came out. It looked very tempting, but professional commitments – and the need to drive home – militated against it.
Several hours later, a bottle of Asahi finally slaked my thirst. British fuel stations might not always have unleaded, but they do still sell some useful stuff.
British Touring Car Championship
Brands Hatch, October 23-24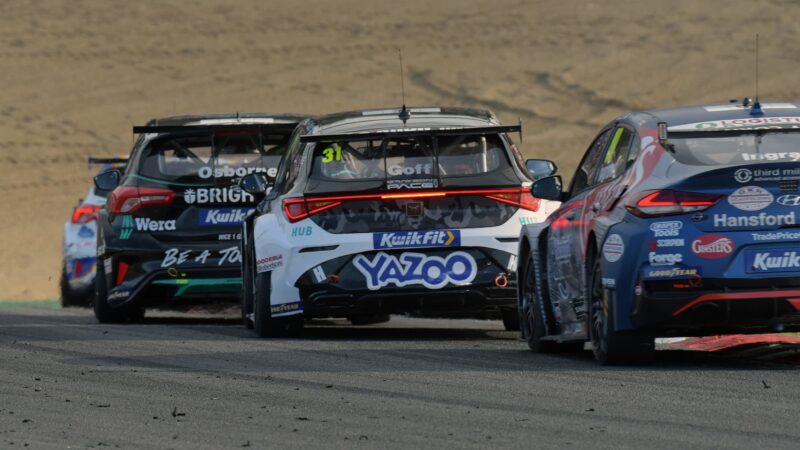 Another BTCC finale, another title showdown… and a car park that was probably busier by 8.15 on Saturday morning than any I have seen at Brands Hatch since the 1986 British Grand Prix (even if the crowd fell somewhat short of that level).
In the immediate slipstream of Goodwood's effervescent diversity, the contrast on track was quite striking. There is terrific variety in the BTCC, with a blend of front- and rear-wheel-drive cars from eight manufacturers, but the supporting cast features only one-make categories; Minis apart, most have been on the bill for many a season. From the outside looking in, it feels like a gentle reset wouldn't go amiss.
Plus points? The BTCC remains one of the most competitive series on the planet, with the fastest 23 drivers qualifying within a second of each other – the kind of proximity you might expect on the Brands Indy circuit, but not necessarily the grand prix loop. Given that he has been the season's outstanding performer, it was fitting that Ash Sutton wrapped up the title with a race to spare – his second in succession and third in all. And kudos to Jake Hill, whose technique enabled him to drift his Ford Focus through Paddock in the manner of a Capri (though he's pretty handy in one of those, too).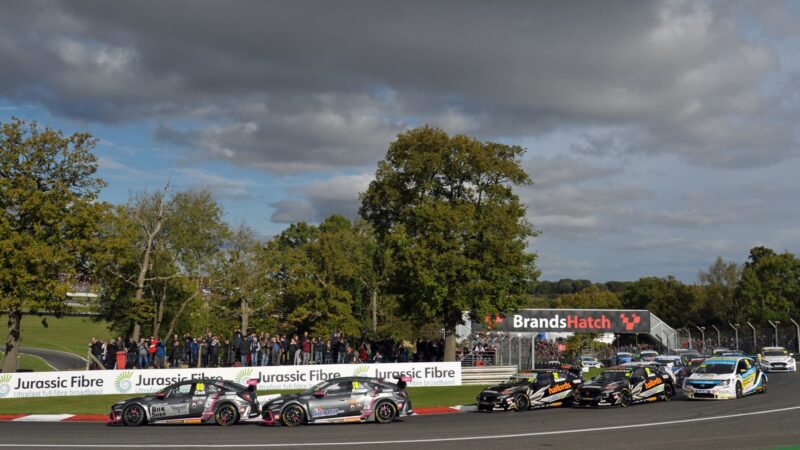 An infusion of fresh blood has added a competitive edge to the once moribund Porsche Carrera Cup GB. Defending champion Harry King spent much of one race in second place and pulled off a number of spectacular passing moves, but never actually led… Series returnee Dan Cammish has a more measured approach than some of his younger rivals – and ultimately that yielded another championship title, his first in this parish since 2016.
The Mini Challenge produces some good racing – the final event of the weekend was superb, Dan Zelos emerging as champion – but is too often let down by sloppy driving. It was recently announced that the series would remain on the BTCC support bill for another five years; a pity some competitors seem unable to keep their cars on the circuit for five corners. During one race, a couple of drivers ploughed into the Clearways gravel just after the safety car pulled off… but before they had crossed the finishing line to take an official restart, causing the race to be neutralised once again.
One accepts that such things aren't deliberate, but it's not a good look.
Rookie Matthew Rees sealed the British F4 title at the end of the final season for the Ford-powered Mygale chassis, marking the end of the Blue Oval's official association with junior single-seater racing – something that commenced with the launch of Formula Ford in 1967.
Next year the series will switch to an Abarth-powered Tatuus chassis, but the racing is unlikely ever to match the intensity of the original FF1600, which is still going strong.
They could save teams an awful lot of money – and pep up the show – if they added that to the BTCC bill.
Just a thought.
Formula Ford Festival
Brands Hatch, October 30-31
Talking of which…
Columns at this time of year tend to feature lots of Brands Hatch, simply because it hosts so many engaging meetings in quick succession. And the best, perhaps, was saved until last.
This marked the 50th running of the Formula Ford Festival, launched at Snetterton in 1972, and the anniversary coincided with a fresh lease of life. Entries might not be at the level of 40 years ago, when 200 or so cars would contest eight heats, but this year they nudged three figures for the first time in many a season.
There were intriguing cameos from Jan Magnussen (winner in 1992, 11th this time around) and his nephew Dennis Lind, the recently crowned British GT3 champion who finished ninth in the Grand Final. Most interest, however, surrounded 1980 winner Roberto Moreno, in a Van Diemen RF80 similar to the one he'd driven 41 years earlier. Immaculately prepared by Jonathan Lewis, it was spannered by Micky Galter, who tended the Brazilian's car back in the day. Van Diemen co-founder Ralph Firman was there to assist, too.
Moreno didn't have the smoothest week. His flight from Miami was cancelled after he'd boarded it, so he returned home in the early hours only to be awoken by a 6.30am call from me, as he was supposed by that stage to be in the UK… He eventually reached the track on Thursday afternoon and was straight into testing. By Friday he was up to speed and setting decent times – "A 52sec lap from a 62-year-old in a 40-year-old design – I'll take that," said Lewis. Unfortunately, he was punted out of his heat (for which his assailant was disqualified) and lost time during one of the progression races after taking nifty avoiding action when another driver spun just ahead. That left just the Historic Final, when he was caught out by a damp patch and ended his weekend in the Paddock gravel. "The main point of the exercise," he said, "was to see old acquaintances and have some fun."
And that he did.
As ever, the rhythm of the weekend was disrupted by safety car culture – and foul weather, which delayed things for an hour on Sunday morning – but the Grand Final was a throwback to Festivals of yore. Joey Foster led initially – and looked to have things under control, particularly when closest rivals Niall Murray and Oliver White tangled at the exit of Paddock, the ensuing accident also wiping out rapid teenager Tom Mills.
Foster ran wide at Clearways after the restart, however, opening the door to a superb lead tussle between Jamie Sharp, Neil Maclennan and Max Esterson, up from 13th on the grid. They crossed the line in that order, 0.148sec apart, though Maclennan was subsequently disqualified for a yellow-flag infringement.
More than half a century beyond its conception, Formula Ford remains in a league all its own.