F1 2020 game: review
The latest entry to the Codemasters F1 series has arrived at the perfect time and features new modes to get stuck into
F1 2020 arrives in the week between the opening rounds of the 2020 F1 season which began with a bang in Austria.
The successor to what was arguably Codemasters best F1 game to date has a high bar to clear, just as next weekend's Styrian Grand Prix will have a tough act to follow after round one.
While we'll have to wait for the next instalment at the Red Bull Ring, what is for certain is that the new game certainly lives up to the previous, and surpasses it.
A myriad of improvements have been made across the board versus the last instalment. Adjustments to the handling, AI, and existing options are built on with new modes and expanded player choice of how they will get to play F1 2020.
F1 2019 players will immediately notice the difference, with cars that are more rewarding to drive and race, and AI that has been made more aware.
The highlight of this year's game is the inclusion of My Team. The new mode allows players to create and run their own F1 team as the 11th entry on the Formula 1 grid.
You pick your power unit, team-mate and livery and logo, beginning from the bottom of the ladder and working your way up to championship-calibre outfit, building your facilities and improving your team as you go.
It certainly adds a new dimension to F1 games and has long been a requested feature. For many, it will add countless hours of gameplay as you take your own team to the top.
Beginning with an interview ahead of your car's unveiling, answers you give to media will impact the development of your car. Certain answers might give you a boost to aerodynamics for instance ahead of the season-opener, and the theme carries on into the season. It may mean the difference between a happy department or failed update.
Choosing a team-mate is vital to the performance of your team. You'll begin with an F2 driver but as you build up your team, top drivers will become available to you should your performances on track, and cheque book off it, satisfy your intended target.
All drivers (including the 2019 F2 grid) carry ratings that determine their contract values. You can sign anyone on the grid should your team meet a drivers expectations, so don't expect to sign Lewis Hamilton for your fledgling outfit until you have the funds available and a title-winning car on offer.
Pace, awareness, experience and race craft ratings determine how good each driver is. The more experienced a driver is, the more development points they will generate for your team on a race weekend. Pace will impact outright speed in the car. High awareness will mean a driver is less likely to make a mistake on track under pressure, and race craft changes how good a driver is at completing an overtake attempt.
Along with your driver, you will have facilities to upgrade as well. Wind tunnels, simulators and power unit dynos are crucial to any team's success, and yours is no different. Improvements can be made via the facility menu, but upgrades come at a steep cost, so be ready to save up funds for any building developments.
Upgrading your second driver's skills, taking sponsorship opportunities to develop revenue for your team or raising the morale of the team are all available to assign in the new calendar screen between races, and you'll need to do so in order to raise your team's performance.
Keep in mind that facilities play the key role in development success over morale. Try bringing a major front wing update with a level one aero department, you'll be back to the drawing board and needing to further develop your update before it makes the car on a race weekend, even if they're as happy as can be.
It can make the start of the My Team mode frustrating, but it is designed with a longer playthrough in mind, so patience is required if you're wanting to see your team on the top step of the podium on the higher difficulties.
It's a fairly basic implementation of the familiar franchise or manager modes of other sports titles, but is certainly a first in modern officially-licensed racing games. My Team is a welcome addition to F1 and will keep long-term players engaged for multiple seasons and might be enough to encourage some to persevere on.
My career is still available to play if you don't fancy taking on a whole team, and has actually received some attention versus last year.
You won't be dealing with made-up driver rivals like in '19, but the option to play a full or partial F2 season leading into an F1 career is a welcome addition that builds on last year's game.
Results in any of the scenarios you pick will influence your bargaining power and driver value when negotiating with F1 teams, or you might just want to jump right into F1 from the word go, which can also be done. Offering more player freedom is a welcome decision by Codemasters.
It is perhaps a little disappointing that Codemasters didn't expand on the rivalry system from 2019, with Devon Butler and Lucas Weber abandoned altogether. It was certainly a unique aspect of the previous title, but is by no means a deal-breaker when it comes to racing F2 in F1 2020.
Once you've decided how you'll play, the experience on track is another strong step forward compared to last year's game.
Long-term Codies F1 players will be familiar with the game when you launch into it but new players have been a focus in this year's version.
A new accessible handling model has been implemented so newer players don't feel so overwhelmed in the complexity's veterans will be used to. Reset-to-track, off-track surfaces made more forgiving and steering input assists aim to give causal players a better experience and is a useful feature for first-time players to explore.
What veteran players will notice though is how different the handling of cars is versus last year's game.
Codemasters have made a point to speak to F1 drivers such as George Russell and Lando Norris to gain feedback in how the cars should handle and drive, and the difference is night and day.
2020's cars feel much more rewarding to drive, with braking zones noticeably shorter, traction zones more difficult and ERS-system completely revamped to better simulate the systems found in real F1 cars. Players will have 'overtake' at their disposal, providing boost at the press of a button, in a system that is much better than '19's.
It all combines to make for a much more satisfying experience both on a flying lap and in wheel-to-wheel battle with other cars. New additions to the F1 calendar (until Covid-19 intervened) in Zandvoort and Hanoi are present in the game and are certainly challenging in their own ways.
A qualifying blast around Zandvoort is thrilling with the altered handling model, and Hanoi's sweeps in sector three are tough to nail perfectly and will be punishing any tyre out of line.
AI tweaks are also noticeable immediately. If you've ever lost that lap in qualifying due to traffic then you'll be pleased to hear that other cars are far more aware than you might be used to. Should you find yourself approaching traffic on a hotlap, that AI car now slows and moves away from the racing line in good time.
The safety car will appear in Career/My Team races. Having experienced two in the opening six rounds of the season, there will be no repeated absence of Bernd Mayländer as in '19 as a result of a glitch.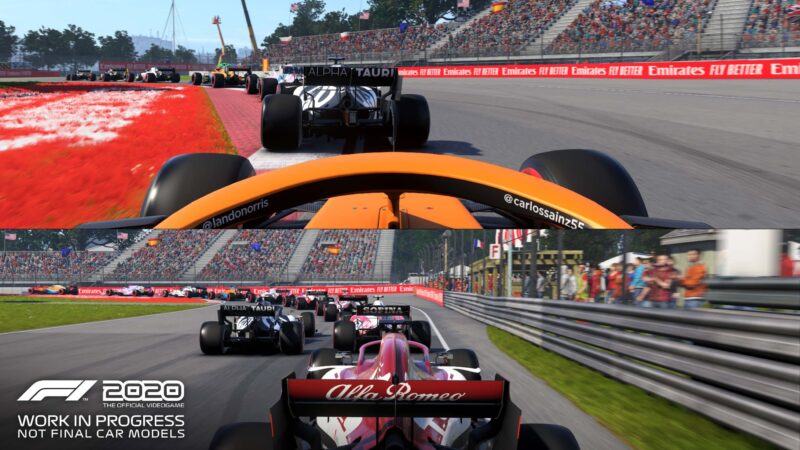 Also returning is local split-screen. Players will be able to race head-to-head on the same screen for the first time since F1 2014.
Those who spent a little extra to get the Deluxe Schumacher Edition of the game are rewarded immediately with items rather than forced to unlock any items before use, unlike last year's Senna and Prost unlockables.
The Benetton B194 and B195, Jordan 191, and the Ferrari F1-2000 join the classic car offering, while signature Schumacher overalls, helmets and celebrations can be selected to use for your player character both online and offline.
Polished aspects and returning features are where F1 2020 will shine for long-time players, while new additions will certainly attract new ones. Several frustrations from prior titles have been ironed out of the game and the newest offering is certainly the most realistic version of F1 you'll get outside of dedicated sim racing titles.
There are several changes awaiting future patches including revised 2020 liveries, adjusted AI performance and bug fixes, but there is no doubt that F1 2020 is the strongest F1 title by Codemasters yet, the most accessible to new players and the most entertaining for series stalwarts. A must-have for F1 fans.