2020 Hall of Fame: F1 nominees
- Last updated: September 7th 2020
The greatest drivers from the pinnacle of four-wheeled motor racing. Vote now for this year's Motor Sport
More people have been to space than have won a grand prix and, of those, only a handful qualify as a Formula 1 great.
This year, one more will join the select category of drivers, alongside the likes of Ayrton Senna, Jim Clark, Juan Manuel Fangio and Michael Schumacher.
You decide who that is, with voting now open for a shortlist of drivers from the 1952 and '53 champion, Alberto Ascari to the '98 and '99 title-winner Mika Häkkinen.
Each voter will be entered into a prize draw to win a limited edition Stirling Moss print worth £265, by the renowned artist Tim Layzell
Scroll down for a summary of each nominee, or click below to jump straight to the voting.
Jochen Rindt
He's enshrined in motor sport history as Formula 1's only posthumous world champion, but such a sad epitaph should not define one of grand prix racing's most charismatic heroes. The Austrian was a hard-charging rising star in single-seaters when he achieved his first major career landmark at the 1965 Le Mans 24 Hours, scoring a surprise victory with American Masten Gregory in a NART Ferrari 250LM.
Rindt's switch from Cooper to Brabham in 1968 ignited his F1 prospects, but it was Lotus that offered his best hope to become world champion. Confident, headstrong and principled, Rindt regularly clashed with Colin Chapman, particularly on points of safety, but finally secured his first F1 win at Watkins Glen in 1969.
Armed with the new Lotus 72, he knew 1970 could be his year and after pressing former boss Jack Brabham into a final-corner mistake at Monaco to win in the aging Type 49C, Rindt proved unstoppable through the summer, winning four consecutive grands prix. But during practice at Monza, he crashed to his death at Parabolica. Such was his points advantage, Rindt's tally remained unsurpassed and tragically he became the champion who never wore his crown.
Emerson Fittipaldi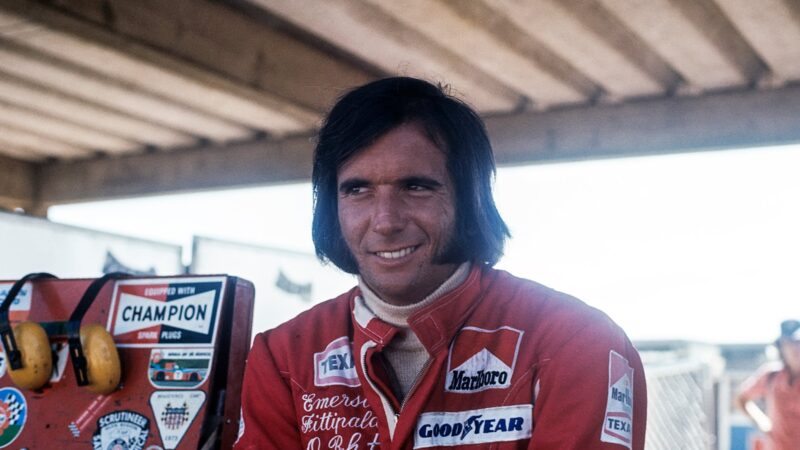 The Brazilian arrived unknown in England in February 1969. Fifteen months later he was racing in Formula 1 for Team Lotus – and remarkably scored his first win in just his fourth start at Watkins Glen, in the wake of Jochen Rindt's death at Monza. Fittipaldi always had star quality, with his flashing smile, large sideburns and Elvis in Vegas-style shades.
In the cockpit, he quickly established his credentials as his friend Jackie Stewart's biggest rival and became F1's youngest champion in 1972. After losing his crown to Stewart the following season, a move to McLaren paid off as Fittipaldi won a second title, but at the end of '75 he shocked the F1 world by switching to his brother Wilson's Copersucar-backed Brazilian team.
The optimistic gamble, motivated by patriotism and family loyalty, backfired and he never won another grand prix. But in the 1980s and still only in his 30s, Fittipaldi began what turned out to be a long and fruitful second career as a star of Indycar, winning the Indianapolis 500 for Pat Patrick in 1989, when he was also crowned CART series champion, and in 1993 for Roger Penske.
Alberto Ascari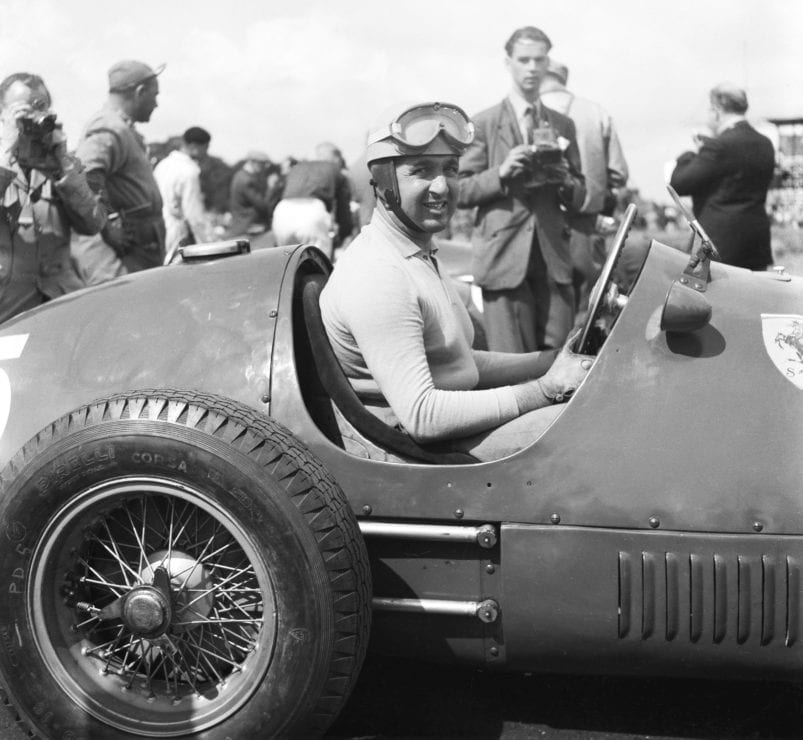 Ferrari's first F1 world champion had the physic of a wrestler – and the speed to best Juan Manuel Fangio. The son of pre-war grand prix ace Antonio Ascari, Alberto almost beat the Maestro to his first F1 crown in 1951, as the pace of Ferrari's V12 375 pushed Alfa Romeo's ageing 159 to the brink.
A switch to Formula 2 regulations then left Ferrari's Tipo 500 unopposed for two seasons and Ascari swept to a pair of world titles. From June 22 1952, when he won the Belgian GP, to June 23 a year later when he conquered Spa once again, no other driver had a look-in as Ascari won nine consecutive world championship grands prix, a record only matched – but never beaten – by Sebastian Vettel in 2013.
When F1 cars returned in 1954, Ascari geared up to offer resistance to the new Mercedes W196 in Lancia's D50, but tragedy would strike in 1955. At Monaco he crashed through straw bales and into the harbour waters. Four days later, testing a Ferrari sports car at Monza, Ascari crashed again, this time to his death. He remains Italy's only F1 world champion.
Nelson Piquet
Intelligent, savvy and characterised by a wicked sense of humour, Nelson Piquet was also one of the fastest, most accomplished and surely underrated grand prix drivers of the 1980s. Like Emerson Fittipaldi before him, he left Brazil to build his reputation in England, winning an F3 title in 1978.
In his first season at Bernie Ecclestone's Brabham, his speed contributed to Niki Lauda's decision to retire, and by 1980 he was a confirmed frontrunner as a hostile rivalry developed with equally hard-headed Australian Alan Jones.
Piquet claimed the first of his three F1 world titles in 1981, adding a second with BMW turbo power in '83 driving Gordon Murray's delta-shaped masterpiece, the BT52. Two years with Williams-Honda and a new rivalry with team-mate Nigel Mansell created memorable sparks. In '87, Mansell took more wins and pole positions, but Piquet's ingrained work ethic helped carry him to his third title.
At Lotus it seemed the spark was gone, but two years at Benetton defied the critics as he added three more wins. Those same critics dismiss him too quickly as a villainous playboy, but look beyond the stereotype and the true image emerges of a tough, professional F1 master.
Keke Rosberg
When he stubbed his cigarette out, jumped in his Williams-Honda and lapped Silverstone at a record 160mph – in drizzle and with a slow puncture – at British GP qualifying in 1985, Kejio 'Keke' Rosberg's place in F1 folklore was secure.
An unlikely wet-weather victory in the 1978 non-championship International Trophy marked a stunning F1 arrival, but he had to wait until 1982 to land the top drive his talent deserved. In a traumatic and dramatic season in which 11 drivers won grands prix, Rosberg took his Williams FW08 to a single victory at Dijon and defeated the turbo teams to claim the title, the last for a car powered by a Cosworth DFV.
Stand-out wins on street tracks became a speciality and after a final valedictory season with McLaren in 1986, the Finn with the drooping moustache sauntered off to race in sports cars and the DTM, then proudly watched his son Nico develop into a second-generation world champion for Mercedes.
Mika Häkkinen
Formula 1's fastest 'Flying Finn' defied an accident that almost killed him to return and win back-to-back world titles for McLaren, defeating his old Formula 3 rival Michael Schumacher as he did so. Häkkinen showed glimpses of his potential at Lotus before joining McLaren as test driver in 1993.
When he was promoted to the race team at the Portuguese GP he outqualified Ayrton Senna first time out. At the 1995 season finale in Adelaide, a puncture caused Häkkinen to crash in qualifying and his life was only saved by a trackside emergency tracheotomy. Despite suffering severe head injuries, he returned the following season and by 1998, armed with Adrian Newey's Mercedes-powered MP4-13, he defeated Schumacher – with whom he'd collided to lose the Macau F3 GP back in 1990 – to become world champion.
Häkkinen won a second title in '99 after Schumacher broke his leg at Silverstone, then in 2000 scored one of his greatest wins at Spa after the Ferrari driver had edged him on to the grass. The next lap, he stormed past Schumacher as they both lapped a backmarker to pull off one of the great overtaking moves. Fast, brave and principled, Häkkinen is remembered as a great champion and Schumacher's biggest rival.