Cult Heroes: the 2020 Hall of Fame shortlist
The measure of a motor racing career is often usually based on success, but cult heroes transcend mere trophies.
These are sporting greats whose skill, charisma and personalities enchant fans, no matter where they compete and where they finish.
This month's issue of Motor Sport celebrates these hard-chargers, the never-give-uppers, who brought flair and elan to their craft even when the odds were stacked against them.
These characters are such a force in motor racing that we're also marking their greatness in this year's Hall of Fame. One nominee will be inaugurated alongside the legends of the sport and we're asking you to decide who it is.
The shortlist of six below represent some of the most celebrated cult heroes in racing. Scroll down for more detail or click the button below to vote immediately and be in for a chance of winning a limited edition Stirling Moss print.
Don't forget to vote in the other Hall of Fame categories too, for an additional chance to win.
Henri Toivonen
He was 22 when he took up rallying seriously; aged 24 when he took his maiden WRC victory in the 1980 RAC Rally, and just 29 when he lost his life in Corsica in 1986.
Rallying had lost its rock star: the gung-ho charger who produced fiery displays of driving in the Group B Lancia S4, winning the 1985 RAC Rally and 1986 Monte Carlo Rally, and leading in Corsica until the fateful crash that killed him and co-driver Sergio Cresta in their prime.
The Finn had dreams of becoming an F1 champion, fuelled by early success in single-seaters and backing from Keke Rosberg. But his father, a Monte Carlo Rally winner, pushed him towards what looked to be a safer sport.
Toivonen's obvious talent brought a professional contract and that first RAC win. He also continued to impress on track, lapping competitively in a March F1 test in 1982, as well as in F3 races with Eddie Jordan. A future WRC and F1 winner?
Bernd Rosemeyer
Bernd Rosemeyer began his competition career on two wheels and had not raced on four prior to being invited to test for Auto Union during the winter of 1934/35. In his maiden race outing for the team, at AVUS, he ran second before retiring with a blown tyre. In his next, around the Nürburgring Nordschleife, he led for a time before finishing second to Mercedes linchpin Rudolf Caracciola.
With their V16 engines slung out at the rear, Auto Union's period grand prix cars were known to be difficult – even the proven genuis of Tazio Nuvolari found them so – but Rosemeyer came in with nothing to 'unlearn'. He simply got in and got on. In 1936, his first full season, he won three of the four qualifying grands prix to be crowned European champion.
Among his other conquests that summer, he dominated the Nürburgring Eifelrennen – a race that became enveloped in dense fog, a detail that didn't slow him one jot. Over the final laps, his lead increased from about 15sec to more than two minutes. He scored another clutch of major race victories in '37, but in January 1938 he was seeking to reclaim a speed record from Caracciola and Mercedes when his AU streamliner somersaulted from the road at about 280mph. His light had shone only briefly, but few have ever done so quite as brightly.
Stefan Bellof
"He knew no limits, but later on, with more experience, if somebody had directed all that raw talent and speed… He was as quick a racing driver as I've ever seen." The words come from Martin Brundle, Bellof's F1 team-mate and a man who knew him better than most, when he spoke to Motor Sport in 2015, on the 30th anniversary of the German's death. If, if, if…
When Ayrton Senna was pulverising his opposition in British Formula Ford during the summer of 1981, Bellof was doing likewise in Germany. The difference? Senna made the modest step up to FF2000 the following year, while Bellof graduated to F2 – and won his first two races against the cream of the world's rising stars.
He dipped a toe into the world of sports car racing that season, too, before becoming a full Porsche factory driver the following season. Sharing with Derek Bell, he won first time out at Silverstone before going on to shatter several records at the Nürburgring (his famous 6min 11.13sec lap put him on pole by 5.7sec)… and then somersault out of the race. No limits, as Brundle said. In '84 a (slightly) becalmed Bellof dovetailed his Tyrrell F1 commitments with the World Endurance Championship and won the latter, but future potential conquests would be stemmed by fate's intervention at Spa the following autumn.
Ari Vatanen
In his decade as an MEP, Ari Vatanen served on the European Parliament's Committee on Foreign Affairs and it's fair to say that he will have brought a unique perspective on the world.
During the 1970s, '80s and '90s he blazed a trail across the world of rallying, winning the British championship in 1976 and 1980 and the world title in 1981.
He took the helm of arguably the greatest of the Group B cars – the Peugeot 205 T16 – and won five rallies in a row, only to then suffer an enormous somersaulting accident in Argentina.
He not only survived, but recovered to take part in the 1987 Paris Dakar. A problem in the first 2km put him 274th, but he fought back in an epic recovery to win the first of four victories in the gruelling event.
His bravery, style and speed are captured in Climb Dance, the short film of his on-the-edge, record-breaking Pike's Peak run in the 600bhp Peugeot 405 T16 that remains heart-stopping to this day; a testament to the flamboyant Vatanen.
Rodger Ward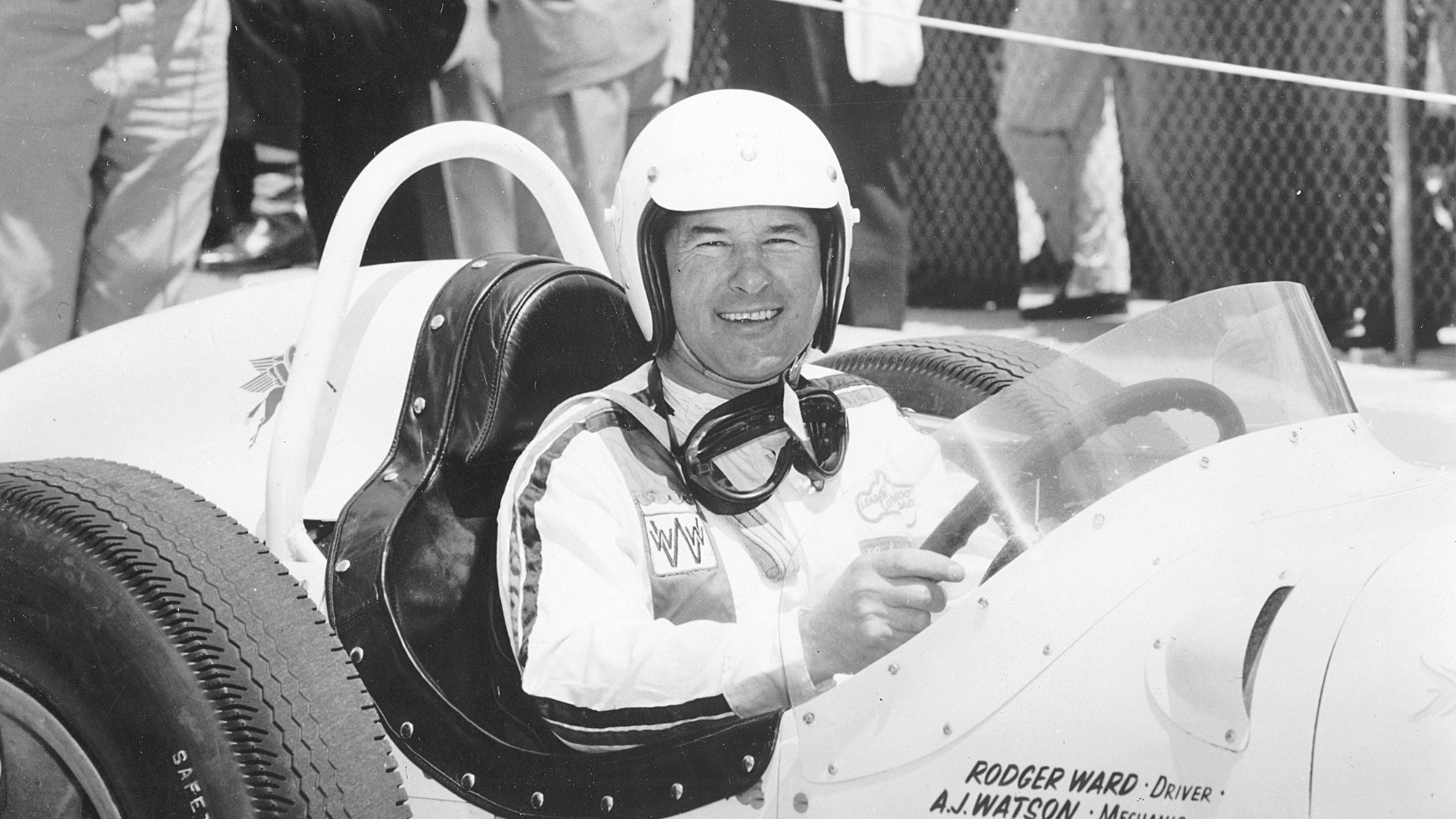 He ended his career a two-time Indy 500 winner and IndyCar series champion, but only after a lesson in perseverance against the odds.
Rodger Ward was a World War II fighter pilot who return to racing midget cars when he was discharged in 1946, with increasing success. It brought him to the Indy 500 in 1951 and after five retirements in consecutive years, he finally finished — eighth in 1956. His lucky was changing.
In 1959, he triumphed at Lime Rock in his midget against a field of road racers, and entered the US Grand Prix in the same car — less successfully.
But that was also the year of his first Indy 500 win, followed in 1960 by the legendary duel with Jim Rathmann, which he lost due to tyre wear.
He would go on to record 26 Champ Car wins, his name etched among the oval racing greats.
Robin Herd
Robin Herd worked on Concorde before deciding that the supersonic plane was developing too slowly for his tastes, and leaping into the world of motor racing with Bruce McLaren.
He designed the first McLaren F1 car, the M2B and the dominant Can-Am M8, but his career-defining moment came when he teamed up with Oxford contemporary, Max Mosley for the project that became March.
His 701 grand prix car qualified first and second for its first F1 race, then won its next three. It would represent the pinnacle of the team, but herd had plenty of potential remaining, as he showed with further winners in F2, F3 and IndyCar.