A towering figure with 40 years of racing success: Tony Dron, 1946-2021
- Last updated: March 23rd 2022
Obituary: Tony Dron was a successful touring car, sports car and historic racing driver who had just as much talent as a writer, earning respect and awards in both disciplines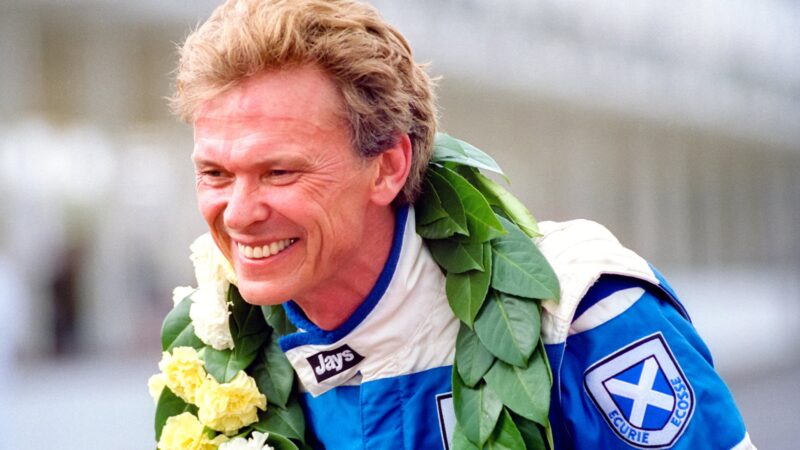 Tony Dron towered above the cohort of mid-sixties aspiring young motoring journalists both physically but also with his skill at the wheel of a racing car and with the typewriter.
Tony died earlier this week at the age of 75 and had been suffering from chronic pulmonary obstructive disease for some time. His racing career embraced almost forty years with successes in everything from Triumph Dolomites to priceless historic Ferraris while journalistically he was editor of Classic Car for nine years and also wrote for the Daily Telegraph and Octane magazine.
I first encountered the gangly figure who fizzed with enthusiasm when in 1968 he was one of the many aspiring youngsters who was competing in the then emerging Formula Ford category. He was quick enough to race wheel to wheel with James Hunt and on one famous occasion the pair tangled at Oulton Park and the future world champion finished up in the nearby lake. But they became friends, bonded not only by the difficulty of squeezing their tall frames into a Formula Ford car but also a square jaw and a disdain of authority. Tony's first year in the svelte Titan Mk4 saw him take in 45 events and he finished 8th in the main Les Leston series. The following year saw an improvement in results but a deterioration in funds. He was in third place in the championship when he had had to sell the car.
In '77 he won seven British Saloon Car races outright and lost the championship by one point to a car in a different class
He started freelancing for the Autocar and won the Guild of Motoring Writers' Sir William Lyons Scholarship as the most promising newcomer to motoring journalism under the age of 23.
With his racing career temporarily on hold Tony found employment with motor sport entrepreneur Nick Brittan who was promoting the European Formula Ford series. Tony was able to fund the occasional race but in 1971 he joined Motor's road test team. He turned down the position of sports editor because he thought he had sponsorship in place to return to racing but the deal fell through and, by then, Mike Doodson had taken the position.
Saviour came in in the way of two Ford dealers who agreed to back him in the new Escort Mexico series and third place in year two of the association led to the big opportunity to race a Triumph Dolomite for Ralph Broad alongside Andy Rouse in the British Saloon Car Championship. But Tony's best results came in the longer races including a fifth in the Spa 24 Hours and a solo drive to fifth in the Silverstone TT behind two Camaros. That winter he collected the Guild of Motoring Writers' Rootes Gold Cup. But political manoeuvring saw him dropped from the Broadspeed squad.
He found a drive in a Roger Clark Garage Alfa Romeo GTJ but it was not competitive however he had a great run on the 1974 Avon Tour of Britain in a little Fiat 128 Coupe winning his class with a Penthouse Pet as a co-driver. She had "assets" but not in the navigational department. But Tony certainly enjoyed the event!
In 1976 Tony appeared to have a massive break when BL parts offshoot Unipart announced they were going Formula 3 racing with brand new Marches to be driven by Brett Riley and Tony. The downside was the Dolomite-based engine which proved to be a down-on-power disaster. Tony rarely got in the top ten and the following year he returned to Broadspeed, the Triumph Dolomite saloons and the BSCC with great success while Nigel Mansell and Tiff Needell struggled with the F3 programme.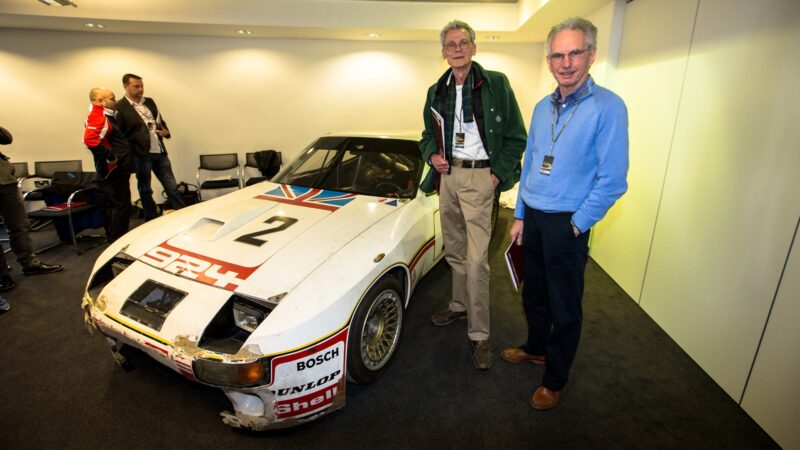 For Tony two halcyon seasons followed as, due to rule changes, the Dolomite was now an outright winner if it could beat the many Capris which Tony did frequently. In '77 he won seven of the 12 races outright, won the 2.3-litre class on 10 occasions and only just lost the championship by one point to a car in a different class. A dominant victory in the British GP support event ahead of a bunch of Capris was an unforgettable highlight of the year.
The following season was more about class wins as the Capris had found more speed. That year 'The Dron' also started a successful association with Porsches racing various 924s and a 928. There were three wins in the BMW County Championship as well.
Tony spread his racing wings internationally in the 1980s with the first of four appearances at the Le Mans 24 Hours. In 1980 he shared a Porsche 924GTR, with Andy Rouse, to finish 12th overall, fifth in class but second in the financially rewarding Index of Energy Efficiency. He also joined Richard Cleare's small team to share the latter's Porsche 934 in rounds of the World Championship of Makes in the 6 Hour races at Silverstone (8th overall), Vallelunga (10th overall) and Dijon (11th overall). This led to a full season in the World Championship of Makes with Cleare's plucky team and some decent results including fifth overall and first in the IMSA GTO class in the Nurburgring 1000 Kms, 13th overall and first in the Group 4 class at Le Mans (sharing with both Richard Cleare and Richard Jones) and 14th overall and a first in the Group 4 class in the Brands Hatch 1000 Kms. The Guild of Motoring Writers awarded Tony the Rootes Gold Cup for the second time; he was to win it again in 1990.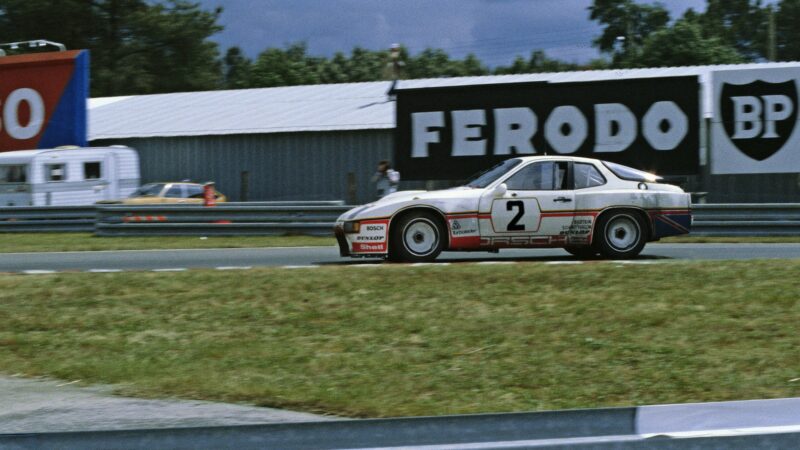 For the following season Richard Cleare moved up to Group C with Porsche-derived Kremer CK5 but the car suffered various problems the only result of note being sixth overall in the WCM race at Brands Hatch.
But it was an interesting year for Tony as he took on the role of editor of Thoroughbred & Classic Car, a post he was to hold for nine years and where he gave many aspiring young journalists a helping hand. But he continued to race with success and with the familiar team of Andy Rouse, Win Percy and Tony, joined by Phil Dowsett, he won the Willhire 24 Hours at Snetterton in a Porsche 928S.
He successfully made the switch to historic racing and was entrusted with many priceless cars from a Ferrari 330 LMB to an ERA and an Indy roadster. A mark of the esteem in which he was held was the fact that Mercedes Benz entrusted him with demonstrating their pre-war 125 grand prix car. Memorably he had three successive wins in the Sussex Trophy at the Goodwood Revival in the Ferrari Dino 246S. He finally hung up his helmet after a great and varied career in 2011.
But he continued to write, of course, for the Daily Telegraph and a column for Octane magazine where his views on both historic and modern racing were both entertaining and controversial. He was proud that his son Will followed in his journalistic footsteps.
Tony Dron was always great company, an imposing figure with that shock of black – later steel grey — curly hair, a terrific journalist and a driver of diverse talent at home in everything from a pre-war GP car to the iconic Dolomites. He will be sorely missed and well remembered.
Motor Sport sends condolences to his partner Charis, children Amy, Will and Katy and his fellow journalist brother Peter.
---
Friends, colleagues and acquaintances of Tony Dron are posting their memories on a tribute page at Remembr.com