Donington Park: The Pioneers – extract 1
In part one of four exclusive extracts with incredible images, detail and insight from John Bailie's 'Donington Park: The Pioneers', he looks back at the dawn of the circuit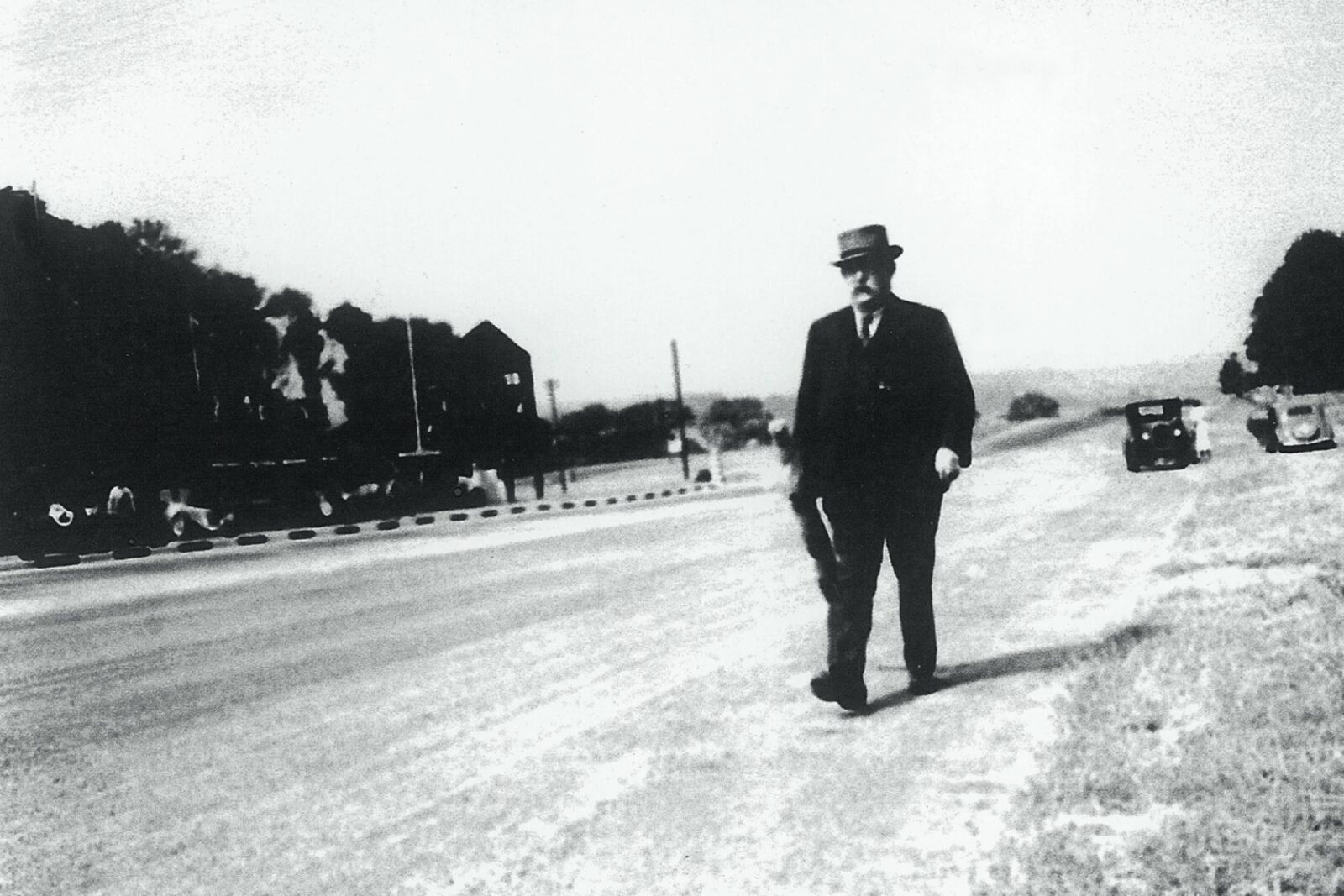 Making tracks: Always in control, Fred Craner inspects the latest development of the Donington circuit in 1937
In early 1931 and just as he was coming to realise the enormity of the challenge he had set himself, to create the UK's first road racing circuit, Fred Craner decided to take a walk in the park… Donington Park.
He bought an admission ticket to Donington's heavily wooded and secluded country estate. Being preoccupied in his determined exploration he found himself in an area out of bounds to the general public. It was then that the very first conversation was to take place that would ultimately lead to the birth of the circuit.
Freddie Atkins was Donington Park's gamekeeper and he lived with his family at Red Gate Lodge. Through the late afternoon shadows he encountered Craner, a short, stockily built, ruddy cheeked and military-mustachioed figure walking towards him along the narrow track, edged by dense woodland. Always wary of trespassers who may be putting the park, its deer and historic oak trees at risk, Freddie apprehended Craner and threatened to arrest him on the spot but escorted him to meet Mr John Gillies Shields (JG) at his office at Donington Hall.
JG was not at all keen on the idea of racing through the park. However, Craner saw the faintest glimmer in JG's eyes when he explained that he could guarantee to bring ten thousand spectators to a meeting there just a few weeks later, on Whit Monday, 25th May. It was explained to JG how racing at Donington could generate much needed income whilst at the same time raising awareness of the park's other attractions. JG was now quickly convinced that his aversion to motor cycles could be overcome and he agreed to link the two tracks.
It was a desperately short timescale within which to create the circuit, publish regulations, generate entries, advertise the meeting, obtain marshals, alert the press and obtain the necessary permits, but these were all challenges that Craner relished.
The target was achieved that day in 1931 when over 20,000 spectators crammed into Donington to see Squib Burton win the first ever motor cycle race.
But that was just the beginning…
This book tells the remarkable story of how two pioneers, Fred Craner and John Gillies Shields, backed by members of the Derby and District Motor Club, created Britain's first road racing circuit in 1931 and developed it at an astonishing rate, culminating in the world famous "Silver Arrows" Grands Prix of 1937 and 1938.
It tells how the army took over Donington Park in 1939 and the many failed attempts to bring racing back after they left in 1956; and it tells how Tom Wheatcroft racing finally relaunched the circuit in 1977 and how his son echoed his achievement in recent times. The story is brought up to date with the takeover of circuit operations by Jonathan Palmer's MSV organisation.
Author John Bailie said: "Donington Park is a very special place, and some very special people played their part in its creation and rapid development. It is the only active circuit in the UK with such a long history and unique heritage. My aim was to write and design a book that is a suitable tribute not just to the early pioneers who created it but also to those who saved it and revitalised it in recent times"
This isn't a book just about motor racing. It's about people. It's about the pioneers who created Britain's first permanent true road racing circuit…firstly for motor cycles in 1931 and then also for cars from 1933.
"We are doing our utmost to make this the best track in England" – John Gillies Sheilds
It's about the phenomenal success and dramatic progress that saw the circuit expand from loose-surfaced tracks created for horse-drawn carriages to hosting four pre-war Grands Prix, the first in 1935, the final two the "Silver Arrows" Grands Prix of 1937 and 1938. It's about how the Army took over during the war years and the many attempts that came very close to bringing racing back in the 1960s with innovative, state-of-the-art facilities…and it describes the Tom Wheatcroft era from 1977, son Kevin's revival of the track in 2010 and the New Vision of MSV's first full season in 2018.
Researched, written and designed by John Bailie, the book includes many new photographs plus documents, maps and diagrams, unique then-and-now images, illustrations by the author, personal anecdotes and memories, together with extracts from on-the-spot race reports by Bill Boddy MBE, founding editor of Motor Sport magazine.
There are two hardcover editions: the Standard Edition, and the Special Anniversary Limited Edition of 85 copies with silver cover and silver edging, signed by Kevin Wheatcroft and the author, individually numbered and presented in a special slip case.