2022 MotoGP rider line-ups: latest team news and rumours
- Last updated: October 21st 2021
Who's racing with which team next year? The latest 2022 MotoGP team and rider line-up news
MotoGP's 2022 rider line-up is far from settled as the series heads into its summer break with plenty of questions still in need of answering and a few seats ripe for the taking.
Valentino Rossi will call time on his legendary career at the end of 2021 and Petronas SRT is set to undergo a transformation into RNF next season with an all-new line-up.
Yamaha and Maverick Viñales have parted ways after both parties agreed to an early termination of a two-year deal.
Plus, there's yet another Ducati team on the grid next year with Rossi's VR46 outfit yet to confirm either of its riders for next season. Could Viñales fit in there?
Franco Morbidelli finally has his factory Yamaha ride effective immediately, while compatriot Andrea Dovizioso is already back in MotoGP with Petronas SRT.
Here is a rundown of the latest news and rumours as the 2022 MotoGP season takes shape.
Click here to jump to a specific team
2022 MotoGP rider line-ups
Ducati: Jack Miller & Francesco Bagnaia
It's as you were at Ducati with both Pecco Bagnaia and Jack Miller staying on with the team for 2022. The Italian rider was already set to ride for the team next season, having penned a two-year deal when he stepped up from the Pramac Ducati team, while Miller signed his contract extension earlier this season.
The Australian won back to back at Jerez and Le Mans to get him back into championship contention after a difficult start to the season and his efforts were rewarded with a new multi-year deal.
Since then though the wins have dried up for Miller and two sixth-places have been separated by a third-place finish in Barcelona.
Bagnaia has been scoring more consistently than his team-mate but is yet to take to the top step in Ducati colours. Back-to-back runner-up finishes at Portimao and Jerez is the best he's managed so far this season.
Ducati will provide bikes for one-third of the MotoGP grid next season, with VR46 and Gresini Racing both opting to take machines from the Italian manufacturer.
Yamaha: Fabio Quartararo & Franco Morbidelli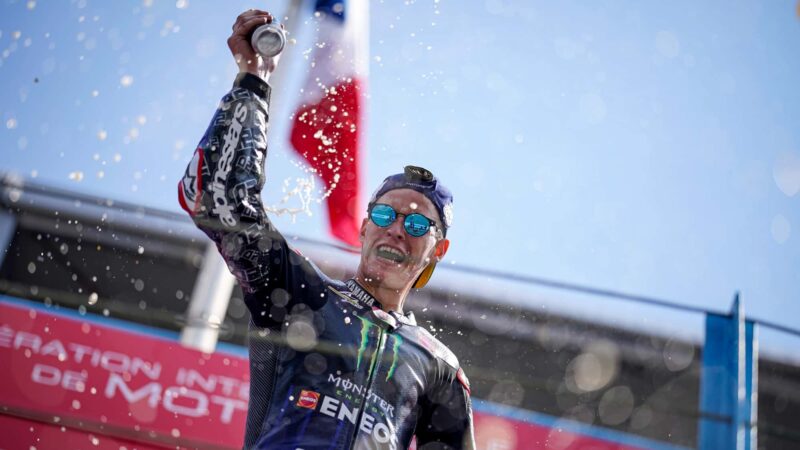 Old team-mates are reunited at Yamaha with Fabio Quartararo and Franco Morbidelli heading up the factory team.
Following surgery on his injured left knee, the Italian returns to MotoGP racing and joins up with his former Petronas SRT stablemate for the remainder of 2021 and is contracted up to the end of 2023.
His promotion begins effective immediately and he'll be in from the Rimini and San Marino GP for the remaining rounds of the '21 season.
"I'm very pleased and happy about facing this weekend and this highly anticipated new chapter with the Factory Yamaha team," Morbidelli said.
"I've been trying to recover as much as possible for the final stage of this championship. I wanted to make my comeback at a track I know well and have great memories of, like Misano. I'm looking forward to jumping on the bike and starting my journey with the Monster Energy Yamaha MotoGP Team.
"Of course, I need and I want to thank all the people who made this happen, starting with Ito-san, Lin, Maio, Sumi-san, the VR46 Riders Academy, and all other people who made this collaboration possible."
Honda: Marc Márquez & Pol Espargaró
Honda's factory line-up will be staying the same for 2022 with Marc Márquez partnering Pol Espargaró for another season.
The six-time MotoGP champion has endured a long road of recovery since breaking his arm in Jerez back in 2020, but victory at the Sachsenring was a cathartic moment for team and rider.
Márquez has been hot and cold as he continues to return to full strength but Espargaró still lags behind his team-mate despite the two-race advantage he has over him.
He hasn't had an easy time adapting to the RC213V, and two eighth-place finishes are the best he has to show so far this season.
Despite a heavy crash during practice, Márquez put in a typically strong performance to finish seventh at Assen, a performance which team boss Alberto Puig says revealed the old-Márquez.
Suzuki: Joan Mir & Álex Rins
It hasn't been the title defence Joan Mir would have dreamt up during pre-season as Suzuki's struggles have limited him to three third-place finishes so far this season.
Things aren't much better on the other side of the garage either as Álex Rins has had three DNFs and a non-start due to his crash at Mugello.
The team looks to have lost its advantage over the field from last season when it could operate the Michelin tyres and keep them in the ideal performance window over the course of a race distance.
Not only that but the team is the only factory outfit to not have a shapeshifter on its bike, costing valuable time over the course of a qualifying lap and race.
KTM: Miguel Oliveira & Brad Binder
KTM has its rider line-up sorted for next season with both Miguel Oliveira and Brad Binder remaining at the factory team.
It was a bizarre situation that led to the team partnering its current riders together but the departure of Johann Zarco mid-season back in 2019 has accelerated KTM's development of the pair
Oliveira has taken KTM's only win of the season so far, winning in Barcelona well ahead of team-mate Binder.
The South African announced in June that he'd re-signed with the team and extended his deal for another three years, taking him up to the end of the 2024 season.
Pramac Ducati: Johann Zarco & Jorge Martin
It has been a career year for Johann Zarco as the Frenchman has put together a championship-contending season.
He's made great use of his current-spec Desmosedici to score four runner-up finishes in 2021 and heading into the summer break is Fabio Quartararo's closest challenger for the world championship.
Rookie team-mate Jorge Martin started strongly as well, finishing on the podium behind team-mate Zarco in Qatar but a crash in Portugal the following race put him on the sidelines for four races.
Both riders will be racing at the Pramac team next season with the team announcing earlier this year it had extended the contracts of both its current riders for 2022.
Petronas SRT (RNF): Andrea Dovizoso & Darryn Binder

Darryn Binder will complete the line-up at the Yamaha satellite team next season alongside Andrea Dovizioso.
With Franco Morbidelli departing for the factory team, Dovizioso has already begun his time with the team, finishing up the '21 campaign replacing his compatriot.
After half a year on the sidelines as part of a sabbatical, Dovi is back racing alongside The Doctor, Valentino Rossi, who has called time on his legendary career.
The Italian announced ahead of the Styrian GP that despite an offer from his own team for '22, it was time to walk away and focus his efforts elsewhere.
There were rumours that a Yamana World SBK rider would come in and partner Dovizioso but it's current Moto3 rider Darryn Binder who will step up alongside the Italian.
Petronas's departure from MotoGP means that the satellite outfit will morph into RNF MotoGP Team next year and compete with a new line-up.
"I'm extremely grateful for this opportunity, as it has been a lifelong dream to race in the MotoGP category," Binder said.
"I definitely didn't expect to make the jump straight from Moto3 to the highest class, but I do believe I'm up for the challenge, and I'm ready to put in all the hard work for 2022."
Aprilia: Aleix Espargaró & Maverick Viñales

The Viñales/Aprilia saga is over, the Spaniard has signed with the team for 2022, ending months of speculation over his MotoGP future.
Viñales was linked with a ride for '22 alongside Espargaró for several months and the team made clear at the Dutch TT it was eager to sign the nine-time MotoGP winner for next year.
Andrea Dovizioso signed up for an extensive programme as the team's test rider for the 2021 season and the Italian was rumoured to have been offered a race seat mid-season, but the team has gone with the Yamaha outcast instead.
The Viñales and Yamaha split has been ugly, with the rider suspended following the Styrian GP for putting other riders in danager after the team discovered data suggesting he had tried to sabotage his engine at the Red Bull Ring.
Despite this, Aprilia says that its project will be "enriched" by the arrival of Viñales and that the team is confident he will embrace the work needed to turn it into a race-winning outfit.
Tech3: Remy Gardner & Raúl Fernández

Tech3 has finally confirmed its 2022 line-up after announcing that Remy Gardner and Raúl Fernández will be making the step up from Moto2 next season.
The Australian leads the Moto2 rider standings having taken three race wins and is yet to finish outside of the top five at any race this season.
Confirmation of Fernández though has not been as straight-forward, with his signing bringing with it some controversy, leaving several key figures frustrated in the process.
Tech3 team boss Herve Poncharal and Fernández himself were both unhappy with how the deal was announced during the Styrian GP weekend. Fernández was very open with his desire to stay in Moto2 for 2022 while Poncharal was left bemused by the announcement coming midway through the FP4 session in Austria.
Both of Tech3's current riders were left unimpressed also, as KTM look to have caused a fair amount of discontent within its own camp.
Fernández is currently second to his future team-mate at the summer break with three wins himself.
LCR Honda: Takaaki Nakagami & Alex Márquez
LCR Honda is keeping both Takaaki Nakagami and Alex Márquez for next season. The Japanese rider signed a multi-year deal in 2020 to ride for the team while Márquez extended his contract for a further two years also.
Nakagami has been agonisingly close to a maiden MotoGP podium since joining the team but has so far not managed the feat despite his strong performances.
Márquez hasn't reached the heights of his Le Mans podium from last season but the younger brother has been putting together a solid if not spectacular season.
VR46 Racing: ?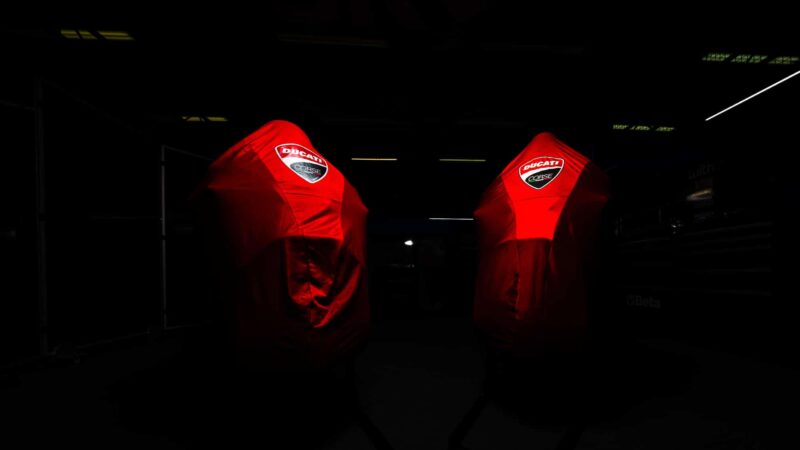 Two more Ducatis available but no riders have been confirmed yet as part of Valentino Rossi's VR46 Racing team.
The Doctor ruled himself out of the running for one of the seats already but the ambitious project will no doubt attract plenty of riders for next season.
With Ducati making up one-third of the 2022 grid and the Italian marque's form this season, there will surely be no shortage of willing hands to pilot the VR46 Racing bikes.
Gresini Racing: Fabio Di Giannantonio & Enea Bastianini

Fabio Di Giannantonio and Enea Bastianini will lead the line for Gresini Racing next year when the team splits from Avintia for 2022.
Bastianini will move across when Gresini becomes its own MotoGP team while Di Giannantonio will make the step up from Moto2 after the end of this season.
Despite the passing of the eponymous owner Fausto Gresini back in February, Gresini Racing will continue on with its plans to become a Ducati satellite team and has already secured Flex-Box as a title sponsor.
It means that Gresini will be operating at every possible level of competition with teams in MotoGP, Moto2, Moto3 and MotoE.