Can Aprilia fight for its first MotoGP victory in 2022?
Aprilia's technical director Romano Albesiano talks openly about the factory's fight to get to the front and the challenges of MotoGP engineering in general
Aprilia is still MotoGP's underdog, but if the Noale factory continues climbing on the upward curve since introducing its 90-degree V4 that may no longer be the case in 2022, or at least less so.
The switch to a wider-angled V4 – basically the same configuration as used by Ducati, Honda and KTM – from the previous 72-degree unit allowed Aprilia to build a better-balanced motorcycle with improved engine performance in both corner entry and exit.
Last season was Aprilia's second with the new engine and marked a breakthrough: a first-ever four-stroke MotoGP podium at Silverstone, a fourth place at Aragon, plus a front-row start at Sachsenring and just one tenth off the front row at Mugello.
Aleix Espargaró finished just 4.1sec behind Silverstone winner and eventual world champion Fabio Quartararo. If we compare those performances as percentages, Quartararo's was 100% and Espargaró's 99.8%, which means Aprilia isn't far from challenging for wins, when everything goes right.
Big improvements arrived in 2021 because Aprilia was able to properly develop its new bike for the first time. Although the company has MotoGP concessions (which allow it to upgrade engines and do lots of testing, unlike the other factories), those were cancelled in 2020 due to the pandemic. So Aprilia raced all of 2020 with a prototype engine and an aero package that was all wrong.
Last season much-improved downforce aero and reduced engine friction improved acceleration, a revised chassis balance made the bike stop better and an impressive five-kilo weight reduction helped all around.
"The biggest improvement for last season was the full bike, overall," says Espargaró, who's been at Aprilia since 2017. "The 2021 bike didn't have unbelievable acceleration or traction, but it got better in almost every area, especially acceleration, because Aprilia worked so hard on the wings.
"Now we need to make the bike turn better and generate more grip. I think the chassis is too rigid, so it doesn't generate much grip and so it doesn't turn enough off the brakes. Maverick [Viñales, his team-mate since last September] is asking for the exact same thing."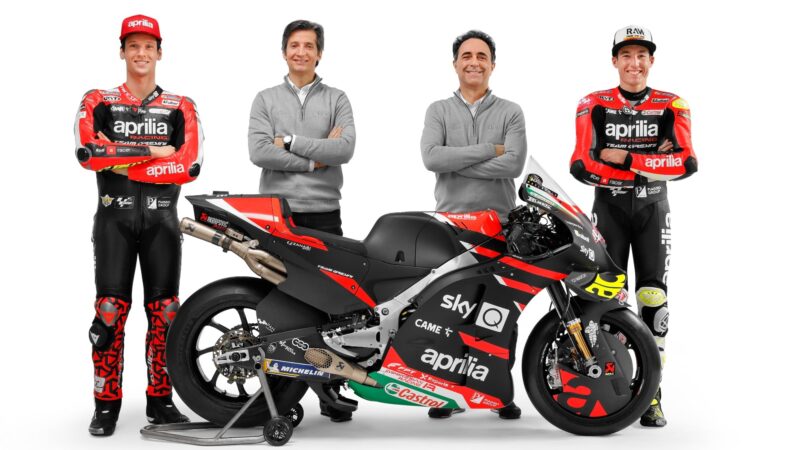 Aprilia technical director Romano Albesiano has been with the factory since 2014 and always speaks openly about his work and MotoGP in general. These are his thoughts on 2021 and the upcoming 2022 championship…
What were the main improvements you made to the RS-GP last season?
"You always talk about refinements in MotoGP – some better balancing of the bike and so on. For many years our performance had been quite good in acceleration but we always lacked something in the stopping phase and last season we made a big step forward in this area.
"Riders normally say they lose in acceleration but gain in braking, because this is what they see [the rider in front of you accelerates before you accelerate, so the gap between you increases, then the rider in front brakes before you brake, so the gap decreases]. But from outside observation we could understand better that most of our problems were in braking, so we focused a lot on this and tried to balance the bike for this."
How did you do this, moving engine position or what?
"Yes, centre of gravity position. The step forward we made in aerodynamics also helped a lot in the braking phase. Also, we are now better exploiting the potential of the engine as a brake, with extensive use of an exhaust valve. It's always small things, not big things, but we have made these changes and gained some of what we were missing in braking."
You are now the only factory allowed to upgrade engines, so how many engine upgrades did you make during 2021.
"I can't remember. Anyway, we basically got back to the rpm level we had with the last 72-degree engine [2019] and we made, let's say, three steps of development. Not big things but things that made a difference."
In combustion or where?
"New piston liners gave us a friction reduction and some optimisations in the oil circuit helped."
Just to check, is your engine a full 90-degrees? Because we were surprised when KTM told us that the RC16 engine is 86 degrees.
"Yes, ours is 90 degrees. And, yes, that was really surprising."
What is your focus for the 2022 season?
"For sure we are expecting an interesting step in engine performance again.
"However, I'm pushing my team to really focus on stopping because we still don't have top performance in this phase, so we still need to optimise in this area, which is very difficult to manage. It's also a cheaper way of finding a better lap time – if you optimise in this area maybe you don't have to spend a million Euros developing high-revving engines or special materials. You just need to use your intelligence.
"It's complicated because it's a matter of the general balance of the bike and engine-braking character and how you use their potential. Also, it's about clutch behaviour. There's not much talk about the clutch but the clutch is a key element in the braking phasing and very important."
How many chassis did you use last season?
"Basically we didn't make big changes. Aleix used the same chassis spec he used at the start of the year, but we did test some lighter and softer versions.
"It's very, very difficult to test chassis, because to make a proper test with a chassis you need a lot of time, you need perfect conditions, you need a top rider and you need different tracks, so to develop a new chassis you need a huge amount of time and resources. It's not easy, because even if you design and produce all the parts maybe you cannot test them fully."
Sometimes last year Aleix told us he feels the chassis is too rigid…
"Looking at some other chassis, maybe some are more flexible but looking at them they appear stiffer, so I honestly don't know. We have made a lot of developments in component rigidity and we have found many good things, but to be honest we've never found the holy grail."
Would you say this is the strangest area of MotoGP? Because you can calculate most things quite well but finding the right flex for turning and grip is such a nebulous thing.
"Yes, chassis science is very nebulous. I've been fighting with the turning of the bike since 1991 [when Albesiano was a chassis engineer in Cagiva's 500 GP project] and I've never found the best way to make the bike turn. I don't know if anyone on this planet knows more about this!"
Sometimes we see bikes turning like magic – like Turn 1 at Red Bull Ring and Turn 8 at Misano – without really spinning the rear. How do they do this?
"You can also make a bike turn by making it stop well. If the bike doesn't stop properly it will never turn. Sometimes last year Aleix told us the bike wasn't turning at all, so we made it stop better and then it turned better.
"But the pure turning in longer corners is a balance of the capacity of the tyres to generate centrifugal force, which is mostly related to the way you load the tyres and, of course, to the way you absorb small bumps. From this point the discussion about lateral frame stiffness begins, but honestly it's not super-clear."
Some chassis engineers talk about the 'banana effect' – making the bike bend in the middle of the corner to make it self-turn.
"We've gone in this direction. If you look at MotoGP chassis in recent seasons they've become thinner and thinner, precisely to improve this kind of behaviour. You get something from this but it's always difficult to be sure about exactly what.
"Sometimes I'd like to get a very old chassis and test it again to understand if all these years of development have really brought something very important to this area."
Last year all your best race and qualifying results were at faster, flowing tracks, why's that?
"At some tracks where you have to restart from very low speeds it looks like we have more difficulties than we have at flowing circuits where the average speed is quite high, like Silverstone, Mugello and Aragon, where the bike is good, because we have good aerodynamic characteristics, which help us.
"But I think your performance in MotoGP is very much related to very small detail changes, the optimisation you do with your data engineers and the mental condition of your riders."
The gaps are so close that they must drive all of you a bit crazy, because you can be three tenths a lap slower and instead of fighting for the podium you're fighting to get into the top ten…
"For us, yes, and also for the riders. They have to do the perfect performance. All the guys in MotoGP are champions – super guys – and they have to be perfect every lap. It's very, very difficult. Sometimes you see rider performances going up and down, which can be related to… maybe mental condition isn't the right term."
What you're saying is that it's very difficult for riders to maintain the same level of performance from one weekend to the next?
"Yes, because riding a bike is a matter of confidence and to keep confidence at a high level is very difficult for them. Very, very difficult."
Does the latest RS-GP feature a mass damper?
"We have been working on this matter but so far we haven't been racing with a mass damper. We believe in the principle and we keep working on it.
"We have made a kind of a restart on this matter, from a more solid base, because we have new testing facilities available at Piaggio where we can test mass dampers in a better way, so we can better understand the functioning of the system and hopefully bring it to races this year. I think only Ducati uses this kind of system. I know Honda are working on it but, honestly, I've never seen it fully applied."
When the spec software arrived in 2016 we saw lots of sliding, spinning and smoking tyres, but now we see very little of that. This isn't TC, but torque control, right?
"The traction control these bikes have isn't able to save you from highside, which is why we actually see highsides in MotoGP. It's a good system, but to save you from a highside in a high-lean situation you'd need something with a different principle, a different concept, something more sophisticated.
"Many times riders come into the garage and say, I crashed because I made a mistake, so the first part of acceleration at high lean angles is in the hand of the rider now. Our engine is very smooth and easy to control but it's not like you can do this [Albesiano mimes grabbing a handful of throttle] at high lean because if you do that you will fly. You can't do this on the edge of the tyre, but you can do it once you pick up the bike onto the bigger part of the tyre."
So the improvements have come from refining torque delivery?
"You have to make very precise and very accurate tuning of the bike's engine mapping and torque demand [how much power the electronics allow the engine to send to the rear tyre]. You must have the correct ratio between the torque that you are actually using and the torque available from the engine, because if you have an engine with monster torque and you are playing with only 2% of that torque then it's very difficult to control.
"Last year we improved this in our bike quite a lot. Also, we had the chance to test with guys who came from other bikes [he's referring to Viñales] and they said our engine is very smooth and easy to use from bottom rpm."