Different geometry and centre of mass are part of the RC213V redesign, with the engine tilted backwards, for more rear grip. This is what Ducati did in the early days of Michelin's spec tyres.
So far, the changes seem to be working.
"The bike is faster and safer – it feels easier to make the lap time," said Márquez's team-mate Pol Espargaró following November's post-season tests at Jerez.
HRC has been working non-stop since that test to incorporate Espargaró's feedback into the next 2022 prototype that will be tested at next month's pre-season tests at Losail, Qatar, and Mandalika, Indonesia.
If the bike works well and if Márquez is fully fit, following his double-vision problems, my feeling is that the six-time MotoGP king and the RC213V will be the combination most likely to stop Ducati in 2022, not Suzuki or Yamaha.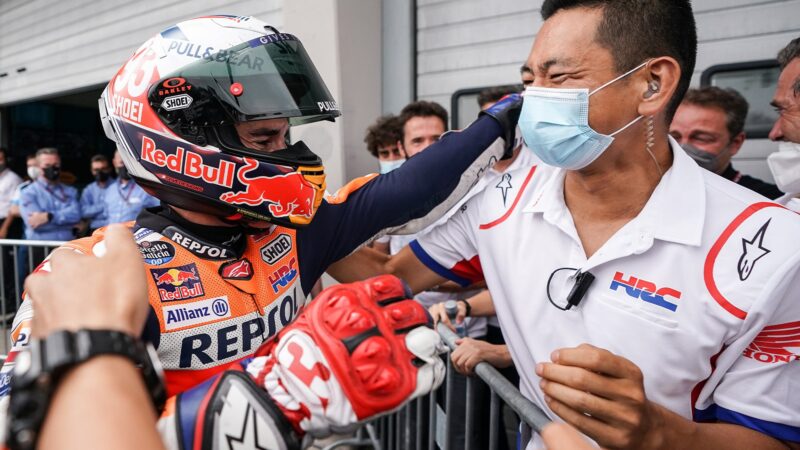 To get an idea of what HRC are doing for the new season, I spoke to its technical director Takeo Yokoyama.
How much has the new rear tyre and Marc's absence affected HRC?
"At the beginning of the 2021 season all our riders except Marc had one year's experience on the new rear tyre, so he needed time to get used to the tyre. And although Marc is a super-talented rider, one of the best in history, he had been absent for so many months and he was coming back to MotoGP when he still wasn't 100% recovered from his arm injury, so he couldn't push the bike like he used to.
"So some things went into confusion, because we rely so much on riders' feedback and when the riders are, let's say, a little lost and not sure what they need from the bike, the job is more difficult."
Your 2022 bike looks like the biggest change since you designed the RC212V, so what are you trying to make better and what's the target with this bike?
"The target is to win the title! Technically speaking, what we want to achieve is to use the rear tyre more effectively, this is clear. Last season was the second year with this tyre and we started to understand in which way to use the tyre.
By the end of last season, the way our riders were riding and using the bike, which comes from the tyre, changed, because we were starting to understand more and more. But last year there were some limits to what we could do with the bike [engine development was frozen due to Covid], so we couldn't change things radically. However, our understanding improved, so now we are putting everything we learned into our 2022 bike."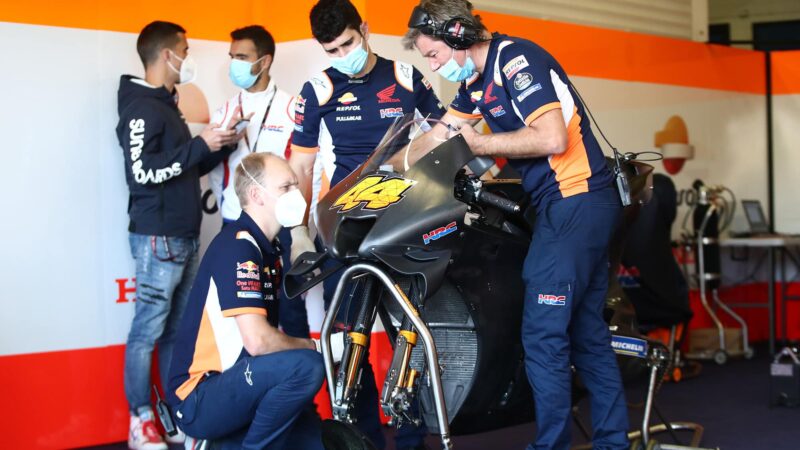 Is the big thing to improve turning, so you can get off the front tyre and onto the rear as soon as possible?
"It's a bit of everything: weight distribution, pitching behaviour and the way to spin and slide. Because in the end with a motorcycle you only have two tyre contact patches on the ground and whoever takes the maximum efficiency from these will get the best performance.
"The [traction] balance is especially important because you can't always have both tyres working 100%. When one tyre is working, the other one must be a little sacrificed and vice versa, but for total performance you must make the best balance between the two."
"To get constant good grip you must be quite a gentleman with the tyre"
This year's bike is the biggest redesign you've made in many, many years…
"Yes, it's a big re-design, because when we are losing, when the results are bad, it's easier to make a radical change. When you are winning it's more difficult to make a radical change, this is also true."
Like everyone else you will have a new engine for 2022, so what's your focus – to improve negative torque and engine-braking performance, which has been an issue?
"First, going into corners our riders were struggling to get the correct support from the rear tyre, which made the front tyre more stressed. And if you miss the corner entry you are delayed getting to maximum [lean] angle, turning and opening the gas, so everything is delayed, delayed, delayed and in the end you miss the lap time. Michelin's front tyre is a little delicate, you cannot really squeeze the tyre, so to get constant good grip you must be quite a gentleman with the tyre."
Michelin's current rear slick has a softer construction, so do you have to load it more softly?
"Yes, you must load the tyre in a gentler way."
Have you have been using an exhaust valve on the prototype to allow you to fine-tune engine braking for different tracks and corners?
"Yes, but we are still doing development and we haven't completely finalised this project – we are still investigating what we can gain and what we can lose."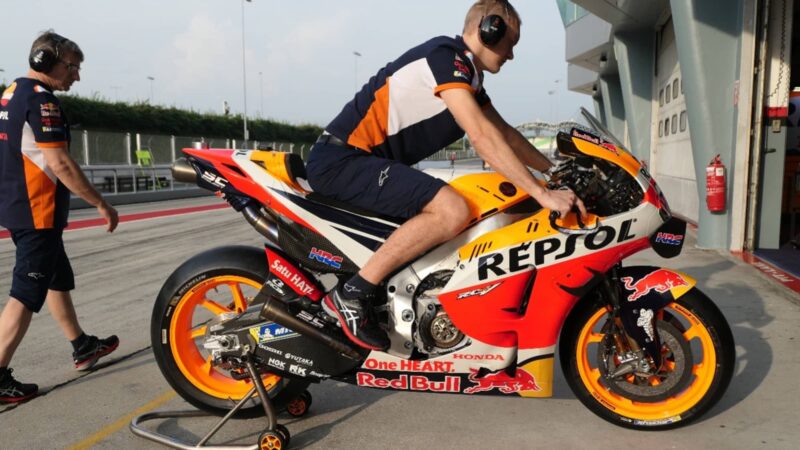 Do you expect a big increase in horsepower following the two-year engine development freeze?
"This is the first time in history that everyone has worked for two years on engine development, so I think there will be a bigger change in engine performance, even though development has been somewhat restricted by the pandemic situation."
Ducati's Desmosedici always has the best top speed, so do you think it's possible to get the same peak power from a pneumatic-valve engine as a desmodromic engine?
"I can't say if the desmodromic system has an advantage because I've no experience of it, but I believe that a pneumatic-valve engine can at least equal a desmodromic engine."