During the post-race media conference both Bagnaia and Miller heaped praise on their engineers while early race-leader Martin was laid out in the Clinica Mobile. The rookie of the year had been up all night vomiting and hadn't eaten since Saturday lunchtime, so his ride to second was a miracle and he had nothing left to face the media.
More telling than Bagnaia's and Miller's praise was Joan Mir's post-race debrief. The 2020 world champion, who had won the first of 2020's two Valencia races, had qualified less than a hundredth of a second off the front row and really believed his sweet-handling inline-four Suzuki GSX-RR had what it took to better the fiery Ducatis around Valencia's twists and turns.
He was therefore somewhat shellshocked to finish fourth, more than four seconds adrift of Miller.
Mir briefly got into second place on lap two but even through Valencia's most serpentine sectors he couldn't keep the Ducatis behind him.
"Last year I could see some weak points in the Ducati," said Mir. "I was able to see when they started with that massive power that at the end of races their rear tyre was getting more used, so they struggled to turn the bike more than us. But now I don't see any loss of performance in the last laps. In fact it looks like the opposite – they are even stronger at the end of the race. And they are able to be fast with a lot of different riding styles.
"It's not easy to understand, so I'm worried. We have work to do, because next year for sure they will be really strong.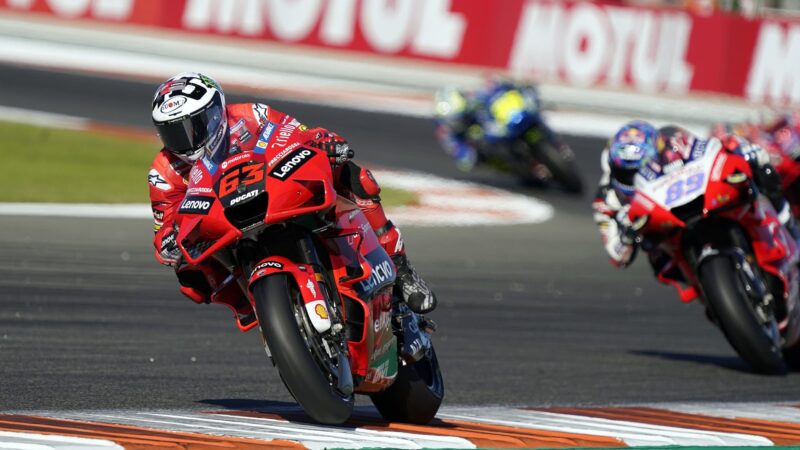 "I thought today was going to be our day. In warm-up I was a lot faster, but I was alone. Behind the Ducatis in the race I lost all my options. I tried to put myself in first position at the beginning, but Jack repassed me, then Pecco overtook me and then Martin, so the race was finished."
Mir had the usual problem that now affect riders chasing rivals – the heat from the preceding bikes overheated his front tyre.
"This was one of my biggest issues," added the 24-year-old Spaniard, who finished 2021 third overall, behind champion Fabio Quartararo and Bagnaia. "But also there were Ducatis behind Ducatis and they didn't have this problem, which I don't understand."
"I wasn't stopping better than them, so I was missing a lot of apexes and I was locking the front a lot. The only thing I could do was finish fourth or crash.
"I didn't win a race this year, but I got 100% out of the bike. Inside I'm really disappointed but I will sleep well tonight and for the rest of the year because I couldn't have done better."
Ducati's biggest improvement this year has been in the crucial turning phase of the corner. Finally its riders can get through corners without stopping and restarting. The Desmosedici still doesn't have the corner speed of the Suzuki or Yamaha (and most likely never will) but it's now got enough to hang with the inline-fours through the twisty bits.
"It was a not-turning bike, now it's an incredible turning bike," said Bagnaia after his fourth win in the last two months.
While Bagnaia and Miller complimented their engineers for this improvement, Ducati engineers praised their riders, for using riding technique to overcome the bike's mid-corner issues, as Jorge Lorenzo did in 2018.
As always, it's a blend of everything: younger riders using new techniques, plus detail improvements in chassis stiffness (vital for turning) and overall balance, because the GP22 wasn't hugely different to the GP21.
"It's working on the details and getting time on the same bike – we've been on it for two years," said Miller. "This year we haven't changed that much and the thing is working more and more.
"On Friday we put in the same settings we had at Valencia last year and it wasn't working at all, so we immediately went back to what we used in Portimao [the previous weekend], which is what we've used all year and it was job done. After that we didn't touch the bike, apart from a click here and there. We're all really comfortable with the bike. We've found a great package that works and you have to adjust it bugger all every weekend."
The Ducati was once MotoGP's least neutral bike, which either needed the engineers to turn it upside down at every track or the rider to use a different technique. Now it seems like the bike is the most neutral, with a wide operating window, so it works well from one track to the other.
This is a huge advantage, because not only can the rider get fully intimate with the bike's behaviour, so he knows exactly how it's going to react when he uses this much brake, that much throttle or this much lean angle, but also the engineers don't need to spend Friday and Saturday fussing around with different settings. This in turn allows the rider to be fast from FP1, so he can dedicate practice to testing tyres and doing longer runs on used tyres, so he's well ahead in the critical factor of tyre choice.