You seem to think the four-stroke won't give you as much riding satisfaction as the 500…
"Yes, the satisfaction of riding the 500 is a very, very big motivation for me, because when you're riding the most difficult bike in the world, it's necessary to have a perfect set-up if you're to be able to ride fast, and you've also got to ride perfect all the time. I think it's necessary to have big balls to ride the 500. I think the four-stroke may be faster but for sure it won't give same sensation."
You have achieved a huge amount of success, and wealth also, but is the price of fame too much?
"There is a price, but for sure fame has more good points than bad. The first bad thing is the stress. Now I can't go anywhere in the world without being recognised. Very many people recognise me and want autographs and photos. The situation is a little better in London, but now I've won the 500 championship, Italy is a nightmare, a nightmare. I will never be able to live a normal life there, never."
You seem to cope very well with fame, especially the attention you get from the media.
"Until this year I was most famous when I started 125s because I was new, and I started to win very much and I made some big shows at the end of races. At that time my popularity increased and it changed my life, because then before I was normal! Now I don't know when I'll dare to return to Italy. But fame affects you in different ways; when you have many fans waiting outside your motorhome who follow you like a slipstream, yes, it's heavy, but it's good. But it's worse with the Italian journalists because they only follow me for one reason, they're waiting for a mistake. If I say one word wrong or if I crash, it's "Ah fuck, he's stupid".
After you won the 125 title, you went to 250s and your popularity slipped, why?
"When I started 250s my results were, well, not shit, but during the first half of the season I only won one race. I made some mistakes, had some crashes and sometime I finished behind Harada and Capirossi, who were also riding Aprilias. I think that was normal because Harada and Capirossi had ridden 250s for many years, while it was my first season, so it was difficult to beat them with so little experience.
"But very many people, who I thought were my friends, said "Ah, 250s aren't the same as 125s. Rossi won very many 125 races last year but this year he's made mistakes, he's stupid". This was really bad for me, but also really good because I found out who my real friends were. Before then I thought I had more friends that I actually did."
So who are your real friends, celebrities or old mates?
"For sure, in my position I know some famous people, singers, actors and whenever I'm in Milano or Roma, I see these people and say "Ciao!". But my best friends are old friends. We have a group of eight or nine people who have been friends for 15 or 20 years, since preschool."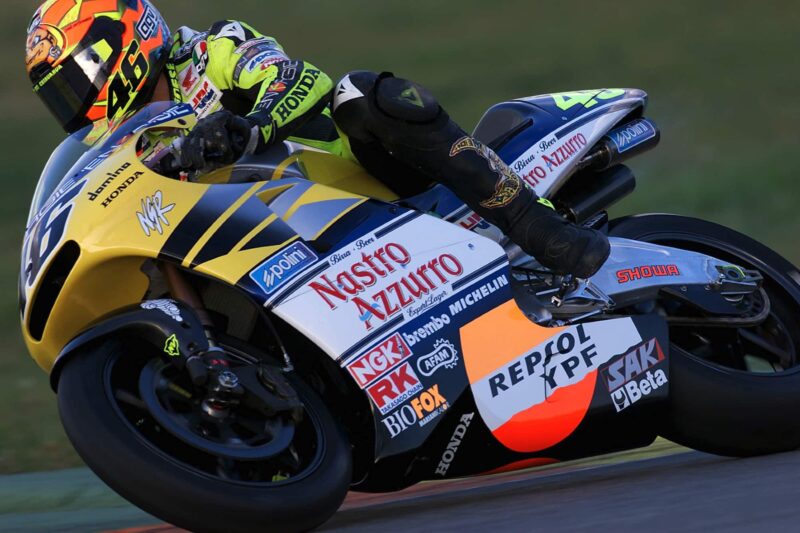 You seemed less open and more serious during 2001, have you changed?
"The way you see things, your view of the world, changes between the age of 18 and 22. I'm older now, so I think I understand more, and for sure my life has changed. Whenever I leave my motorhome there are always very many people and unfortunately I don't have enough time to do every autograph and photo because we have work to do. If I never say stop, I don't get a minute to myself.
"When you're 16 or 17 you don't have problems, unless it's something really big like family problems. Life is different when you're young, you only think about having fun. All that changes when you get more responsibilities, especially in my case because I have so much to do."
Tell us about your alter-egos: Rossifumi, Valentinik and the Doctor…
"Before I started racing in the world championship I was a big fan of GP racing, it was my passion. I watched all the races on TV, knew all the riders' numbers, all their helmet design, the whole circus. Rossifumi was for Norifumi Abe because I really liked him and all the Japanese riders.
"We changed to Valentinik in 1999 because we needed a superhero to come back from the bad situation of '98. At the end of '98 I changed my riding style a little, won the last four races and became very strong on the 250. After that I prepared to win the championship in '99, so we chose this superhero based on an Italian comic hero called Paperinik. Paperino is Donald Duck in Italian and Walt Disney has a duck superhero called Paperinik, who wears a mask and a cape, but he's not like Superman, he's a little bit unlucky, he makes some mistakes, some casinos, but at the end of every story he's always the superhero. Paperino becomes a superhero and becomes paperinik, so Valentino became a superhero and became Valentinik!
"After that we changed to the Doctor for 2001 because with 500s you don't need a superhero, you need to be quiet, calm and thoughtful, more like a doctor. Also, because in Italy there are very many doctors called Dr Rossi, so I became Dr Rossi."