"Instead I was on the limit and made a lot of mistakes. When I crashed I was braking way too late and I tried to turn. It's a real shame we have this kind of difficulty because otherwise the bike is so good to ride."
Imagine how much more difficult life will get, especially for Quartararo, fellow M1 riders and riders of Suzuki's GSX-RR inline-four, when eight Desmosedicis (all of them GP22 or GP21 machines) line up on the grid in 2022.
And how did this even happen?
Quite simply really. Dorna pays each independent team five million Euros per season to allow them to lease competitive motorcycles from MotoGP's six manufacturers: Aprilia, Ducati, Honda, KTM, Suzuki and Yamaha.
Then it's up to each team to spend that money as well as they can to get the fastest bikes for the least cash.
This is good news for the manufacturers because they get income from each team they equip with bikes, even when they 'recycle' old factory machines. And not only that, Dorna offers extra bonus payments to factories for every independent machine they put on the grid. Next year Ducati will therefore get many millions from equipping the Pramac, VR46 and Gresini outfits with four bikes each.
You have to give credit to Ducati – it's a great strategy that's open to any MotoGP manufacturer.
Why haven't the other manufacturers done this? Of course Honda supplies LCR, KTM supplies Tech3 and Yamaha supplies RNF, but neither Aprilia nor Suzuki supply bikes to anyone outside their own factory teams.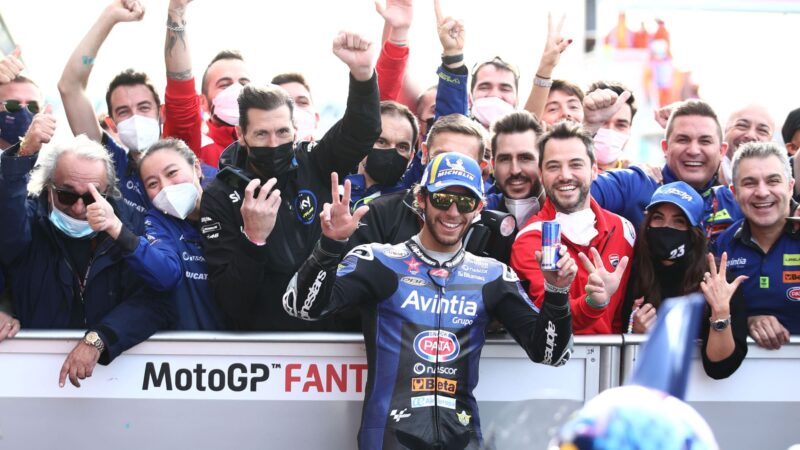 Aprilia's situation is understandable, because the Noale company is still developing its latest RS-GP, introduced last year. But Suzuki won last year's championship and, considering Dorna's financial incentives, could surely have convinced an indie team to run Suzukis, even updated second-hand bikes.
Of course, any factory that doesn't supply motorcycles to independent teams is fighting a double whammy. Not only does it have less of its own bikes on the grid, but it also has more competitors' bikes to deal with.
And this is a particular issue when they're using Ducatis – the most powerful MotoGP bikes of all.
At Portimao I asked Yamaha MotoGP group leader Takahiro Sumi whether he is a bit worried about Ducati's 2022 line-up.
"Not a little bit…" he grinned. "I don't want to imagine what it will be like with our bikes surrounded by eight Ducatis. But this is their strategy and we will have our own strategy to deal with this."
"If you make a great qualifying with the Yamaha you can fight. But if you don't, you can say bye-bye to victory."
Suzuki's outgoing MotoGP world champion Joan Mir shares Yamaha's concerns
"Sometimes I've wasted a whole race fighting with one Ducati, so, imagine with two or three," the 2020 champ told me.
Mir has certainly served up some great entertainment fighting with Ducatis over the past few seasons – he dives past in the turns, they rocket past on the straights, he dives past in the turns, they rocket past on the straight and so on and so forth.
Ducati has had eight bikes on the grid before, back in 2016, 2017 and 2018, but those Desmosedicis weren't so competitive – some of the bikes were several years old and not fettled by the best teams.
Next year Ducati – winner of the last two MotoGP constructors titles – will have five riders on GP22 machines and three on GP21s. Factory riders Bagnaia, Jack Miller, Pramac men Zarco and Jorge and VR46's Luca Marini will ride GP22s, while Gresini Racing's Enea Bastianini and Fabio Di Giannantonio and Marini's likely team-mate Marco Bezzecchi will ride GP21s.
Not only that, impressive rookies Martin, Bastianini and Marini will be in their second seasons in the premier class, so they should be even stronger than they've been this year.
The Desmosedici's speed in qualifying – when qualifying is more important than ever – is another concern for rivals. The Desmo V4 has more horsepower than any of the other bikes, so Ducati engineers can unleash much more of that power over one or two laps on Saturday than they can on Sunday, when fuel consumption is an important consideration.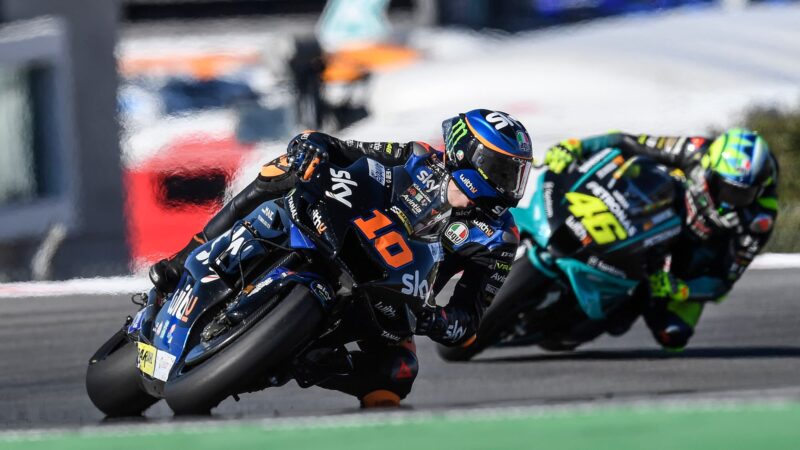 Next year Desmosedicis could pack the front two rows of the grid – a nightmare for many other riders.
"If you make a great qualifying with the Yamaha you can fight for victory," added Quartararo, who has scored 14 front-row starts and five victories this year. "But if you don't, for sure you can say bye-bye to the podium and to victory."
And there's another advantage to having so many bikes turning laps on Friday and Saturday. Practice time is more limited now than ever, because the last ten minutes of each free-practice outing is a mini-qualifier, with riders focusing on time attacks instead of bike set-up in their efforts to get into Q2 and guarantee a position on the first three rows of the grid, an essential ingredient to a good race.
Eight bikes means more data, especially tyre data, which can be fed into Ducati's tyre-analysis software to solve the Michelin mystery in time for Sunday afternoon.
"The beauty of the Ducati is that we have a few bikes on the grid," said Miller at Portimao. "There's always somebody within that top four, top five, week in and week out. So, we've got a great package and you get to understand and collect data on how each rider is managing the situation. I think that's a fantastic thing we've got going for us and Ducati. I think it helps us.
"Year by year the bike's been getting stronger and stronger. As you saw last year we won the constructors' title. This year we've won it again and in a week's time we'll wrap up the teams title, so we'll get two of the three and then 2021 we'll wrap up the triple."
Ducati's factory team manager Davide Tardozzi is a little less optimistic about 2022.
"Of course we have some power," he says. "But we will have some strong competitors with strong riders and bikes. [Marc] Márquez will already be there, Quartararo will always be there and Mir will always be there. We respect all our rivals."