"Last year I was braking harder but now I can enter corners so much faster and close the line more, because it [the fairing] is smaller. This is the biggest difference between the two bikes."
Bagnaia now stands 33 points behind championship leader Quartararo, with 375 points still up for grabs.
Jerez has been Quartararo's happiest hunting ground ever since he graduated to MotoGP in 2019, the sweeping curves of the Andalusian circuit suiting both the Frenchman's riding technique and the Yamaha's character. Until last weekend he had started every MotoGP race he had contested at the track from pole position and would've won the previous three, without the arm-pump issues he had last year.
In other words, if Bagnaia and Ducati can beat him there then Yamaha must be worried.
Quartararo threw everything he had at Bagnaia but it wasn't enough. Their duel was high-tension throughout, because the pressure on the leader never relented; one tiny mistake and Quartararo would've been through. But Bagnaia was metronomic and faultless – and so was Quartararo – so there wasn't a single overtaking manoeuvre between the pair during the 25 laps.
Both men knew the race would to be a straight two-way fight and both knew the start would be everything, because it was a hot day and whoever was the hunter rather than the hunted would have problems with front tyre pressure and therefore grip.
Quartararo briefly got alongside Bagnaia before Turn 1 and that was as close as he got to leading.
"I made one of my best starts," said the winner. "With this bike I've always struggled a bit to not have wheelies at the start but this time everything went well. I just closed my line at Turn 2 because I heard Fabio there and I was very scared about the last corner [on the first lap] because last year he was exiting from Turn 12 [the penultimate corner] very fast, so on the first lap I closed my line there and then I tried to set my pace.
"Clinica Mobile always has something good to give you for the race"
"Fabio was the man to beat today and I knew if he was in front the only problem for me would've been front tyre pressure, because in this heat it would've been very high. It was difficult for me to be any faster because the rear was sliding, because of the track temperature and I was having a bit of front lock with the front tyre on the brakes.
"We did a good thing by stopping trying to adapt this bike to me and just leaving the bike the same, so I can ride it. Finally I think I'm back to my best shape like I was last year."
Bagnaia wasn't only fast, he was also brave. The right shoulder he injured the previous weekend at Portimao was still causing him pain and weakness.
"I was very worried about the race because in warm-up I rode without painkillers and I was really difficult, but the Clinica Mobile always has something good to give you for the race," he grinned.
Quartararo never gave up the chase but after the first few laps he knew his only hope was that Bagnaia might crack under pressure.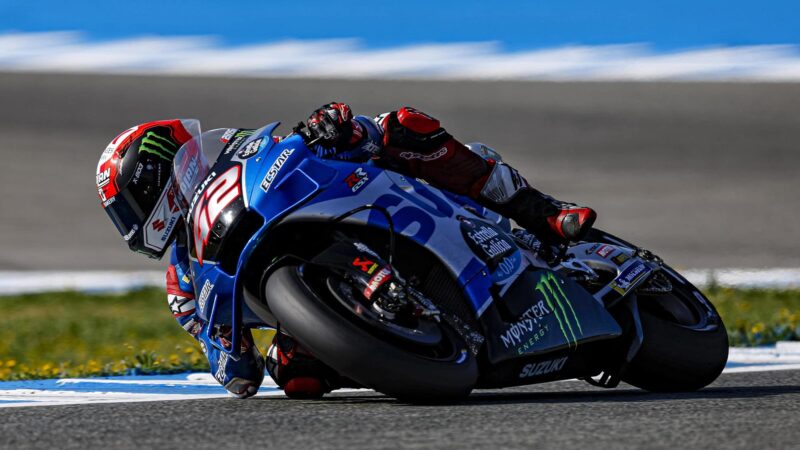 "I knew if I couldn't overtake him in the first two or three laps it was going to be difficult for our front tyre and that's what happened," he said. "That's why I stayed a bit far behind him, but it was impossible to ride with the front, which was sliding so much, moving and feeling like chewing gum.
"On the last lap [which he started 0.478 seconds behind Bagnaia] I had to try but I couldn't do anything to get closer. I was a little closer at Turn 10 and I tried to do Turn 11 really fast but I went wide and I knew then that it would not be possible to overtake [at the last corner].
Jerez has always been a bit of a nightmare in the heat, regardless of the surface. It's also the kind of circuit where riders and engineers have to get everything just right to create a good race pace. No one else was in Sunday's race, with the battle for third between Aleix Espargaró, Marc Márquez and Jack Miller taking place ten seconds further back.