Originally the green zones were policed by marshals and by available camera footage, then special image-recognition cameras were introduced to catch offenders and finally pressure sensors within the run-off. But at Mugello the sensors didn't pick up Mir's infraction. The idea of using technology is to take human decision out of the process, but if the technology isn't reliable, what then?
What to do? Get rid of the green zones? Replace them with asphalt areas studded with razor-sharp spikes? Or reprofile the green zones so they only catch out riders making serious infractions. Better still, redesign corners that cause the most infractions, like many of the corners at wrong-way-around Misano, which is a track-limits nightmare.
But let's forget green zones and unzipped leathers for a moment. MotoGP currently has a safety issue that's many, many times bigger than anything else. It's called the Moto3 world championship.
At the moment every Moto3 race is a horror movie – grimly entertaining but you're always on edge, waiting for something very nasty to happen.
The riders are packed so closely together that most single-rider accidents quickly become multiple-rider accidents: Jason Dupasquier during Mugello qualifying, a couple during the Mugello race and several more during the Barcelona race.
After Sunday's race the entire Moto3 grid – riders and teams – was dragged before Race Direction and the FIM stewards for another telling-off. These lectures have been going on for years and they rarely have any positive effect, because riders (especially young riders) will do anything to go as fast as they possibly can, regardless of whether that puts themselves or anyone else in danger.
The riders are obviously to blame, aren't they?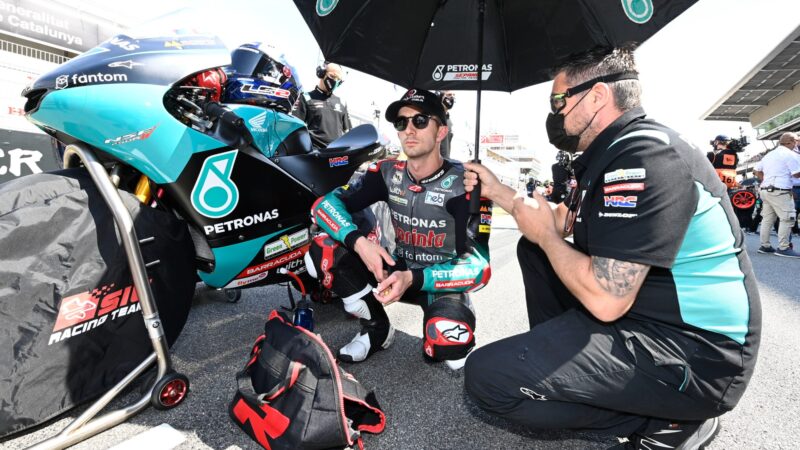 I don't think so. It's the super-equal machinery that's the problem, or rather the technical regulations that create the machinery. For a decade or more Dorna's objective has been to create a level technical playing field in Moto3, Moto2 and MotoGP, so that riders can make the difference and not so much team and factory budgets. It's 100% an honourable aim but look at where it's taken Moto3. Now every race is a big accident waiting to happen.
"It's getting a bit silly and a bit dangerous," said Petronas SRT Honda rider John McPhee who crashed out of the lead of Sunday's race while trying to get away from the pack. "I was trying to get out there. I got my head down and tried to make the break, because it's a mess, it really is a mess.