At Jerez last July it was Márquez's misfortune to be struck by his RC213V's front tyre when he crashed in the closing stages of the season-opener. (This was the supreme irony: to be struck down by the very thing that made him so unbeatable.) Otherwise, he would've hobbled away and most likely cantered to a seventh MotoGP title in eight years.
The humerus bone is not a common bone to break in motorcycle racing – usually it's the lower arm, wrist and hand that take the brunt of a crash.
Four-times World Superbike champion Carl Fogarty ended his career at Phillip Island in 1999 when he fractured the top of his left humerus. The injury was plated and screwed, but that didn't fix it. He tried riding a few months later and immediately understood that the game was up.
"I was 1% of the guy I had been," he said at the time. "I couldn't even get down behind the bubble, change direction or hang off the bike in the corners. It confirmed everything that my specialist had said – the arm would no longer be able to take the constant pounding."
Márquez's arm is in better shape than Fogarty's, so can he win a seventh MotoGP championship this year?
I'm not into making predictions – motorcycle racing is too weird a sport for any of that – but it's certainly possible. Of course, there are doubts – can the fracture site resist 40 minutes of flat-out riding on a MotoGP bike?
Portimao should answer that question. There is no such thing as an easy track on a MotoGP bike, but the Portuguese circuit's Turn One – where riders plunge down a steep descent at the end of the 217mph/350km/h start/finish straight – probably creates the biggest g-forces that any bike racer will experience (without actually crashing).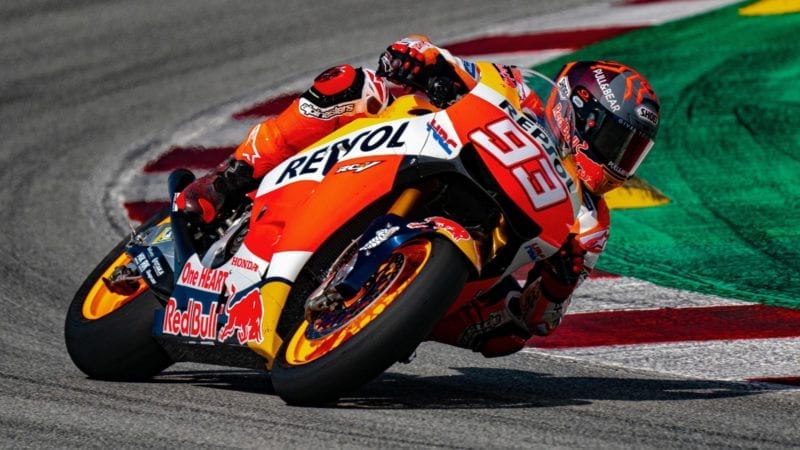 Each time Márquez brakes into Turn One he will reach at least 1.7g, which means carrying something like 120kg through his arms and wrists. He already knows that because he tested there last month, albeit with a Honda RC213V-S streetbike, without carbon brakes.
Márquez gambled with his arm last year, lost the bet and learned that he's only human. And if he checks the numbers he will see that he doesn't need to start winning right away to win the 2021 championship.
Márquez took the 2019 MotoGP title on 420 points. This was the greatest premier-class campaign in the history of grand prix racing: 12 wins and six second places from 19 races at a time when the bikes have never been closer and the tyres never trickier.
If we extrapolate Joan Mir's 2020 title-winning points score into a 19-race season like Márquez's 2019 championship he would've scored 232 points, 188 less than Márquez.