When Valentino Rossi joined the premier class in 2000 the best top speed was achieved at Mugello (of course) by Garry McCoy and his Red Bull Yamaha YZR500 at 197.5mph/317.8km/h.
So does Rossi – the man who has seen it all – think that 225mph is too fast and too dangerous?
"About the danger, for me anything more than 330 [205mph] is very dangerous, so 360 is an incredible number," he said. "I think motorsport fans are very excited by this number because it's impressive, but for sure this speed is dangerous."
In fact riders have been concerned about the speed of MotoGP bikes since the very beginning, or at least since Daijiro Kato lost his life as a result of a high-speed accident during the 2003 Japanese GP, the first race of the second season of the 990s.
"These 990cc four strokes are now very big weapons and they're starting to make some of the GP tracks look small, especially at full speed," said McCoy at the time. "Just like in Formula 1 some years ago, it seems the bikes are perhaps beginning to outgrow some of the tracks we race at. The bikes are both faster and heavier than the 500s ever were. This is something that everyone in the sport needs to take into account when considering safety."
In 2003 the MotoGP minimum weight was 145kg and the bikes made around 220bhp. The current MotoGP minimum weight is 157kg and the fastest bikes produce about 300bhp.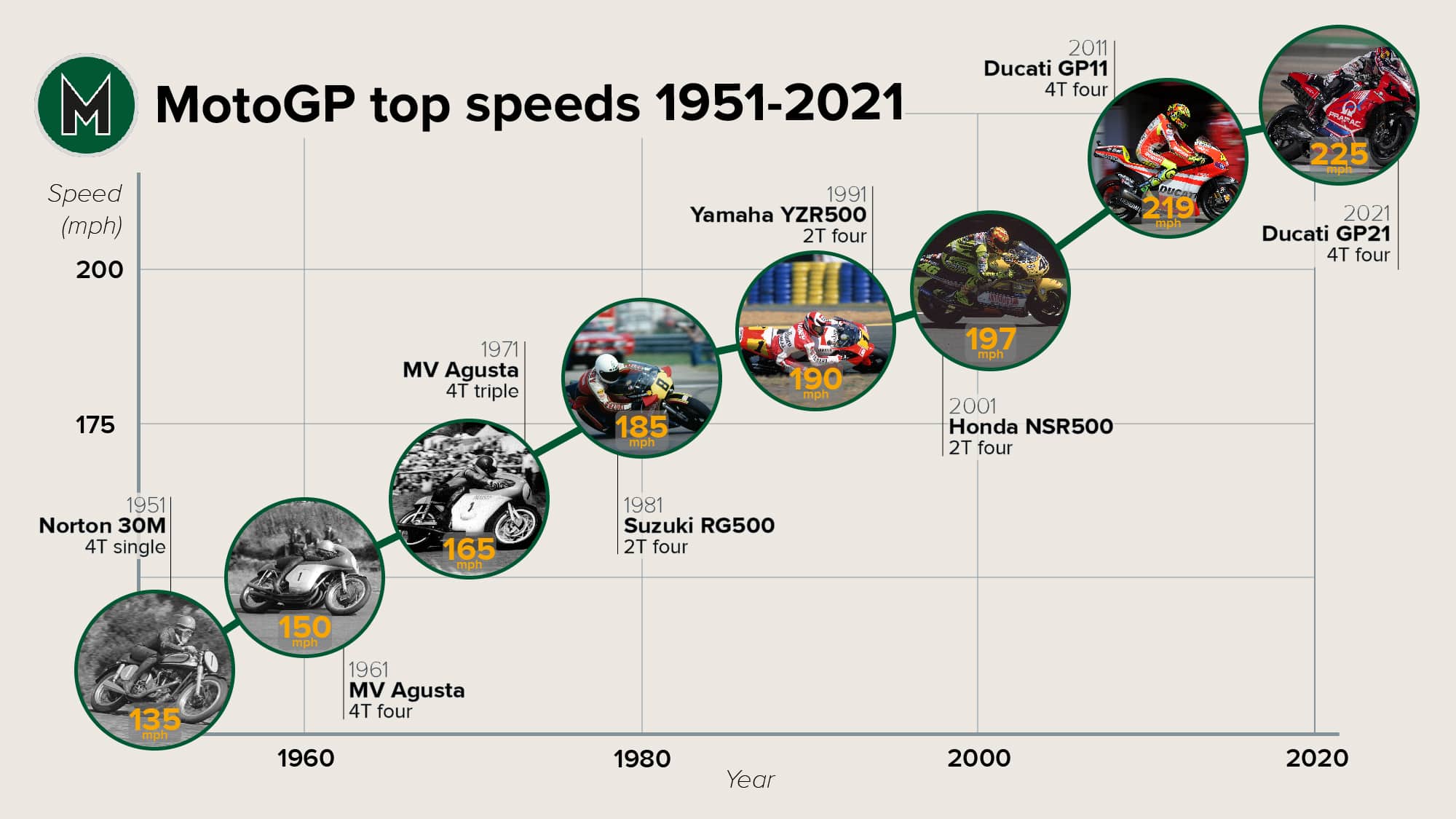 The result of Kato's death was the 2007 introduction of 800cc MotoGP bikes. In fact this 190cc reduction of engine capacity did nothing to improve safety. The 800s were slightly lighter than the 990s, so they were immediately faster around the corners – where most crashes happen – and in the very first 800cc MotoGP race Casey Stoner broke the Losail lap record by more than a second! And by 2009 the 800s were also faster on top speed.
Zarco didn't have much to say about his record-breaking speed last weekend. "It was two things," he said. "The slipstream [behind Enea Bastianini's Ducati] and braking late." A tailwind also helped.
Ducati has almost always had the fastest bikes in MotoGP – the fastest Desmosedicis make at least 300 horsepower – but as we saw on Sunday night brute power doesn't always count for much.
Ducati is also the leader in aerodynamics. The aero race really started in 2016 when MotoGP introduced spec electronics with anti-wheelie software that was much less effective than the tailormade software that had been developed by the factories. Therefore Ducati race boss Gigi Dall'Igna added downforce aero to the front of the Desmosedici to do the job the anti-wheelie software could no longer do.