The Ducatis had nothing for the 26-year-old Spaniard, who carved some beautiful moves on Jack Miller, Zarco and Bagnaia, so why weren't they able to fight back?
Because they didn't have the same corner speed, exit speed and low-gear acceleration. In MotoGP acceleration isn't governed by horsepower, because all the bikes make far too much power. It is governed by the physical limits of grip and wheelie. Power doesn't come into the equation until riders click into fifth and sixth.
"Maverick had a strong advantage in second and third gears – he was always gaining metres on us there," said Pramac Ducati's Zarco, who crossed the line 1.092 seconds behind the winner, a deficit of just five-hundredths of a second per lap.
During the second half of the race all the podium men had problems with the rear tyre losing grip and the rear end coming around as they attacked corners, but the Ducatis definitely suffered more.
"We need a better connection with the rear tyre into corners," added Zarco, who was Viñales's main challenger during the latter stages. "I was feeling good, so I tried to follow Maverick, but at that moment he raised his pace for five or six laps and I asked too much of the tyres, which is why the last three or four laps were complicated for me."
Ducati will be crunching the numbers through its MegaRide tyre-modelling software as you read this. Perhaps the strong winds were the culprit, because when sand is blown onto the racetrack it gets between the tyres and the asphalt, working like sandpaper on the rubber, which increased degradation, plus the reduced grip increases wheelspin, which also hurts the rear tyre. Of course this would've also affected the Yamahas, but maybe it affected the Ducatis more.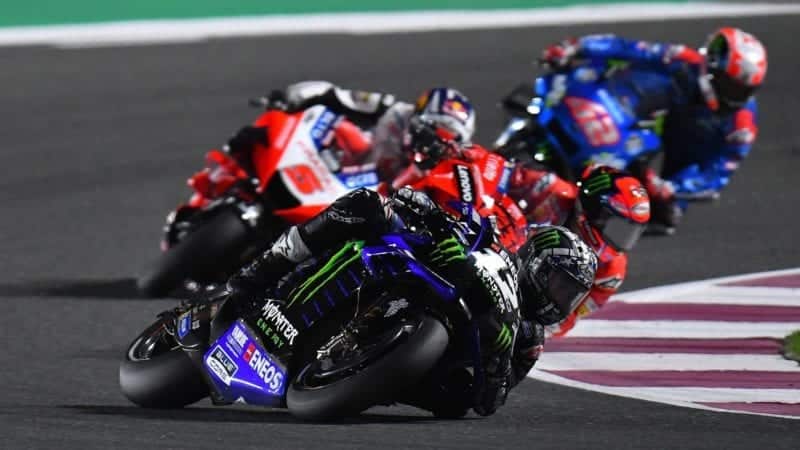 No doubt the Ducatis also lost more performance due to the windy conditions. The Desmosedici has more wings than any other MotoGP bike and the greater a motorcycle's surface area the more it will be affected by the wind. Also, Ducati ran with its front-wheel fairings during practice, then removed for the race, due to the wind. That can't have helped either.
Bagnaia, who took the chequered flag one-tenth behind fellow GP21 rider Zarco, reckoned the changing conditions during the weekend affected him a lot. This is always an issue at Losail, with ambient temperature, track temperature and humidity changing each and every time riders go out on track.
"It was impossible to work for the race during the weekend," said the 24-year-old Italian. "During FP2 we had to make a time attack to enter Q2 directly, FP4 wasn't very similar to the race and today the conditions were difficult. Maybe I started to struggle after 15 laps because of the cold and the wind. Maverick had a great pace and more traction than us. I tried to follow him but he escaped. Maybe next time I will push less in the first laps."