Rossi and Viñales first used the prototype 2020 M1 during last November's post-Valencia. The frame looked like the biggest change Yamaha had made in a decade, with a very different construction around the steering head. But even then Rossi didn't seem convinced. "The frame is different but the feeling when you ride is very similar," he said at the time.
On the other hand, Quartararo feels the two bikes behave very differently. He used his 2019 M1 at the 2019 Valencia tests, equipped with Michelin's softer-construction rear tyre, and was faster than he was during the last two weekends at the track.
"In that test, our pace was extremely fast with last year's bike and exactly the same tyre as we raced these last weekends," said the Frenchman after crashing out of Sunday's race. "And this year we couldn't even get within one second of that pace."
The 2020 bike usually only works at its best when there's lots of grip, like at Jerez where Yamaha dominated, and at Misano where Viñales won his only victory so far. And the latest M1 has fared even worse at recent races, where track temperatures have dipped with the arrival of autumn.
Meanwhile Morbidelli's 2019 M1 seems to have a much wider window of operation, so he can race for wins regardless of grip and track temperature.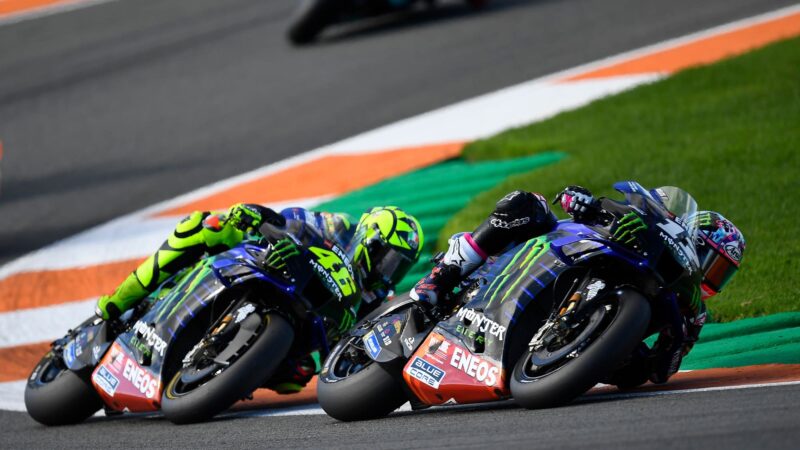 Usually, riders scream like crazy for the latest-spec bikes, but Morbidelli sounded perfectly happy when he announced on Saturday that he will continue to use 2019 chassis next season.
The obvious answer for Viñales, Quartararo and Rossi is to revert to the 2019 bike so they can make back-to-back comparisons, but that isn't possible because the 2020 M1 engine doesn't fit the 2019 chassis. Otherwise they would already have swapped chassis.
While Rossi used Valencia Two to regain his feeling – Sunday was his first race finish since September's San Marino GP – Viñales and Quartararo used the weekend as a kind of post-season test session with their 2020 bikes, trying to find a development direction for Yamaha engineers, because this year there are no actual post-season tests.