"When I started it was like another era – it was black and white on the television," he joked last summer. "I've won a lot, a lot of races, a lot, a lot of championships. Then you arrive at one point when it becomes more difficult because younger and stronger opponents arrive, so in that moment you have to decide. Do you prefer to stay at home and look at your trophies and be happy about this? Or do you prefer to continue to fight because you enjoy it? I think this is my case."
Rossi contested his first GP in March 1996, at the long-forgotten Shah Alam circuit, now a housing estate in the suburbs of Kuala Lumpur. A symbol of how the world has changed and population has increased over the last quarter of a century.
The 1996 Malaysian GP hosted the 489th premier-class race and his first victory came ten races later in the Czech Republic, where the 499th 500cc GP was won by Alex Crivillé.
Rossi graduated to the premier class in March 2000, at Welkom in South Africa, the 549th 500cc GP. And he hasn't gone anywhere since. He secured his first premier-class championship at Phillip Island in October 2001, the 578th race, and made his Yamaha debut in April 2004, the 613th. He took his last win at Assen in June 2017, the 848th race.
"I'm not here for the 200 podiums. I'm here because I like the challenge of trying to stay at the top."
Will he win another? Of course he wants to, but that's not the only reason he's still out there, riding around in circles, week after week, year after year. Rossi's third-place finish at Jerez puts him at the threshold of 200 MotoGP podiums – another first, of course – and he recently was asked for his thoughts on that milestone.
"Normally you start to see the numbers and the statistics when you become more old," he said, laughing. "When you are young you usually don't care. You know, I'm not here for the 200 podiums. I'm here because I like racing motorcycles and because I like the challenge of trying to stay at the top. So it's just a number, but when you are older you start to see the numbers and it's good. I'm proud. But for sure it's not the major motivation for me and I think it's the same for everybody here."
Will Rossi be on the grid for the 1000th MotoGP race? Probably not, but you never know.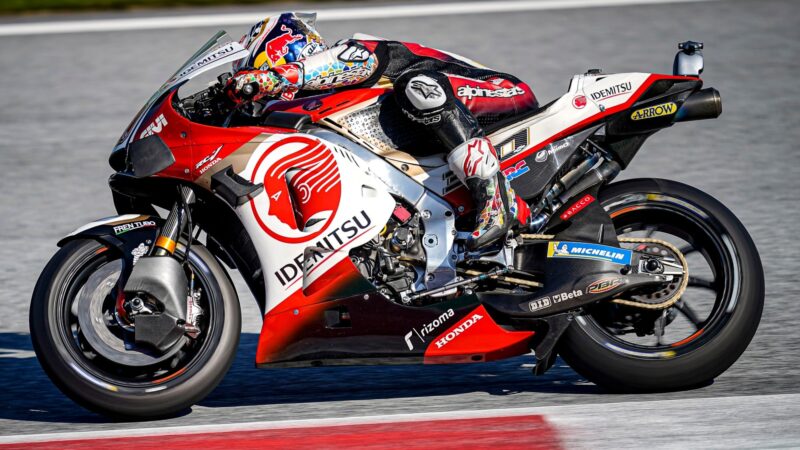 The secret of Nakagami's new-found speed
The transformation of Takaaki Nakagami from solid top-ten finisher to podium challenger has been one of the less celebrated stories of this season.
The thrills and spills of the last few races have overshadowed the Japanese rider's steady march towards the front of the pack, which would surely have been crowned with a first podium last Sunday, if a rider-less Yamaha hadn't exploded the Turn One airfence, bringing out the red flags. The premature end to that race ruined what should've been a great day for Nakagami and Suzuki's Joan Mir.
The previous day had already been pretty good – his first MotoGP front row – alongside Pol Espargaró and Johann Zarco.
Nakagami, who rides a 2019 Honda RC213V, made a huge step forward at the second race at Jerez, where he came within half a second of snatching third place from Valentino Rossi. At that time the theory went that the 28-year-old Japanese rider had spent the weekend absorbing Marc Márquez's data, then adjusting his set-up and riding technique accordingly.
"I've taken another step in my riding – the Marc style helps a lot," said the Idemitsu LCR Honda rider after his best MotoGP finish.
In fact racing doesn't really work like that. A myriad of squiggly lines on a computer monitor cannot transform your riding. It's much more complicated than that.
"Taka is adapting to Marc's way, though it's so, so difficult. He is smart and he has the skill."
"Data doesn't talk," agrees Nakagami's crew chief Giacomo Guidotti. "Simply copying a riding style or copying a set-up doesn't work. We've just tried to get the best out of him. Sure, we show him what Marc did on the bike, like we did last year, but he isn't doing anything that different, just some adapting. We just treat him like a top rider, we tell him the truth and we tell him, 'This is where you have to learn,' and 'This is where you need to change something'. We give him tips and he's like a sponge.
"The set-up we are using – weight distribution and so on – is pretty different to what Marc used last year, partly because of the new rear tyre."
"What you should also remember is that Taka is still almost a rookie in MotoGP. I started working with him last year [Nakagami's second in the premier class], when he was growing up very well, taking small steps forward every weekend. If he hadn't got injured at Assen [where he was taken out by a falling Rossi] he would've been very competitive at the end of the season."
Márquez's absence has certainly helped Nakagami. HRC can now direct more resources to his LCR Honda garage, where HRC technical director Takeo Yokoyama is a frequent visitor.
"Taka is adapting to Marc's way, though it's so, so difficult," says Yokoyama. "Once he understands from our conversations what Marc is doing and, more importantly, why Marc is doing it, then he is capable of adapting, to some extent. He is smart and he has the skill.