Currently Dovizioso and Fabio Quartararo are the men on top, with only six points between them. Factory Ducati rider Dovizioso took the series lead for the first time on Sunday when Quartararo crashed his Yamaha, which puts him just six points ahead of Pramac Ducati's Jack Miller.
The last eight races take place at six tracks: Misano, Barcelona, Le Mans, Aragon, Valencia and Portimāo (recently renamed the International Algarve Circuit).
Ducati's Desmosedici and Yamaha's YZR-M1 are very different motorcycles, so the way they match or fail to match each of those circuits could be fundamental to the outcome of the 2020 title.
Ducati team manager Davide Tardozzi is feeling confident about the next five races but is worried about the last three outings – the Valencia double-header and Portimāo.
"In this strange season every weekend is completely different. You have to completely change the way you ride"
"Barcelona won't be so bad for us – it will depend a lot on the grip the track has when we go there, but I don't think it's a bad circuit for us," said the former World Superbike race winner at Misano. "I think we will have very good possibilities at the next two tracks – Aragon and Le Mans – because our Desmosedici usually works well there. But the last two tracks… I consider Valencia and probably Portimāo to be the worst ones for us."
His championship leader isn't so sure. By this stage last year Dovizioso had scored one victory, three further podiums and hadn't finished lower than fourth. Compare that to his 2020 record so far: third at Jerez, sixth at Jerez, 11th at Brno, first at Red Bull Ring, fifth at Red Bull Ring and seventh at Misano.
Dovizioso blames his lack of speed and consistency on one component: Michelin's 2020 rear slick, which works so well with the Yamaha and Suzuki inline-fours and usually with the KTM V4.
The points situation backs him up. This year he has scored 76 points from the first six races while last year he scored 103 from the first five.
"It's very bad, because at every track the situation changes a lot," said the Italian, runner-up to Marc Márquez in 2017, 2018 and 2019. "At every track the way you have to ride the bike is completely different – the grip changes, so the way the bike reacts changes, so you have to change the way you ride again.
"In this strange season every weekend is completely different, so it's difficult to make improvements. Every weekend you arrive at the track with some ideas from the last race, then the grip is completely different, so you have to completely change the way you ride and the way you set up the bike, so it's a big confusion."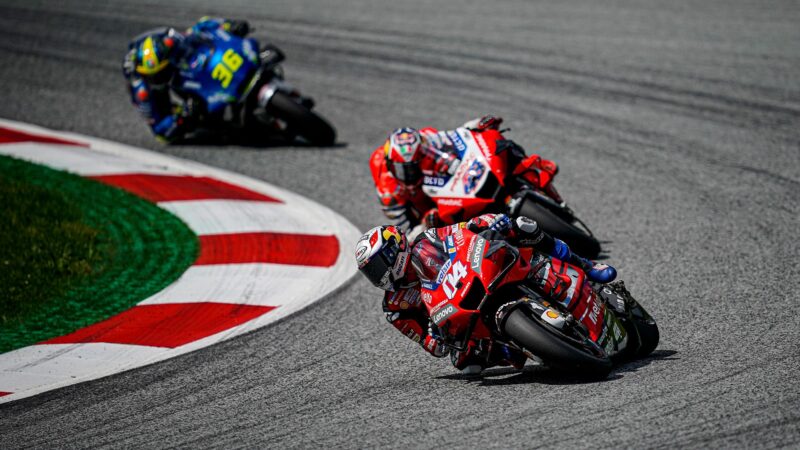 Tardozzi, who loses Dovizioso at the end of this season, wants his current number-one rider to adapt better to changing grip conditions, which has always been a Márquez strong point.
"Dovi has a very special way to go fast," said Tardozzi. "But it would be better if he could adapt more."
This is one reason why Miller's talent is so attractive to Ducati. Like the factory's only MotoGP champ Casey Stoner, Miller seems able to adapt himself to each situation. And he is a fighter on the bike, so his riding style is less refined than Dovizioso's.
"Adaptability – especially in this championship – is really important," said the Aussie at Misano.
Sunday's San Marino GP was a low point for Quartararo, who crashed out of the championship lead. The 21-year-Frenchman scored 50 points at the first two races and has added just 20 at the four races since: no grip at Brno, no speed at Red Bull Ring and rider error at Misano
That mistake was a perfect storm of too much pressure and too little experience. He got out-dragged by Miller's "rocket launcher" (Quartararo's words) at the start, tangled with the Aussie and then got stuck behind Maverick Viñales. That increased his front tyre temperature and pressure, so when he did get past he upped his pace and lost the front.