There was another reason for the pair falling less often in 2019, which runs contrary to common sense: they had a worse front-end feeling with the 2019 RC213V than they'd had with previous versions. You would think that this would result in more crashes, right? But no, because motorcycle racing is never that straightforward.
"With the old bike we felt really strong in corner entry so we pushed and pushed and pushed to take advantage of that and that's why we crashed more in 2018," explains Crutchlow.
Moto2 followed a similar but slightly less dramatic trend in 2019, from 418 crashes the previous season to 347 tumbles, a reduction of 17 per cent, again despite an extra race. What were the reasons for this?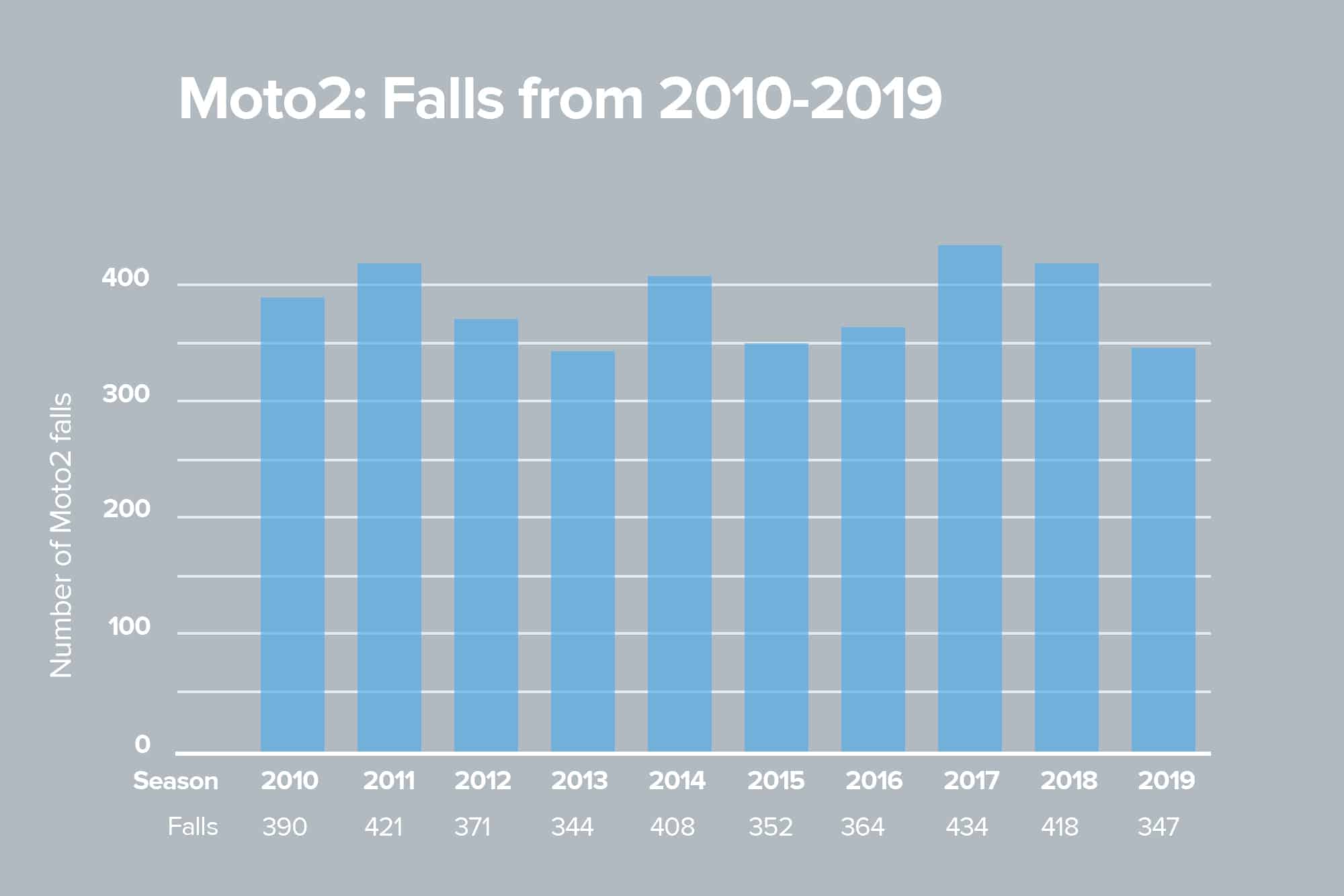 Many Moto2 riders found they could use softer, grippier front tyres because the larger-capacity Triumph 765 triple offers more torque, which means more negative torque and thus more engine-braking, which gives the front tyre an easier time.
This even helped Sam Lowes, who topped the Moto2 crashing league, with 20 crashes, compared to the 27 falls he had the previous season. The Briton's crash stats are awe-inspiring: a total of 152 tumbles during his five seasons in Moto2 and one year in MotoGP, an average of 25 per season. Lowes' career is a testament to his willingness to keep pushing past the limit, to modern track safety and to the amazing protection offered by the latest riding kit.
Or is this all nonsense, another case of lies, damn lies and statistics? Might the overall reduction in MotoGP and Moto2 accidents be something to do with something else, like better weather during 2019? No, because there were more rain-affected weekends in 2019 than in 2018.
And here are the Moto3 crash statistics, flying in the face of the MotoGP and Moto2 stats to prove the point. During 2019 the youngsters in the harum-scarum junior category managed a total of 404 crashes, against 356 in 2018. That's an average of 21 Moto3 crashes per weekend, which means that something like two-thirds of the grid had an accident at every round. This is what happens when riders are chasing hundredths and thousandths on every lap.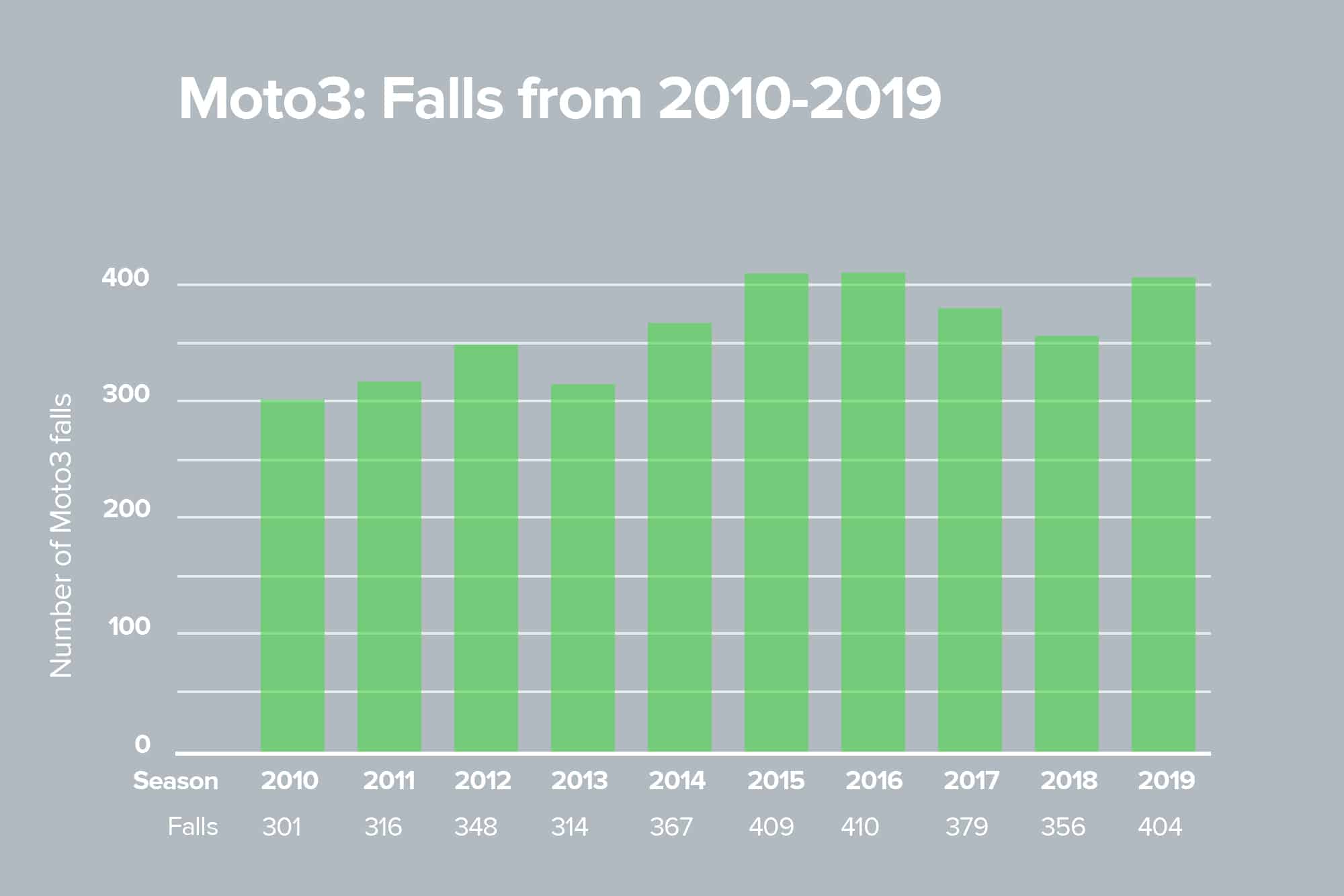 Despite their best efforts, the Moto3 crazies couldn't overcome the overall MotoGP trend, so last season's crash total across all three classes was 971, the first time it's been below a thousand since 2015.
In MotoGP, Zarco was followed by Jack Miller on 15 falls. The crashes, of which only three were in races, were worth it because the young Aussie had his best-ever season, pushing harder than ever, taking five podiums and almost doubling his best points total.
Next was rookie Pecco Bagnaia on 14, same as Márquez. Much was expected of the reigning Moto2 champ, but he struggled with Michelin's front slick, suffering numerous front-end crashes. Karel Abraham, Crutchlow and rookie Joan Mir were next on 12 crashes each. Rounding out the top ten were Aprilia team-mates Aleix Espargaro and Andrea Iannone, on ten each, and Miguel Oliveira and Danilo Petrucci, on nine.