The Aston Martin Vanquish 25 - Ian Callum's half million pound redesign
- Last updated: March 19th 2020
After a 20-year stint with Jaguar Land Rover, British car designer Ian Callum has unveiled a redesign of an old favourite: the Aston Martin Vanquish 25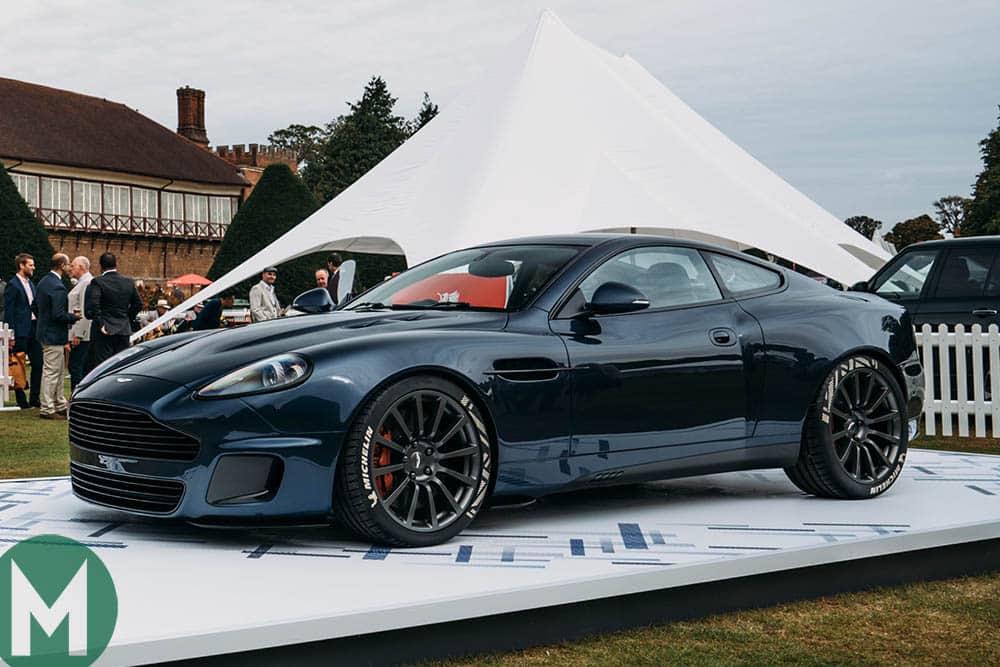 The new Aston Martin Vanquish 25 is the first project from Callum
Three years ago, Ian Callum was preparing to reveal his Jaguar I-Pace Concept Car to the world. This would be the car that would set the company's future, as a manufacturer of high-tech, high-end sporty electric vehicles.
With cars such as the Ford RS200, Aston Martin DB7 and Jaguar F-Type already under his belt, it would be Callum's moment to set the direction for electric motoring.
But as he focused Jaguar firmly on the 21st century, Callum's head was turned by a design that he had penned in the late 1990s: the Aston Martin Vanquish.
Cramped and thirsty, with a 200mph top speed delivered by a V12 engine that was hilariously noisy, the Vanquish was the glorious antithesis of some of the more practical projects that he'd been working on.
Today, sitting at a damp Concours of Elegance, at Hampton Court Palace, Callum points to the car that he shelled out money for.
"I thought 'I must buy a car that I've designed'. So I bought the car that's over there three years ago, he says. "And I thought 'I really need to do something with this because it hasn't moved on.'"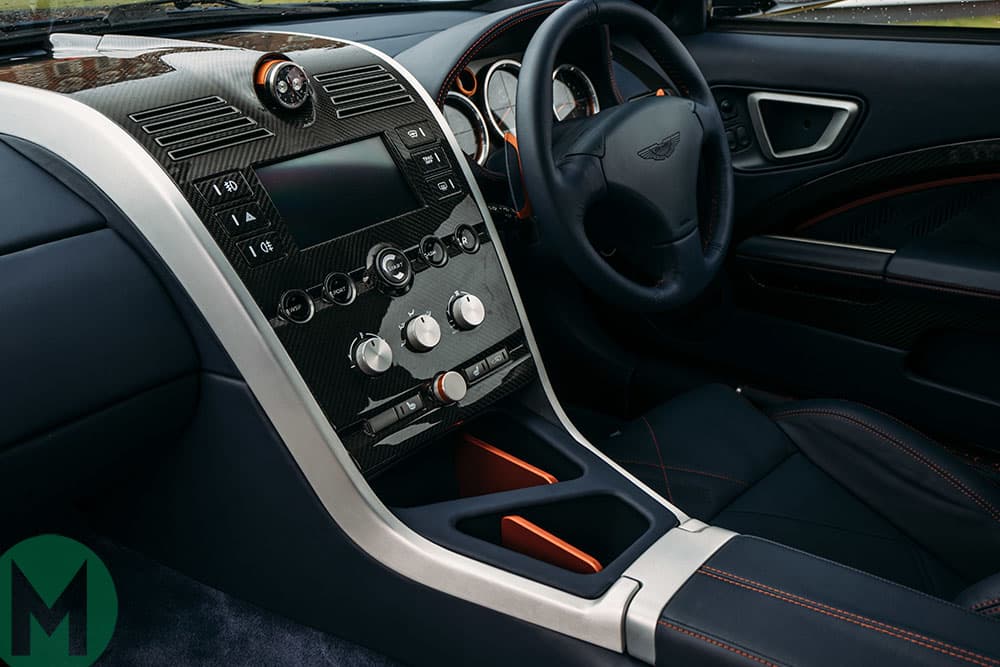 The interior has been redesigned in a collaboration with Bridge of Weir Leather
With the car in his ownership, Callum began wondering how he might create a modern Vanquish. "I decided I wanted to redesign it. So I started doing sketches and things of it – it wasn't going to be a huge amount you know: front, rear end, a bit of interior stuff, stuff I could manage on my own."
The opportunity to revisit one of his own designs and apply some polish — along with a few sections of carefully-chosen bodywork — was proving irresistible. Particularly as his spell at Jaguar was coming to an end, with a view to setting up his own design consultancy, called Callum.
"David Fairbairn, one of my partners at Callum said to me, 'I know you're going to be leaving work in the next year or so, so why don't we turn this into a business case?' And that's what we did.
"So, from a personal project it grew into a bona fide business project. As a result of that, we were able to put more into it than I had anticipated, bigger change, bigger teams of people – including the chassis, the dynamics, the drivability, it's turned into a new car really."
I don't want to just take a car and just modify it. I want to take the next car to another level
The result is the Vanquish 25. The car that Ian bought has been rejuvenated. An all-new interior as been designed in collaboration with Bridge of Weir Leather. A redeveloping of the front grille and bumper, skirts, exhausts and rear bumper, as well as a plethora of smaller details layered amongst the sweeping curves, refreshes the original.
It looks different, sounds different and – according to Callum – even drives differently from the original Vanquish, with modern process bringing a new range of possibilities to the chassis.
"The biggest thing I was adamant about was getting the stance of the car right. Funny thing is people say that's just making the car look like its sitting properly but if you look at cars now, designers obsess over this. So, by nature, they sit much better and yet there's no way you can make the car over there (original Vanquish) sit like the other one.
"The technology available to you in the manufacturing components is much better," says Callum. "The lab technology is much better, the ways they can produce numbers of things is much better – with 3D printing – carbon technology is much better so we can make carbon parts with a higher quality.
However, there is only so much that carbon fibre can cover. The Vanquish was created when Aston Martin was part of Ford's short-lived Premier Automotive Group. So the chassis is developed from a Jaguar XK8; the engine began life as two Ford Mondeo V6 blocks.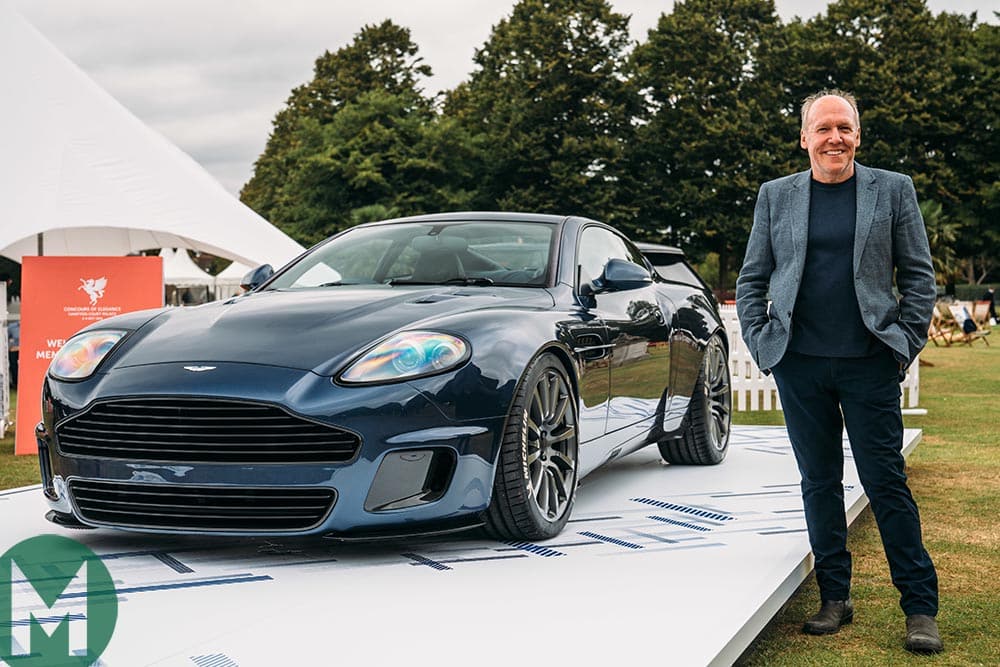 Ian Callum stands next to his redesigned Vanquish
The car's existing architecture has really limited the changes to the interior. "We've got modern technology in the interior, touch screen display – so its got Apple Play in it – connectivity, sat nav and everything else.
"Redesigning an interior is not easy. Interior parts are much more complicated. They need much more finessing, accuracy and packaging. So yeah it's a case of details."
Anyone wanting to give their own Vanquish the same treatment will need to hand over £550,000 plus taxes to Callum, which includes the cost of a donor car (around £80,000 at today's prices). It's a cost that Callum justifies, saying that it's a "full rebuild".
And if the Vanquish is not your thing, then his next project might be. "I do not want to work on somebody else's car. I've got a back catalogue – that sounds very pompous: "I've got a back catalogue" – of 24 cars I could potentially work on.
"I don't want to just take a car and just modify it. I want to take the next car to another level and the next car to another level until ultimately we'll do a complete car. Our objective, our dream would be to do our own car, but that's probably years away."