Inside the latest issue - March 2020
Silver Arrows strike back! Merc's second coming, plus F1 2020 preview; dirt racing in the USA; plus we drive the ultimate track car
Late last year a story we had been working on for some time finally came off. It involved Kenny Acheson returning to the cockpit of a Sauber Mercedes – the car he had competed in over 30 years ago – for the first time in almost as long.
The catalyst for the reunion was a chance meeting at the Goodwood Festival of Speed. Acheson was at the event last summer in his capacity as a businessman working in the cosmetics industry, rather than as an ex-racing driver, but he happened to sit opposite the owner of this particular C9, Rupert Clevely.
"Kenny asked me what I did and I ended up telling him that I raced a bit," explains Clevely, who has also owned Lancia LC2 and Peugeot 905 Group C cars. "He asked me what car I drove, I said it was a Sauber. When I told him it was a C9, he said, 'wow, I finished second at Le Mans in one of those'. I had no idea who he was when we started talking."
One thing led to another, and suddenly Acheson was digging out his old overalls for a short test in Clevely's C9. The story of that reunion forms the centrepiece of our cover story this month. It is an illuminating trip down memory lane for Acheson, who recounts the story of his 1989 season.
But the car has a bigger story to tell, too: at the time it represented the return of Mercedes in its Silver Arrows guise to motor sport for the first time since it abandoned the sport in the wake of the 1955 Le Mans disaster. As such, it is possible to trace a line directly from the Mercedes C9 to today's Formula 1 team, making it arguably the most significant Mercedes of the modern racing era. It is a fascinating story, expertly told by Gary Watkins, our sportscar specialist, and beautifully illustrated with pictures of what remains to my mind one of the best-looking cars of that or any other era.
February Formula 1 testing
Talking of F1, after a break over Christmas, the teams head to Spain this month for February testing. To mark the occasion we look forward to the season ahead with the inimitable Mark Hughes assessing the mouth-watering prospect of Lewis Hamilton going head to head with a coming-into-his-prime Max Verstappen and the young pretender Charles Leclerc. As ever Mark brilliantly assess all three and looks ahead to the coming battles.
Marcus Gronholm
Elsewhere in the March issue of the magazine we sit down for lunch with Marcus Gronholm, meet Colin McRae's nephew who tells us about his desire to follow in his uncle's tyre-tracks, and take a test drive in one of the most extraordinary new track cars to see the light of day in years. If you don't believe us, read Andrew Frankel's exclusive test of the New Zealand-based Rodin FZED…
As ever, the issue is also packed full of car buyer guides, incredible period photography, book reviews, racing-related products, event previews and our world-renowned columnists such as Doug Nye, Mat Oxley, Mark Hughes and Andrew Frankel.
Enjoy the issue!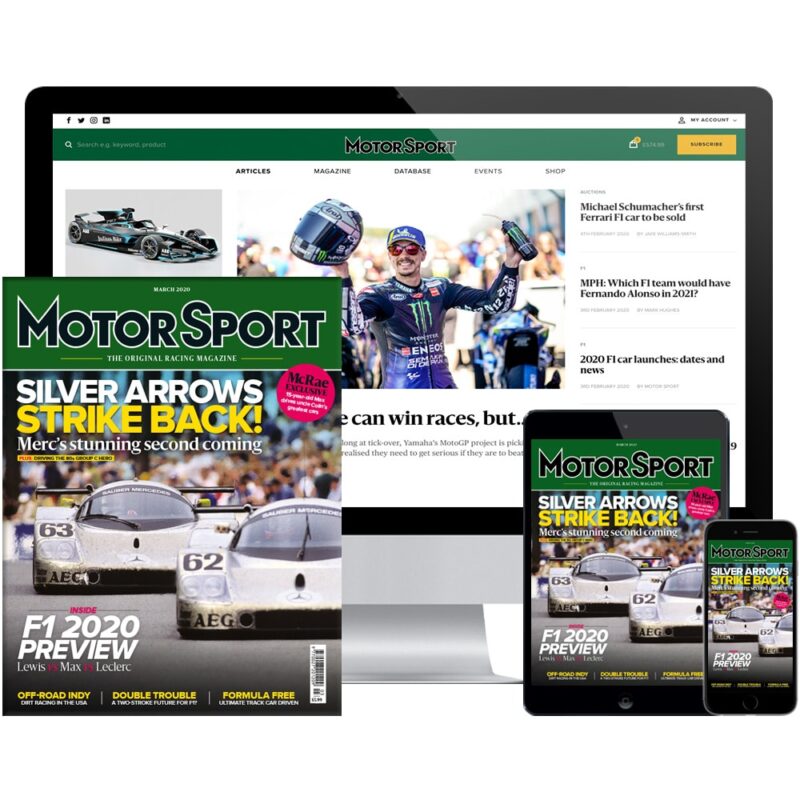 To read all of Motor Sport's content for only £5 a month.