Motor Sport vacancy: Art Editor
- Last updated: December 3rd 2019
Work with us and shape the design of the world's most authoritative racing magazine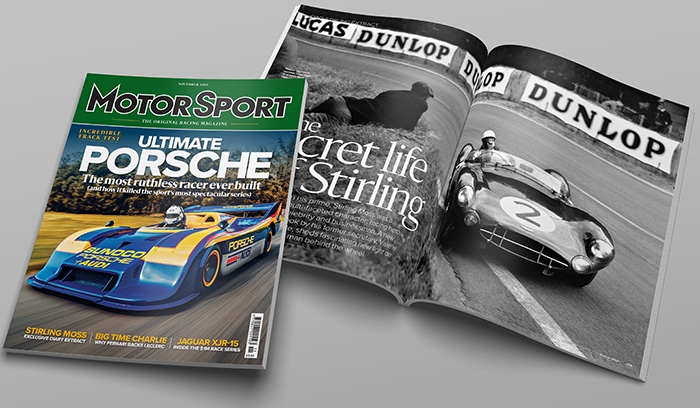 Motor Sport, the world's most authoritative racing magazine, is looking for a talented and imaginative Art Editor to join its busy editorial team.
Working with the Editor, the Art Editor will deliver the design language and creative standards of Motor Sport across all its print products and digital editions through a deep understanding of the brand, the audience and the commercial goals of the company.
The Art Editor will also lead and manage all third-party image providers, producing briefs that create content that is relevant and impactful. They will work collaboratively with colleagues to ensure coherent design and branding across all platforms, print, events and digital. This is a senior role and a great opportunity for a talented designer to make their mark on a prestige brand entering an exciting period of expansion.
Motor Sport Art Editor
Location: North London
Salary: Competitive
End date: October 28, 2019
Applications: Short covering letter explaining your interest in the role and CV to [email protected]
The role
Overall responsibility for Motor Sport's look and design through all print products. Contribute and collaborate with other departments, including digital, events and shop to ensure consistency of content design and brand message.
Overall responsibility for the design of Motor Sport's associated titles
Work with marketing on the look and feel of the Motor Sport Shop to ensure consistency of brand message and design.
Overall responsibility for the production of the digital edition of Motor Sport and other print products
Day to day tasks
Work with the Editor and other stakeholders to create compelling covers that stand out on the newsstand and drive sales
Be proactive in coming up with strong cover image concepts/ideas. Monitor competitor activity
Working with the Digital Editor, update the Motor Sport Instagram account
Select pictures and illustrations to be used throughout the magazine
Commission photographers for external photo shoots, and play the lead role in art directing shoots by coming up with innovative visual ideas across all platforms, digital, social, events
Identify and grow our roster of external collaborators and creatives
Work closely with the Production Editor and Picture Researcher to ensure monthly production standards are maintained and deadlines are met.
Key skills & core attributes
Expert in image editing / design software, e.g. Photoshop, InDesign and Adobe Illustrator.
Knowledge of motor racing is not essential but is a distinct advantage
Ability to communicate effectively with all stakeholders, internally and externally, from senior management to junior staff.
Ability to juggle several projects at once
Exceptional time management skills and ability to work under pressure.
Desire to constantly strive to improve the level of design and photography
Ability to contribute design ideas at senior management level and to show leadership in dealing with more junior members of staff.