There is no doubt he has a lot of talent, but his greatest assets are determination and bravery. Since he graduated to MotoGP he's had 137 crashes, during race weekends, which certainly means he's fallen off a MotoGP bike at least 150 times; crashes in testing included.
"I've always been a crasher and that's the way it is," he told me a while back.
Indeed. After Crutchlow contested the 2000 and 2001 Aprilia Superteens championship series principal Ian Newton had this to say about him. "Cal's big thing was always his determination. He would crash his brains out and the crashes didn't seem to knock him at all. Very, very few guys can do that."
That's certainly true. He's as tough as they come. "A gritty little boxer type – get stuck in and have a go," added Newton. But there's no gain without pain. There's a whole lot of agony in those 150 or so crashes, which is the main reason Crutchlow is considering retirement when his current HRC contract expires at the end of 2020.
"This isn't about me thinking I'm getting slower, it's more about my body hurting," he says. "My body hurts. Not just because of last year's crash [his 140mph get-off at Phillip Island's Turn One in October], but in general. I don't know how long I can keep dealing with that, year in year out, instead of having a bit of a normal life."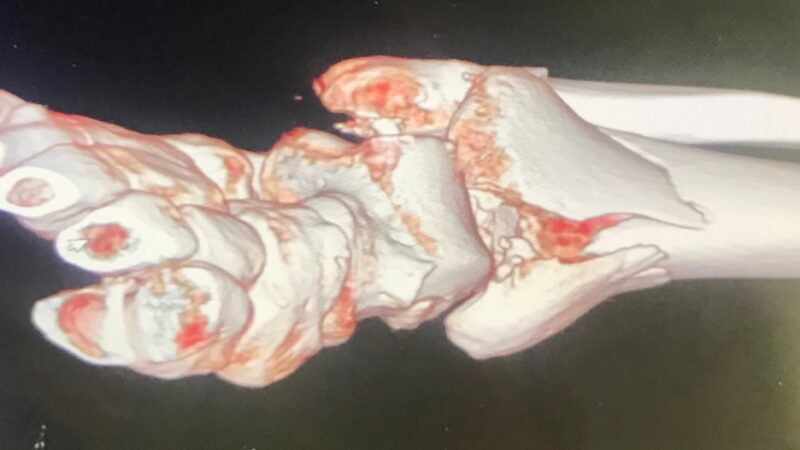 Worst of all are the ongoing nerve problems caused by his huge accident at Phillip Island last October, which left him with a badly mashed right ankle.
"I need one of those stairlifts at home," he adds. "I think the problem is the metalwork pushing against the nerves and tendons. If you read other people's experiences of the same injury I had they say it's wrecked their life and they've not had a normal life since. I'm still racing a motorcycle and still living a great life, but I'm in pain. The nerves are really, really hurting me.
"I've got three plates and ten screws in there. When I push down it's so painful you can't imagine. It feels like raw meat. I can take nerve painkillers, but when I got home last from Australia I stopped taking them because I knew I'd get addicted.
"Earlier this year I had five months when the foot was fantastic. Then since Sachsenring it's got really bad again. But it's not just that – my shoulders hurt, my arm hurt and my knees hurt too.
"I want to do normal stuff, I want to take my daughter to school, I want to play with her. I want to be able to walk in a straight line, which I can't at the moment."
Crutchlow may be seven years younger than Valentino Rossi, but there's no doubt that he's in worse physical shape. He's scarred and limping, a bit like the old 500 superheroes whose bodies paid heavily for their glory.
"Someone my age might not have any pain and be fine. Valentino is still going at 40, but I feel… a bit different. I also feel I've given my absolute all to the sport. And if my 100 per cent isn't enough to win the MotoGP world title, then so be it, I can accept that. I feel I've given 100 per cent every lap of every race. I've enjoyed my career, with all the ups and downs, but I wouldn't change it… Well, I'd change the fact that I've missed a few podiums here and there."