More modern cars will be a focus this decade, says David, who knows he must seek that happy balance of catering to Corgi's loyal collectors while also appealing to new generations. "Corgi is built on cars, the bedrock of the brand," he says. "We do other things such as aviation, but it's cars and toys that make Corgi what it is. All I can say for now is we'll be releasing more recent vehicles compared to classic cars and that will be the mandate going forward – although we will never forget the classics, of course."
The unavoidable power of nostalgia combined with a modern outlook is proven by what was predictably Corgi's biggest seller in its 65th year: the re-release of model 261, better known as James Bond's Aston Martin DB5 from Goldfinger. "It's been great this year thanks to No Time to Die," says David. "We've pretty much sold out of our Bond stuff, so I've been hastily reordering. We made about 10,000 of 261 and they've all gone."
Corgi was also involved in the launch of Aston's continuation DB5 at Battersea Power Station at the start of September. "We supplied artwork of our original 261 DB5 packaging to enable Aston to create a life-size version that contained one of the real DB5s, which was then on display for the entire month leading to the release of No Time To Die," says David.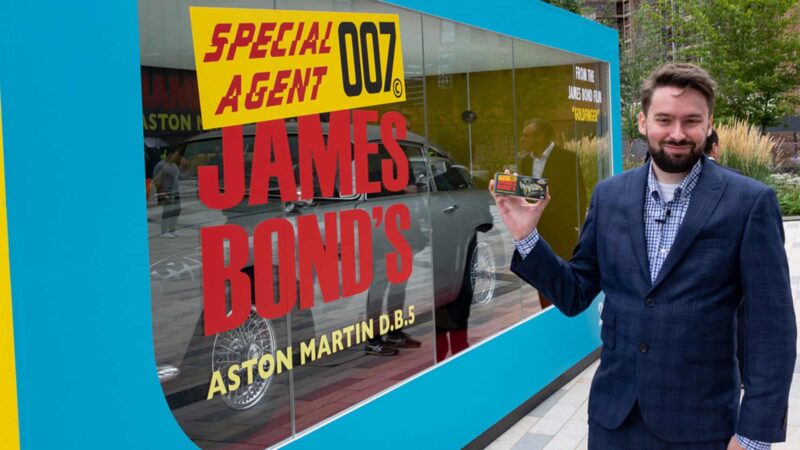 Bond is central too for what should be another welcome new avenue: a range of motorcycle models. "At the beginning of 2021 we announced the Triumph Scrambler 1200 from No Time to Die as a 1/24th scale model, but when we looked at it we couldn't quite get it to work," says David. "So my development manager and I made a decision. We didn't want to lose it because we had a licence agreement, so we made the call to bump it up to 1/12th scale. Now that takes us into the same territory as Minichamps, one of the really big motorcycle diecast manufacturers, so we're aiming to be quite competitive in this area." David will get his first look at the model when he heads back to the office in the new year.
Another project Motor Sport readers will be particularly interested in is a collaboration with the Corgi Model Club to recreate classics from the distant past. The latest release, via an online subscription-based service, is Rauno Altonen's Mini Cooper S that conquered the 1967 Monte-Carlo Rally (the one that was then disqualified for a trumped-up technicality on its headlights), complete with period box. Other recreations – perhaps less contentious than real-size versions (we hope!) – include a Jim Clark-era Formula 1 Lotus. That caught our eye.
Such nostalgia is central to Corgi, as David is all too aware as he enters his 10th year at the company. "There's always a desire to come in and do something new," he says. "But the view I take is that Corgi is a historic British brand and you want to maintain and not undermine that in any way. So something like the Triumph Scrambler is a perfect marriage of two historic British brands. It's the same with Vanguards. We went to Ford, because of the history of the manufacturer in the UK, particularly in the Dagenham area. We make a lot of Fords but that's because it's a perfect fit."
David also reveals he has a spreadsheet of every model Corgi has ever produced in its 65 years, meaning special orders are a possibility for a company that for more than a decade has existed under the Hornby Hobbies umbrella alongside other icons such as Airfix and Scalextric. "Sometimes someone will ask for something, I'll check and I didn't even know we had it," says David. "Recently someone asked for a Rover 75 – and there it was on the list. We have to check we've still got the tooling, and we haven't released it for over a decade. I'd certainly never seen it. So the question when such examples crop up is, can we licence and re-release it, to expand the range?"
It's heartening to know that a well-known brand sewn into our national consciousness is thriving in spite of difficult circumstances, under the guidance of enthusiasts such as David Mather and his team. Our motoring world is changing fast and like everything Corgi has to move with it – but happily, not too much.