"They managed to get a lift on a truck back to Algeria, then spent a few nights in a hotel waiting for the boat home.
"One morning they woke and found everything from inside the car had been stolen, no papers, no passports, nothing.
"It was not a happy ending. I still have a newspaper from the time when he was interviewed by a local journalist and he said, 'I will never come back to the Dakar!' Of course, he changed his mind…"
Bitten by the rally raid bug, Grabowski's father would run the Dakar twice more in a Toyota as a support vehicle driver, with the Lada gathering dust in the garage back in France.
Years later, his son would sit by the wheel of the car as a child, imagining himself taking on the dunes and desert in the little Russian hatchback.
Eventually the Lada was sold before Grabowski's father passed away. His son got the idea to remember his old man in the best way possible, trying to finish the rally he started four decades ago. Purchasing an identical Lada in 2018, which he has gradually built up from photographs and research of the '81 event to be totally faithful to the original Dakar version, the Frenchman feels he may have had more than a little help from someone looking down on him.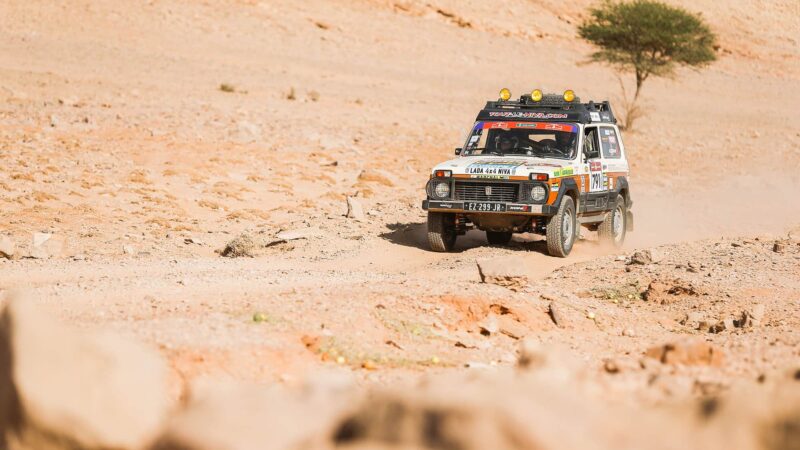 As well as managing to hook up with Christophe Fay's 'tout-le-niva.com', the largest Niva parts dealer in France – who took roughly "twenty seconds", to be convinced to come along for the ride with a full complement of spares – Grabowksi and Chenard have had other considerable assistance appearing at times as if from nowhere.
"Sometimes when you when you lose someone, you still believe they're somewhere," he says. "Coming here I have the feeling I'm sharing something with him."
"Many times during the project, you had the feeling that at some he was helping us," says Chenard.
"One day we were rushing to get the car ready in the workshop, it was looking like we wouldn't make it," recalls Grabowksi. "A car pulled up, out got a father and his two kids, in their 20s.