The MGUs take their power from high-voltage 52kWh lithium-ion battery – designed from scratch by Audi – weighing a hefty 370kg.
This was where the main worry came in: "Designing a car in 12 months is one thing," says Dreyer. "But we were worried that battery wouldn't be ready in time."
Here the electrified vision falls down for now. Although the car harvests some kinetic energy from its brakes, its battery isn't efficient enough to power it throughout the average Dakar stage distance of 211 miles.
"We all know that the normal batteries are not able to do that in the desert," says Dreyer. "That's when this team came up with this idea to how to charge the battery in between and I think that was really cool."
So what is the solution? Stick a large internal combustion engine in it, of course. A 2-litre, four cylinder TFSI DTM chugs away – going through a third MGU acting as generator – to recharge the batteries when low on power. Of course, that means fuel is being burnt, so despite being an 'electric' car, the e-tron's emissions aren't inconsiderable.
Bringing a power unit designed for Germany's billiard table-smooth (in comparison) circuits to the Saudi desert, has been a headache for the design team.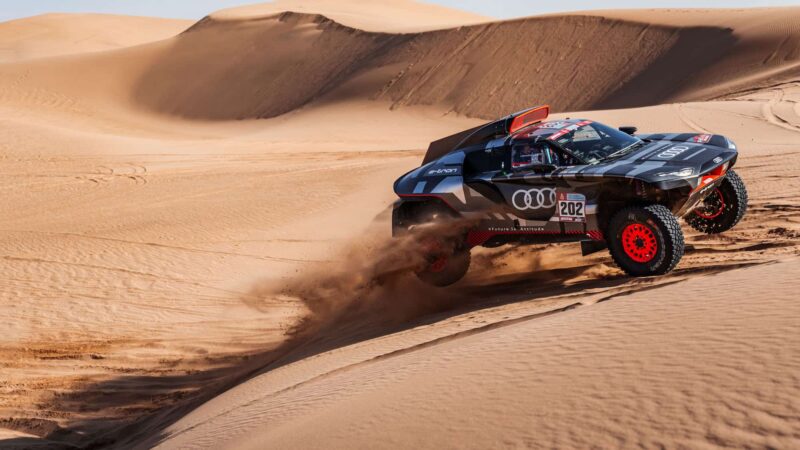 "The components of the drivetrain were basically not developed for this particular application," says Dreyer. "It's a big challenge to make sure that those components can hold up to these loads."
With the DTM engine essentially acting as a range extender, some Dakar paddock naysayers assert this means the car isn't efficient enough. Audi says there simply aren't enough charging points in the desert — an issue that doesn't seem likely to be rectified soon.