Mishaps befell a number of the chasing drivers through the penultimate day. Evans was delayed after slithering off backwards down a precipitous drop, from which it took some time to be extricated, while Ott Tänak's car was retired. Neuville, in a stunning display of spannering managed to patch up his i20 after a front suspension strut failed. Having limped it through the closing stages of the day and back to the service park, he explained that the damper had collapsed but he had managed to jury rig the spring with straps, cable ties and tape, just enough to get the car home. Neuville's teammate Oliver Solberg also had a challenging drive back through the darkness to service, his i20 missing not only the front bumper, but also all of its lights.
As night fell over Monaco harbour and service crews set to their labours, it appeared the younger Seb had it in the bag. Even for a driver of Loeb's guile and pace, 20 seconds over the final four stages seemed a tall order. But the closing day still held plenty of peril; drivers would be relying on the pace note edits of their ice crews, and some of the road sections had not seen sunlight even late into the morning, ensuring rime ice remained to catch the unwary.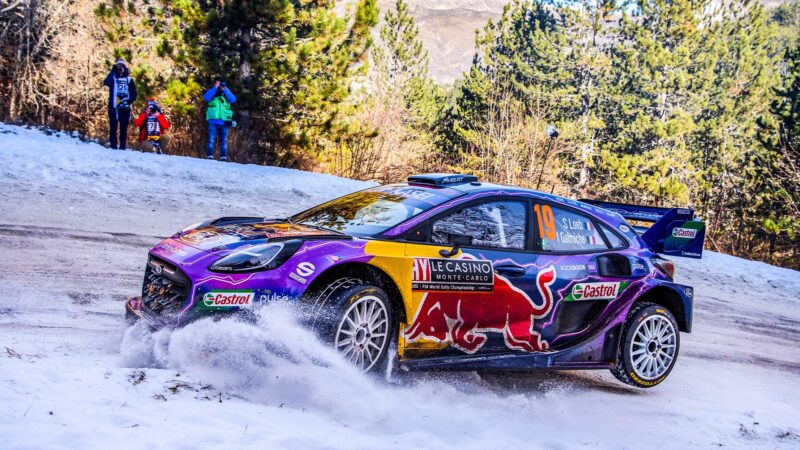 Punctures also seemed to be an issue, Evans stopping early in the first stage of the day to change a wheel, and they would prove decisive to the final result. Loeb managed to take a few seconds out of Ogier's lead over the first two runs of the day, but not nearly enough to be in with a chance of overhauling him. Then, in the second half of the penultimate stage, Ogier's pace dropped sharply, the eight-times Monte winner nursing a deflating tyre. He made it to stage end, but his 20-second lead was gone and Loeb back ahead.
So it was that coming into the final stage, a second lap between Brianconnet to Entrevaux, Loeb led by 9.5 seconds. Could Ogier pull something out of the bag and snatch a victory?
The atmosphere in the M-Sports camp was electric, Millener remarking that they had almost forgotten what it was like to fight at the front. As it stood, even without the win, the team would have three cars in the top five, with regular season driver Craig Breen a solid third, an excellent start for the Cumbria-based outfit.
Alas, the prospect of a nail-biting power stage was over before it began. Ogier tripped a jump start and earned a 10-second penalty for his troubles. Unaware of the impending penalty, he gave it everything through the stage, admitting afterwards that he overstepped the limit at points. He pushed to within 0.5 seconds of Loeb, but a ninth Monte victory was not to be. Loeb, at 47 years old and long retired from full-time WRC competition, sealed his eighth victory, pulling level with his defeated compatriot.
Despite the slight anti-climax of Ogier's time penalty, the Monte Carlo delivered yet another classic and sets the scene for what promises to be a close fought battle between M-Sport Ford and Toyota. It remains to be seen if Hyundai's flashes of pace can translate to consistent performance and reliability. As to whether Loeb might want to covert his opening win into a championship assault? He remained tight lipped, but there's no doubt the competitive fire still burns brightly and temptation will be knocking.
Almost as astounding as Loeb's win is the story of his co-driver, Isabelle Galmiche, the first female Monte winner in a quarter century.  Unbelievably, it was the 50-year old's first top-flight WRC race, having previously run a few European rounds in R2 and R3 machinery and furthermore, she only co-drives part time – post the rally she returns to her day job as a maths teacher!
She has tested with Loeb on a number of occasions over the past two decades and he heaped praise on her performance, highlighting that Isabelle mastered the complex systems of a Rally1 car with ease and never stumbled her notes, even though the fastest sections and despite very limited seat time before the event.
It just goes to show, even in the 21st century – an era of ever younger and more performance focused elite professional sportspeople – a combination of vast experience, phenomenal pace and flawless co-driving meant a middle-aged retiree and a part-time co-driver, were able to win the world's most famous rally.