WRC in 2019: a first title for Tanak; a last hurrah for others
- Last updated: January 21st 2020
Tanak finally clinched the title; Ogier battled valiantly and Meeke may have made his final bow: our look back at the 2019 WRC season
For anybody who followed the World Rally Championship last season, the outcome of really shouldn't have been a surprise. Ott Tanak's star had been on the rise well before the start and, had his Toyota coupled reliability with his unrestrained speed, we could well have been admiring a two-time world champion this winter.
In reality, Tanak could, and probably should, have been world champion in 2018. He won four of the 13 rallies and took two further podium finishes, yet was only third in the order. Had it not been for overheating issues in Mexico, a cooling system failure in Portugal – admittedly caused when he hit a rock – and transmission problems that knocked him out of contention in Australia, Tanak would undoubtedly have been closer to top spot, if not sat upon it.
Last year could so nearly have been a similar story. For all its inherent speed, and with the talented Tanak behind the wheel, the Yaris still wasn't bulletproof this season. Yet it held on enough for the Estonian ace to become the first driver not named Sebastien to win the World Rally Championship for 15 years.
The truth is that Tanak was in another league in 2019. His speed and commitment both took a sizable step up, as did his maturity and coolness under pressure. Never once did he look out of control or emotionally beaten. He simply looked rapid, and the results speak for themselves.
He won half the rallies – six from 13, with the Australian finale being cancelled by the dreadful spread of bush fires around the Coffs Harbour region – and was on the podium in two others, and finished every event. Winning world titles is about speed and consistency, and Tanak brought both in spades. He was in the fight for the win at almost every round, but still suffered some difficult moments.
He led in Corsica until a puncture dropped him to sixth, then a similar issue occurred in Argentina where a battery charge problem put him out of contention for the win. After those issues, Tanak regrouped to control the next two rounds – in Chile and Portugal – to kick-start his charge to the title. However, he'd be left heartbroken in Italy when a power steering failure on the final power stage robbed him of a near-30-second lead and certain victory, and instead left him fifth.
Tanak could have been forgiven for thinking it simply wouldn't be his year… yet again. But he regrouped and showed supreme mental strength to simply get back on his part-Finnish-part-Japanese horse, and what came next was truly special. He won Rally Finland by nearly half-a-minute and then did similar in Germany to open out a points lead that he'd never lose, eventually securing rallying's biggest prize with a controlled second place in Spain.
The issue is that Citroen now is not as Citroen was then. Even Ogier couldn't drag much more out of the C3 WRC than its previous drivers
For all Tanak's glory, he was helped along the way by some key moments for his rivals.
Sebastien Ogier was up against it even before the year began. Having won his sixth-straight title, and second in succession, with Malcolm Wilson's M-Sport Ford crew, Ogier returned 'home', gambling on rejoining Citroen to try and prove himself as king of the underdogs against the might of Toyota and Hyundai. He'd done it with the non-factory Ford team, so why not try with the dinky manufacturer that 'only' boasts nine WRC Drivers' titles in the last 15 years..?
The issue is that Citroen now is not as Citroen was then. As good as Ogier is, even he couldn't drag much more out of the recalcitrant and inconsistent C3 WRC than its previous drivers. He started strong enough, sure, with victory in Monte – which can be more put down to Ogier's supreme record on the Monaco roads than the Citroen's capability – and a bit of luck to survive a puncture to win in Mexico. But aside from that things rather began to unravel.
Retirement in Sweden after hitting a snowbank while wrestling with the errant C3 in the snow hurt, hitting a rock and destroying his suspension in Italy was more than a minor setback, and Ogier's form across the second half of the season truly dropped away. Having been on the podium in six of the first seven rounds – despite his car lacking in ultimate pace – Ogier would stand on the rostrum just twice over the final six events, leaving him only third in the championship.
After the season, Citroen announced it would leave the WRC with immediate effect, and blamed Ogier for opting to join Toyota for 2020. Ogier soon set things straight, shedding light on the lack of development and the limited resources Citroen was prepared to throw at the C3 later in the year. The correlation was that the C3 slowed toward the end of the season, as soon as Citroen's WRC future was put into the spotlight. The writing appeared to be very much on the wall in Versailles…
While Ogier's year was built on a gamble, Thierry Neuville's was ready to skyrocket. Hyundai's resource outstrips anything in the WRC currently, with the Korean firm hungry for its first major motor sport success. The i20 WRC was developed, fettled, upgraded and ready to go with the Belgian star at its helm, yet somehow things just didn't quite come together.
Neuville was always in the running, but was rarely the standout performer. Having finished as runner-up in each of the last four WRC seasons with Hyundai, Neuville arguably started the year as favourite. However, the marque opted to replace long-term team head Michel Nandan shortly before the start of the year, bringing in customer racing specialist Andrea Adamo instead. Perhaps that had a destabilising effect?
Two podiums early on were a decent return, but then he looked off-colour with a distant fourth in Mexico before Neuville regrouped to luck in to a last-gasp win in Sardinia after long-term leader Elfyn Evans punctured on the final stage. That result coincided with a confidence boost that he rode to victory next time out in Argentina. But just as your luck shines, so too does it darken, and things changed after that Chilean drama. Neuville slid wide on a fast right-hander, clipped a ditch and it sent his i20 into a series of terrifying barrel-rolls. Both he and co-driver Nicolas Gilsoul emerged unscathed, but it had done their title chances, and their confidence, absolutely no good.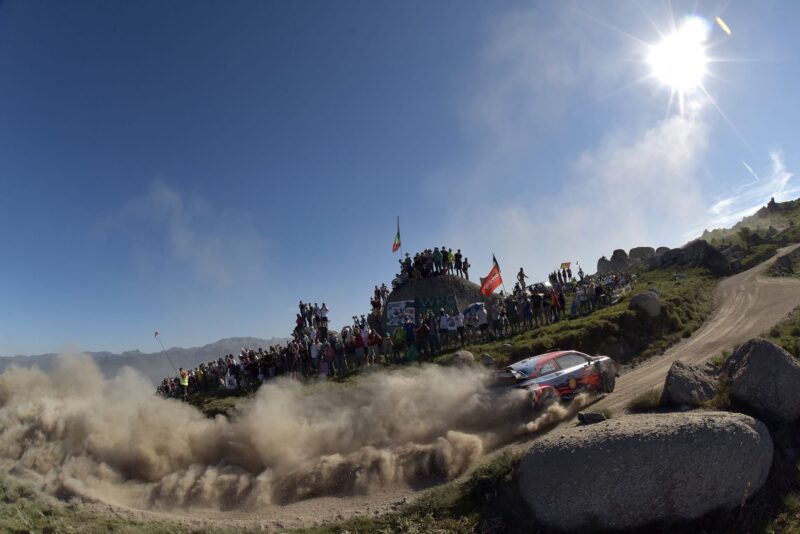 While there was a second place next time out in Portugal, four rounds outside the podium places followed when perhaps Neuville lost his edge. Two costly mistakes left him sixth in Italy, and wayward setup choices did the same in Finland. His year was capped with what would turn out to be the final win of the season – in Spain – but by then Ogier was already out of the picture and Tanak was firmly in the championship seat, meaning he was more than happy to settle for second, and the championship.
Meeke is blessed with perhaps the most speed and commitment of any modern-day rally driver. What he lacks is the will to finish second
As for Neuville's team-mates, Andreas Mikkelsen never really hit the sweet spot during his part-programme but did register three handy podium finishes, while Dani Sordo's shock victory in Italy – after Tanak's issue – helped Hyundai to secure the manufacturers' title ahead of Toyota.
Of the others, it was an up-and-down year for the Brits – Elfyn Evans and Kris Meeke. Evans was simply sensational in Corsica, only to be so cruelly robbed of what would have been M-Sport's first win of the year. Instead he had to content himself with a podium there, and in Mexico. But then things turned sour. A hefty landing when contesting the non-championship Rally Estonia caused a back injury that put Evans out for three rounds. He returned in time for his favoured Rally GB, but was hardly fully match fit on his way to fifth.
Meeke, as always, is blessed with perhaps the most speed and commitment of any modern-day rally driver. What he lacks however, is the will to finish second. Meeke's an all-or-nothing sort of driver. It's the attitude that's taken him to five WRC event wins, but absolutely nowhere even close to a world championship.
The move to Tommi Makinen's Toyota could have brought an oasis of calm to temper Meeke's approach, and perhaps bring out some of that missing control. But against the already up-to-speed Tanak, Meeke struggled to fully adapt to the Yaris WRC, and could only register a single podium – second place in Germany.
Looking ahead, things look rather bleak for Meeke. Ogier has taken Tanak's seat at Toyota, as the new champion was rapidly poached by Hyundai as it continues its quest for the WRC Drivers' crown. Evans' potential has been recognised, so the Welshman gets the Northern Irishman's seat alongside Ogier at Toyota. As it stands, Meeke is out of a seat, and with limited options – his were rather more limited than most even before Citroen departed, considering it dumped him so unceremoniously in 2018, hardly meaning a reunion would be on the cards.
At 40, Meeke is already one of the WRC's elder statesmen, and perhaps may struggle more than most. But if this is the end for him in the WRC, we'll always remember the spectacular moments – that outstanding Finland win in 2016 (still the WRC's fastest-ever rally) or that epic detour after getting lost in a Mexican car park just metres from the finish, yet still holding on. There's the Sebastien way to win lots and lots of rallies, or there's the Meeke way to make them spectacularly memorable.
Thank you Kris, and all the best.