Lotus Evija unveiled: a 200mph+ all-electric hypercar
- Last updated: December 5th 2019
Lotus' Evija is the world's most powerful series production car with 1972bhp: a £2m electric machine that will accelerate from 0-186mph in under nine seconds, and re-launch the Lotus brand.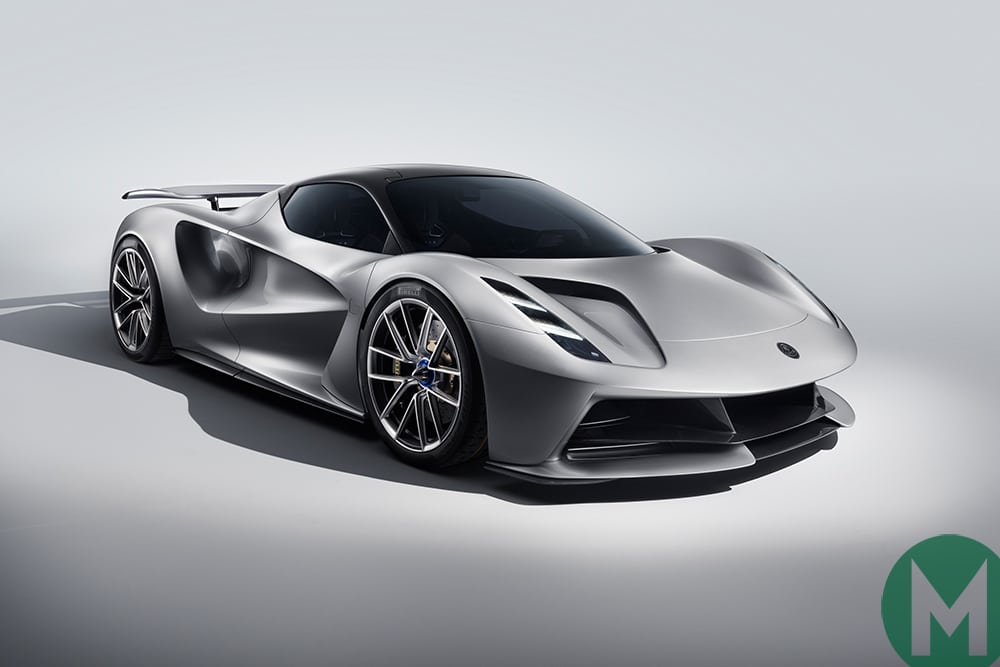 Rarely has the significance of a new car extended further beyond itself. The revealing today of the new Lotus Evija (pronounced E-vi-ya I am assured) is not so much a launch of a new car, but the re-launching of one of our best loved automotive brands. It's been over a decade since Lotus unveiled a genuinely new product, and the imperative to return Lotus to the top of the automotive agenda from its sadly long-held position in the foot notes is its true purpose.
And from appearances alone that appears to have been done. Looks are of course entirely subjective but to me, Lotus Design Director Russell Carr has created a stunning piece of work. He had one opportunity to focus the world's attention on the Lotus in a way it has not enjoyed since the launch of the Elise in the mid-1990s, and he's taken it with both hands. I see some clearly coincidental elements of the Brabham BT62 about the nose, but in the main the Evija is sleek, beautiful, avant-garde and original in appearance. But what is it exactly?
It's an all-electric carbon fibre hypercar, with a target power output of 1972bhp and 1253lb ft of torque, all of which it will be able to deploy through all four wheels, instantly and from rest. The claimed 0-62mph time of under 3sec is nothing special these days, but will be so traction limited as to be an irrelevance. It is the 0-186mph time of under 9sec that should be getting your attention. This is more than twice as fast as a McLaren 720S covers the same measure. According to at least one online source, this is also to approximately the same level of performance as the Le Mans winning Porsche 919 hybrid and, frankly, I'm surprised the Porsche is that quick.
Some 130 units of the car will be built at Lotus's Hethel headquarters from 2020 (130 also being the car's 'Type' number), and each will be sold for £1.7 million plus tax, which means well over £2 million if you want to register yours to use on the road in the UK.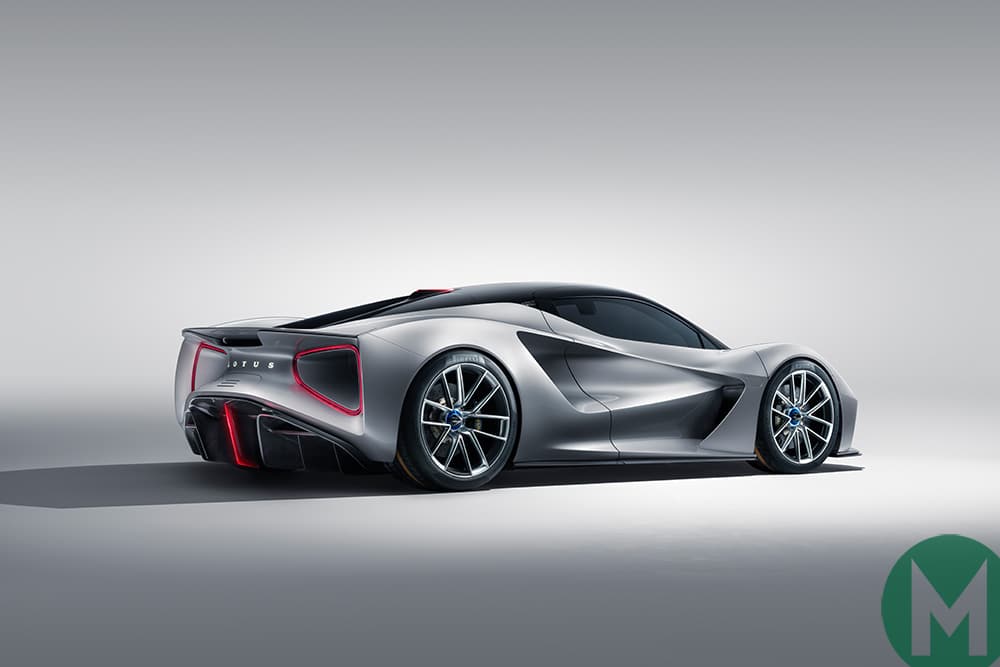 The Evija's rear lights surround its Venturi tunnel exits
The powertrain has been developed for Lotus by Williams Advanced Engineering, the battery pack sitting directly behind the two occupants, driving one electric motor per wheel. It is to be noted that each Pirelli Trofeo R tyre will therefore have to transmit all by itself more power than the total output of most powerful Lotus road car built to date. The car is built up around a carbon-fibre tub built for Lotus by CPC in Modena weighing just 129kg, one reason its target weight is just 1680kg, which is pretty sylph-like for an all-electric hypercar but still comfortably more than half a tonne heavier than the Aston Martin Valkyrie and Gordon Murray's T.50 to which it will be inevitably compared.
Indeed the slight irony in relaunching the lightness-obsessed Colin Chapman's company with comfortably the heaviest car in its history is a truth that will need careful management, as will the fact that no previous Lotus road car has ever seemed particularly interested in power and performance for the sake of it.
Then again we live in a rapidly changing world, and for now and at least until engineers find a way to replace the more subjective elements lost by replacing the internal combustion engine with electric motors, power and performance appears to be the way most are going. And it's not as if there's no true innovation here either: the Evija will be the most powerful car ever to go into series production, it's Britain's first all-electric hypercar and it's capable of taking an 800kW charge, which means its batteries could be charged from empty in just nine minutes. Unfortunately no such charging station currently exists, but even at the 350kW that will soon be reasonably widely available in Europe, an 80 per cent charge will take just 12 minutes. A full charge is aimed to propel the Evija for a maximum of 250 miles.
Within the car is as space-age as without and I really like the super-clean, ultra-modern interior design. It is clean, funky and from what I can see from the images, likely to work pretty well.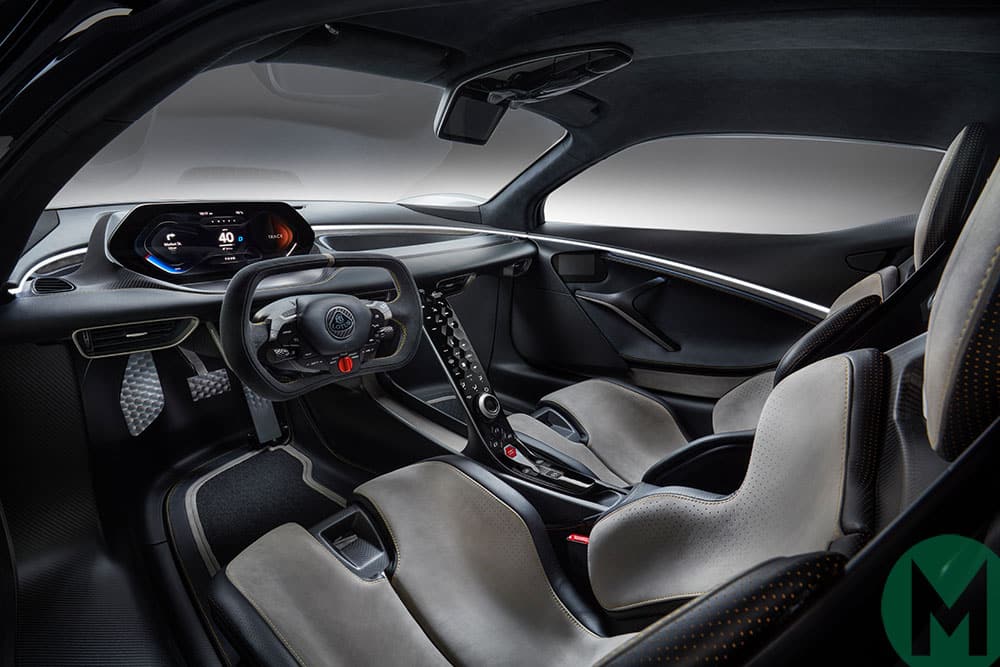 The interior features exposed carbon fibre and Alcantara. The steering wheel includes a rotary control and DRS button
In fact there's so much about this car I like, it seems churlish to dwell on the one aspect I struggle to understand: who is going to be able to use almost 2000bhp for goodness sake? I happen to have been tooling around in a McLaren 720S recently and in anything but ideal conditions (which usually means a race track) I can't use all its performance. There has never been a single occasion in the last six months on which it was not able to provide more power than I wanted to use. And here is a car that's twice as fast from rest to 300km/h? How much more would I admire this car even than I do if it had half or even one third of the power and all the attendant weight loss it would bring. To me, it would be more of a Lotus too.
But let's not carp: after all the Evija is a statement intended to astound. Owners will enjoy talking about its near 2000bhp even if they never choose to use it. Most importantly, the Evija is in no way representative of the conventional Lotus cars that Geely will go onto produce. Its job is to get our attention and not just start us thinking about Lotus again, but in an entirely new way too. And from what I can see, I'd call that job done.
---
Related content
---
Lotus Evija, target specification
| | |
| --- | --- |
| Configuration | Two doors, mid-mounted battery, four-wheel drive |
| Power | Four 493bhp e-motors |
| Maximum horsepower | 1972hp |
| Maximum torque | 1253lb ft |
| Maximum engine rpm | 12,100rpm |
| Acceleration | 0-62mph: under 3sec / 0-186mph: under 9sec |
| Top speed | More than 200mph |
| Electric range | 250 miles |
| Charging time | 350kW: 18min |
| Weight | 1,680kg |
| Length | 4459mm |
| Width | 2000mm |
| Chassis | Carbon-fibre monocoque |
| Aerodynamics | Integrated rear diffuser, rear spoiler with DRS, rear quarter Venturis |