Porsche's Taycan: a satisfying all-rounder that falls short of sports car sensation
- Last updated: December 5th 2019
The first all-electric effort from Porsche: the Taycan has been an eagerly awaited arrival and will launch with two models available to the public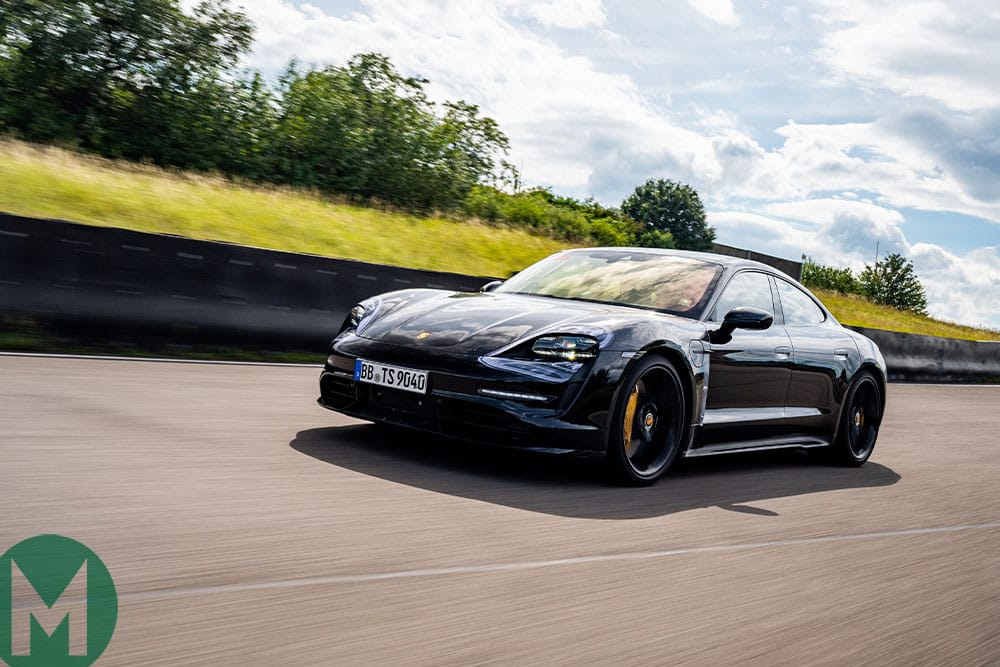 Taycan remains disguised for now Photo: Porsche
This, then, is the big one. Of late we've seen what was for years a mere trickle of electric cars become a steady stream, the likes of the Jaguar I Pace, Audi e-tron and Mercedes-Benz EQ C have seen to that. In years to come it will likely become a flood. But these are cars primarily intended for transportation purposes. The Taycan is the one for which the car-loving world has been waiting: Porsche's first electric car.
If anyone can make a car fed by electrons rather than fuel fun to drive, surely these guys can? If not, you wonder whether any electric car could have enough to hold the attention of the true enthusiast for long enough for it to convince as an alternative to the internally combusting norm.
Although the car has yet to be launched (meaning Porsche has released no official information and not yet removed the car's disguise), I've now not only spent a long time in its passenger seat in the Arctic but also driven it at length on public roads close to Porsche's Weissach test track.
And while I cannot be specific, there is still enough I can say about the car that when the full facts are revealed, hopefully very few of them will be in any way surprising.
There will be two Taycans at launch and they are strongly rumoured to stick to Porsche naming convention, so they will be called Turbo and Turbo S despite a notable absence of turbines. The Turbo S will produce over 700bhp for short periods of time, the Turbo over 600bhp all the time.
A less powerful model likely to be called 4S is believed to be on the way, as is a base car with a single electric motor and rear-wheel drive which will probably just be called 'Taycan'.
The Turbo and Turbo S, both of which I've driven, are insanely rapid. They weigh around 2250kg (expect the S to be slightly lighter thanks to its standard ceramic brakes) and I'm backing even the Turbo to hit 60mph in 3sec flat. The S? Around 2.8sec.
---
Related content
---
As with all electric cars, maximum torque is delivered instantly and from rest, so full bore standing starts are, more than anything else, fairly uncomfortable experiences. Those preparing 2000bhp electric hypercars right now should perhaps bear that in mind.
You sit in a smartly-arranged cabin looking at an entirely digital dash which, if you specify the optional display for your passenger, stretches almost from wall to wall. I'd not care for it in a 911 but in an electric car with four doors and reasonable (but not generous) rear room, it fits well.
The driving position is lower than you'd expect – it's far more 911 than Panamera let alone one of Porsche's SUVs. To start you push a button, pull a lever and press a pedal. Silently, the Taycan glides away from rest.
And I do mean glide. With bespoke three-chamber air springs at each corner of a massively stiff chassis, no Porsche has ever ridden like this before. At first it's confusing – the low slung seating position says sports car, the ride and refinement says limo. Which is it?
Another message comes from the steering which is least expected of all. This car is heavy, it sits on quite a long wheelbase but with four-wheel steering (standard on S, optional on the Turbo), its steering is closer to that of a light, notably short wheelbase 911 than you could ever anticipate. It has that weight, that accuracy, that feel. It is an amazing achievement.
But it can't defy physics. This is still a car that needs guiding through corners (and with that steering it is a pleasure to do so), you can't just fling it in. While on the test track it will oversteer at will and prove absolutely Porsche's contention that it is the most easily recovered of all Porsches, on the road it still feels quite big and wide.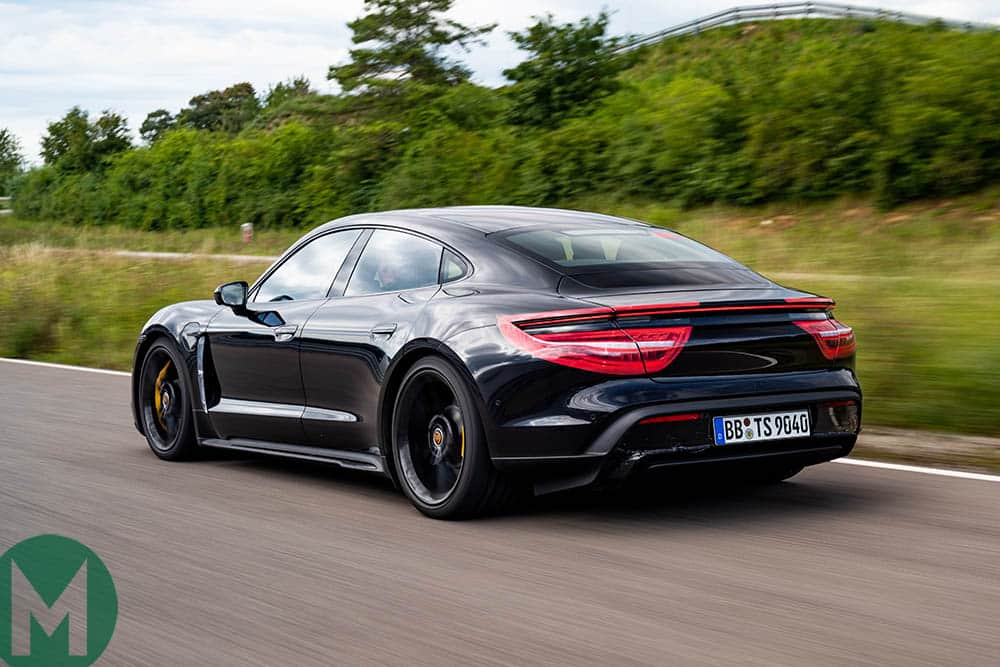 Photo: Porsche
Despite superb damping which allows it to tackle difficult roads with a fluency you'd simply not credit for a car of this mass, your natural instinct is still to keep it precise, be conservative on entry and use its traction and torque away from the apex. Do that and the Taycan is a mightily satisfying thing to drive, more so than any other electric car, and by far.
Just don't run away with the idea that any of the above makes the Taycan the world's first successful electric sports car, or that people will be slipping out in the middle of the night just to enjoy their cars on deserted roads. They won't. The Taycan is a pleasure to drive, sporting even, but it is a superbly realised all-rounder with talent across the board; it is not a sports car.
So the conundrum remains. In fact, driving the world's most sporting electric car suggests to me that making a proper electric sports car will be more difficult even than I suspected. I just don't see how you can get the weight down far enough and replace the sounds and sensation of a petrol engine directing its power through a gearbox.
But if you like the idea of an electric car and can afford the £135,000 or so Porsche will ask for a Turbo S (perhaps £120,000 for a Turbo and, I hope, five figures for a 4S), the Taycan is a new level and deliveries will begin in the New Year.
I fear those hoping for a true electric sports car may need to wait a little longer.