Third Aston Martin-Red Bull hypercar announced, called 'Valhalla'
- Last updated: December 4th 2019
Announced in March, Adrian Newey's AM-RB 003 brings F1 and Le Mans technology to the road. Aston Martin will call it the 'Valhalla' to partner its Valkyrie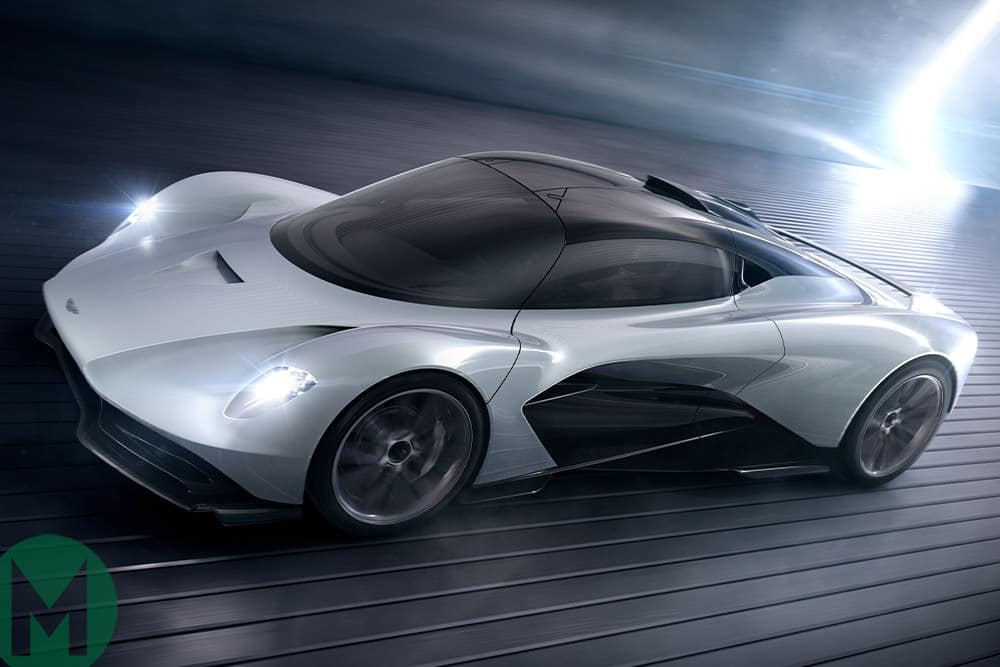 Aston Martin has revealed its AM-RB 003, the third mid-engined hypercar in its new series. The manufacturer announced in June that the RB 003 will be called the 'Valhalla', and will be limited to just 500 units.
The hypercar has been developed with Red Bull Advanced Technologies (RBAT) and is the third hypercar that Aston Martin has developed, taking Formula 1 technology to the road with the help of Red Bull chief technical officer Adrian Newey in the vein of the Valkyrie.
"Aston Martin model names always attract a lot of attention," said Aston Martin group CEO Andy Palmer.
"They do so because they invariably capture an emotion or tell a story. In following the Valkyrie we knew the Aston Martin Valhalla needed to make a strong statement of its own, yet also offer continuity and a clear connection.
"Norse mythology contains such powerful language and rich storytelling it felt only right that the AM-RB 003 should follow the Valkyrie's theme.
"For those fortunate enough to own one I'm sure they will recognise and appreciate the name's connotations of glory and happiness, for there can be few more hallowed places than the driver's seat of an Aston Martin Valhalla."
It will be powered by an Aston Martin hybrid-turbo engine and a 'Nexcel' system that allows oil to be re-used and refreshed in just 90 seconds – from the Vulcan.
Other F1-style features it boasts include the huge rear diffuser, with the bottom of the car producing most of its downforce.
And the aero on the rear of the car isn't the same active rear-wing that we've seen on other road cars, rather, it's a 'variable airfoil' called 'FlexFoil' that takes technology inspired by NASA. It allows the rear wing to stay static while the airfoils manipulate air to reduce drag in real-time.
The body is lightweight carbon fibre and has been produced by RBAT, with active suspension, aero and electronic systems from the Valkyrie hypercar. Handling was developed using Red Bull's simulator.
---
More: Aston Martin replaces McLaren as BRDC award sponsor
---
While it looks similar to the Valkyrie, the lights have been changed and Aston Martin boasts that all four lights (rear and front) weigh less than one DB11 headlamp. Another design change from the Valkyrie is Le Mans Prototype-style doors that open forwards, with some comforts in the cabin including stowage space between the seats.
It's not exclusively a track car, as the RB 003 includes a display screen on the steering column, ambient lighting and a bespoke audio system.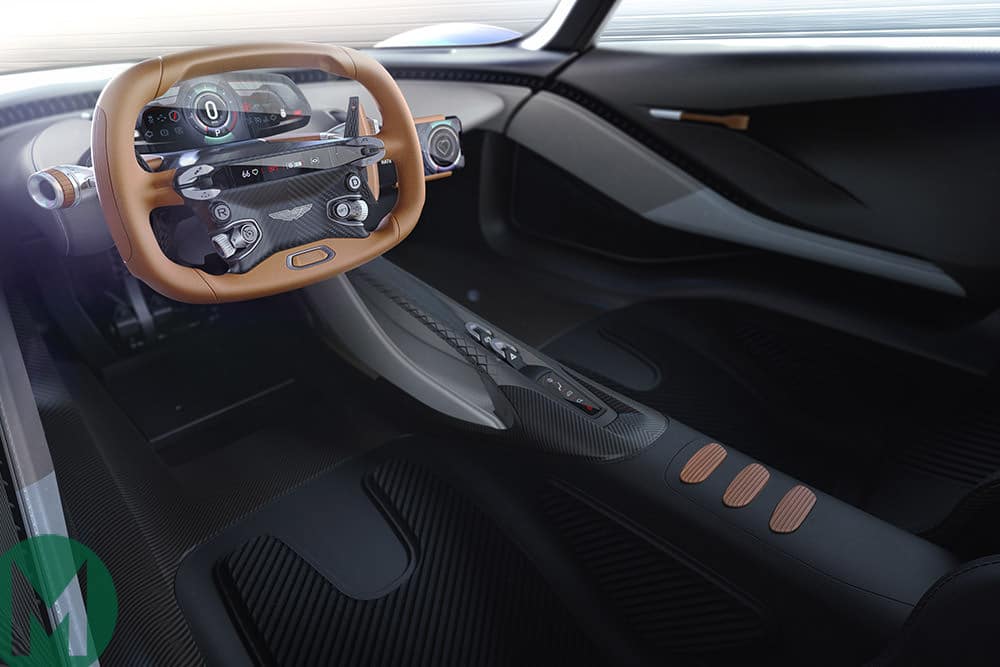 The centre console is 3D-printed to reduce mass by 50 per cent over a conventional Aston Martin interior.
"We were quite deliberate in AM-RB 003 to not disguise its lineage, but we were equally emphatic that it would be a distillation of Aston Martin Valkyrie and not a dilution," said Aston Martin design director Miles Nurnberger.
"The design isn't as extreme in some areas, but it pushes just as hard in others, and is even taking certain ideas and concepts a step further. That's a natural function of design evolution, but also testament to just how great an influence working with Red Bull Advanced Technologies on Aston Martin Valkyrie has had on our approach to everything that's come since."
Palmer added that he wanted the partnership with RBAT, which produced the Valkyrie and Valkyrie AMR Pro, to "lead to a long-term collaboration.
"As these projects enter an incredibly exciting phase with the commissioning of the first running development prototypes, it gives me tremendous satisfaction to confirm that this exceptional partnership is continuing with the AM-RB 003 – a hypercar that not only draws from the ethos and DNA of Aston Martin Valkyrie, but will in turn influence Aston Martin's first series production mid-engined supercar," said Palmer.
The Valhalla will make its Hollywood debut in the next James Bond film, replacing the DB10.
Aston Martin also unveiled the first prototype of its Valkyrie at the Geneva Motor Show.