Perez fires up home crowd in FP3: Mexican GP practice round-up
- Last updated: November 6th 2021
Sergio Perez was the man to beat in final practice ahead of qualifying. Will Mexico have its first pole-sitter at a home event?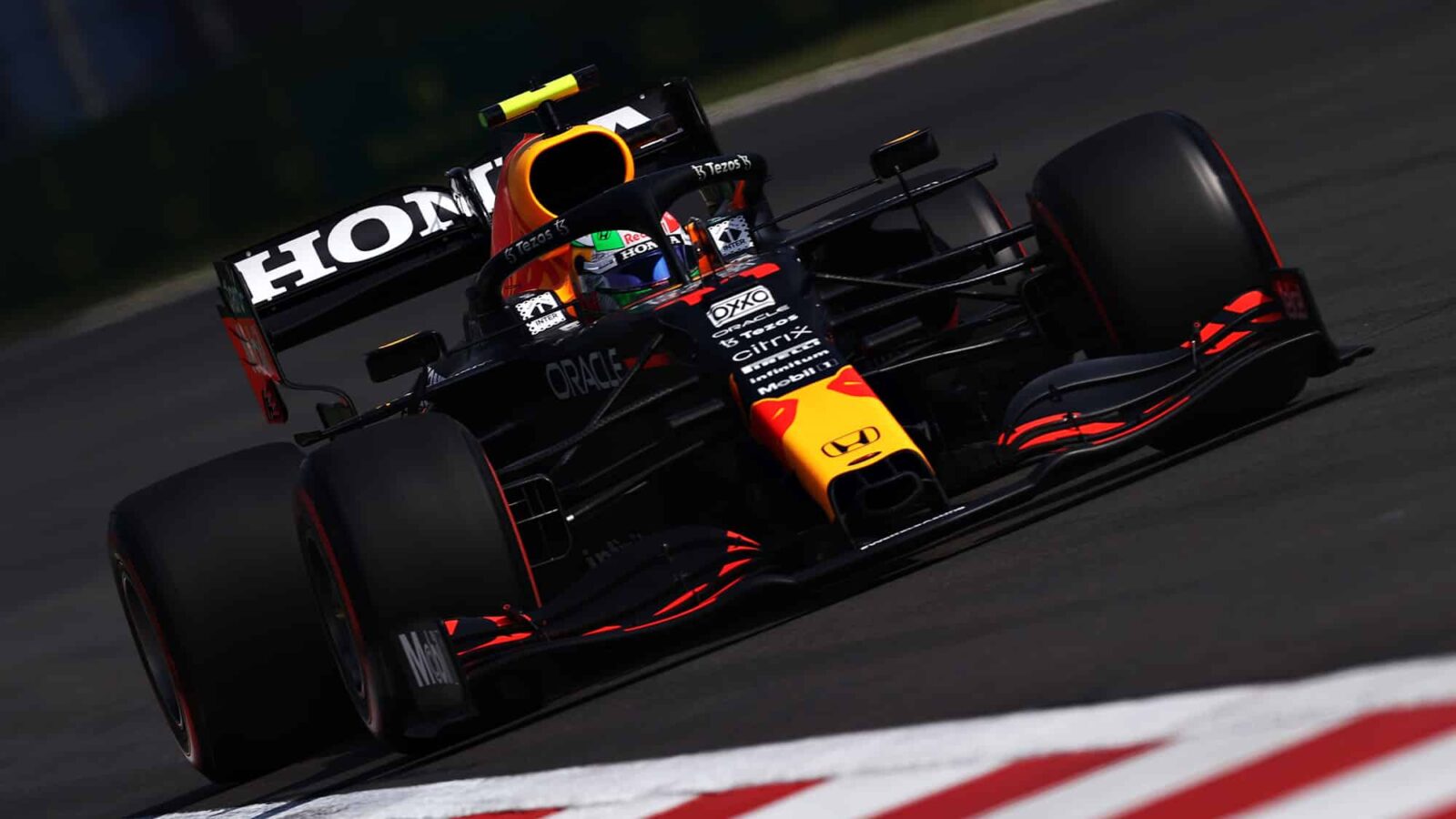 The cheers from the crowd meant only one driver was top of the charts as Sergio Perez ended FP3 fastest from Max Verstappen.
The Red Bulls were comfortably faster than anything else, posting times good enough to leave Mercedes breathless at altitude, 0.65sec down Perez's 1min 17.024sec.
Lewis Hamilton couldn't get close but was able to get ahead of team-mate Valtteri Bottas.
Esteban Ocon and Lando Norris were also added to the list of those taking grid penalties this weekend for fresh power unit components.
Here is how practice for the Mexican Grand Prix unfolded.
FP1
After not hosting a racing event in two years, an extremely dirty Autodromo Hermanos Rodriguez circuit resulted in dust pluming from from the brakes of early runners Lando Norris and Kimi Räikkönen, with all cars struggling for grip on the slippery circuit.
The McLaren set an early pace with a 1min 22.718sec, but this was soon bested by a number of runners, with Valtteri Bottas fastest at 1min 21.327sec.
The Finn then went even quicker, with a lap almost a second faster than his previous best. Part of the reason for this was that both Mercedes were using their soft tyres, in contrast to its Red Bull rivals on the hard.
Sergio Perez still had pace on this compound though, for a period the only driver to get within a second of Bottas, 0.8sec off.
Ricciardo squeaked into the top four with a 1min 21.789sec, before Charles Leclerc then backed his Ferrari into the wall at Turn 16, damaging his rear wing.
Home hero Perez decided this was all the fashion, doing the same but even more to the detriment of his Red Bull's rear end, the hard compound as it turned out not affording enough grip to keep the cars on the road.
Once the Virtual Safety Car conditions were lifted, Pierre Gasly hit the top of the time sheets, clocking a 1min 20.316sec whilst running the soft tyre on his AlphaTauri.
A lock-up caused Hamilton to go over the grass at Turn 1, the Mercedes treating itself to a spot of lawn mowing as it bounced across the run-off. He didn't rejoin by going round a bollard at Turn 3, and so it was announced he would be investigated by the stewards after the race.
AlphaTauri's Frenchman was displaced by Verstappen as he set a lap 0.15sec faster. Meanwhile, it appeared at first that his team-mate Perez was out of the session after the damage sustained from his last corner off was too much to make it out in time.
Verstappen had stuck to the hard compound, but Hamilton persevered with the softs and was rewarded with a 1min 20.085sec.
Yuki Tsunoda's recent upturn in form continued as he slotted in third with 1min 20.011sec on the softs.
McLaren's Norris was disappointed to be outperformed by Ricciardo in Austin, and he came in behind him again in FP1 in ninth halfway through the session, 1.5sec off the ultimate pace, which was now Hamilton's at 1min 19.781sec.
Verstappen closed to within a second the Mercedes, whilst Norris declined his McLaren team's invitation over the radio to undertake a practice tow with him team-mate.
Next to go fastest of all was Bottas again, 1min 18.834sec putting him top, with Carlos Sainz now 0.6sec behind in his Ferrari – both on the soft tyre.
The order changed again as Hamilton chalked a lap 0.142sec off Bottas, the Finn showing his prowess on low grip circuits, but he was soon blown away by Red Bull's Flying Dutchman who went 0.37sec quicker.
The only other driver within a second of this three was Gasly, half a second back from the lead.
Perez asked his team "What is he doing?" after finding it difficult to get past Yuki Tsunoda, who was on a long run.
The duel at the top continued as Bottas stole top spot off the lead Red Bull by just over 0.1sec, whilst the second Milton Keynes car of Perez finally got his session back on track with a 1min 19.165sec.
Räikkönen also committed the same crime as Hamilton, putting himself under investigation also.
Hamilton got within a tenth off Bottas, a slide off the last corner possibly costing him top spot.
Leclerc hauled himself up to seventh after his Ferrari team had toiled to get him back out, a 1min 19.667sec placing him just behind team-mate Sainz.
As the dust was hoovered up, the Alpines lined themselves astern behind the Ferraris – Fernando Alonso in eighth with 1min 19.710sec and Ocon half a tenth back.
Grip was still at a premium though, as Leclerc power-slid his way out of the final turn, whilst Perez did the same at Turn 4, but the Mexican was undeterred as he went fourth, 0.25sec off Bottas in the lead.
That was how it stayed, 0.1sec separating Bottas, Hamilton and Verstappen respectively at the top.
FP1 CLASSIFICATION (END OF FP1)

Here's how things end after our first hour of action#MexicoGP 🇲🇽 #F1 pic.twitter.com/wzV30Uyy5i

— Formula 1 (@F1) November 5, 2021
FP2
Kimi Räikkönen headed out first onto the circuit as cars queued into the final corner and squabbled for track position. "This is insane," commented Hamilton as he found himself baulked whilst seeking some clear air.
Once the hot laps came in, it was Max Verstappen who was top of the charts again, a 1min 18.818sec putting him there.
Behind him was the impressive Yuki Tsunoda by 0.65sec, with Sergio Perez in third and Norris fourth, 0.7sec off Verstappen.
The Dutchman then shaved 0.6sec off his time with a 1min 18.206sec – he had 1.1sec on the rest of the field, using the medium compound to boot.
Hamilton was again having issues with traffic, waving a hand at Räikkönen in frustration, but on some hard tyres set a fast lap 0.6sec off his title rival's. Perez was even faster, 0.4sec away from team-mate.
Valterri Bottas had a big lock-up in Turn 1 and had to rally his way over the grass Finnish-style to avoid a penalty.
Gasly leapt to third with a 1min 18.982sec, before he was displaced by Norris who was three thousandths of a second faster.
A lock-up sent Hamilton on at Turn 1, the reigning champion radioing in to say "These tyres are done man".
George Russell's gearbox appeared to drop out, before coming back in what looked to be a software issue. The soon-to-be Mercedes driver had to keep the car in fifth gear as he headed back to the pits.
Verstappen dipped into the 1min 17.920sec , with Tsunoda 0.7sec off. They were using the medium and soft tyres respectively.
Vettel was next to show a turn of pace, going third on the soft compound with a time 0.75sec away from the leading Red Bull.
Bottas was the first of the front-runners to sample that same tyre and his resultant hot lap of 1min 18.032sec put him second, whilst Gasly was now in third half a second off the top – also on softs.
Mazepin then almost lost his Haas as it skitted over the kerbs in Turns 8 and 9, as Hamilton decided to put on some softs and clock a 1min 17.810sec.
It was only good enough for second – Verstappen had now filed a 1min 17.301sec to further stamp his authority on the session.
Charles Leclerc snaked his way through traffic to go sixth with a lap 1.3sec off the ultimate pace, and George Russell's session came to an end due to that earlier gearbox issue – the only driver not to set a fast time in the session.
Daniel Ricciardo then also had a similar reliability issue, as a 1min 17.871sec inserted Perez between the Silver Arrows in third. This didn't last long as Bottas went three tenths quicker than the Mexican after doing ten laps on his soft tyres sign of possible performance in reserve for Mercedes.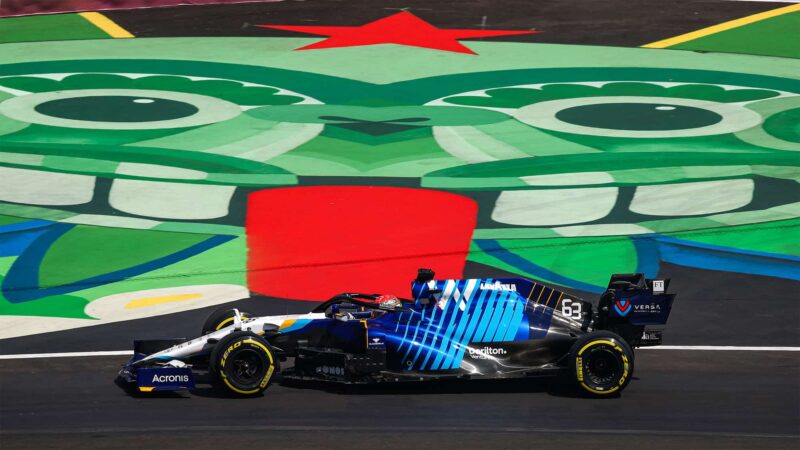 Carlos Sainz used some softs to elevate himself into fifth and a second away from the points leader, as Ocon radioed in with power-steering issues.
Few fast laps then came in as drivers settled into longer runs, but Alonso was still pushing – he nearly lost his Alpine through the Turns 10 and 11.
Nicolas Latifi was also on the ragged edge as he overshot coming out of stadium section but managed to keep his Williams out of the barrier.
With drivers focussing on long runs, Perez initially set the best pace with laps around the 1min 21.7s, before Bottas later was the only long-runner in the 1min 20s. Verstappen and Hamilton occupired the low 1min 21s.
The session ended with the Dutchman top again, Bottas 0.4sec whilst Hamilton and Perez were both half a second off the top Red Bull.
And that's a wrap 🏁

Full results from FP2#MexicoGP 🇲🇽 #F1 pic.twitter.com/yzwjUmwK0b

— Formula 1 (@F1) November 5, 2021
FP3
Lando Norris's afternoon took a hit before he even got out on track with the confirmation that he would take a new Mercedes power unit for this weekend.
The McLaren driver is the last of the Merc-powered drivers to take a fresh unit this year.
Yuki Tsunoda led the way out onto the track but was not satisifed with the track conditions.
An oil slick from a support series at Turns 4 and 7 had been cleaned up but the surface wasn't offering up much grip.
That meant that plenty of other drivers were reluctant to venture out onto the track in the opening minutes.
Drivers slowly began to filter onto the circuit with 20 minutes gone but conditions were still tough.
Carlos Sainz and Charles Leclerc both abandoned their first flying laps after a sideways moment on the dust.
Valtteri Bottas's 1min 18.661sec was the early marker to beat, a tenth clear of team-mate Lewis Hamilton with 33 minutes remaining.
That was until the cheers erupted for Sergio Perez emerging from the garage to put Red Bull fastest by 0.036sec on the soft tyres.
The track was now improving with almost every driver out on circuit but conditions were still far from optimal.
Fernando Alonso and Hamilton both suffered lock-ups at Turn 1 and cut the corner, rejoining in accordance with the Race Director's notes but with sizeable flat spots for their troubles.
Max Verstappen's first effort shot him to the top of the times, continuing from where he left off on Friday. The Dutchman went almost 0.4sec clear of Perez's second flying effort with a 1min 17.537sec.
Mercedes had run out of sync from the rest and were almost a second down until a third effort from Bottas.
It didn't put the Finn fastest but his lap was good enough for P2, 0.171sec off of the fastest time. A 0.3sec advantage in sector 1 eroded away as it had done on Friday and swung the advantage back towards Red Bull in sectors 2 and 3.
Verstappen went once again after an extra cooldown lap to extend his advantage further. A 1min 17.217sec lifted him almost half a second clear of anyone.
Leclerc fitted a new set of soft tyres but wasted the chance to improve right away, suffering a spin at Turn 3. He bouncing across the kerbs, unsettling the rear of his Ferrari but was able to continue on.
Into the final 15 minutes and Mercedes emerged on their fresh red-walled tyres for qualifying sims.
Hamilton was 0.6sec off of his title rival and slotted into third place with his lap. He improved on a second attempt but couldn't get within half a second.
Perez improved to P2 and was just 0.055sec off of his team-mate who was receiving some rushed repairs at the rear of his car sat in the garage.
Bottas was winding up for a lap but was met with a car park in the stadium section, calling it "traffic paradise," and was forced to abort his attempt.
A third flyer moved Hamilton up to third and 0.458sec of Verstappen but Perez was on the move. A 1min 17.024sec put him fastest to the audible cheers of the Mexican crowd.
His team-mate did get out of the garage but his first lap couldn't get him close while Hamilton was exasperated to hear the gap to the Red Bulls was six and a half tenths.
🏁 END OF FP3 🏁

The home hero @SChecoPerez tops the session 💫#MexicoGP 🇲🇽 #F1 pic.twitter.com/xMWL6orh0T

— Formula 1 (@F1) November 6, 2021