2019 Belgian Grand Prix race report: Leclerc makes it look easy on tragic weekend
Charles Leclerc took his first Formula 1 victory at the 2019 Belgian Grand Prix with a measured drive, dedicating the win to Anthoine Hubert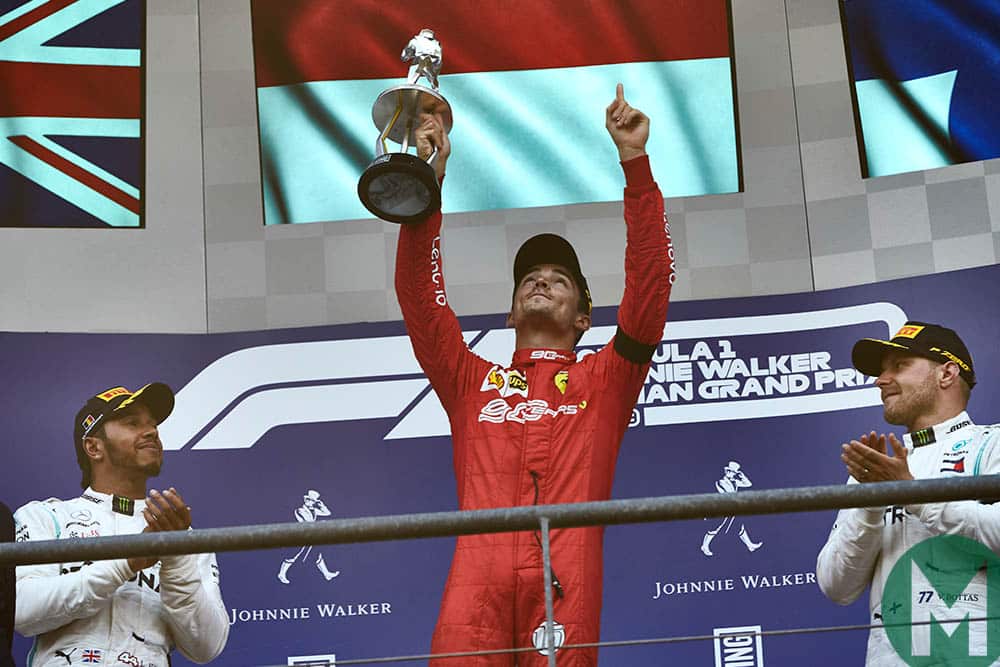 Leclerc dedicates his first F1 victory to Anthoine Hubert Photo: Motorsport Images
Charles Leclerc, Esteban Ocon, Pierre Gasly and Anthoine Hubert. The four little boys who began their karting careers against each other 14 years ago became three on Saturday with Hubert's fatal accident in the F2 race. A tragic time for the whole sport but a particularly devastating blow for their little clique.
Leclerc and Gasly consoled each other on Saturday evening: the usual stuff, the shock, about how he was doing what he loved, about the need to put it away in a compartment tomorrow as the helmet goes on. But it was a powerful reminder about the malevolence that's always there just beneath the surface of our sport, liable to break cover at any moment.
Leclerc has had to get used to horrible turbulence to those around him in the last few years. His friend and early mentor Jules Bianchi, his own father not much later. And each time he's put on the helmet, climbed into the car – and delivered. He did so again on Sunday, delivering his maiden grand prix victory from pole, fending off a late challenge from Lewis Hamilton's Mercedes. A dream achieved, victory in a Ferrari. But cruelly, not one he wished to celebrate.
It wasn't as easy as he made it look. Although his pole margin of 0.7sec may have given the impression of a big Ferrari advantage, it wasn't one that could be sustained for more than five or six laps. After that, the lower-downforce Ferrari couldn't look after its tyres as well as the Mercedes. Spa's unique layout made two diametrically opposed cars evenly matched, the Ferrari's low drag and power advantage gaining it 1sec down the straights, only 0.4sec of which it would then lose to the Mercedes through the demanding twists of the middle sector – Rivage, Pouhon, Fagnes etc. But that was only over one lap. Over a sequence of them, the way the Ferrari had to be set up, mechanically compromised at the rear, meant it began overworking the tyres.
So the game was on. The Ferraris with track position versus the Mercs with better tyre deg – and the strategic conundrum that brought both teams.
Qualifying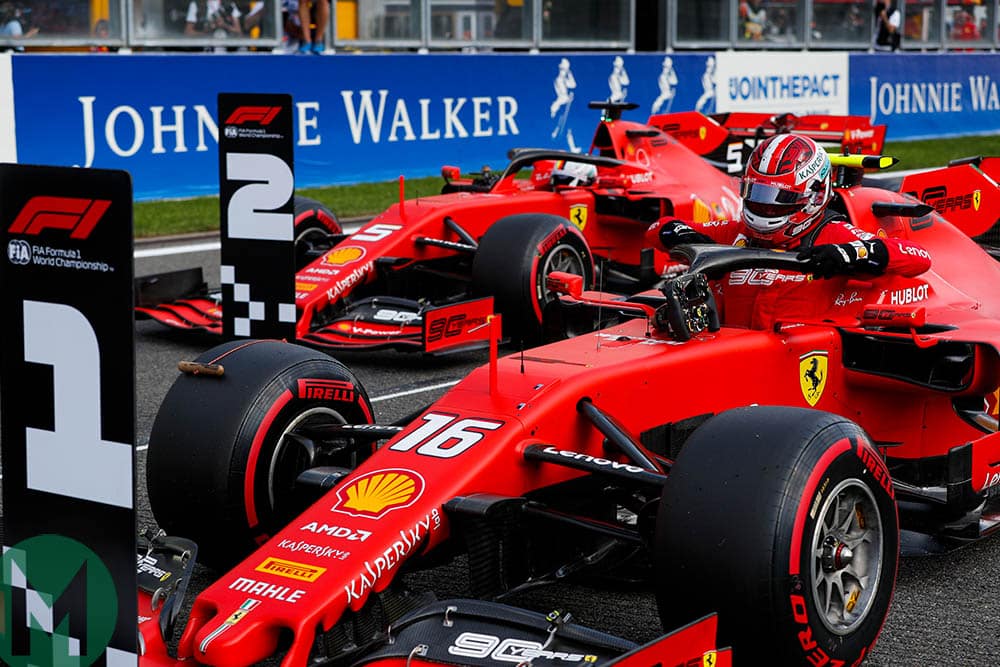 Ferrari locked out the front row in qualifying Photo: Motorsport Images
The Ferrari was always going to fly around Spa given its low drag/big power combination – and it duly did. "Their power advantage around here was ridiculous," said Toto Wolff. (This was the Spec 2 Ferrari unit that's been in the car for the last few races, not the new spec 3 introduced here in the Alfas and Haas cars). Charles Leclerc was completely tuned into both the car and the place and never looked at risk of not being on pole. His eventual 0.7sec margin over team-mate Sebastian Vettel looked all of that. Even through the twists of sector two, he was keeping a remarkable degree of momentum up despite the car's natural understeer. His nailing of the braking areas, into the Bus Stop in particular, made Vettel look tentative. "I was happy with my lap in the end," he said. "The first corner wasn't very good because I'd been compromised getting the tyres in because of the traffic, but from turn two onwards it felt strong."
Vettel's best combination of sectors should have seen him just 0.2sec off Leclerc but he didn't put them together, admitting he'd not found his groove and that the attempted orchestrations of the slipstream had not helped him. "I ended up back in the queue which didn't really help. It took me a bit longer to get a hold of the car. I was beginning to get into a rhythm but it got very messy in Q3 and it meant I didn't get the tyres in the window at the start of the lap." A lock up at Stavelot on his final lap didn't help.
Confused? That's the engine penalty regulations for you.
Various attempts at co-ordinating tows in the first Q3 runs were complicated by traffic at both Mercedes and Ferrari and for the final run Leclerc took command of the situation, telling his team he wasn't interested in trying again with slipstreaming (which can be worth up to 0.5sec here) and just to get him out there as soon as the car was ready. There was more time to be lost by not having your tyres up to temperature than by messing around trying to position for the slipstream.
Lewis Hamilton fell only a few thousandths short of stealing a front row slot from Vettel, an impressive effort given that he'd wrecked his car in that morning's practice, going off at Fagnes after taking a little too much kerb going in and not seeming to recognise early enough that there wasn't enough grip on the run-off to turn the car. Two front corners, a nose, a floor and two sets of barge boards were fitted by the Mercedes mechanics in under two hours and his car ran perfectly. Through the speed trap at the end of the climb to Les Combs, the Mercedes were trailing the Ferraris by 10km/h, with the Red Bulls a further 2km/h slower. As a generality, the Mercedes was losing a second to Ferrari in sectors 1 and 2 combined (ie the straights) and only clawing back 0.4sec of that back through the twists of sector two.
Hamilton had almost rear-ended Valtteri Bottas as they each pulled to the side on their out-laps so as not to block cars on their flying lap. Bottas later almost rear-ended Hülkenberg for the same reason as he tried to position himself behind the Renault for a tow. His tyres were too cold at the start of the lap as a result, he locked up into La Source and had a wild moment coming out. That lap was 0.133sec slower than Hamilton's, for fourth.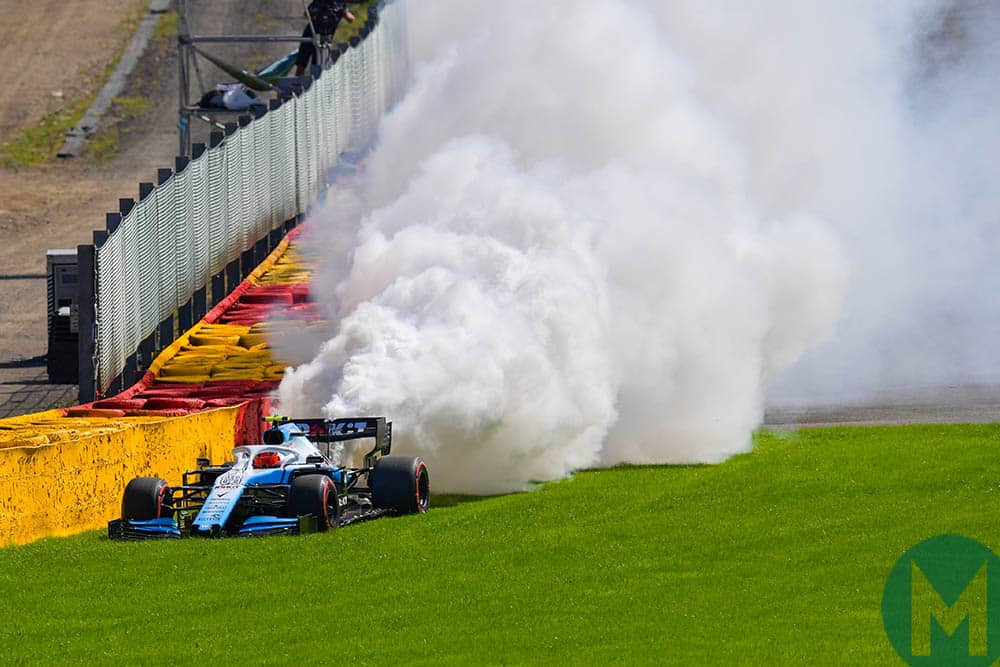 Two of Mercedes' latest-spec engines let go at Spa Photo: Motorsport Images
There was a concern about the latest spec of Mercedes engine introduced here, and reckoned to be worth about 0.3sec, after the units in the cars of Sergio Perez (on Friday) and Robert Kubica (in Q1) expired with flames coming from the exhaust.
Honda brought its new Spec 4 along too but at Red Bull, it was fitted only to Alex Albon's car for practice (so that it's in the supply pool for Monza onwards). The new boy would therefore be taking an engine change penalty and starting from the back and so devoted his weekend to honing his car for the race and didn't run after a solitary routine lap in Q2 (with the old-spec engine). Max Verstappen's well used old-spec engine (it was the one used so hard in Austria and Germany) refused to run cleanly whenever it was run in a high mode. Thus restricted, he qualified the RB15 fifth, a couple of tenths off Bottas. His last gasp flying Q1 lap, with no time on the board and most of the rest of the field on slow out-laps, was dramatic and terrifying given the speed differences – but saved his Q1 bacon as seconds later the session was red-flagged for a second time and abandoned.
---
Related content
---
Daniel Ricciardo was in great form, grabbing the low-downforce-spec Renault by the scruff of the neck and delivering the crucial laps when they mattered, very reminiscent of Montreal. He was comfortably 'best-of-the-rest' and put the Renault sixth, 0.3sec clear of the sister car of Nico Hülkenberg. Unfortunately, both would be taking planned engine penalties. This was about getting new-spec units into the pool of available engines for Monza but without taking the penalties there. The engines actually in the cars here for qualifying and race were the old-spec units. Confused? That's the engine penalty regulations for you.
Alfa's Kimi Räikkönen almost matched Hülkenberg's time and was promoted to the sixth place grid slot after the Renault penalties. The second Q1 red flag was for the blazing new-spec Ferrari engine in Antonio Giovinazzi's car. He'd been going well up to that point, regularly a couple of tenths up on Räikkönen and had already made Q2 but could take no part in it.
Racing Point introduced its new nose/front-wing here, the third in a three-part series of upgrades in the last three races. The package was working well, this low-drag venue traditionally a happy hunting ground for the team. Sergio Perez was making good progress with it and put it ninth. Lance Stroll was around 0.3sec slower in 13th and was taking a penalty for a new engine component.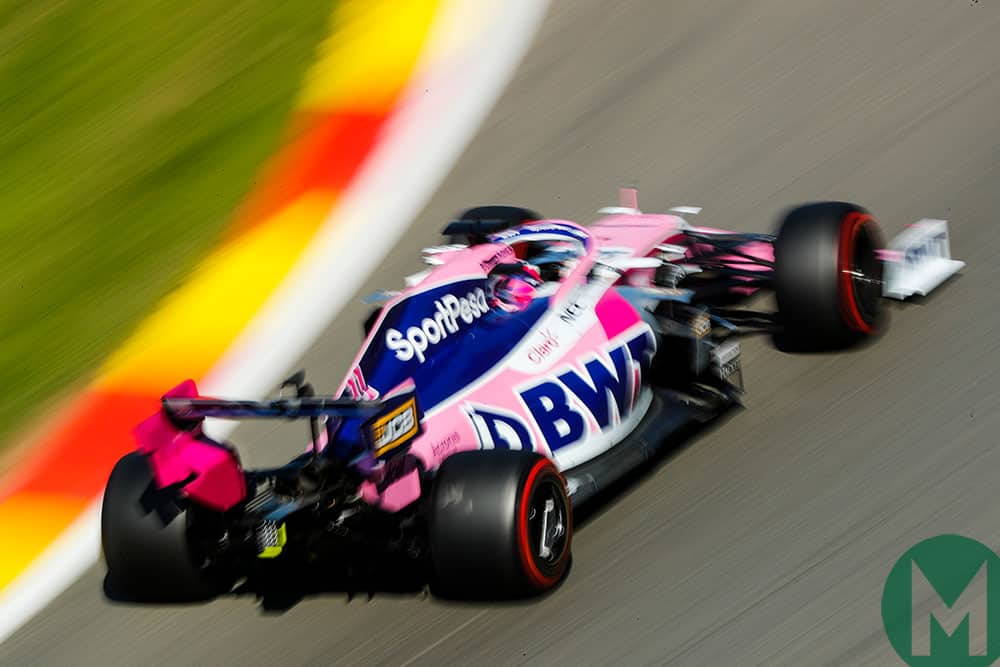 Perez in Q3 with new nose Photo: Motorsport Images
Final Q3 qualifier was the Haas of Kevin Magnussen, by a few hundredths from team-mate Romain Grosjean. Both cars were of the latest spec but in low-downforce trim their tyre usage difficulties were only made worse than usual.
The McLaren wasn't working very well in low downforce form, the trimming of the wing levels bringing back its previous understeer trait which was really hurting it through sector two. Carlos Sainz was unlucky to go out in Q1, caught out by red flags with only a used tyre time on the board. Lando Norris made it through to Q2 where he was a tenth adrift of the Haas pair, in 12th. Albon's Q2 lap in the Red Bull wasn't a serious one.
In his first race back in the Toro Rosso, Pierre Gasly didn't make it out of Q1, in 16th, finding the car quite difficult in low downforce form. Daniil Kvyat was a tenth slower but taking an engine penalty for the Spec 4 Honda in the back. He was faster only than George Russell's Williams, with the sister car of Kubica not getting in a lap before its engine let go.
The various engine penalties that invariably occur at this stage of the season jumbled the lower half of the grid up, so promoting Norris up to 11th in between the Renaults ahead of Gasly and Russell. Sainz (engine penalty for the same reason as the Renaults) would start 15th ahead of Stroll, Albon, Giovinazzi (gearbox penalty), Kvyat and Kubica (who opted to start from the pitlane).
Race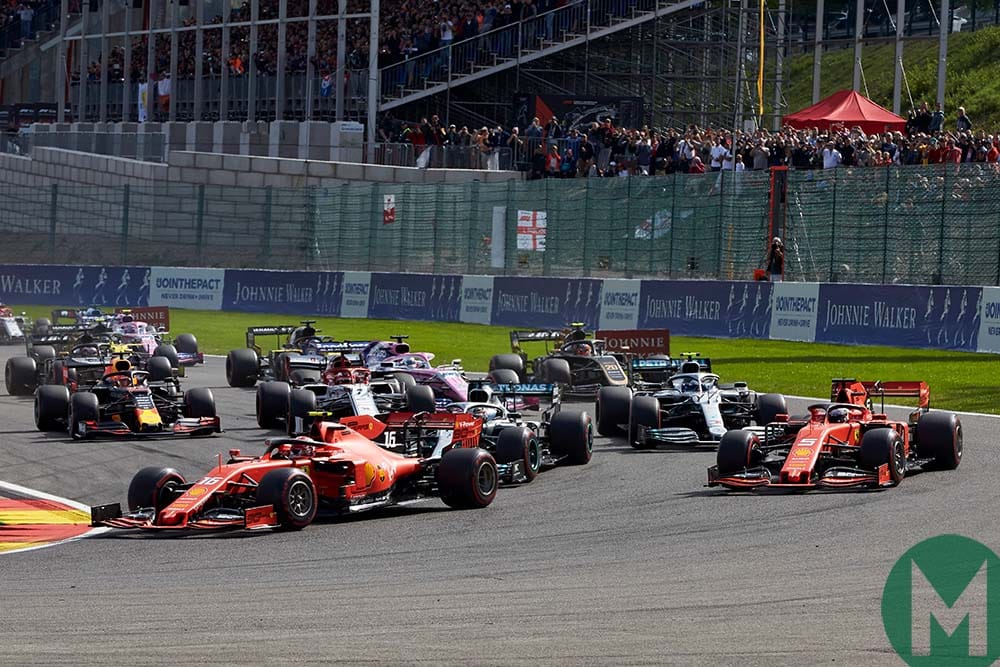 Vettel loses out to Hamilton in the La Source melee Photo: Motorsport Images
Leclerc made a great getaway, as did Hamilton from the row behind – enough for him to ease past Vettel into La Source. Behind Bottas was a typical bit of first lap La Source carnage as Räikkönen and Verstappen came together. The Alfa was tipped onto two wheels and lost most of its aero furniture on the right-hand side. Verstappen's left track rod was damaged and would break as he entered Eau Rouge, sending him straight-on as the track veers right. On his way to the tyre barrier here, he was only narrowly missed again by Räikkönen at full speed. About 80% of the crowd now had no-one to cheer.
Vettel had run out wide onto the La Source run-off as he tried to resist Hamilton. He rejoined well behind the Mercedes but as they exited Eau Rouge and flew up the hill, he was hauling it in fast. By the time they reached the end of the straight to Les Combes he was comfortably past, giving a very convincing demonstration of the Ferrari's sheer grunt. Two Ferraris, two Mercedes, jinking about in the 200mph heat haze between the tall trees.
Perez had joined Vettel on that La Source run-off, avoiding the Räikkönen/Verstappen drama, allowing the fast-starting Norris into fifth place, chased hard by Grosjean. Perez and Magnussen rejoined from the run-off, with the latter slipstreaming past up the hill before the race came under the safety car to retrieve Verstappen's crashed car. Behind Perez ran Gasly, Stroll, Kvyat and Giovinazzi.
Collision with Räikkönen damaged Verstappen's track rod Photo: Motorsport Images
Sainz hadn't initially got off the line with a power unit problem in his McLaren. He eventually got going and limped around to the pits. Getting there before him were Räikkönen for a new nose (he'd be in again a lap later for further attention) and Ricciardo, who'd been forced to slow suddenly to avoid Verstappen, and been punted hard up the rear by Stroll. The Renault was fitted with a set of mediums and Daniel had the unenviable task of trying to get to the end in the damaged car without any further stops. Hülkenberg in the other Renault had lost a load of places avoiding the turn one dramas and was down near the back, ahead of the two Williams' and the pitters. Most cars had started on the softs with the intention of one-stopping. Albon was one of the few to start on the medium tyre, his Red Bull a shark among minnows and running just ahead of Hülkenberg.
The race came under the safety car for a second time – to clear Sainz's now broken-down McLaren from the chicane run-off – before it had actually come in! Eventually the race got going again at the end of lap four, Leclerc nailing it from before Blanchimont, Vettel tight in his wake.
It was obvious that Vettel was going to have to be the sacrifice here. He was brought in on lap 15, much to the satisfaction of the Mercedes pitwall.
Into La Source, Vettel locked up slightly, forcing him out wide onto the exit. Hamilton went for the inside as they came out to begin the downhill drag race. But again, the Ferrari's power advantage was decisive and Vettel was unchallenged as they dived into Eau Rouge. This dicing had allowed Leclerc a crucial early break and he made the most of it. He was almost 2sec clear by the end of the next lap, completely unchallenged by his team-mate who was not in great shape – much to Hamilton's evident surprise. "Vettel's not that quick," he radioed in. Game most definitely on – in performance terms, at least. If Hamilton could just get past before Leclerc built up too much of a cushion, the destiny of the race might not yet be set. Bottas sat just out of tyre-damage zone of his team mate, able to hang on quite comfortably and awaiting developments.
Leclerc pushed just a little too hard into the Les Combes braking zone on the ninth lap, obliging him to take to the run-off – but there was no-one close enough behind to take advantage. It was about the only mistake he'd make all day. Even with this error, he was far enough clear that he'd soon be out of anyone's undercut range.
"Vettel's struggling," reported Hamilton around this time. This was interesting. Such was the Ferrari's straightline speed advantage, even with the help of DRS, Hamilton could not get close enough to put an overtaking move on it. But as the pit stop window approached (from about lap 13), both teams were presented with a dilemma. Should Mercedes try for an undercut attempt? Should Ferrari anticipate such a thing and pit Vettel? There were two potential problems with an undercut attempt. 1) It was not guaranteed to work as the medium tyre could take about half-a-lap to get up to temperature. 2) It forced a much longer-than-ideal second stint that would you very vulnerable later on.
Because Vettel's Ferrari was heat-degrading its rear tyres faster than Hamilton's Mercedes, a long second stint would be a particular problem for Seb. But the alternative was a possible loss of track position to Hamilton – who would then be free to close on and attack Leclerc's advantage, thereby forcing Charles into an undesirably long second stint. It was obvious that Vettel was going to have to be the sacrifice here. He was brought in on lap 15, much to the satisfaction of the Mercedes pitwall.
Mercedes had not really wanted to stop early. Because of the Ferrari's straightline speed advantage, there was a realisation they'd need the biggest possible tyre advantage to put a pass on it. Their preference was to stay out long to put maximum pressure on the harder-on-the-tyres Ferraris into the second stint.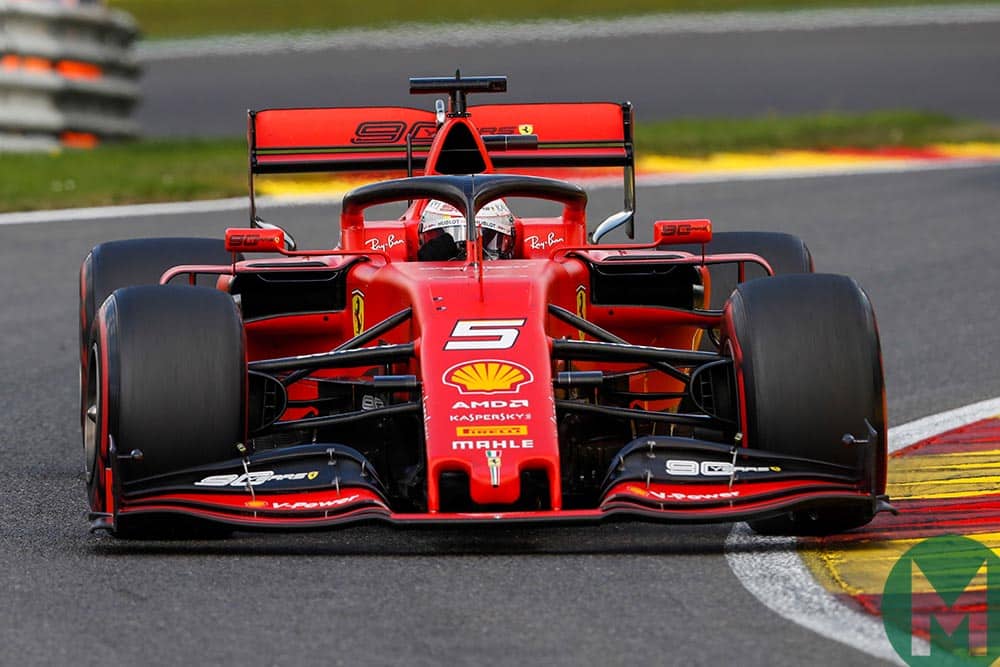 Degrading soft tyres forced Vettel into an early stop Photo: Motorsport Images
Ferrari understood this perfectly well. To those on the red pitwall it seemed virtually inevitable Hamilton would be able to later pass Vettel in this way because of the latter's early stop. But the best protection it could give Leclerc against a big tyre offset entailed running a long first stint, just like Hamilton. So they both stayed out there for many more laps after Vettel pitted, separated by around 4.5 to 5sec, their tyres steadily worsening, with Bottas now beginning to fall away from them. This allowed Vettel on his fresh tyres to get to less than the 18sec behind Leclerc that the latter's pit stop would cost. Vettel had effectively undercut ahead of his team-mate…
Vettel knew that these laps after his stops were potentially going to undercut him ahead. But because he had no way of knowing when Ferrari was planning on bringing in Leclerc (it would eventually do so six laps after), he didn't know how many laps he had to get that gap to under 18sec. So he did the only thing he could do – he attacked hard immediately. He was under that 18sec threshold within two laps. Unnecessarily quickly as it later turned out. This hard pace on a still heavily-fuelled car damaged his tyres to the extent that he'd later have to convert to a two-stop. It got him the lead after Leclerc and Hamilton eventually pitted on laps 21 and 22 respectively. But at a high cost.
"Seb will be in front of you when you rejoin," Leclerc was warned, "but don't worry. It will all be ok before the end." As Bottas completed the leading pitters on lap 23, Vettel led Leclerc by a couple of seconds but was already 1sec slower on his damaged tyres. Hamilton was around 6sec back from there (his stop had taken 1.3sec longer than Leclerc's with a delay on the left-rear) but closing both Ferraris down. Bottas was a further 7sec back and preparing to go into engine and gearbox-saving mode.
Norris continued to lead 'Class B' convincingly. The first lap had accounted for any Renault threat and he'd been further helped by the fact the car behind him was Grosjean's Haas which did its usual thing of quickly losing pace in the race. This kept Perez in the faster Racing Point off Norris' back – and that advantage was only magnified by Perez stopping early in a failed attempt at undercutting past Grosjean. The sister Haas of Magnussen ran long and was holding up pretty much the whole pack – helping Norris even further – until eventually it became so slow that he was picked off on consecutive laps by most of them: Perez, Gasly, Stroll, Kvyat and Giovinazzi all did him with DRS at the end of the straight into Les Combes. Albon did it at the Bus Stop. The new Red Bull recruit was putting in a very contained first stint, not enjoying the car much on the medium tyres. But Christian Horner had told him on the grid that he'd probably find the car would come alive late-on as the fuel load came down. He was looking forward to getting on the soft tyre when most everyone else would have changed to the medium. He'd eventually stop on lap 23 – and that's when his race would really begin.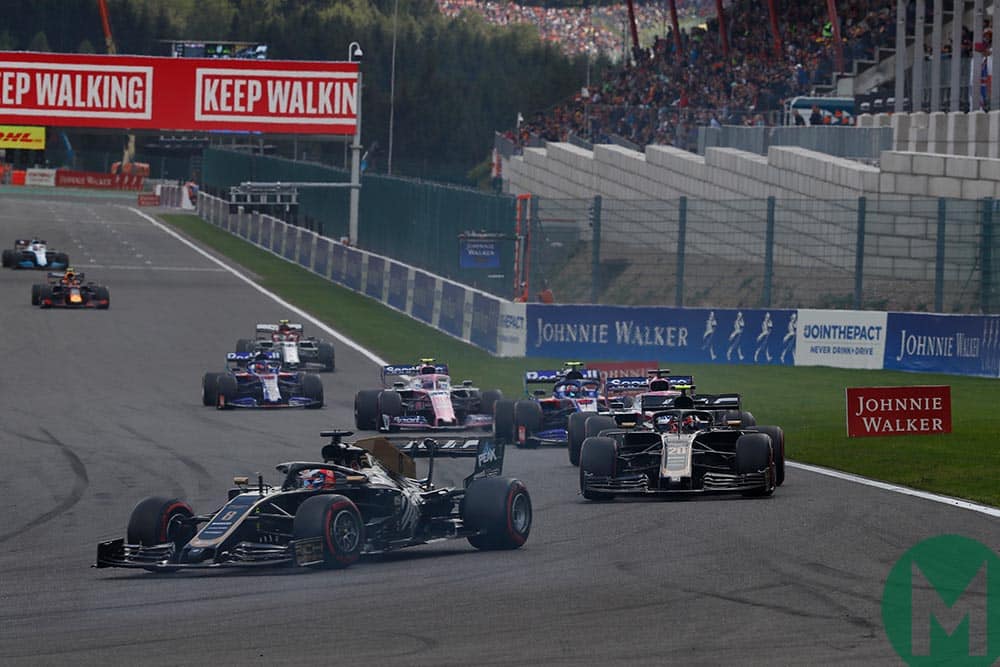 Haas mobile roadblock allowed Norris to pull away Photo: Motorsport Images
Hülkenberg had passed Albon not long after the safety car restart but had pitted very early and wasn't getting the tyres to last well. He was another that would need a second stop. Hulk's stop forced Toro Rosso into pitting Gasly to cover off the undercut threat – and that would entail an overly long second stint, losing him a place to team-mate Kvyat who was able to run much longer before his stop.
Vettel was leading but realised the game was up as he struggled early into his second stint with the tyres – and with Leclerc closing fast. It was no surprise to him when the radio call came from the team to let his team-mate by at a convenient place. This was on the pit straight – so as to retain DRS past the detection point – at the beginning of lap 27. Leclerc was in the lead and going away. Hamilton was back stuck behind Vettel again – faster but without the straightline speed to pass. Perfect for Leclerc.
Vettel was getting well out of shape on the exit of the slow corners, spectacularly so out of Rivage, as Hamilton kept the pressure on. "Do I have to pit again?" asked Vettel. "No, that is not the plan," came the reply. "These tyres won't get to the end," he informed them. But he didn't appear to be backing off. It was as if he was determined to force himself onto a two-stop rather than falling ever-further back from the other Ferrari on the same strategy. With only 18 laps to go, the fastest way to two-stop would have been to come in immediately. But the longer he stayed out there the longer he was keeping Hamilton off Leclerc's back. So Ferrari kept him out.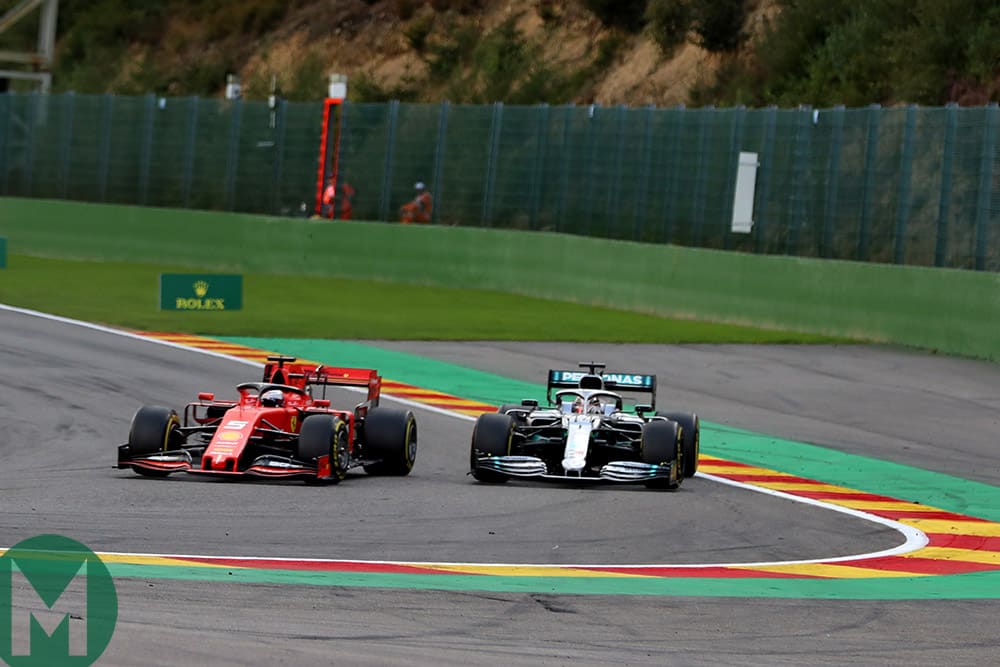 Vettel's defence of Hamilton allowed Leclerc to pull away Photo: Motorsport Images
"My rears are on fire," warned Hamilton of his tyre temperatures. On one occasion he tried a super-late dive on the brakes into Les Combes but Vettel had him covered and Hamilton had a bit of a moment gathering it all up. The drama of the Ferrari and closely-following Mercedes nose-to-tail through the valley, lap after lap, 200mph+ through Blanchimont and dicing into the Bus Stop was immense, the sport's raw essence. Eventually Hamilton's harrying forced Vettel to use up his battery charge so that he didn't have enough grunt to overcome the poor traction out of La Source – and at last Hamilton was able to get a DRS pass on him into Les Combes. Leclerc was 6sec up the road.
Vettel was brought in for his second stop a lap later and rejoined fourth on a set of softs, well behind Bottas.
As Hamilton set about closing the gap down to Leclerc with 11 laps to go, there was plenty going on in the midfield. Ricciardo – in his floor-damaged Renault and ancient tyres – was hanging on in sixth but was obviously going to be a sitting duck. Grosjean and Perez caught him but the Haas badly lacked straightline speed, allowing Perez to finally overtake the Haas under DRS. He proceeded to pass the limping Renault quite easily, but the McLaren of Norris was way too far up the road to be catchable. Grosjean's poor end-of-straight speed got him stuck behind Ricciardo and allowed others – Kvyat, Gasly, Hulkenberg and Stroll – to pass him in quick succession. To his enormous frustration.
Albon's gung-ho style on-track, feedback and calm has certainly quickly enthused the team
Albon was on the move too and had already picked off Gasly. As Kvyat passed Ricciardo into Les Combes, Albon just failed to nip through. Instead, he pulled off a superbly inventive move, going around Ricciardo's outside into Rivage, staying out wide and allowing the Renault to come back up the inside, then quickly swapping to the other side and eventually overtaking around the outside of the following Liege corner at the bottom of the hill. He passed Kvyat a few laps later in a more conventional fashion – then set off after Perez, on his newer, softer tyres gaining on the Racing Point at up to 2sec per lap.
Hamilton meanwhile was hot in chase of the leader. With four laps to go he had the gap down to just under 4sec. It looked like it might not be quite enough. But then Leclerc had to find his way through the dicing midfield battle – and it fell awkwardly for him. He did a sterling job in minimising the delay, but it cleared a path for Hamilton and got the gap down to 2.7sec, then 2.2sec.
Leclerc remained calm. "I've started to get used to being in that situation where I'm first and I'm chased by someone that is quicker. I knew he was coming. I knew I couldn't afford a mistake because it's Lewis and he'd take the opportunity." Meantime, Leclerc had tweaked the settings as best he could, trying to eke out the life of those rear tyres, trying to keep them away from that cliff face of performance. "On the softs in the first stint I felt quite comfortable but the car was a bit more difficult on the mediums. So I was just trying to focus on my own job."
Leclerc managed the backmarkers superbly on lap 42 – and that was probably the final flourish that secured him the victory. Hamilton closed to within DRS range on the final lap but it wasn't enough against that formidable Ferrari straightline speed. The Mercedes was big in his mirrors as Leclerc took the chequered flag. But that didn't matter. On this, of all days, Leclerc had finally taken his first grand prix victory.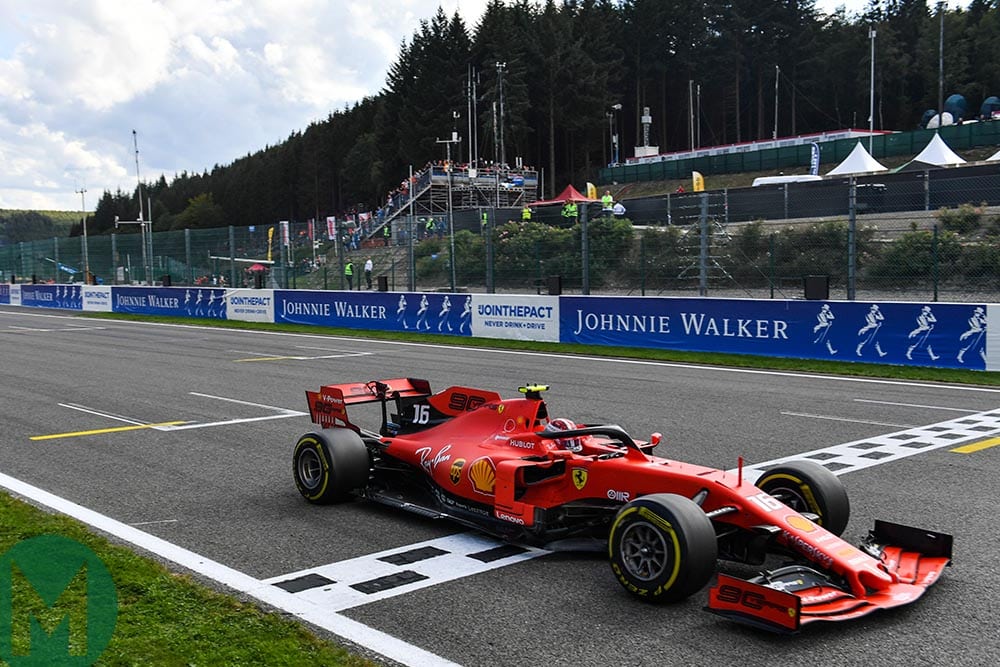 Leclerc finishes first… just Photo: Motorsport Images
Bottas was a distant third but under no threat from Vettel who nonetheless set the fastest lap courtesy of his late stop for softs. Norris had been perfect throughout in holding a lonely fifth in the McLaren but it started falling apart towards the end. First with an undefined problem in the left-front, later with a stuttering engine. Agonisingly, it gave out with one lap to go. He parked it just past the finish line.
Albon had caught Perez going into that last lap and after a cycle pursuit-style game of getting to the DRS trigger point before La Source, got the DRS run going on the run up to Les Combes. He moved right of the Racing Point at over 200mph – and Sergio moved further right to dissuade him. Albon kept his foot in and drove partly on the grass to make the pass for what, thanks to Norris' problem, would be fifth place. It was a greatly encouraging first run in the senior team and his gung-ho style on-track, feedback and calm has certainly quickly enthused the team. Kvyat took a fine seventh from the back of the grid and Hülkenberg used his fresher tyres to put a late pass on Gasly for what became eighth after Giovinazzi spun out of the position at Pouhon on the last lap and hit the tyre wall (without harm). So Stroll took the final point.
Leclerc was naturally conflicted. "On the one hand I've got a dream since being as child that has been realised. But on the other hand it has been a very difficult weekend since yesterday. We have lost a friend first of all. It is very difficult in these situations, so I would like to dedicate my first win to Anthoine. We have grown up together… I can't enjoy fully my first victory but it will definitely be a memory I will keep forever.
"For me it was definitely the first situation like that where we lose someone on track – a track that you need to race the day after. So it's obviously quite a challenge to then close the visor and go through this exact same corner at the exact same speed you do the day before – but that's what you need to do at the end."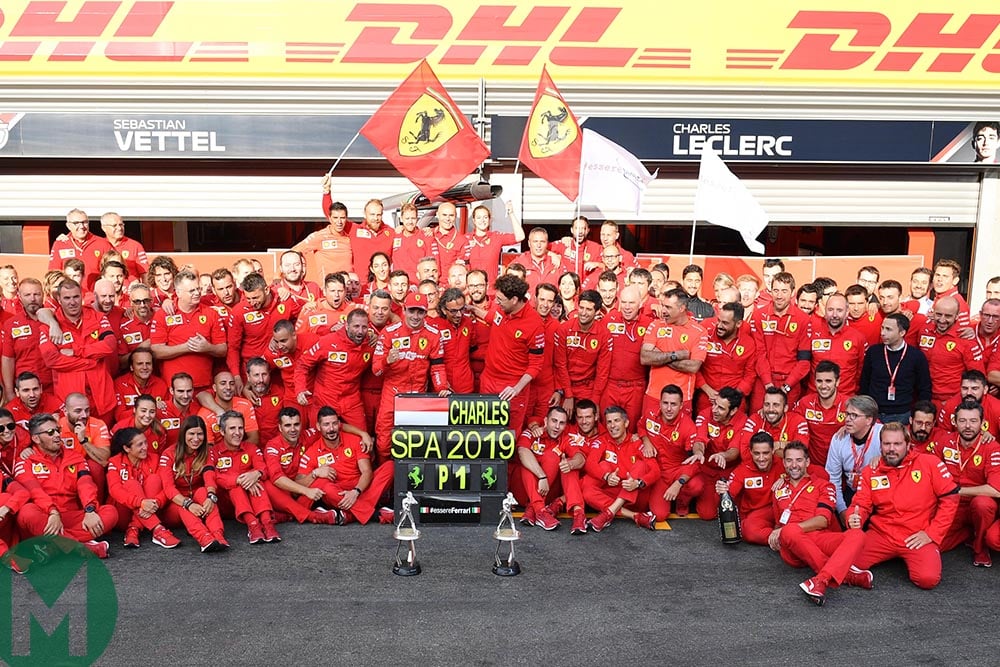 Bittersweet celebrations for Leclerc Photo: Motorsport Images
Ultimately, Hamilton had used up his tyres just getting onto the back of Leclerc. By the time he arrived there, he didn't actually have a performance advantage over the Ferrari and was just trying to find an edge through the traffic. Had Ferrari brought Leclerc in just one lap earlier, there's every chance Hamilton could have got him before the end. Had Mercedes brought Hamilton in on the same lap as Leclerc rather than a lap later, that too would have helped. But that was hindsight stuff. As it happened, Ferrari judged the timing of Leclerc's stop to perfection and Mercedes – in balancing losing race time to Leclerc early on and having a bigger tyre advantage later – went slightly too late. It had a quicker car on race day but not by enough to offset the Ferrari's track position and straightline. Not enough to offset the 6sec Hamilton lost as Vettel stayed out there delaying his second stop.
Next week is Monza. A track that should suit Ferrari better than Spa…
2019 Belgian Grand Prix results
| Position | Driver | Team | Time | Points |
| --- | --- | --- | --- | --- |
| 1 | Charles Leclerc | Ferrari | 1hr 23min 45.710sec | 25 |
| 2 | Lewis Hamilton | Mercedes | +0.981sec | 18 |
| 3 | Valtteri Bottas | Mercedes | +12.585sec | 15 |
| 4 | Sebastian Vettel | Ferrari | +26.422sec | 13* |
| 5 | Alexander Albon | Red Bull | +1min 21.325sec | 10 |
| 6 | Sergio Perez | Racing Point | +1min 24.448sec | 8 |
| 7 | Daniil Kvyat | Toro Rosso | +1min 29.657sec | 6 |
| 8 | Nico Hülkenberg | Renault | +1min 46.639sec | 4 |
| 9 | Pierre Gasly | Toro Rosso | +1min 49.168sec | 2 |
| 10 | Lance Stroll | Racing Point | +1min 49.838sec | 1 |
| 11 | Lando Norris | McLaren | DNF | |
| 12 | Kevin Magnussen | Haas | +1 lap | |
| 13 | Romain Grosjean | Haas | +1 lap | |
| 14 | Daniel Ricciardo | Renault | +1 lap | |
| 15 | George Russell | Williams | +1 lap | |
| 16 | Kimi Räikkönen | Alfa Romeo | +1 lap | |
| 17 | Robert Kubica | Williams | +1 lap | |
| 18 | Antonio Giovinazzi | Alfa Romeo | DNF | |
| DNF | Carlos Sainz | McLaren | | |
| DNF | Max Verstappen | Red Bull | | |
*Fastest lap
F1 Drivers' Championship after Race 13 (Belgium)
| Position | Driver | Team | Points |
| --- | --- | --- | --- |
| 1 | Lewis Hamilton | Mercedes | 268 |
| 2 | Valtteri Bottas | Mercedes | 203 |
| 3 | Max Verstappen | Red Bull | 181 |
| 4 | Sebastian Vettel | Ferrari | 169 |
| 5 | Charles Leclerc | Ferrari | 157 |
| 6 | Pierre Gasly | Toro Rosso | 65 |
| 7 | Carlos Sainz | McLaren | 58 |
| 8 | Daniil Kvyat | Toro Rosso | 33 |
| 9 | Kimi Räikkönen | Alfa Romeo | 31 |
| 10 | Alexander Albon | Red Bull | 26 |
| 11 | Lando Norris | McLaren | 24 |
| 12 | Daniel Ricciardo | Renault | 22 |
| 13 | Sergio Perez | Racing Point | 21 |
| 14 | Nico Hülkenberg | Renault | 21 |
| 15 | Lance Stroll | Racing Point | 19 |
| 16 | Kevin Magnussen | Haas | 18 |
| 17 | Romain Grosjean | Haas | 8 |
| 18 | Antonio Giovinazzi | Alfa Romeo | 1 |
| 19 | Robert Kubica | Williams | 1 |
| 20 | George Russell | Williams | 0 |
F1 Constructors' Championship after Race 13 (Belgium)
| Position | Team | Points |
| --- | --- | --- |
| 1 | Mercedes | 471 |
| 2 | Ferrari | 326 |
| 3 | Red Bull | 254 |
| 4 | McLaren | 82 |
| 5 | Toro Rosso | 51 |
| 6 | Renault | 43 |
| 7 | Racing Point | 40 |
| 8 | Alfa Romeo | 32 |
| 9 | Haas | 26 |
| 10 | Williams | 1 |