2019 Hungarian Grand Prix race report — How a failed overtake set Hamilton on the victory path
A clash of F1's two biggest titans always was going to be decided in the margins. This Hungarian Grand Prix was tilted by a failed Lewis Hamilton overtake and overheating Mercedes brakes – in Hamilton's favour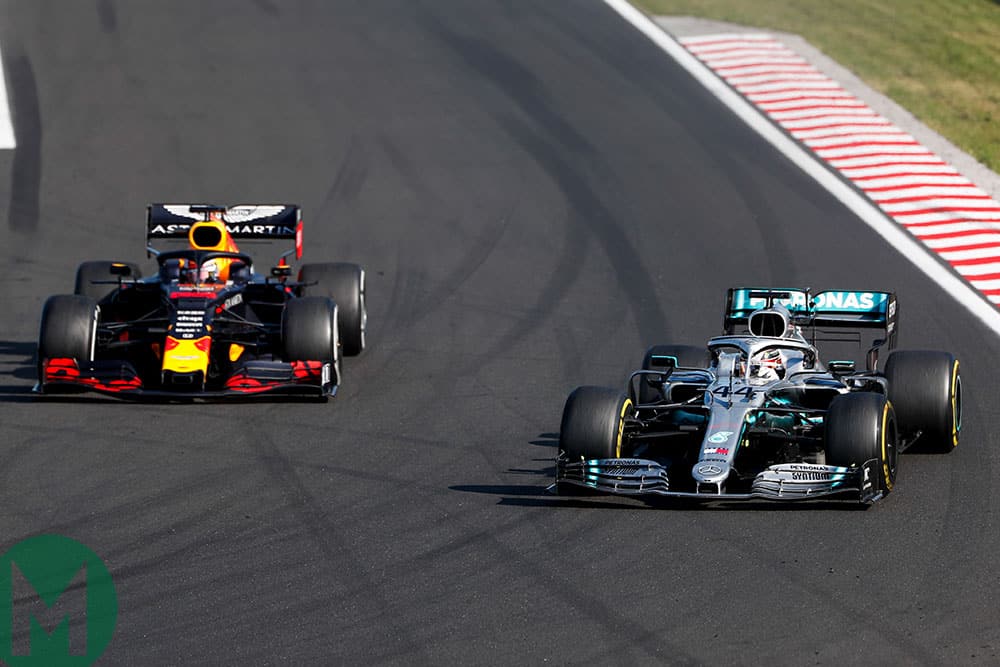 Lewis Hamilton's Mercedes gets by Max Verstappen's Red Bull late on Photo: Motorsport Images
"I'm not sure this is the right strategy," said Lewis Hamilton as Mercedes suddenly went for an unplanned and late second stop as an alternative way of trying to pass Max Verstappen's pole-setting Red Bull, something they'd not been able to do on-track.
"Why have we not stopped in response?" demanded Verstappen upon realising that with 22 laps to go he was now about to be hunted down by Hamilton on tyres 23 laps newer.
In the competitive heat and strained sinews of the moment, both were convinced they were on the wrong strategy. Thing was, no-one really knew what the right and wrong strategy was. Not even those on the pitwall.
But Mercedes, running as the car behind, could afford to throw the dice in a way Red Bull could not. So far ahead of everyone else were the king and pretender, that Hamilton could make the second stop without loss of position.
Red Bull could have anticipated that and surrendered the lead with a second pit stop of its own, of course. In which case Hamilton would have stayed out and tried to win it that way. But to surrender the lead to Hamilton and Mercedes for the sake of a strategy that might or might not have worked? That would have been crazy, surely.
That failed passing attempt in hindsight probably won Hamilton and Mercedes this race. Had he succeeded in passing, Red Bull would have later made the very same second stop gamble that Mercedes was able to
And that's how it was for the hot afternoon, a flat-out gunslinger's duel between the two most exciting performers on the grid, each pushing the other beyond their comfort zone.
"Tell me when he's in DRS range?" one would demand of his team. "I can't put any more pressure on than this," would respond the other to a request to do just that.
"These tyres aren't going to live."
"Traffic, ***king blue flags."
"What's the wind doing?"
"Brake temps, brake temps."
"Has he got car damage? Why's he dropped back?"
"You need to give me full power."
"Don't know how much tyres will be left at the end."
A barrage of radio demands from each of them, like fighter pilots taking flak, as they each understood the only way to win was to push the other beyond his limits. But whose were higher?
As it turned out, the Mercedes appeared to have a small underlying pace advantage on race day – and that's all it turned on. Merc reckoned it had maybe 0.15sec, at most, on the recently improved Red Bull, an estimate Red Bull agreed with.
Such was the pace Hamilton had forced upon the Red Bull, Verstappen didn't have enough rubber left to fend off the Merc strategy gamble.
"My tyres are dead," Verstappen radioed with seven laps to go. Three laps later, the hunter pounced upon the tired, defenceless, exhausted hunted. Around a minute back, Sebastian Vettel passed the other Ferrari of Charles Leclerc for the final podium place.
Qualifying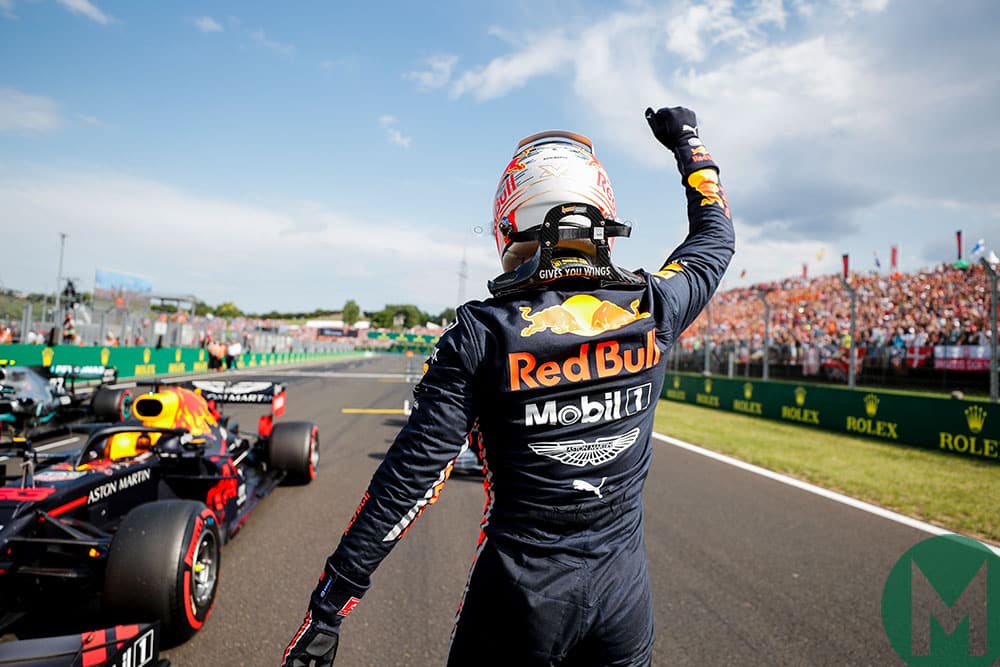 Verstappen delights the travelling Dutch contingent by taking his first ever F1 pole Photo: Motorsport Images
Around a track with the biggest downforce sensitivities of all those visited so far this season, the Red Bull-Honda was good enough to take Max Verstappen to his first pole position. But the lap still needed to be driven and he achieved the feat by the barest of margins from the Mercedes of Valtteri Bottas.
Into the fifth year of his Formula 1 career, it had been a long time coming, but was somehow inevitable too. Wide eyes and broad smile as he removed the helmet, the crowd still shouting its wild approval.
Since the combination of the blown wheels (Paul Ricard) with the new front wing (Austria), the RB15 has been a contender, finally with the mid-corner performance to match its always excellent entry speed.
Here it was enhanced further with a new bargeboard arrangement featuring the fashionable McLaren-inspired 'boomerang' wing atop the guide vanes.
In generating lift, it creates a high-pressure bubble around it that the airflow coming through the suspension turns hard to avoid – directing it in the desired outwards direction, while the flow headed for the underfloor in also turning to avoid the pressure bubble is accelerated too.
So the lift generated by the wing directly is more than countered by the extra downforce created by its effects.
"[Mercedes and Ferrari] can still turn it up a bit more than us for qualifying," Verstappen said, "but Honda have been making great progress. We just hung in there during qualifying and the car actually got better and better.
"I was very happy with it, very pleased. It was really enjoyable to drive. I didn't really have any comments throughout qualifying, I just said, 'keep it going, keep the car going and give me new tyres'….
"Around this place a qualifying lap on low fuel is so enjoyable. You can really feel the grip of the car with the full downforce and it's a lot of fun out there. We are closing in on the front-runners all the time and Honda keep pushing hard to optimise everything."
Pierre Gasly was 0.9sec adrift of Verstappen, putting him back in sixth. I didn't put a clean lap together and I made a few mistakes otherwise I think I could have taken the fight to Ferrari for P4 or P5."
Bottas missed out on pole by just 0.018sec, out-qualifying third-fastest Lewis Hamilton by a handy couple of tenths. This was a good bounce back not just from his disastrous race in Germany last week but also from missing the first practice session to an enforced engine change, the second session being largely rained out.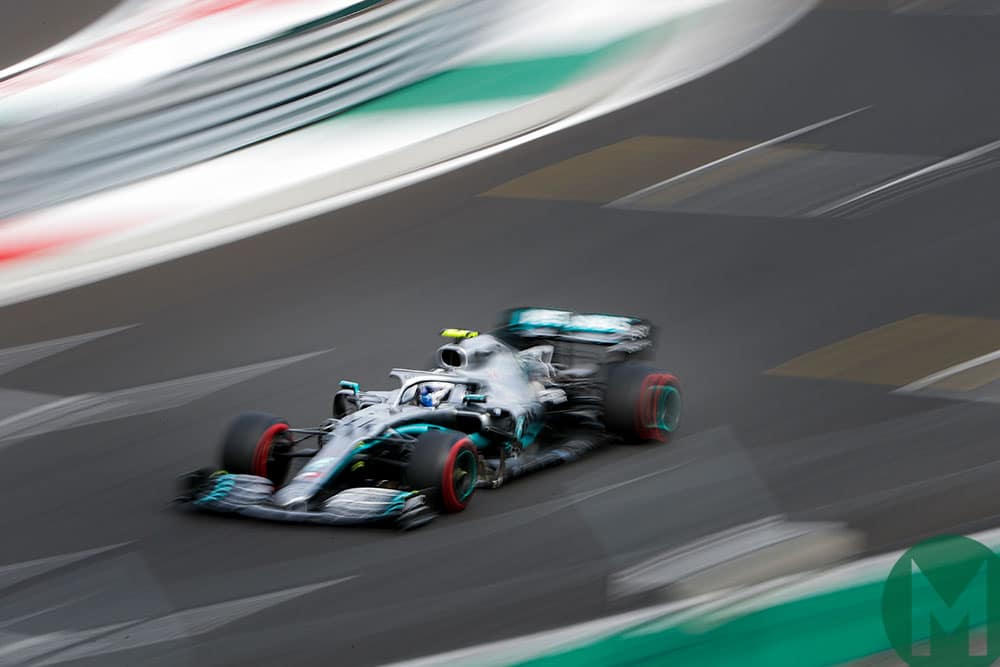 Valtteri Bottas led the Mercedes charge on Saturday Photo: Motorsport Images
"I only really started getting into my rhythm this morning," he explained, "and it was just getting better and better through qualifying."
Both Mercs were running with the more extreme of the cooling packages introduced at the last race, the W10 still seeming to be more aerodynamically compromised by high ambient temperatures than the Red Bull.
Hamilton just didn't look his usual self when it came to it. "The car kind of plateaued," he said. "It was great in P3 this morning, but it didn't feel like that as soon as we got into qualifying and it just stayed that way."
It appeared less responsive and alive than the Red Bull, with a little more understeer than usual. Since the aero upgrade at the last race, the car has not really been in its sweet spot.
Ferrari's weakness remains its front end and the way the car has to be balanced around that and this was costing it a lot in the final sector where its tyres were too hot from all the sliding around. This was losing it more than it was gaining by being comfortably fastest through sector one.
It too featured a new boomerang-style bargeboard, Ferrari going ahead with it after back-to-backing old and new on Friday morning. Charles Leclerc and Sebastian Vettel were around 0.4sec adrift of pole, separated by a couple of hundredths.
Leclerc went off in the final turn in Q1, lucky to damage only the wing and to get restarted. He later deemed the mistake 'unacceptable'. Vettel felt that's all there was in the car around a circuit demanding downforce above all else.
Mattia Binotto was actually feeling positive: "The gap is closer than we might have expected and to a certain extent, that's encouraging. We therefore had further proof today that we are on the right path in terms of our development."
But even though Ferrari was lacking downforce relative to Red Bull and Mercedes, the midfield were further away from the top three than they usually are, as can be appreciated by a glance at this graph. It was this margin that allowed all six of the top teams' cars to do Q2 on the harder medium tyre, in readiness for the race.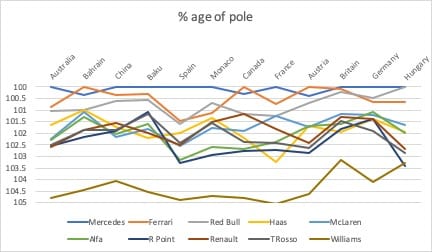 McLaren was best of the rest, Lando Norris and Carlos Sainz seventh and eighth respectively, separated by half-a-tenth. This was a pleasing outcome for the team which hadn't reckoned this track would suit its car particularly well, but its front-end grip had been steadily improved with aero development through the season and Norris in particular was revelling in the car's balance.
Romain Grosjean in the Melbourne-spec Haas proved his point again that the old car can be driven more consistently quickly than the more developed car. Grosjean made Q3 and went ninth there, with Kevin Magnussen back in 15th.
But had K Mag repeated his Q1 time, he too would have made Q3, leaving him mystified. "We were P4 in Q1, then P15 in Q2! I don't know what it is, but this car is swinging so much, up and down. The window is so small."
Kimi Räikkönen squeezed the Alfa into Q3 and lined up 10th, consistently a couple of tenths adrift of the McLarens that he'd outpaced on the very different demands of Hockenheim.
In the other Alfa, Antonio Giovinazzi ran wide at turn 11 in Q2 and reckoned the car never felt right afterwards. He was 14th quickest but would be taking a three-place penalty for impeding Lance Stroll.
"If they've got a thousand horsepower," said an amused Max Verstappen when asked his response to Renault's recent claims, "then they must have a really terrible car." Nico Hülkenberg and Daniel Ricciardo might have privately agreed after struggling around here all weekend.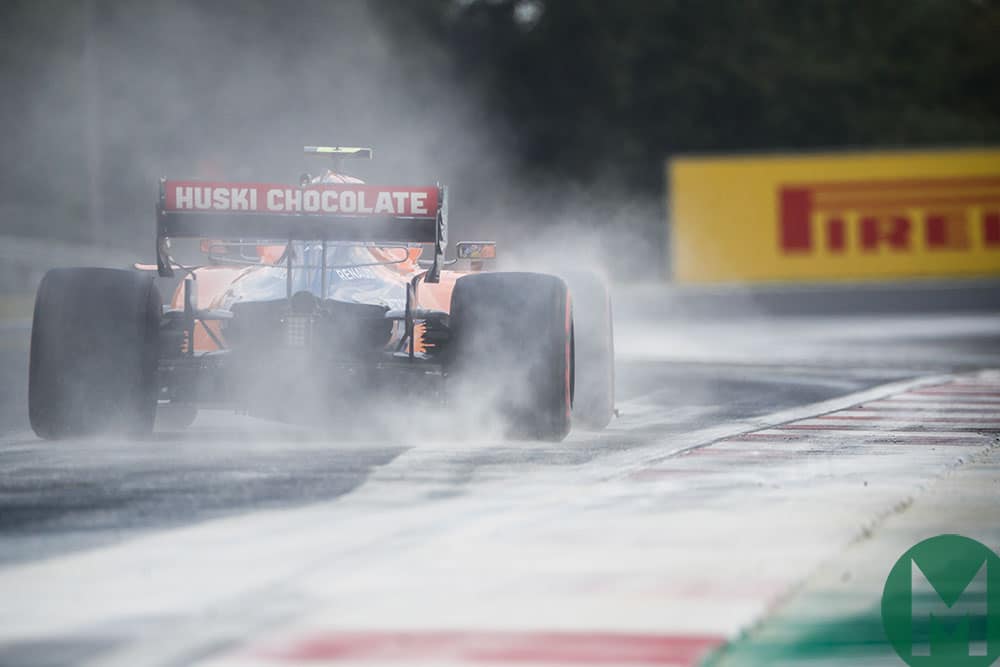 Lando Norris revelled in the McLaren's balance on Saturday Photo: Motorsport Images
Hulk just missed out on the fringes of Q3 and would start 11th. Ricciardo got into a territorial mix-up with Sergio Pérez at the end of Q1 as the clock counted down – ruining both of their laps before they'd started.
Ricciardo, in 18th, failed to get out of Q1 and was angry with the team afterwards about the communication of where the gaps were. Renault decided to give him an engine change and start him from the back.
Alex Albon bounced back from a significant shunt at turn 12 in Friday afternoon practice that required a hurried rebuild on the Toro Rosso. He put it 12th on pretty much the same time as Daniil Kvyat's sister car, right behind him.
"We made a few changes after FP3," said Albon, "and in qualifying the car felt more hooked up, so I got the rhythm back. Reaching Q3 would have been nice, but we were two tenths from getting through, the balance was good in some corners and in other places it wasn't."
Some sort of breakthrough in set-up and understanding the tyres was made at Williams which, together with a fuller understanding of the upgrade brought to the last race, enabled George Russell to make a significant performance step (see graph), his on-the-limit flyer at the end of Q1 coming within half-a-tenth of getting him into Q2, 16th fastest and ahead of both Racing Points and Ricciardo.
Robert Kubica – with not the full update package, as parts are still in short supply – was at the back 1.2sec adrift.
Racing Point arrived with all-new front suspension and revised aero to go with the new sidepod arrangement introduced in Hockenheim. With the car still a little unsorted, Pérez looked to have the pace to have made Q2 – but didn't on account of his territorial dispute with Ricciardo, finished up 17th fastest, two ahead of Lance Stroll in the other car.
Race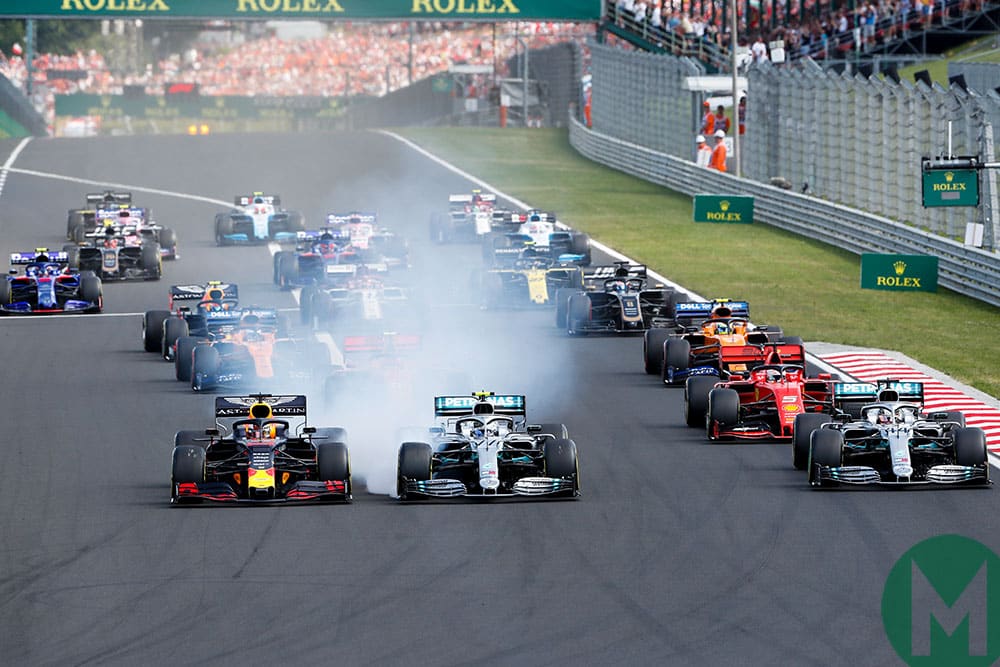 Verstappen holds off the Mercedes pair at the opening turn Photo: Motorsport Images
The temperature of the very black tarmac rocketed up to 48deg C beneath the Budapest sun. Which only complicated things further on the pitwall. The assumption was a one-stop race, which for the medium-shod fast cars of the top three teams meant a switch to the hards at the single stop.
But no-one had run the hard. So how fast a pace did you dare run your medium-shod first stint? Because if the hard was slow, you needed to extend that first stint as long as possible.
But obviously, that's only feasible if you don't have a rival nibbling at your tail as the pitstop window opens, threatening to undercut you. Or conversely, if you are the car doing the nibbling, you aren't forced to gamble by making the undercut attempt early.
In essence, no one had enough knowledge to know in live time which was going to be the best way to run the race.
The other uncertainty was just how well the pole position Red Bull might get off the line, given its disastrous (but race-winning) starts in Austria and Germany. Honda had done a lot of remapping work in the days between Hockenheim and here while Verstappen had experimented with several practice starts through the weekend.
It all paid off as the lights went out and he was quick enough away that he could get across from the left to the right, blocking the inside line from Hamilton, who switched sides, with Bottas then going for the middle to make it three-abreast into turn one.
As Bottas locked up in braking late enough to stop Hamilton turning in ahead, so it released Verstappen into a clear-cut lead.
Hamilton's racecraft as they exited that turn was exemplary, switching to the right-hand side of the track in order to get an outside run on his team mate through the looping downhill left-hander of turn two. Bottas, by contrast, made himself a sitting duck by staying left and again locking up.
Pincering Bottas to the inside, Hamilton had the momentum on him around the outside, wheel-to-wheel right through the corner. Bottas might've run him out wide, forcing him to back off, but didn't. As Hamilton dived into turn three ahead, so Bottas stayed side-by-side a little too long, forcing him to lift off.
As Hamilton finally scraped past, his left rear wheelrim sparking off Bottas' right-front, so Valtteri lost momentum through being pushed out so wide – making him easy prey for Leclerc's Ferrari as they raced up the hill towards the sixth gear kink of turn four.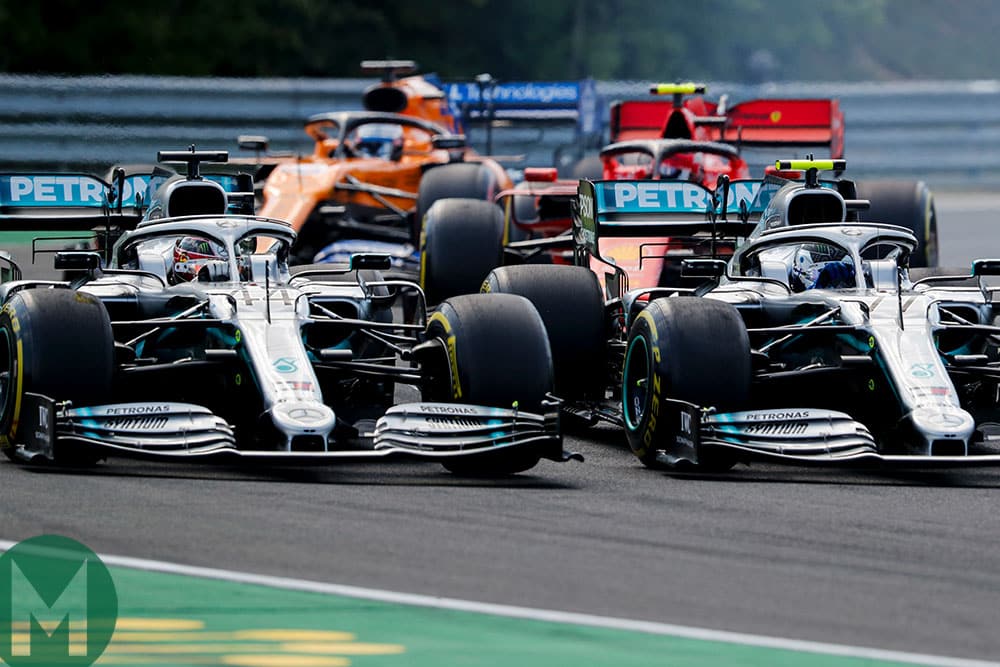 Fine racecraft got Hamilton ahead of his Mercedes team-mate Bottas in the opening corners Photo: Motorsport Images
Leclerc essentially then shoulder-barged Bottas aside as he took up his line on the approach, damaging Bottas' front wing. That was one quick car out of contention for the afternoon. Vettel watched it all happen right in front of him and would be past the wounded Merc on the next lap.
Bottas still had enough pace to put distance on the rest of the pack and would put in five laps to get some field spread before pitting for a new nose and rejoining at the back. A disastrous day for him after the high of qualifying.
Behind all this action, Sainz and Norris had accelerated their McLarens straight past Gasly into turn one, with Räikkönen then going around the Red Bull's outside through turn two.
Next came Grosjean, Hülkenberg, Pérez, Albon, Russell, Kvyat, Magnussen, Stroll, Giovinazzi (tyre damage at turn one after being pincered), Ricciardo (the only one starting on hards, with all the rest outside of Q3 going for the mediums) and Kubica. Russell held on for a while before Kvyat and Magnussen inevitably came by.
The Ferraris had even less pace relative to Verstappen and Hamilton than had been the case in qualifying as they overheated their tyres more and had to be driven within that limitation. By the fifth lap Leclerc was already almost 7sec adrift of the lead.
"You might ask how is it possible that a week ago we have maybe the fastest car, and today like this," said Binotto. "It's just very track-dependent. Budapest, where maximum downforce is required, gives us a problem."
Hamilton was just following Verstappen in these early stages, observing and able to fall back and close up again at will. He needed less track width on the corner exits – the Merc definitely looked faster.
But even with DRS enabled, passing was not going to be easy. "Just let me know when you want me to close up," said Hamilton in reference to the pitstop window.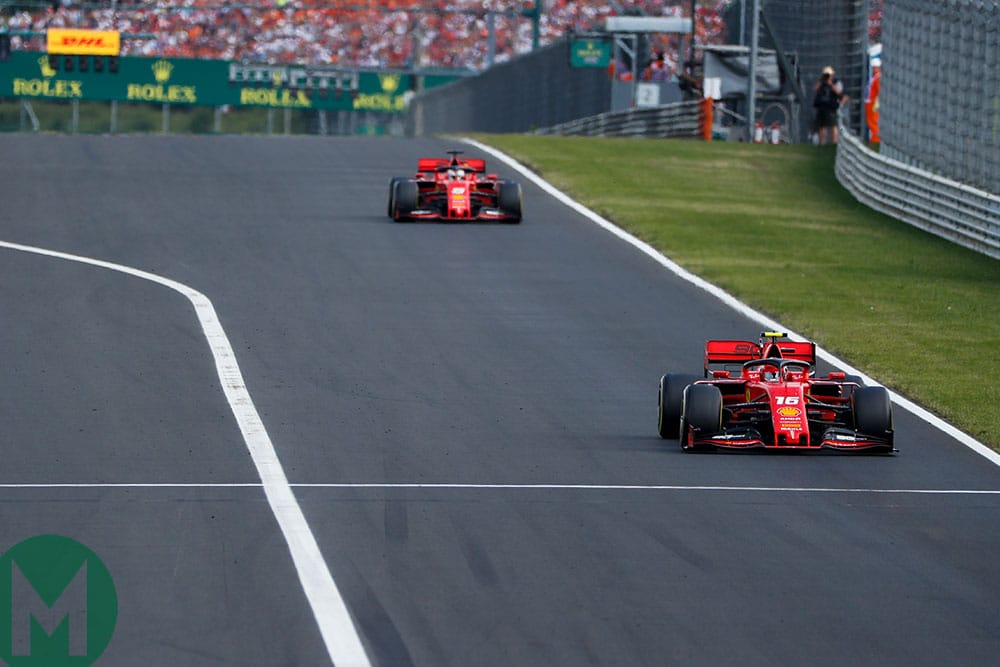 The Ferraris were unable to keep up with the leading pair Photo: Motorsport Images
As they raced on so it became clear that we had that most desirable of racing scenarios, the slightly slower car running ahead. Mercedes was being quite aggressive in the pace it allowed Hamilton to impose upon Verstappen who was keen to keep out of the 1sec DRS trigger point.
The harder Hamilton pushed, the more Verstappen's tyres were being punished and this was very much part of Merc's strategy. Hamilton was reporting his tyres were fine.
Why was it like this, transposed from qualifying when the Red Bull had the edge? There were several possible explanations. Red Bull had not opened out its bodywork as much as Mercedes for the heat here, it was true. But afterwards Christian Horner explained that didn't have any impact upon how hard they were able to run the engine.
"But there was definitely a bigger gap between their engine and ours in the race than there was in qualifying," he said. "Today they were taking 0.3sec from us down the straights. Yesterday it was about half that."
Then there was the set-up of the cars. Mercedes has recently enjoyed the luxury of setting its cars up for the race, to give better tyre management. But with Red Bull getting forever closer on pace, Merc is realising that perhaps they need to pay a little more attention to qualifying.
Almost all of Verstappen's qualifying advantage over Bottas had come in the first two corners, suggesting the tyres were not being worked so aggressively. Great for race day, potentially costly against a Verstappen-piloted RB15 on Saturdays.
The pitstop loss around here is around 20sec and by the 20th lap, Verstappen, still being stalked by the Mercedes, was around 18sec clear of Leclerc's third place. Mercedes was tempted to push for the undercut but the complication was that of potentially coming out behind both Leclerc and Vettel. In the time taken to repass them, Verstappen could probably come in and overcut ahead.
So the first stint just extended further. With Verstappen trying to look after his tyres, it took until the 25th lap before he had 20sec on Leclerc – and at that point Red Bull brought him in for a set of hards with which to get to the end.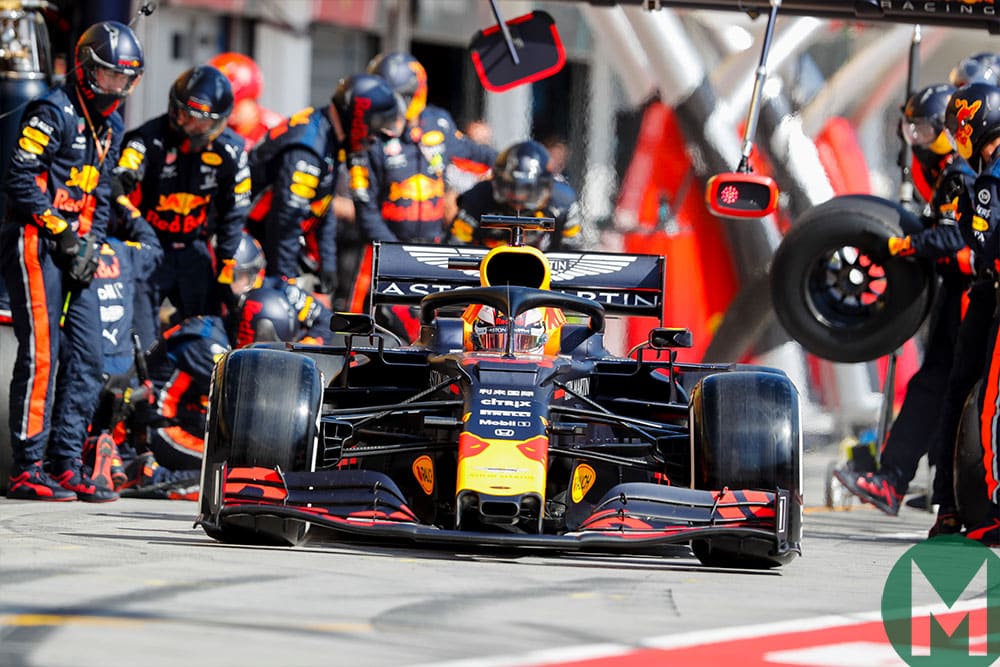 Verstappen blinked first and pitted on the 25th lap Photo: Motorsport Images
That had foiled any Hamilton undercut plan and so Merc left him out, using the extra laps to buy him some fresher tyres in the second stint instead. It wasn't all serene for Hamilton. All weekend the Mercs had been suffering a little with brake cooling.
"The separation point between having the temperatures too high and them glazing from being too cool was very narrow," explained Hamilton. "I was a bit worried. We'd made some changes during practice but we still had the problem into the race, so I was having to do quite a bit of lift and coast to bring the temperatures under control, sometimes not even touching the brake for half a lap."
So the six laps between Verstappen stopping and Hamilton coming in were essentially just preparing the Merc for a full attack on the Red Bull once onto its new hard tyres. The stop wasn't very quick at 4sec, and Hamilton exited around 5sec behind his rival, but now the car was fully armed and ready to pounce.
Leclerc was finding it tough to keep his rear tyres from degrading. Vettel just behind him was managing far better. Ferrari brought in Leclerc on the 27th lap for his hards. Vettel was quite comfortable staying out for a long time yet, especially with no undercut threat from behind, as the Sainz-led midfield was by now far behind.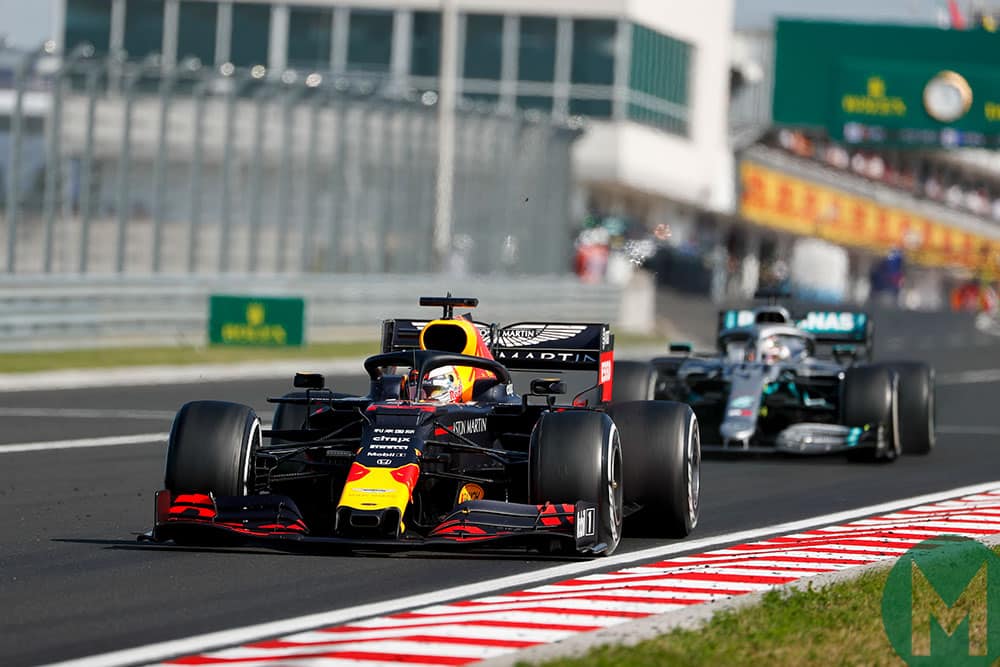 Hamilton closed in on Verstappen after making a later first stop Photo: Motorsport Images
Seb's aim was going to be maximum grip advantage over his team-mate after he finally made his stop. "I need to understand how to improve looking after the tyres," said the always self-critical Leclerc, "especially over long runs and on circuits where the degradation is high."
Meantime Sainz held sway in the midfield but it was Norris – running a few seconds behind – who McLaren brought in first, on lap 28, in order to protect from a potential undercut attempt from Räikkönen's Alfa. This is where Norris' race went wrong, as the left-rear stuck on for about 5sec.
Gasly (who'd pitted to undercut Räikkönen) was able to make up a place, as was Räikkönen after stopping a couple of laps later. Sainz maintained his position at the head of 'Class B' after stopping for his hards – and was able to keep Gasly at bay. "He was faster through the corners but I just concentrated on putting the car in the right places and not making any mistakes."
Grosjean led a second Class B train only until his pitstop onto the hards, on which the Haas was disastrously slow before then losing water pressure and being retired. Hülkenberg then took over this slot, and despite his Renault engine suffering a software problem that was losing him 0.3sec-worth of power he was fending off Pérez.
They'd later be passed on track by Bottas and jumped at the stops by the Toro Rossos. Kvyat had passed team-mate Albon in a sequence that saw them battling side-by-side from turn 1 to 4.
The long-running Ricciardo on his hards was unable to make much progress and would spend many laps wheel-to-wheel with Magnussen who proved more an immovable object than Daniel was an irresistible force. Russell managed to remain ahead of Stroll and Giovinazzi. Kubica ran at the back throughout.
Meanwhile, Hamilton had rejoined from his stop like a prowling shark, with tyres six laps newer than Verstappen's, his brake temperatures now under control and full electrical deployment. After a relatively gentle out-lap, he let rip with a monstrous 1min 19.6sec at a time when Verstappen was in the high-21s.
---
Related content
---
It took just two laps to get from 5sec adrift of the Red Bull to be within its DRS range as they sped down the pit straight going into lap 36. Hamilton darted out of the slipstream up to turn one as they lapped Albon but Verstappen remained ahead.
The following lap Verstappen was aided by a DRS from lapping Pérez that he was able to use to counter Hamilton's. Towards the end of the 38th lap the under-pressure Verstappen got a little out of shape, allowing Hamilton right onto his rear wing as they entered the straight.
They lapped Ricciardo virtually as one on the approach to the first turn, with Hamilton again just failing to scratch by.
But through the following turn two, Hamilton kept greater momentum, allowing him to enter the uphill straight faster, and once more getting tight into the Red Bull's slipstream, then making for an audacious move around the outside of the flat-in-sixth, blind exit turn four. Verstappen just held his line and Hamilton was forced onto the run-off.
For now, that was Hamilton spent as the Merc's brake temperatures had come back up. "Where is he?" asked a suspicious Verstappen as Hamilton backed off for a few laps. "Has he reported damage?"
That failed passing attempt in hindsight probably won Hamilton and Mercedes this race. Had he succeeded in passing, Red Bull would have later made the very same second stop gamble that Mercedes was able to, and it likely would have been just as successful – for the hard tyres simply didn't have enough range in them to complete the distance at this pace.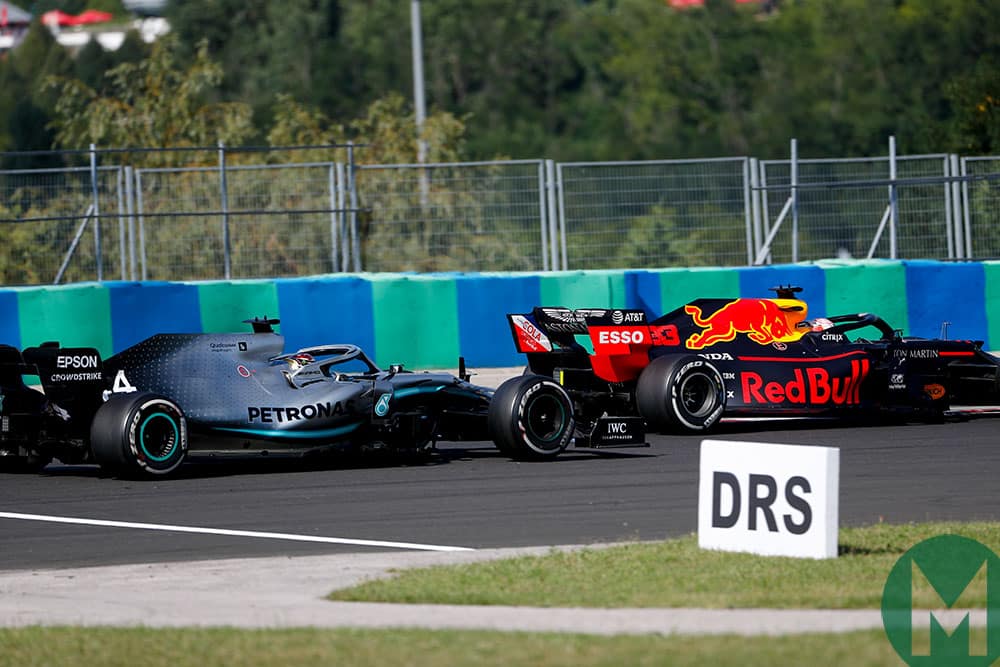 Hamilton's failed mid-race overtake attempt of Verstappen proved crucial to the race outcome Photo: Motorsport Images
As this was happening Vettel finally made his pit stop, having got his original mediums to last 12 laps longer than Leclerc. This was late enough to allow him to choose a set of softs for the remainder of the race, though some of the advantage of that was lost to a front-right that was reluctant to go on. He rejoined fourth, 20sec behind Leclerc but was soon lapping a lot faster.
As the two leaders threaded their way through backmarkers Verstappen was getting the worst of it but despite a bit of swearing managed to remain in control. As they came to lap Bottas approaching turn 12, the second Mercedes moved right out of the way and slowed until both of them were past, making no attempt to hinder Verstappen.
"Just keep the pressure on him," Hamilton was told. "I can't put the pressure on," he replied in reference to the brake temperatures. Verstappen was generally able to stay just out of DRS reach, but again in doing this he was pushing hard on his tyres.
Wolff was encouraging Hamilton's race engineer to tell him he was catching. "But he's not." "Yes, but tell him he is," suggested Wolf
"You need to give me full power," Verstappen demanded. "You now have full power," came the response. These two were stretching each other to the full in a fascinating struggle.
For the last seven laps Toto Wolff had been in discussion with chief strategist James Vowles about the idea of pitting Hamilton for a second time, for a set of fresh mediums. They were much more than a pitstop's-worth of gap clear of third-place Leclerc so wouldn't lose position – but it would lose them 20sec to Verstappen, for the benefit of much faster tyres.
It happened at the end of the 48th lap. The trick in the timing is soon enough that you don't run out of laps in which to catch the car you're chasing, but late enough to give a good grip advantage from the differential in the tyre age.
That window was around four laps, and lap 48 was smack in the middle of it. Verstappen had been trapped. He would've come out behind if Red Bull had responded and brought him in the following lap – and they were not confident he'd then have the pace to challenge Hamilton.
"They were just that little bit quicker than us," surmised Verstappen later. They could not therefore surrender track position – and so Max stayed out.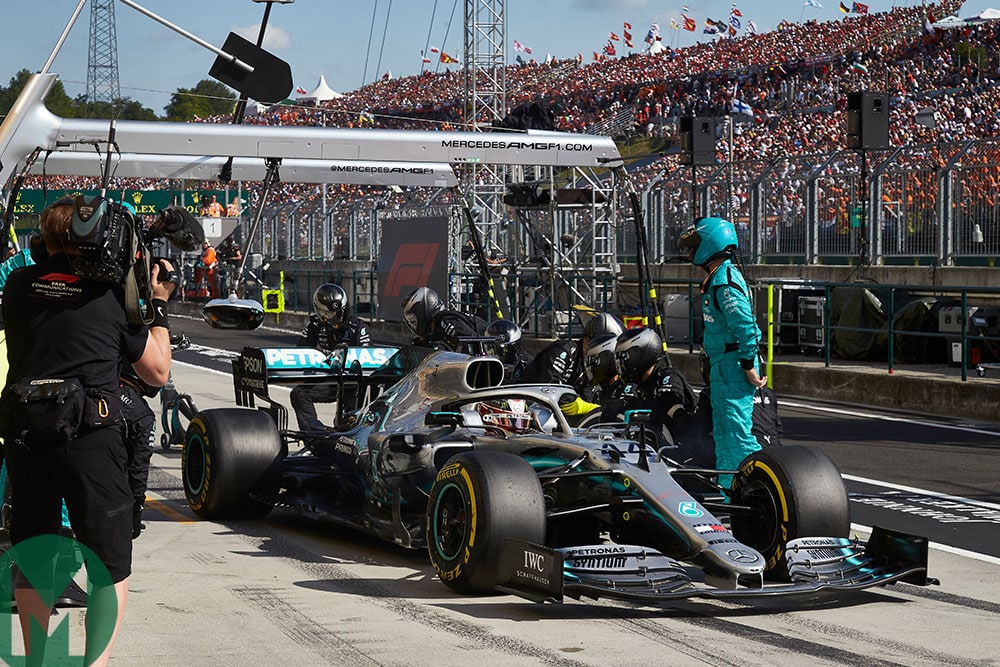 Mercedes makes a vital strategic play – Hamilton pits for the second time Photo: Motorsport Images
Hamilton was not at all convinced the second stop was the right thing as he was told that with 22 laps to go he was 19sec behind. "I was thinking 'how is this going to work out, I'm going to come out quite far behind'.
"But you have to put complete faith in your team because they have different viewpoint to you, so we did the stop and I came out on the mediums and I thought 'Jeez, I don't know if these are going to go the distance at the speed I am going to have to go'."
Merc's race trajectory software initially predicted Hamilton would catch his prey with nine laps to go. But that was to reckon without Verstappen unleashing a series of personal bests.
On the 53rd lap he set an amazing 1min 19.5sec on tyres almost 30 laps old, pretty much the same lap time Hamilton was doing on his new-tyre charge. Upon being told of Verstappen's time, Hamilton was disbelieving. "What? Did you just say 19.5sec?" Meantime Wolff was encouraging Hamilton's race engineer to tell him he was catching. "But he's not."
"Yes, but tell him he is," suggested Wolff, keen that Hamilton didn't begin to believe it was an impossible task. "Tell him now."
"Don't worry Lewis, Verstappen is going to be on a tyre limit."
"Maybe I will be too."
In reality, no one really knew. Would the hards run to the end before losing their tread and, soon after, their temperature? Or would it be a crucial few laps before? All they could do, each of them, was play the hand they'd got.
Hamilton charged on, giving it everything. Verstappen kept up that mid-19s pace for a further couple of laps. But then gradually began to slip into the 20sec.
On lap 63 he dropped into the high 20s and gave his assessment: "The tyres are dead." There were seven laps left – and Hamilton was within 5.5sec, having reeled off a series of mid-18s.
"Are my brakes okay?" asked Hamilton anxiously. Upon being told they were, he launched his final attack, using DRS down the pitstraight and going cleanly around Verstappen's outside at turn one to begin the 67th lap.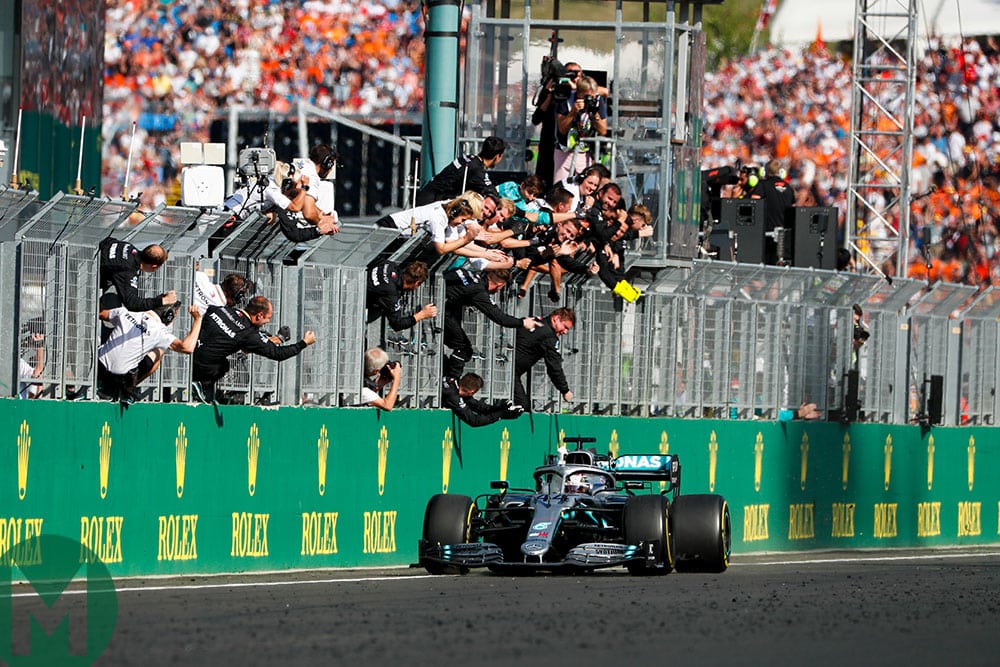 Hamilton takes the chequered flag and the applause of his Mercedes team Photo: Motorsport Images
A lap back, Bottas went by Norris for eighth place. Gasly was just a few seconds further on (but with Räikkönen between them). Albon and Pérez collided at turn one, Albon remaining ahead.
They'd both been able to pass Kvyat, suffering the same tyre cliff that Verstappen had just hit and about to be passed by all and sundry, sinking back to 15th, behind the battling Magnussen/Ricciardo.
"I cannot get to the end on these tyres," said Verstappen after being passed. He was brought in for a set of softs with three laps to go – enabling him to at least set the fastest lap on his way to an honourable second place.
With a lap to go, Vettel threw his car down the inside of the other Ferrari into turn one and Leclerc defended hard, but too late. Vettel was through to third.
Sainz as the winner of the unofficial Class B in fifth overall was lapped but kept Gasly behind him to the end, the second Red Bull followed across the line by Räikkönen, Bottas, Norris and Albon.
Pérez was an out of grip 11th ahead of Hülkenberg, Magnussen, Ricciardo, Kvyat, Russell, Stroll, Giovinazzi and Kubica.
That failed Hamilton manoeuvre – and the fact that his brake temperatures meant he couldn't continue to run so aggressively – funnelled Mercedes into the race-winning strategy by default, but perhaps only Hamilton or Verstappen could have run hard and relentless enough to take that sliver of an opportunity and turn it to gold.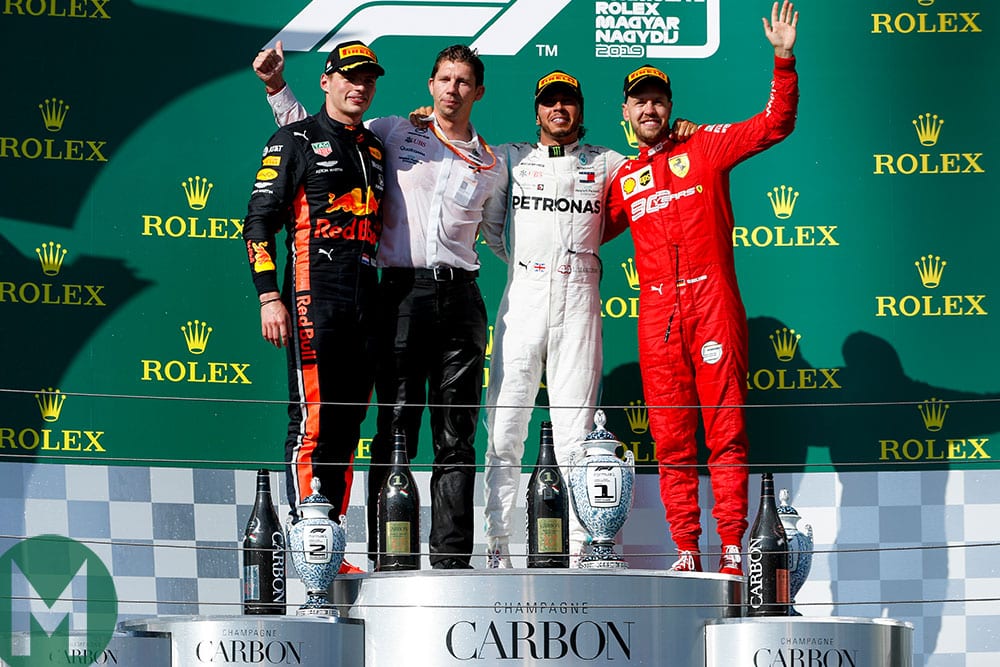 Verstappen, Mercedes' chief strategist James Vowles, Hamilton and Ferrari's Sebastian Vettel celebrate on the podium Photo: Motorsport Images
2019 Hungarian Grand Prix results
| Position | Driver | Team | Time | Points |
| --- | --- | --- | --- | --- |
| 1 | Lewis Hamilton | Mercedes | 1hr 35min 03.796sec | 25 |
| 2 | Max Verstappen | Red Bull | +17.796sec | 19* |
| 3 | Sebastian Vettel | Ferrari | +1min 01.433sec | 15 |
| 4 | Charles Leclerc | Ferrari | +1min 05.250sec | 12 |
| 5 | Carlos Sainz Jr. | McLaren | +1 Lap | 10 |
| 6 | Pierre Gasly | Red Bull | +1 Lap | 8 |
| 7 | Kimi Räikkönen | Alfa Romeo | +1 Lap | 6 |
| 8 | Valtteri Bottas | Mercedes | +1 Lap | 4 |
| 9 | Lando Norris | McLaren | +1 Lap | 2 |
| 10 | Alexander Albon | Toro Rosso | +1 Lap | 1 |
| 11 | Sergio Pérez | Racing Point | +1 Lap | |
| 12 | Nico Hülkenberg | Renault | +1 Lap | |
| 13 | Kevin Magnussen | Haas | +1 Lap | |
| 14 | Daniel Ricciardo | Renault | +1 Lap | |
| 15 | Daniil Kvyat | Toro Rosso | +1 Lap | |
| 16 | George Russell | Williams | +2 Laps | |
| 17 | Lance Stroll | Racing Point | +2 Laps | |
| 18 | Antonio Giovinazzi | Alfa Romeo | +2 Laps | |
| 19 | Robert Kubica | Williams | +3 Laps | |
| DNF | Romain Grosjean | Haas | Water leak | |
F1 Drivers' Championship after Race 12 (Hungary)
| Position | Driver | Team | Points |
| --- | --- | --- | --- |
| 1 | Lewis Hamilton | Mercedes | 250 |
| 2 | Valtteri Bottas | Mercedes | 188 |
| 3 | Max Verstappen | Red Bull | 181 |
| 4 | Sebastian Vettel | Ferrari | 156 |
| 5 | Charles Leclerc | Ferrari | 132 |
| 6 | Pierre Gasly | Red Bull | 63 |
| 7 | Carlos Sainz Jr. | McLaren | 58 |
| 8 | Kimi Räikkönen | Alfa Romeo | 31 |
| 9 | Daniil Kvyat | Toro Rosso | 27 |
| 10 | Lando Norris | McLaren | 24 |
| 11 | Daniel Ricciardo | Renault | 22 |
| 12 | Lance Stroll | Racing Point | 18 |
| 13 | Kevin Magnussen | Haas | 18 |
| 14 | Nico Hülkenberg | Renault | 17 |
| 15 | Alexander Albon | Toro Rosso | 16 |
| 16 | Sergio Pérez | Racing Point | 13 |
| 17 | Romain Grosjean | Haas | 8 |
| 18 | Antonio Giovinazzi | Alfa Romeo | 1 |
| 19 | Robert Kubica | Williams | 1 |
| 20 | George Russell | Williams | 0 |
F1 Constructors' Championship after Race 12 (Hungary)
| Position | Team | Points |
| --- | --- | --- |
| 1 | Mercedes | 438 |
| 2 | Ferrari | 288 |
| 3 | Red Bull | 244 |
| 4 | McLaren | 82 |
| 5 | Toro Rosso | 43 |
| 6 | Renault | 39 |
| 7 | Alfa Romeo | 32 |
| 8 | Racing Point | 31 |
| 9 | Haas | 26 |
| 10 | Williams | 1 |