2020 Belgian Grand Prix preview: Can anyone rain on the Mercedes parade?
- Last updated: December 3rd 2020
There are storm clouds gathering as Mercedes continues to tighten its vice grip on the 2020 Formula 1 season. With the weather closing in for this weekend and the FIA hoping to restrict rules around engine modes, will the championship leaders be looking as comfortable at the top of the F1 mountain after this weekend?
Qualifying engine modes might be disappearing from the world champions' toolbox but the Spa-Francorchamps circuit is hardly unsuited to the W11 regardless.
If it hadn't been for a mighty Ferrari power unit, Mercedes might have been undefeated around the Ardennes Forests since 2015. A weekend with rain could spice up the running order but it will take a special performance from the likes of Max Verstappen to dethrone Mercedes.
The Dutchman has overhauled Valtteri Bottas in the championship, finishing no lower than second since the Hungarian Grand Prix but Lewis Hamilton looks comfortable with a 37 point lead heading into this weekend.
In the midfield, the battle between the likes of Racing Point, McLaren, Ferrari and Renault evolves by the weekend, but the former must be feeling confident with the Mercedes power unit in the back of its cars at what is a power-sensitive circuit.
Here is the team-by-team preview ahead of the 2020 Belgian Grand Prix.
Mercedes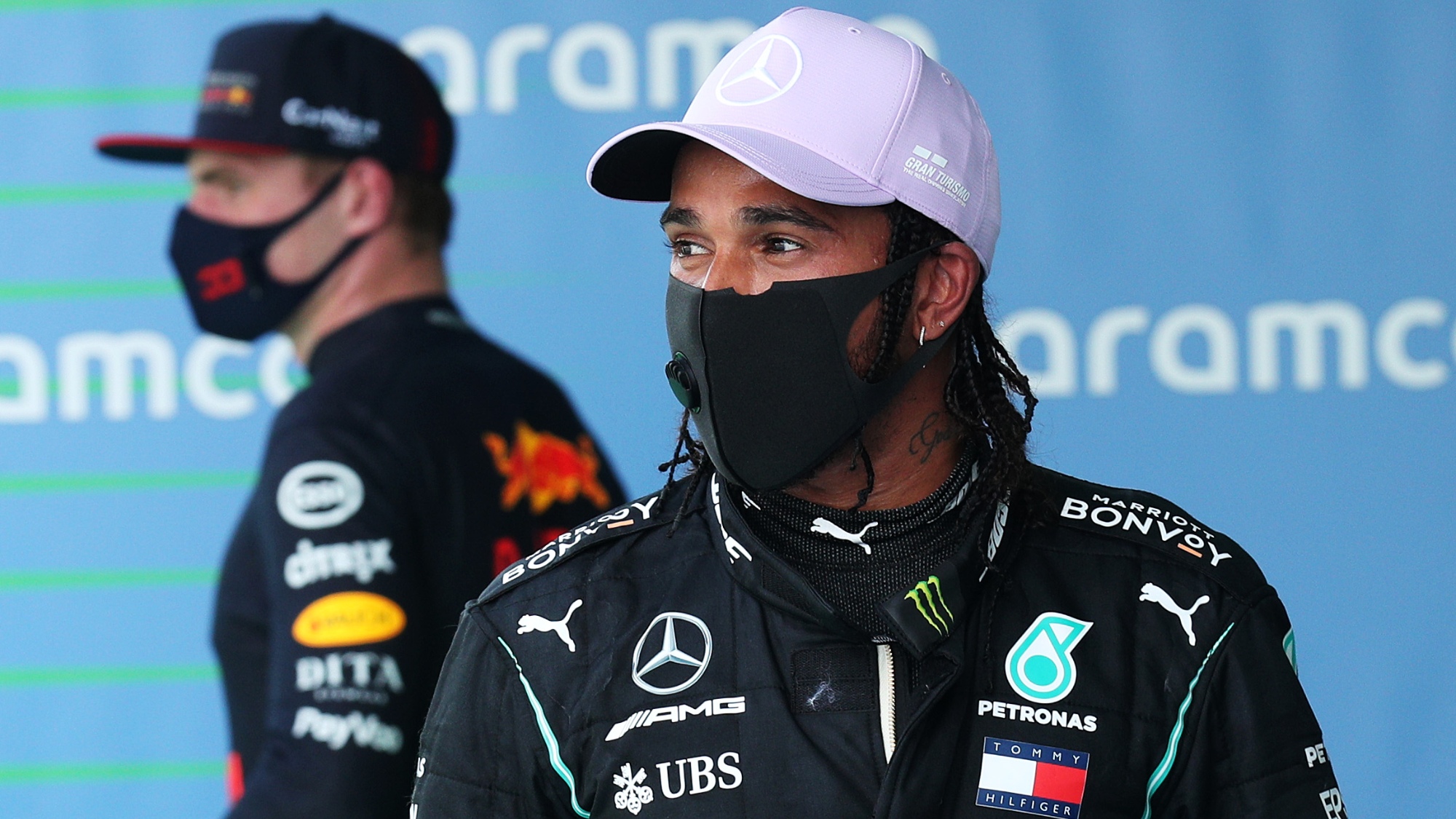 A painful couple of races for Bottas has reduced his strong start to dust as the Finn now finds himself 43 points behind the man sat in the same machinery.
His puncture in the first Silverstone race was the stuff of nightmares, while the subsequent performance and finish behind Verstappen has all but halted any momentum Bottas had hoped to generate on race day.
A week to reflect and another chance to reset his title bid could have come at the perfect time after Hamilton extended his championship lead again in Spain, but Spa is a circuit that Bottas has never bettered his team-mate at.
If the Finn is to mount a serious challenge to Hamilton this year, the victories need to start now. While he has been competitive on Saturday's Bottas has often found himself cut well adrift after the lights go out on race day.
With the long run up to Les Combes, qualifying might not prove pivotal this weekend, so we may be set for another Mercedes battle at Spa and it would be one Bottas must win for his 2020 chances.
Could he get his elbows out in a similar manner to Nico Rosberg during the German's stint as Hamilton's team-mate? Or will it be a familiar face benefitting from a Mercedes driver clash?
Red Bull
Verstappen has hauled himself into 'contention' for the 2020 world championship but, despite his heroics, it seems a bridge too far.
While the Dutch driver has been consistently on the podium, he hasn't been able to overcome the Hamilton/Mercedes combination frequently enough to close the gap in the standings.
Team principal Christian Horner paid tribute to his number one driver's performances but added that it would take some luck in Belgium to reach the top step once more.
"Both tracks (Spa and Monza) have been a strong hunting ground for Mercedes for a few years but the way Max is driving this season has been phenomenal. We need a bit of luck but hopefully we can have a competitive weekend in Spa."
Alex Albon was left well adrift of the podium places in Spain, ending up in eighth after struggling to keep his tyres in shape behind rival cars. A curt message post-race from new engineer Simon Rennie highlighted Sebastian Vettel's brilliant drive to seventh on 38-lap old soft tyres and can't have been a welcome transmission.
"For Alex, this marks his one year anniversary with the team and he has changed a lot in 12 months," Horner said ahead of this weekend.
"He is growing in experience and more confident with his feedback in what he feels the car is doing.
"If you look at his race performances for the past 12 months, they have been great and he impresses us every week with his ballsy overtakes, that is something we have always looked for in our drivers and he certainly has what it takes.
"Lewis has been his nemesis in terms of a podium in Brazil and even a victory in Austria in the first race this year and to get one of these under his belt would have done wonders for his confidence."
Racing Point
Lance Stroll's best result of the season was the most Racing Point could have hoped for in Spain with the top three well clear of the rest.
Sergio Perez's afternoon took a hit with a five-second penalty for ignoring blue flags as Hamilton came up to lap him. It undid his hard work to head up the midfield fight on-track, but the Mexican driver is optimistic heading into this weekend.
"I'm quite proud of my record at Spa. I've finished in the top five there a few times, so it's definitely one of my stronger circuits," he said.
"I'm enjoying driving the RP20 and it has performed strongly at different types of circuit this season. If we put everything together, we can fight for another strong result this weekend."
Spa's power requirements will have the team feeling confident once more as it aims to upset the apple cart and beat Red Bull to secure a podium, but the forecast rain might put a dampener on those aspirations.
The wet weather performance of the RP20 is not of the same calibre as its dry weather pace and the clouds on Sunday might undo the team's best-laid plans.
McLaren
After lamenting his luck throughout the first several races of the season, Carlos Sainz earned his best result of the year since round one with sixth position.
The Spaniard says he is looking forward to Spa and that his result last time out could steal back some momentum that McLaren has lost since its impressive opening results back in Austria.
"After the second triple-header of this season, we've had a couple of days to rest and get ready for the next one. Up next is Spa, one of my favourite tracks on the calendar. Knowing how the car is behaving this season, I hope we can put together a strong race weekend," he said.
"In general, we've performed well over the opening stint of races and I hope Barcelona was a turning point in my season. We need to carry forward all the positive energy built in Spain because the Constructors' Championship is extremely tight and leaving points behind is not an option if we want to stay in the fight."
Ferrari
Ferrari's struggles continued in Spain as Charles Leclerc hit reliability trouble. Vettel seemingly made seventh happen from the cockpit and the pitwall simultaneously, devising his own strategy and holding off Albon's Red Bull.
The Prancing Horse won't be quite as lively as it has been in recent years around Spa as its 2020 power unit lacks much of the punch its controversial predecessor was equipped with.
Despite this, the team says it is confident the issue on Leclerc's car has been addressed ahead of this weekend and that the weather could play into Ferrari's hands on race day.
"In this first part of the season we have seen the championship pretty much divided into two groups: on the one hand, three drivers who seem to be uncatchable and on the other, another ten or so all within a few tenths of one another," Ferrari's head of power unit Enrico Gualtieri said.
"In Barcelona, we paid a high price for a lack of reliability and, in fact, we have now identified the problem with the electronic control unit that caused Charles' retirement. But we also suffered from not maximising our qualifying performance, which put us in a difficult situation in the race.
"Aware of the current difficulties, we have to focus on our work in preparing for the weekend. The main aim is to ensure the drivers can get the most out of the SF1000. We must optimise the car-PU package, work well in the garage, define the best strategy and be efficient when it comes to reacting to changing conditions.
"Every thousandth of a second counts, every decision can make the difference".
Renault
With Racing Point quickly making up the 15 points lost to the brake duct decision, Renault is slipping away from the top of the midfield race by race.
A finish outside of the points for both Esteban Ocon and Daniel Ricciardo in Spain only piled on the misery as the boys in pink celebrated their best result of the season.
Renault also announced that the team has requested to withdraw its appeal against the Racing Point brake ducts, a move that might help refocus efforts to on-track gains instead.
For Ricciardo, a return to Spa isn't the worst follow-up to an ultimately disappointing weekend.
It's been a good track for me in Formula 1: I've had podiums, a win, so it's been a successful one in the past," he said.
"Last year we were having a strong weekend, but then took some damage in Turn One. The year before I also had damage at Turn One. Really, if you can get out of Turn One, you're doing alright! It's one of those first corner hairpins where it's a recipe for chaos.
"This year it might be cleaner as we're not coming off a break, we're warmed up so hopefully it will be more straightforward."
AlphaTauri
Pierre Gasly has been one of the stars of the season up to this point and more points for the Frenchman as team-mate Daniil Kvyat ended up in 12th position underlined his performance.
A return to Spa one year on from the death of close friend Anthoine Hubert will be difficult but Gasly says it is a circuit he has always gone well at.
"Spa is my favourite track and racing through all those high-speed corners is a great thrill.
"I really enjoy driving it and have had great races there in the past. I had my first win in single-seaters there in Formula 4 and I also won the Feature Race in GP2 back in 2016.
"However, this year, returning to Belgium will also be a sad moment because it is just one year ago that Anthoine (Hubert) lost his life after that terrible accident in the F2 race in Spa.
"I had known him since I was seven years old in karting, we were in the same school together organised by the French motorsport federation, from when I was 13 to 19 and we shared an apartment for six years.
"I think everyone in the paddock will take time to think of him."
Alfa Romeo
A Q2 appearance for Alfa Romeo and Kimi Räikkönen was a morale-boosting result but the team is under no illusions it still has plenty of work to do in the fight to get closer to the upper midfield tier.
"The week off gave us some time to regroup and get ready for the next triple header," team principal Fréd Vasseur said.
"It doesn't need saying that everyone in the team is working extremely hard to bring improvements to our car and to extract its full potential: nothing happens from a day to the other in this sport, however, so we have to be realistic about our expectations.
"We have to take this one step at the time, chipping away at the gap and continuing to push between now and the final race."
Haas
Fresh from signing the Concorde Agreement, keeping the American team in F1 until 2025 after doubts over its long-term commitment to the sport, Haas has its sights firmly on the future.
It has already been confirmed that the team will not be developing its 2020 car and will instead focus on the new 2022 programme, but team principal Guenther Steiner says that it does not mean the team can ease up in what has been an unconventional season.
"Everything seems strange this year. It feels like we've already done more than half a season of racing, but even if we've only raced six events, we've been working hard from March onwards.
"It's been a long season even if people don't see it given we only started racing in July. So, it definitely feels like we're over halfway, even if we're not. We just need to keep doing what we do.
"We need to understand this car, the VF-20, and build on that. We can try to iron out the issues we have this year for a better 2021."
Williams
After the announcement that Williams Racing has been sold to a US private equity firm, the team's long-term prospects look to be in a much better place than it did ahead of the Spanish GP two weeks ago.
The team will be bringing a few updates to the Spa-Francorchamps circuit for this weekend's race, something that George Russell feels will be a boost on a circuit that has traditionally been unkind to the Williams team in recent years.
"I am looking forward to going back racing for the next triple-header. On paper, Spa may be a slightly harder circuit for us, due to the high efficiency of the track with the long straights and fast corners. However, we should have a few different components to try and see if that helps us.
"Nevertheless, it's going to be great going back to Spa. It looks like it is going to be varied weather conditions which should mix things up and we will be pushing as hard as always to make the most of what the weekend gives us.