Max Verstappen and Red Bull endured a painful reality check that the RB16 is not the title challenger they may have quietly thought it to be, and it will take a thorough overview to identify the root causes.
Ferrari, Renault and McLaren are set to fight to be best of the rest with Racing Point, which looks comfortably quick but unable to maximise potential on race day.
The fast bends and straights of Silverstone should reveal the field's true pace following the unique challenges of the Red Bull Ring and Hungaroring.
Here is the team-by-team guide ahead of the 2020 British Grand Prix.
Mercedes
121/132 for Mercedes in 2020. Out of a possible maximum score, the Black Arrows have dropped just 11 points available to them. Ominous form heading into a race Hamilton has won five times in the last six years.
In Austria, the team showed that its power advantage still exists and, if anything, has increased over the past 12 months. The car showed immense stability through the corners nin Hungary and incredible aero performance.
Put them both together then and you have quite the recipe for Silverstone.
With rivals in Ferrari and Red Bull looking too far behind to be a reliable threat, Mercedes looks set to battle out in front by itself once again.
Last season, Hamilton moved clear of Alain Prost and Jim Clark for most British GP victories with his sixth win, and there appears very little in the way of stopping him from adding a seventh this weekend.
Bottas' strong start in Austria is a distant memory for the Finn now having been shaded on race day twice in convincing fashion. A stronger Saturday then could be crucial for him. Hamilton has taken two pole positions at Silverstone to Bottas' one, during the three years they have spent as team-mates.
Red Bull
Can Red Bull make out the forest for the trees? The team had promised Verstappen a championship-calibre car for 2020 but on the evidence the opening rounds have provided, Red Bull looks lost.
The RB16 certainly has speed when it isn't pitching Verstappen or Alex Albon into a spin, but the knife-edge nature of the 2020 car has left both wary of leaning on it too much.
Even without the unpredictable characteristics of the car, it lacks outright speed versus the W11.
Albon will have Simon Rennie on the pit wall for him this weekend, as Daniel Ricciardo's former race engineer returns to the track from his factory role.
"On race days this year, Alex has been fantastic," Red Bull team principal Christian Horner said after Budapest.
"In Austria, he nearly won the first race and he drove a great race and recovery drive last Sunday in Hungary. We just have to give him a car that is more consistent on a Saturday and his results will improve."
Verstappen's recovery from the tyre barriers at Turn 12 to the second step of the podium was a brilliant drive to reward his mechanics for their superhuman effort to get his car repaired in time.
He may need to battle once more with Bottas to gain a spot on the podium, with both Racing Point cars looking strong.
The Dutch driver has finished on the podium just once at the British Grand Prix in his career so far, something he will be desperate to put right as Mercedes looks to increase its points gap over the rest of the field.
Ferrari
Dark days lie ahead for Ferrari. In an interview with Italian media ahead of the British Grand Prix, company chairman John Elkann admitted the Prancing Horse is unlikely to challenge for a title until 2022 at the earliest.
"This year we are not competitive. We have had a number of structural weaknesses that have long existed in aerodynamics and vehicle dynamics. We have also lost engine power. The reality is that our car is not competitive. You saw it on the track and you will see it again."
His admission is blunt and on the evidence of the previous three rounds faces up to the truth: Ferrari has slipped into the midfield.
The SF1000 has lost the extra grunt from 2019 and the increased downforce the team has added from last season costs it yet more time on straights.
Racing at Silverstone twice in a row will give the team a chance to gather crucial data that it lost out on in Austria's back-to-back races following the crash between both team-mates.
"Heading to Silverstone for the next race, two specific traits come to mind when thinking about the circuit," Charles Leclerc said ahead of this weekend.
"The track is very fast, with the Maggots-Becketts part being particularly impressive to drive through. It also tends to be quite cold there and changeable weather conditions means it is a challenge to predict how the race weekend will turn out.
"It will also be our second pair of back-to-back races held at the same circuit this season and the work completed during the first weekend is a good foundation to build on for the second event."
Racing Point
Racing Point locked out the second row in Hungary after a great performance in qualifying left the likes of Red Bull and Ferrari well adrift.
Come race day though, and the Silverstone-based team let its starting position slip, with a combination of team and driver error.
Sergio Perez slipped down the order with a poor start. Lance Stroll was left to fend off Verstappen alone and lost out on strategy as the Red Bull driver pulled off a successful undercut.
The team will need to execute its race much more effectively on home soil if it's to achieve the results many feel the RP20 is capable of, including its drivers.
"It's great to be up there fighting at the front again," Perez said.
"We had a tough year in 2019 and it shows that all the hard work we did over the winter to put that right was worth it. We've made a good start – but I think even more is possible. We've had some bad luck so far and the best is yet to come."
McLaren
So far so good for McLaren this season. The team might not be the best midfield package at the moment but has been far more consistent than its rivals in maximising results wherever possible.
Lando Norris' heroics in Austria netted him a podium and fifth while team-mate Carlos Sainz is yet to finish outside of the points this year.
McLaren will bring new updates to Silverstone as it moves into the next phase of development of its 2020 car and future plans for next season.
"We have come away from the first triple-header recognising similar strengths and weaknesses in the car from those we saw back at testing in Barcelona," technical director James Key said.
"This is good because it allows us to keep our priorities for development consistent with what we had previously planned.
"The British Grand Prix will see a continued evolution of the MCL35 with some developments that will be tested over the coming race weekend.
"We've got a unique challenge in balancing upgrades for this year while ensuring our 2021 car is moving ahead in parallel. As the only team to be changing engine partners between 2020 and 2021, our design work and planning for next year is more critical than for others."
Renault
Renault has struggled to make an impact so far in 2020, after focusing on reliability over outright performance gains during the winter break.
The French team has slipped to sixth place in the constructors' standings as its row over the legality of the Racing Point car continues behind the scenes, but the team does have fresh updates for this weekend's race.
"We are bringing a number of updates to the car this weekend as well as running a different downforce level," Renault chassis technical director, Pat Fry said.
"It's a reasonable update and it will be interesting to see how it performs here at Silverstone. I wouldn't say it's enough to shake up the order but it's a good upgrade at this stage of the season. Silverstone is a good circuit to test these things, it has enough straights for measuring the aero performance as well as a great mixture of corners so we can really gauge the effect on the car's handling.
"One thing to consider is the wind; it can be very windy there and it will be good to see how we have improved in these conditions since testing in Barcelona. If it's dry, we'll have an idea of what's going on."
AlphaTauri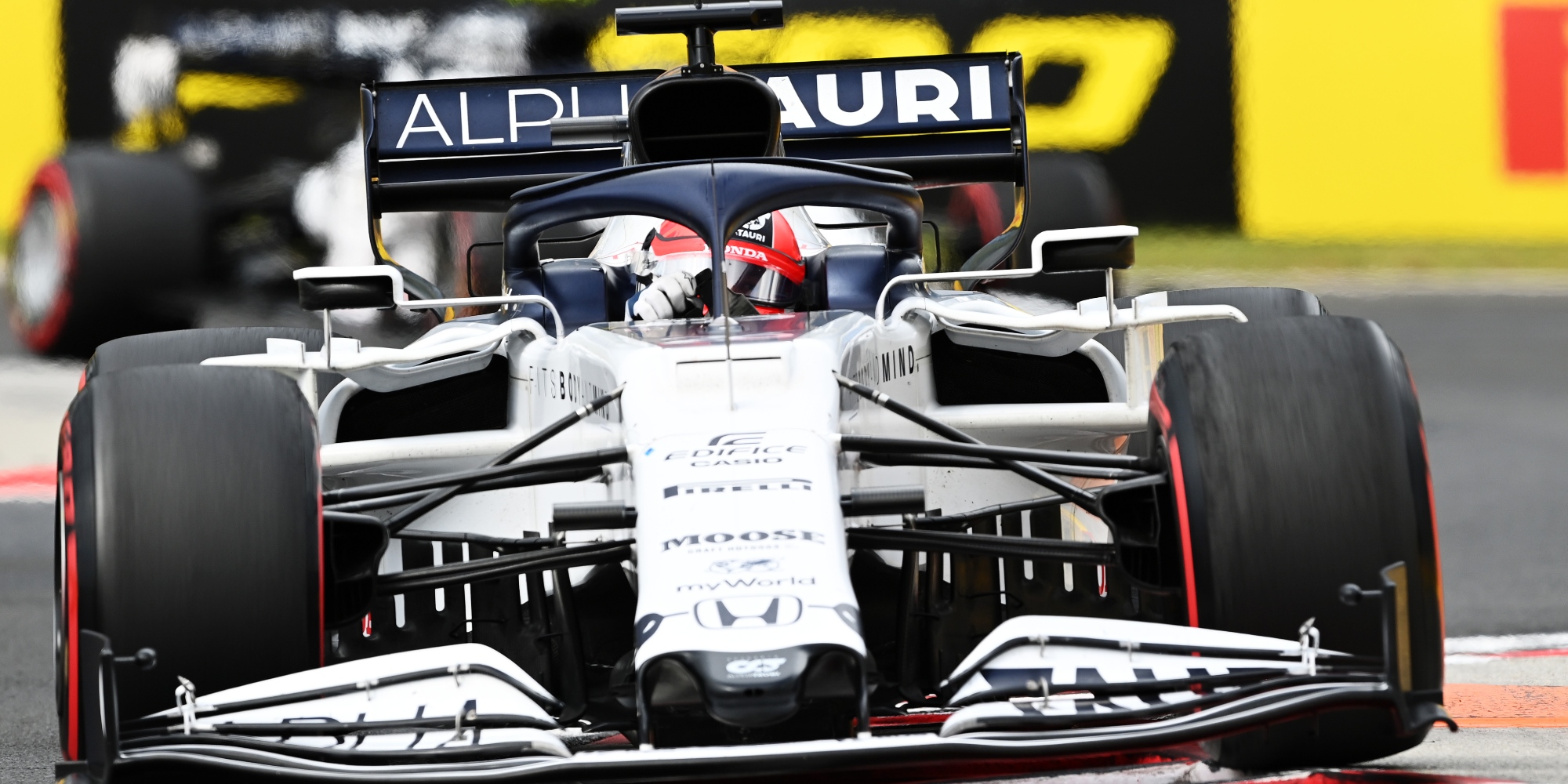 AlphaTauri's Hungarian GP weekend didn't get off the ground with reliability issues plaguing Pierre Gasly and costing the Frenchman a lap in Q3, having done well to make it into the final session.
With seven points on the board for 2020 and the team only trailing Renault by five, Gasly says that AlphaTauri has a great understanding of its car and where it sits in the pecking order, and just has to improve in order to catch other midfield teams, while keeping an eye over their shoulder.
"After completing three races, I think we can say we have a car that is honest, although we know there are things that need to be improved, especially in terms of aero," said Gasly. "We can find more performance there.
"The car has no major weaknesses in any particular area. We have to improve two or three things to get a car that is better balanced. The most important thing is to find a bit more downforce.
"Looking at our performance, we have to consider that, in the midfield, several teams have made a big step from last year, especially Racing Point and McLaren and right away that has made for a bigger gap between them and us.
"Williams has clearly made enormous progress and can now be considered as part of the midfield battle as are Renault. Now it's down to us to close on those in front and hopefully overtake them."
Alfa Romeo
Alfa Romeo still has just a single points finish so far this season, coming courtesy of Antonio Giovinazzi's ninth place in the opening Austrian round.
Since then though, it has been a struggle but the team has a clearer understanding of its car heading into the second triple-header of the season.
"The next three races will be another crucial juncture of the season," team principal Fréd Vasseur said in the team's preview.
"We come from the first real break, after the opening triple header: it's been the first chance for the teams to regroup, assess the situation and start addressing the rest of the year, so it will be important to show we have made use of the time since Hungary to make progress.
"We have a much more defined idea of where the strengths, and weaknesses, of our package are and we keep working together to make another step forward after what we have shown in the first few races.
"The midfield battle is still close and I have full confidence that our team has what it takes, both in terms of personnel and machinery, to score regularly."
Haas
A quick bit of thinking had Haas running third and fourth in the initial phases of the Hungarian Grand Prix, even if that decision netted the team a post-race penalty.
It resulted in a point for Kevin Magnussen anyway, and the team has a boost going into what is likely to be a difficult weekend for the American outfit.
"The Hungarian circuit was a little less power-sensitive, therefore in the race we had a fair showing – a decent race pace. Qualifying was not to our liking to be honest; the advantage of the other cars is just too high," team principal Guenther Steiner said ahead of the British Grand Prix.
"I obviously feel we should get in there [Q2] but unfortunately we don't. We're just lacking the speed in qualifying and that's something we have to live with as we're not planning any big upgrades and there are no engine upgrades. We just need to fight and always try to do a good job, then we can hope we move on."
"We've not planned any development for this year, so we have to focus on getting the best out of what we've got this season and look to next year to try to do something better for that season. It will not be an easy year but we're here to stay."
Williams
A promising Saturday for Williams in Hungary gave way to a disappointing Sunday as George Russell and Nicholas Latifi endured separate struggles and fell down the order.
After both made it into Q2 for the first time since the 2018 Italian Grand Prix, neither could capitalise on the strong starting position, ending up 18th and 19th respectively.
Russell's performances have caught the eye so far this year, but he admits that the team will be in for a tough time on home turf at Silverstone.
"I think our pace won't be quite as strong as we saw in Budapest," he said.
"In Hungary we well and truly exceeded expectations, and things were working really well for us in qualifying.
"I expect us to go back to our reality which is probably a more similar pace to what we saw in the first week of Austria. Nevertheless, myself and the team will be giving it all we have got."