It will be the second chance Lewis Hamilton gets to equal Michael Schumacher's win record, and there is arguably no better place to do so than at the seven-time champion's home GP.
He heads into the race after an off weekend in Russia where Mercedes team-mate Valtteri Bottas took the top step after pre-race penalties left Hamilton third.
Max Verstappen was the one who benefitted, recording another podium finish to split the Mercedes, while the battle in the midfield took another twist as McLaren failed to score.
Here is the team-by-team guide to the Eifel Grand Prix.
Mercedes
Has Bottas left it too late for a championship charge? His emotions after the race certainly indicated that he felt it wasn't over just yet.
The full 26 points went to the Finn in Sochi, while Hamilton managed to recover to third putting the gap between the two at 44 points.
I need to keep this momentum up," Bottas said after the race in Russia.
"There are quite a few races to go and you just never know, so I'll keep pushing, I won't give up and we'll see how it turns out in the end."
Bottas will have the incentive to once again delay Hamilton's record-equalling win.
Both drivers have experience in F1 around the Nürburgring, with Bottas racing for Williams back in 2013, while Hamilton has tasted victory previously, back in 2011.
Red Bull
Red Bull was handed a curveball in the build-up to the Eifel GP with the announcement that Honda will withdraw from F1 after the conclusion of the 2021 season.
It will hope that it can extract a few more victories between now and then with the Japanese manufacturer.
Verstappen was once again able to split the Mercedes cars for a podium finish to extend his record of finishing on the podium at every race he has finished in 2020.
Alexander Albon was cut well adrift of his team-mate once again though, ending up a distant 10th in another disappointing result for him, following his five-place grid penalty.
Red Bull team principal Christian Horner defended Albon after the race, praising his performance but Albon will be eager to decrease the gap between the two.
Renault
As Renault push for third place in the constructors' championship against McLaren, Daniel Ricciardo managed to drive faster than Esteban Ocon after picking up a five-second penalty as the Frenchman let him pass for position under team instruction.
It was a tough weekend for Ocon, who slipped to a P7 finish behind Charles Leclerc's Ferrari. He will be hoping to put together a much better weekend at a circuit the teams have not seen since 2013.
"It's going to be fast and fun in a modern Formula 1 car. It's back to a more normal type of circuit and more of what we're used to," Ocon said.
"While it's new again to the calendar, most teams and drivers have some experience of the track so, in a way, it should be more straightforward than Mugello and Portimao. I'm happy Nürburgring is back, it's great news as I like racing in Germany.
"I have the track on my simulator at home and I will practice everything I can."
McLaren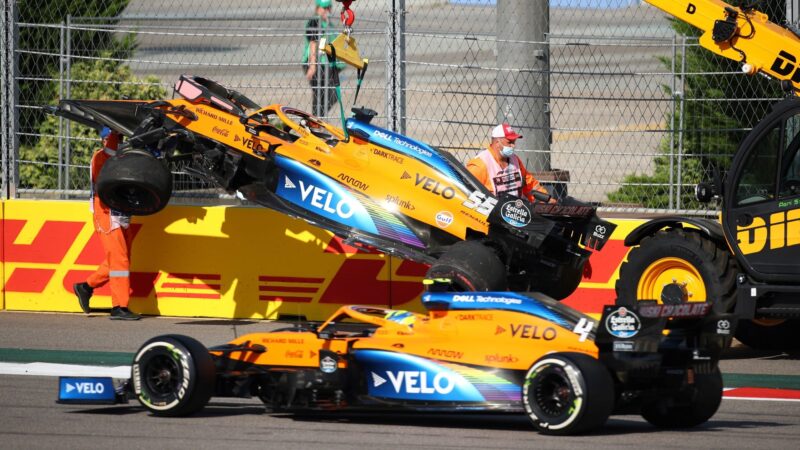 No points for McLaren in Russia as Racing Point scored a fourth place finish and Renault a double-points haul, shifting the balance in the fight for best of the rest in the championship.
"We came away from Russia with no Championship points which is a first for us this season," team boss Andreas Seidl said.
"We've had the chance to reset, prepare and focus on our next race in Germany. As a team, we're determined to come back stronger, but we know our rivals will also be challenging for good points.
"Racing at the Nürburgring for the first time in F1 since 2013 is exciting for the sport. It's a circuit I've done a lot of races at in varying conditions in my racing life. Due to the time of year, the weather could be an interesting challenge that we'll have to factor in over the weekend.
"The team both at track and the factory have done an incredible job so far this season, but there are still seven races to go. Following on from the upgrades deployed in Russia, we'll continue to upgrade the car and aim to improve performance over the remainder of the season. We need to keep consolidating our strengths, improving our weakness, being mentally resilient and pushing as one unified team in the fight for points."
Racing Point
Lance Stroll's Russian Grand Prix ended as quickly as it started, lasting until Turn Four where Leclerc punted the Racing Point around into the barriers and early retirement.
It's no surprise then that the Canadian is eager to get back into the car this weekend around a circuit he has enjoyed positive results at in the past.
"The Nürburgring is one of my favourite circuits and it's great to see it back on the Formula 1 calendar," Stroll said in the team's preview.
"F1 and the FIA deserve a lot of credit for working so hard to make sure we get a full season of racing under difficult circumstances and the addition of historic circuits to mix it up is a real positive.
"It's such a high-speed circuit, but it has a great flow to it that makes a lap there a real thrill. I've had some success there in the past, I won two out of three races during my title-winning 2016 European Formula 3 Championship campaign and it set up a great run to the end of the season. I have nothing but good memories of it."
Ferrari
The last time Formula 1 visited the Nürburgring for a race, Vettel was the victor for Red Bull.
His Russian GP was a far cry from his winning days but the Ferrari man is looking forward to driving his home race with fans in attendance.
"We are returning to the Nürburgring which is an unexpected pleasure given that this race was not on the original calendar," Vettel said.
"Obviously, I'm very happy to be able to race in Germany in front of my home crowd.
"I have great memories of the last time we raced here in 2013 and apart from that, it's an interesting track with a lot of low- and medium-speed corners, which put a premium on good traction.
"Coming to the Eifel region in October, we can expect it to be pretty cold, so getting the tyres to work will be vitally important. I expect that, as usual this season, we will be fighting in the mid-field where every hundredth of a second can make a difference. We will have to take care of every little detail."
AlphaTauri
Pierre Gasly is hoping for a mix-up this weekend with weather. Cold temperatures and the threat of rain hangs over the weekend and the AlphaTauri driver wouldn't mind the downpour on race day to get him and the team closer to rivals in front.
"I reckon the last time I raced at the Nürburgring was in 2014 in the 3.5 Formula. It's a track I really appreciate as it's pretty technical, with a special mix of corners, some slow and medium-speed where you can get into a rhythm.
"Then there's the downhill braking at the first corner, which can be tricky. To sum it up, it's an interesting lap and not that straightforward to get right. It seems as though it's going to be cold, which is not surprising there. That's not a problem, except when you are sitting in the car in practice in the garage waiting to go out. Then you start to feel the cold. But it will be a different story for the tyres and it will be complicated to get them up to temperature.
"I'd quite like it to rain as we haven't had many races in the rain. Overtaking is not that easy so it will be important to qualify well, and with none of us having been there for a while, we will have to do plenty of work in free practice to find the right set-up compromise as quickly as possible. It will be a nice challenge for everyone."
Alfa Romeo
Kimi Räikkönen will move clear of Rubens Barrichello this weekend for most race starts in Formula 1 history, with the Eifel GP being the Finn's 323rd race start.
Back in 2013, he finished as runner-up to Vettel. The 40-year-old is typically unbothered by the milestone he will set in Germany, and says the weekend will be like any other.
"Record or not, I am approaching this weekend as any other because once you're in the car, it's pretty much the same. You need to do your job and try to get the best result you can on both Saturday and Sunday: we have made a few steps forward lately but we still need to qualify a bit higher to make sure we can make the most of our race pace.
"Hopefully we will be able to do it this weekend. I've raced here quite a few times, I think I should have won a couple of races but we've been a bit unlucky at times, but this is how racing goes. In the end you remember the better memories, so let's try to make some new ones this time around."
Haas
Haas is another team hoping for a crazy race. Kevin Magnussen's stunning Russian GP start helped him on the way to a solid P12 finish, but team boss Guenther Steiner knows that it's unlikely a repeat is on the cards without intervention from the weather.
"Hopefully we can get a Mugello-style race," he said.
"That was an interesting one for all the teams, all the spectators, basically it was great for everyone involved in it. The unknowns just kept coming towards us. Hopefully the same thing happens this weekend at the Nürburgring.
"As I said before, rain is the prediction for Germany, that will make things even more interesting. The best outcome will be if we have a good race, with lots of variables, and from our perspective, to come home with some points – something we haven't achieved a lot of this year."
Williams
Recent races and updates for Williams have been up and down, but race pace in Russia was not as good as the team would have been hoping for.
The team ended up in 16th and 18th, Nicholas Latifi leading George Russell home. Williams team principal Simon Roberts believes that the incoming budget cap could elevate the team back to similar budgetary levels as Ferrari and Mercedes, but for now will have to rely on weather to get a result.
"The circuit  offers an interesting mix of corner types, and although none of the straights are especially long, they are numerous. We are looking forward to visiting another 'new' venue having enjoyed a good weekend in Mugello," head of vehicle performance Dave Robson said.
"Holding the Grand Prix in early October means that the weather could be a major contributor to how the weekend unfolds. It is likely to be cold and windy with a reasonable chance of rain. Pirelli are bringing their middle range of compounds and understanding how these will work if the conditions are cold will be our first objective.
"At the last race in Russia, we continued our good progress in qualifying with George again reaching Q2. However, our race performance was a little disappointing and we need to understand how we can do a better job on Sunday.
"We have spent a lot of time reviewing the data from Russia and as a result we have a few items to look at this Friday, which we think will help our overall weekend performance."