"It's a very hard season but it's by facing up to difficulties like these that you get stronger. We must look ahead and there are useful lessons for all of us to take away from this to build for the future.
"Having said that, we must absolutely not give up and we will be giving our all at Mugello, which is a special event for us, being our 1000th Formula 1 grand prix."
Vice chairman Piero Ferrari spoke of the pride the team is feeling ahead of its 1000th F1 race and the special livery and race-suit designs.
"It's a tribute to our origins: to our starting point for the amazing Ferrari story, characterised by an endless desire to compete, alongside the will to build road cars that are exceptional in terms of technology and design.
"Ferrari is unique in the world, because the company has the soul of a car manufacturer and of a racing team, an inseparable link that is never questioned.
Only a few months ago, no one could have imagined that our 1000th race could take place at our own Mugello circuit.
"I am pleased that in the grand prix official name, Formula 1 chose to pay tribute to Ferrari, the only team that has always been present in the sport's 71-year history."
McLaren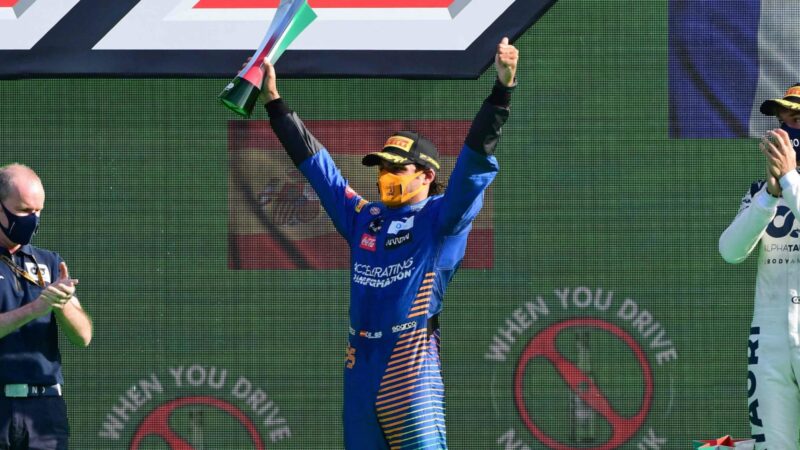 Third in qualifying, second in the race, the 2020 Italian Grand Prix was just the latest example of McLaren's improvements.
Carlos Sainz might have been disappointed to end runner-up, but the team has made significant strides forward this season, and arrive in Mugello with all of the momentum in the midfield battle.
I still have a bit of a nagging feeling for not getting the win, but after a couple of days and having reviewed the weekend I'm obviously very happy with our performance," the Spaniard said ahead of the weekend.
"We were the fastest car behind Mercedes all weekend, and even after the setback of the red flag we managed to put ourselves again back in contention for the win. I drove my heart out the whole race and gave everything to catch Pierre. He did a good job holding on, so well done to him.
"We move on to Mugello, where I hope we can carry our good momentum and have another strong weekend. It's a completely new track for me and F1 cars have never raced here before, which makes it an exciting challenge.
"Getting as much data, confidence and understanding as possible on Friday will be crucial to a good weekend."
Renault
Renault has been another team on the up recently, enjoying the spaces left by Ferrari as the Italian outfit's struggles continue. While not as impressive around Monza, a reversion to a Spa-like circuit in terms of speed and downforce might be what the team needs in its battle against McLaren.
Daniel Ricciardo was one of the first drivers to admit the prospect of qualifying at Mugello was a tantalising one and the Australian expects a tough weekend for drivers, with fitness pushed to the limits.
"I'm really excited to drive a modern Formula 1 car at Mugello," he said.
"I've been there in 2007 for Formula Renault and in 2012 for an F1 test. It's so fast and flowing, it has a nice rhythm and it's going to be a lot of hard work at the wheel. I think all our necks are going to want to fly off because of the changes of direction and medium- to high-speed corners!
"It's going to be pretty awesome. For racing, it's difficult to know where it'll be good to overtake in these current cars. I'd say Turn 1 is going to be the best place, but I think we're going to be braking late and deep into there as it's quite a long corner. It's going to be hard to send it from far, but that will be the challenge."
Chief race engineer Ciaron Pilbeam explains how the team will operate this weekend on a new circuit having not had any previous running.
"Our priorities for the first part of the weekend will be to give the drivers time to get up to speed on the new circuit, to dial in the set-up as we learn the details of the track, and to understand the behaviour of the tyres."
AlphaTauri
Pierre Gasly's Monza heroics has the AlphaTauri team riding high into what will be the team's home Grand Prix, with Mugello being the closest venue to their Faenza base.