After receiving a 5sec time penalty for colliding with Pierre Gasly at the first corner, a similar post-race penalty was added due to him cutting the chicane in the post-safety car dash to finish, dropping him from eighth to out of the points.
Alonso and his team dispute the penalty, feeling data showing the Spaniard lifting off had not been taken into consideration, after the FIA stated it had viewed video evidence of the incident but not telemetry.
"We believe that it was very unfair and just incompetence from the stewards," the two-time champion said at the Spanish drivers' press conference.
"They were not very professional in Miami. I missed one corner and then I gave back the time on the lap, but obviously after you miss one corner, there is the sector time just after that corner, so the [purple mini-sector] colour [shows]. They took the decision without asking [for] any proof."
The Spaniard feels the stewards were caught off guard by the 'new' evidence presented.
"We arrived after the race with all the proof and all [data indicating] the time back that we gave and they were just packing up," he added. "They were not even in the room.
"We came there, we showed them all the data. So, they said 'give us five minutes', and then they found themselves with their hands tied, probably because they issue the penalty already and they didn't know how to get back from that document.
"So, it was very bad and honestly… it's already the past, but it is something that should not happen in Formula 1, with professionals and the standards that Formula 1 has right now."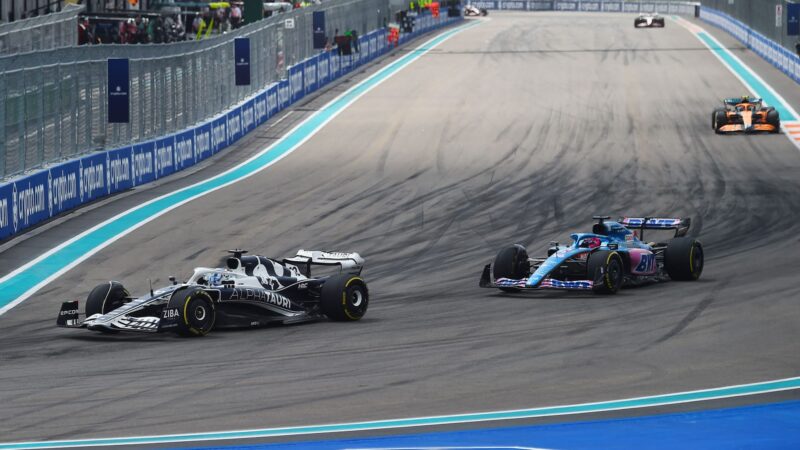 After last season's highly controversial conclusion, in which Max Verstappen was handed the opportunity to take the title from Lewis Hamilton in a change of safety car protocol, the FIA made sizeable changes to its stewarding protocol. Race director Michael Masi was replaced by Niels Wittich and Eduardo Freitas, and a new VAR-style refereeing system is being used to review video footage.
Drivers are no longer told to hand places back if they have gained an unfair advantage, leaving it up to competitors to do so, with the governing body then deciding if penalties are merited.