Assured Hamilton win closes title gap: Qatar GP lap by lap
Whilst others squabbled and several suffered punctures, Lewis Hamilton controlled the Qatar GP to reduce Max Verstappen's championship margin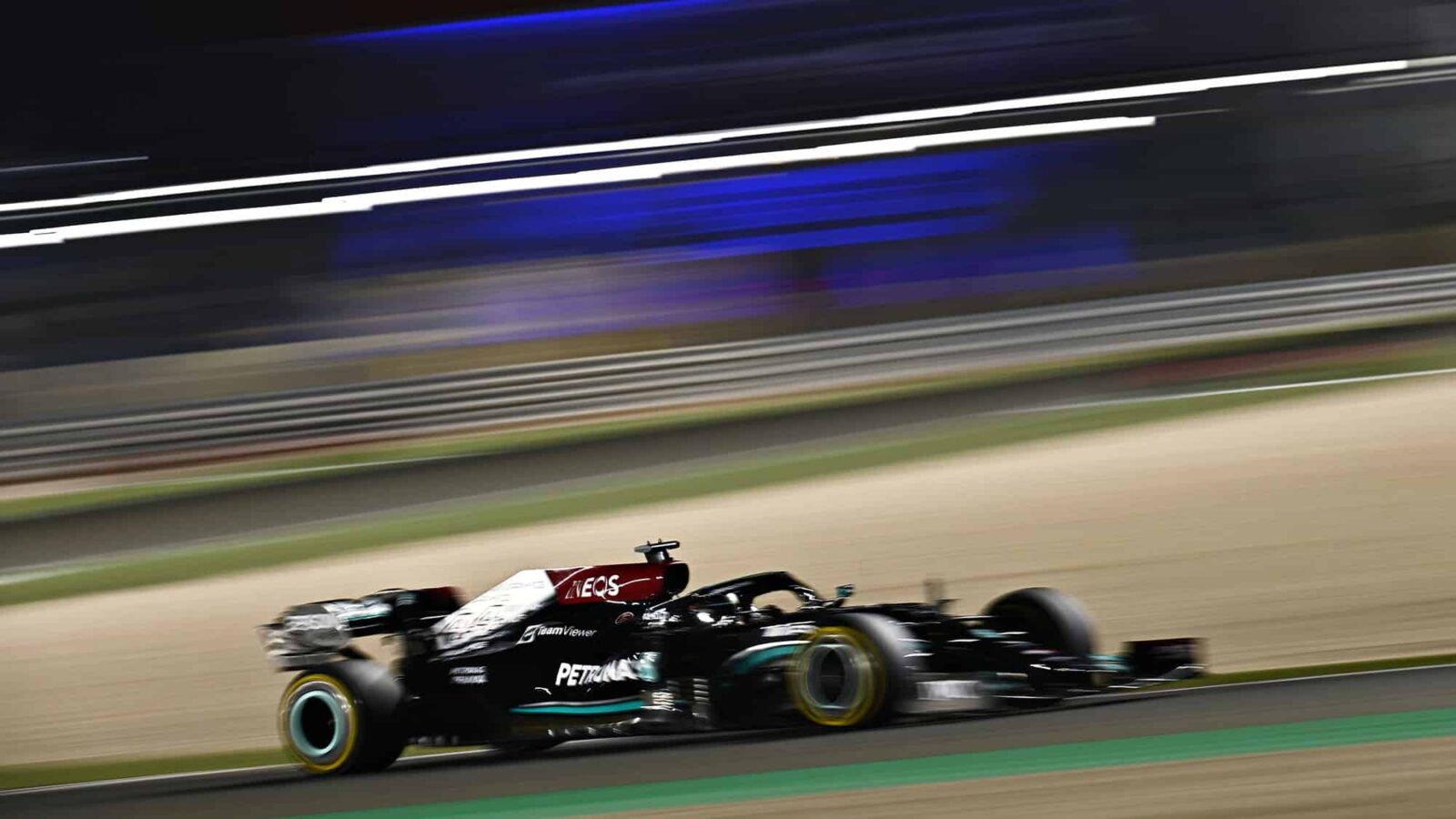 Formula 1's first ever Qatar Grand Prix resulted in a calm and collected victory for Lewis Hamilton, with Max Verstappen recovering from seventh on the grid to finish second.
Verstappen had been given said penalty for ignoring double-waved yellows in qualifying after Pierre Gasly's accident, with Valterri Bottasstarting in eighth.
This contributed to the midfield being action-packed behind, with plenty of passing and a number of punctures afflicting cars, including Bottas who had to retire. Fernando Alonso hung on from a charging Sergio Perez to take a first podium in seven years for Alpine.
Read the full Qatar GP lap by lap round-up below.
As the lights went out for the very first Qatar GP, a frantic start saw the front three pull away in formation, before Pierre Gasly let the swashbuckling Alonso slip by.
Verstappen went off track in trying to make progress as he was almost shoved by Alonso, but still was up to fourth halfway through lap 1.
Lando Norris had been demoted to fifth by the end of the first tour, whilst Sergio Perez was up to ninth at the same point, making a move on Lance Stroll stick into Turn 1.
Lewis Hamilton had a 2.119sec lead by lap 3, whilst Verstappen radioed in "I'm a bit stuck here."
At the end of the the tour Verstappen got past Gasly who had run wide out of the last corner, the Dutchman now able to set off in pursuit of Alonso's Alpine.
The Red Bull had the fastest time on that circuit, setting a 1min 29.836sec, and was hustling the Spaniard hard, duly sweeping past on the start/finish straight with the help of DRS.
Hamilton was asking on his team radio "Where's Bottas?" The answer by lap 5 was down in 11th, the Mercedes driver struggling to make progress.
Verstappen took three tenths out of his title rival's margin by lap 6, the gap now 3.7sec. However, the Dutchman became worried he'd damaged his front wing after seeing a spark, his Red Bull team telling him to stay off the kerbs.
End of lap 7 and Perez swept round the outside of Carlos Sainz in Turn 1, before a snap of oversteer caused him to run wide and the Spaniard back past.
Verstappen reported oversteer in the first corner too, his engineer informing him it might be endplate damage on his front wing – whilst Perez made his move on the Ferrari permanent on lap 8.
Lap 9 saw Perez then get past Ocon, as Bottas went three abreast with Stroll and Yuki Tsunoda into Turn 1, the Finn overtaking the Japanese driver.
Hamilton then began to eke out a gap to over 5sec again, a fastest lap of 1min 27.906sec clocked by the Mercedes driver, as Norris began to give Gasly the hurry up on lap 11, as Bottas deposed Stroll for ninth at Turn 1.
The gap between first and second then extended to 5.5sec as Kimi Räikkönen came in to take on medium tyres.
Norris went for a move round the outside of Gasly on lap 12, but couldn't make it stick – the same happened for Bottas who was still labouring behind Sainz.
The front two were in a league of their own, going 2.5sec faster a lap than the rest of the midfield, aside from their respective Mercedes and Red Bull team-mates. Perez demonstrated this going past Gasly on the pit straight on lap 13.
The AlphaTauri driver was struggling with his soft compound tyres, and he was called in on lap 14.
Sebastian Vettel dived up the inside of George Russell in Turn 1 to take 13th on the same tour.
Perez had Norris in his sights on the next lap, but couldn't quite pass on the first corner – meanwhile Bottas finally found some joy, slipping past Sainz into Turn 1 to claim seventh.
Lap 16 and Perez made short work on Norris after picking up a slipstream out of the final corner and using his DRS, breezing past into fourth.
The gap at the front was now over 8sec, Hamilton setting another fastest lap with 1min 27.514sec at the end of the same lap, as Bottas progress continued with an overtake on Ocon to go sixth.
Seeing which way the desert wind was blowing, Verstappen gave up on his medium tyre and pitted for hards on lap 18.
"My tyres are good, don't stop me too early man," said Hamilton, but his team thought otherwise – they pulled him in next time around to fit some hard tyres also.
Hamilton thought he'd been brought in far too soon, but he was informed by his engineer that he had plenty of pace in hand.
Perez came in lap 20, as a 2.7sec pit stop brought him a new set of hard tyres.
Bottas was informed of Verstappen's potential two-stop, his team telling they thought "there might still be opportunity."
Hamilton proved Bonnington correct as he clocked a 1min 27.495 fastest lap as he began lap 21.
Norris was fending off Bottas on the same circuit, but as they pulled onto the start/finish straight the Finn was just a bit too far off to make a move.
Alonso, still yet to stop, set a personal best of 1min 28.162sec on lap 22, as Vettel managed to stop Perez going round the outside of Turn 1.
Bottas dived down the inside of Norris at the start of next lap, whilst Perez did the same to Vettel.
Alonso pitted for hard tyres on lap 24, emerging just ahead of Daniel Ricciardo in eighth, who was still yet to pit.
Verstappen took fastest lap on lap 25, but then Hamilton struck back with a 1min 26.996sec next time around.
Norris pitted for hard tyres on the same tour as a big lock-up for Charles Leclerc at the start of lap 27 caused him to run wide, allowing Alonso to nip ahead down the inside, with Perez doing the same later in the lap.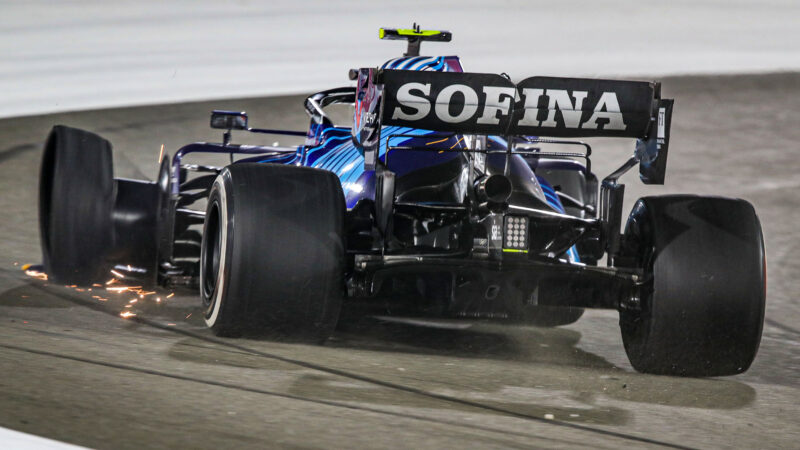 Perez set the quickest final sector as he stalked Alonso, getting ahead by attempting a move round the outside as lap 29 began. The Spaniard hung in, but eventually had to relent to the charging Red Bull.
A fastest time of 1min 26.587sec saw Verstappen again reclaim the provisional extra point, the gap to Hamilton now down to 6.3sec on lap 30.
Ricciardo was struggling down the field, passed by both Vettel and Antonio Giovinazzi to leave him 16th on lap 31.
Lap 34 and disaster struck for Bottas on lap 34, as his left front began to deflate, sending him into the gravel trap. The Finn still had yet to pit, suggesting the stint had simply had now gone on too long. The Mercedes team gave him a new front wing also in a rapid stop of 11.4sec for such a change.
Bottas came back out in 14th place, with Perez now in third.
Lap 36 saw Gasly dive in the pits, as he took on a used vintage of the medium compound for his final stint.
Alonso reported his car was "very nice to drive" as he was informed he wouldn't pit again, the Alpine running fourth.
After lapping a gaggle of cars, Hamilton's margin was back up to 8.5sec by lap 38.
Verstappen reported an increase in vibrations on the next tour, as AlphaTauri's Tsunoda swept past Nicholas Latifi for 15th as the pair began lap 40.
Hamilton reported similar to his Dutch rival, who was called in on lap 41. So far ahead were the leading pair that Verstappen came out safely still in second.
Perez came in on the following lap as both Red Bulls took on mediums.
Hamilton pitted on lap 42, as a swift 2.3sec saw the Mercedes driver use a scrubbed set of mediums.
A recovering Bottas overtook Ricciardo just afterwards, as the gap between the front two settled now at 8.9sec.
Seventh-placed Perez had fastest time by lap 44, a 1min 25.747sec worthy of the extra point at this point.
Räikkönen might be retiring from F1 at the end of this season, but the Alfa Romeo driver showed no sign of going quietly as he duelled with Latifi round several corners at the start of lap 46 to move into 16th, before Tsunoda then deposed the sister Williams for 14th.
Perez DRS'd his way past Stroll as lap 47 commenced, as he asked "Why we go for a two[-stop strategy] man?" His engineer Hugh Baird replied "We've got this – we've got the podium."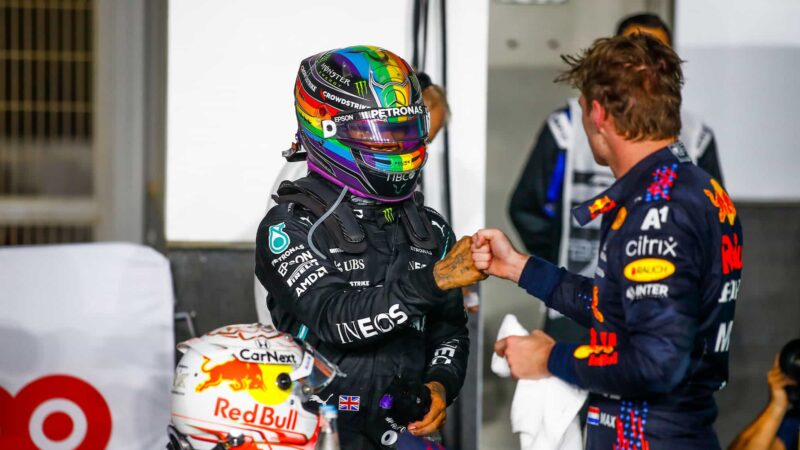 Ocon did his best to stop the Mexican's progress on the next lap, but despite hanging on through several corners after Turn 1, was ultimately unable to resist.
Come lap 45 Alonso was told to avoid the high-speed kerbs as the Spaniard looked for a first podium since the 2014 Hungarian GP.
Norris, who looked to be a on a one-stop, was brought on lap 46, whilst Bottas was retired on same lap. It was all action as on the very same lap, Russell's front left deflated, leaving his front wing scraping and sparking on the track.
The McLaren of Norris, who had come back out in 11th, passed Gasly to get himself back in the points.
Yet another tyre went as Latifi's front left disintegrated at the start of lap 52, leaving the Canadian an arduous whole tour to get round – he eventually had to give up and pull off the track.
A recovering Norris tore past Vettel as lap 55 began, before a virtual safety car was brought out neutralising the race and bring the cars' speed down as marshals tried to remove the stricken Williams.
Verstappen used it take an extra stop to put on some soft tyres – the Red Bull driver had fastest lap and wanted to keep it.
As the VSC ended, Hamilton was already on the last lap, as he came home to seal back to back victories. Verstappen secured second at the end, setting a fastest lap of 1min 23.196sec as he did so and securing the extra point.
Fernando Alonso finished on the podium for first time in seventh years, with Perez 2.8sec further back. Ocon came home fifth and an impressive Stroll made a one-stop strategy work to claim sixth.
2021 Qatar Grand Prix race results
Position
Driver
Team
Time
Points
1
Lewis Hamilton
Mercedes
57 laps
25
2
Max Verstappen
Red Bull

+25.743

sec
19*
3
Fernando Alonso
Alpine
+59.457sec
15
4
Sergio Perez
Red Bull

+1min 02.306

sec
12
5
Esteban Ocon
Alpine

+1min 20.570

sec
10
6
Lance Stroll
Aston Martin

+1min 21.274

sec
8
7
Carlos Sainz
Ferrari

+1min 21.911

sec
6
8
Charles Leclerc
Ferrari

+1min 23.126

sec
4
9
Lando Norris
McLaren
+1 lap
2
10
Sebastian Vettel
Aston Martin
+1 lap
1
11
Pierre Gasly
AlphaTauri
+1 lap
12
Daniel Ricciardo
McLaren
+1 lap
13
Yuki Tsunoda
AlphaTauri
+1 lap
14
Kimi Räikkönen
Alfa Romeo
+ 1 lap
15
Antonio Giovinazzi
Alfa Romeo
+1 lap
16
Mick Schumacher
Haas
+1 lap
17
George Russell
Williams
+1 lap
18
Mikita Mazepin
Haas
+1 lap
Nicholas Latifi
Williams
DNF
Valtteri Bottas
Mercedes
DNF
*extra point awarded for fastest lap