"With Seb it was a tricky one, I already said sorry to him because I was a bit over-optimistic. But these Mercedes engines are a little bit difficult to pass so you either go for it under braking or you don't pass them. I wanted to keep the recovery going and I didn't want to get stuck, and it worked."
Hamilton had similarly used the run to Turn 12 to clear Lando Norris and Pierre Gasly to run fifth, but at this point the focus was on tyres. The track was barely drying and the intermediates were starting to wear down, but a Daniel Ricciardo stop showed that fresh inters were only good for a lap or two before another graining phase and then similar pace.
"These tyres are basically like slicks now, there's no surface left but that's OK," Bottas said on team radio. Everyone was seeing how long they could run with the aim of switching to slicks, but the track didn't dry enough.
Hamilton caught Perez for fourth place but the Red Bull driver played the perfect team role as he thrillingly held off the Mercedes, even needing to cut from the pit entry back to the track after being forced wide by Hamilton as they went wheel-to-wheel through the final sector and Turn 1.
"It was pretty intense at that point because Lewis really got me at the worst time of my race today because I was struggling so much with my tyres at that point," Perez said. "That first stint was so difficult for me, especially towards the end and Lewis was pretty fast.
"I think at the time he was the fastest car on track, so to hold him back at that point was pretty challenging. We had a good fight. Had to even avoid the pit bollard on pit entry, but it was a good fight overall, and managed to stay ahead."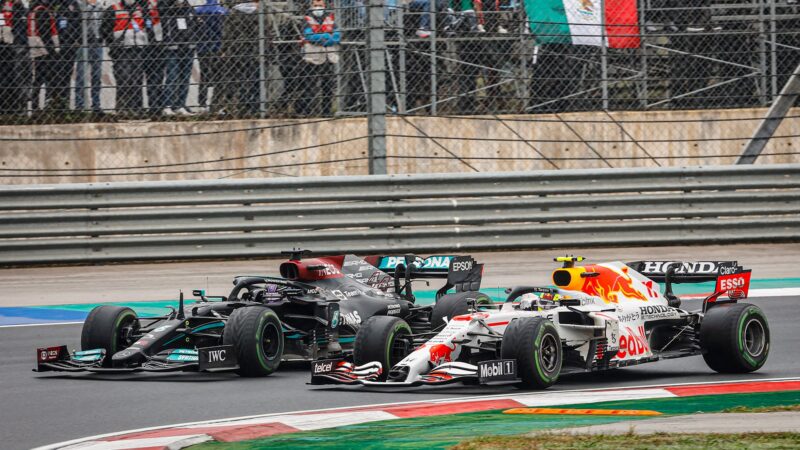 By this stage, Norris had pit for fresh inters as the older tyres started to fade, and Red Bull responded with Verstappen on Lap 36. Bottas could simply cover having pulled out an advantage of over six seconds, and Perez followed the lead Mercedes in.
That left Leclerc – who had been keeping Verstappen honest to the tune of two seconds – and Hamilton in first and fourth, but Leclerc soon locked up heavily into Turn 12 and it became clear he'd struggle to go to the end without a pit stop, despite it being allowed as the race was wet.
"At least from my side, I didn't consider going through the whole race in one set, because at some point I started to feel a bit of vibration from the tyres, they were like slicks and eventually they would get to the canvas," Bottas said. "I was having in my mind we would be stopping at some point. I don't know about the team yet, about what they were thinking about, but I'm glad we stopped. Obviously, Max stopped first and we just covered him.
"When I was gaining on Charles, he was still on his first set of tyres, he was really quick on the bits that were a bit drier and I was quicker on the points were a bit wetter, because I had fresh tyres.
"Just when I was closing on him, my tyres started to grain quite a bit, but I was still catching him. Obviously my tyres grained until the point they were slicks again, and then they were fine. There was a bit of a pace difference, he had a couple of lock ups and when I got him he had a bit of a snap coming out of the last corner, so that helped."
With the lead lost, Leclerc finally stopped, promoting Hamilton to third place. Mercedes tried to call him in and the defending champion questioned the move, having made a similar decision work a year ago in Turkey. But having backed Hamilton's call, Mercedes eventually told him to pit with eight laps remaining as his pace started to drop off, with Perez and Leclerc closing him down.
That decision dropped Hamilton to fifth, and after initially catching Leclerc quickly he then went through the graining phase that others had suffered earlier on the drying track, leaving him defending from Gasly and telling Mercedes it had made the wrong decision bringing him in.