There was no sign of an immediate, post-Stewart hiatus. James Hunt had just finished second to Ronnie Peterson in the 1973 finale at Watkins Glen, at the wheel of Hesketh Racing's upstart customer March, and a clutch of promising youngsters were on the horizon (including Tony Brise and Tom Pryce). It would take an unexpected twist, however – Emerson Fittipaldi's defection to the family-run Copersucar team – to provide Hunt with an opportunity to fight for the title, in the Brazilian's hurriedly vacated McLaren.
So dramatic was the 1976 campaign, with Hunt's last-gasp conquest at Fuji, that it turned grand prix racing into a TV staple and, many years later, inspired the script for a Hollywood movie. Few imagined, however, that it would be 16 years before Britain celebrated another world title.
Hunt remained a force the following year, but it was soon clear that his was a career in decline. Fate had snuffed out some of those other bright young hopes – Brise died in November 1975, in the plane crash that claimed Graham Hill and several other members of his eponymous F1 team, and Pryce perished in a freak accident during the 1977 South African GP – and the perennial hurdle of hard cash had caused others' careers to falter. By 1980, John Watson was the only UK driver with a full-time role as a grand prix driver.
Watson's 1981 Silverstone victory was the first grand prix success for a British driver since Hunt's at Fuji in 1977 – and the Northern Irishman was a title contender in '82, when 11 drivers from seven teams shared 16 victories. Although he won twice as many races as champion Keke Rosberg – two! – he finished five points in arrears.
By then, Britain's next champion was on the grid thanks to the keen eye of Lotus boss Colin Chapman, who had seen something in Nigel Mansell that others perhaps hadn't… not least his deputy Peter Warr, who took the reins following Chapman's sudden death in December 1982. Being somewhat farther apart than chalk and cheese, theirs was never likely to be an enduring relationship. They parted at the end of 1984, during the course of which Mansell had thrown away a likely victory by sliding off the road while holding a comfortable lead in Monaco. Warr's response? "Mansell will never win a grand prix as long as I've got a hole in my arse."
A drive with Williams-Honda was a handy career lifeline – and on October 6 1985, at the 72nd attempt, Mansell scored a maiden F1 victory in the GP of Europe at Brands Hatch, before repeating the trick at Kyalami two weeks later. As a double world champion, many expected the incoming Nelson Piquet to spearhead the Williams challenge in '86, but Mansell proved every bit his equal and came within 19 laps – and an exploding left-rear Goodyear – of taking the title. In 1987 he won six grands prix to Piquet's three, but lost out to the Brazilian's greater consistency.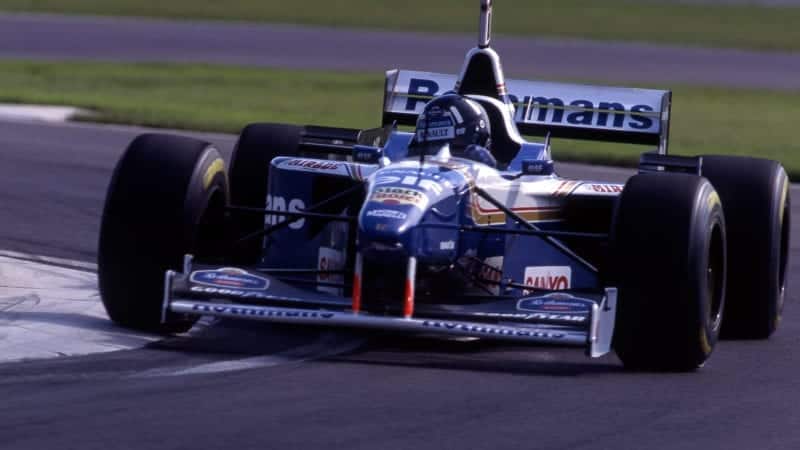 Momentum seemed to desert him when Williams lost its Honda deal for 1988, then there was a two-season flit with Ferrari. The relationship began in fairy-tale fashion, with victory in Brazil, but the Ferrari 640 had a habit of throwing off its alternator pulley and wasn't especially reliable. The following 641 proved stronger in 1990, but Alain Prost was now on board and became the team's figurehead. After retiring from his home race, Mansell chucked his gloves into the crowd and announced that he was done with F1. He would retire, uncrowned, at the campaign's end.